Do you like taking your best friend for a ride to the park? If your answer is yes then you're not alone. Most dog owners who bike can say the same thing. If you're an electric bike owner, there are dozens of choices out there for electric bikes with a dog carrier.
However, some can be quite expensive. If you already have an electric bike, getting a specialized accessory for it can also run you up hundreds of dollars.
What are the Best Dog Carriers for Electric Bikes? Here is the top 9 best dog carriers for electric bikes.
Rixen Kaul Doggy Handlebar Bag
DoggyRide Cocoon on Britch
DoggyRide Cocoon Pet Travel Carrier/Carrier XL
Petall Dog Carrier
PetSafe Wicker Bike Basket for Dogs
BarkBay Dog Bike Carrier & Backpack
PetSafe Sport Nylon Dog Bike Basket
Snoozer Buddy Bike Basket for Dogs
K&H Travel Dog Bike Basket
The best thing to do is to buy a general dog carrier for your electric bike. So, here are some great dog carriers for electric bikes that you can use to take a ride around town. 
Best Dog Carriers for Electric Bikes
Remember, you're going to buy a dog carrier for your dog. It's not going to be the most fashionable choice or the cheapest choice that will be the best investment. It's going to be the one that is best for your dog.
So, it's best to take your dog along for the dog carrier selection. Try to take public transport there or even a taxi. Just ensure that your dog can comfortably fit inside the carrier you're buying. Otherwise, your investment will go down the drain. 
Secondly, always check for a warranty. While you won't get warranties for over a year or 2 years, you may get one for 3 months.
Also, make sure to read the fine print there. At times, warranties don't cover damages that you think would be obviously included in it.
Finally, make sure that the dog carrier is cushioned on the inside with some soft material. It could be cloth, or wool, or leather. Basically, anything that will give your dog comfort while it's sitting on it for a long time will be fine.
Sitting in the same spot for a ride can often be uncomfortable. If you're going for a long ride, you may regret not investing in a soft dog carrier.
If you are going to get a hard dog carrier, then you'd better shorten the duration of your rides with the dog. They do present one advantage though; the hard dog carriers are much easier to clean.
With plenty of ventilation, these types of dog carriers will help your dog enjoy the breeze flowing through their hair. These carriers are usually made of metal or plastic.
Make sure you shop for something that fits your needs and isn't just the best overall option. That's the fastest way to a wasted purchase.
Read, Bike Chain Skips When Pedaling Hard.
1. Rixen Kaul Doggy Handlebar Bag
This is one of the best dog carriers for electric bikes. It has a very spacious front compartment for your valuables and a zipper for treats and toys.
It has cushioning on the inside and an adjustable leash and buckle at the bottom. There is a detachable cover for easy opening and cleaning.
There is also a handle and reflector. All materials included in the carrier can be easily washed. There is also a KLICKfix handlebar bracket.  
2. DoggyRide Cocoon on Britch
This cozy cocoon from DutchDog is great for urban settings. It can be attached to the front or the back of the electric bike. It has to be safely positioned on the Britch though.
It can support any dog that the bike can support. Hence, you don't have to worry about overloading it within reason.
3. DoggyRide Cocoon Pet Travel Carrier/Carrier XL
This is a very versatile pat travel carrier that was designed for comfort. The top is closed so the best can be shielded from both sun and rain.
The dome shape allows for your dog to peak out whenever they want. There is also a carry-on strap and leash tether along with a rain cover.
The carry-on strap converts into a shoulder carrier as well. So, whether you ride, fly or walk, it'll be safe and comfortable.
The product also comes in an XL size if your dog is larger in size than average.
Check out, Hardtail vs. Full Suspension
4. Petall Dog Carrier
The best thing about this dog carrier from Petall is that it's an all-in-one solution. This can be very quickly installed and detached with a push button which is very convenient for the youth. There are additional side and inner zipped pockets with large volume storage.
The dog carrier is waterproof and made of heavy-duty fabric. It is reinforced with an aluminum support frame. The drawstring top closure is used to secure the pets or items.
It's fit for most bikes and can attach and detach very easily for convenience.
5. PetSafe Wicker Bike Basket for Dogs
This is a sturdy, but weatherproof electric bike dog carrier that fits any set of handlebars. There is a soft liner inside the basket which is made of real sheepskin. It can be very easily removed and machine washed if properly done.
The PetSafe Wicker Bike Basket for Dogs can attach to the front handlebars. It can support up to 13lbs. There is also a removable sun shied included.
The dog carrier is made from weather-resistant resin, so you can ride in the rain and you won't damage it. It also includes a safety clip that latches on to your dog's collar or your harness.
It's lined with real sheepskin which is removable and washable in a washing machine. It fits any set of handlebars as well. The basket is constructed out of a hard wicker design.
6. BarkBay Dog Bike Carrier & Backpack
This is one of the best dog carriers for electric bikes since it is all-in on carrier. It can be used as a dog backpack or a car seat as well as a dog carrier for your bike. The conversion factor makes it one of the most well-thought-out investments you can make.
You get a safety clip to attach to your dog's collar or harness, and zipper pockets for toys and treats.
There is also no assembly required. You can remove the floorboard to clean the carrier very easily. There is a mesh front cover for extra ventilation when you're riding.
There is also a drawstring top mesh for covering with a hole for extra ventilation and safety. There is also a quick-release buckle that can easily pop off from your electric bike.
Finally, there is a great collapsible design for easy storage.
7. PetSafe Sport Nylon Dog Bike Basket
This is a sleek and sporty-looking dog carrier. It's made from breathable nylon and has zippered pockets to take treats in.
There is also a removable sunshade and a convertible design. This way, you can protect your dog from the harmful UV rays on, particularly sunny days.
You can attach the nylon carrier to the electric bike very easily via the handlebars. You can put in dogs that are up to 13 lbs in weight.
The dog carrier can detach to become a shoulder carrier as well. Due to the breathable material, your dog will be very well ventilated.
There is also a safety leash included in the carrier that can attach to a collar or a harness.
8. Snoozer Buddy Bike Basket for Dogs
For those without electric bikes with a dog carrier, the snoozer buddy is the next best thing. This is a very durable canvas style dog carrier. It's one of the comfiest dog carriers for electric bikes that you'll ever see.
It's complete with a safety clip, several storage pockets, and a removable inner lining. It can support dogs of up to 14 lbs. in weight.
The carrier is made from canvas material and you can remove the inner pad very easily for cleaning. The buckles are an inch wide and spaced about 10 inches apart.
You can attach this to the dog harness with a safety clip and it also includes a removable rain cover. If you're trying to get home in a drizzle or even a shower, you can use the rain cover to protect your dog.
It's also very easy to install in front of your electric bike. Finally, it's very easy to store. It folds completely flat for compact packing. 
9. K&H Travel Dog Bike Basket
This is an ideal bike basket for dogs, with an emphasis on safety. The design is pretty simple, and includes a dual leash system for increased security.
It's meant to comfortably snuggle your dog in place. Even if you have a large puppy, the bigger option here can hold dogs up to 20 lbs.
It's available in two different sizes, and the small size fits up to 10 lbs. It can be mounted to the front or the back with an optional rear-seat accessory.
There are even zippered pockets included for additional storage. The liner is removable and the machine is washable.
There are no rain covers or sun shields however. So you may have to buy those yourself if you like riding on days with a lot of glare.
Read How to Clean an Electric Bike
How to Make Your Electric Bikes with a Dog Carrier Safe for Your Dog
Unless you're riding your electric bike in the park or on a clear path, you should keep it in the carrier. Running dogs alongside electric bikes can get into accidents and get hurt pretty badly.
Small dogs, or those with either health of stamina issues should be kept in bikes or baskets or carriers by default. For them, strenuous exercise is universally bad.
For those dogs that ride in carriers on electric bikes, you need to be sure of a few things:
The Dog's Age, Size, and Weight
It obviously matters which type of dog you're going to take along with you on your electric bike. You shouldn't be taking along pups or baby dogs for rides any way.
They're too young, and will get disoriented or even anxious, or worse, scared. Hence, keep dogs under 6 months to 1 year of age away from riding in your bike.
The weight of the dog is a top priority too. First, you'll have to find dog carriers for electric bikes which support your dog's weight over a couple of years. Best to do a bit of research on how heavy your dog can get, and then buy the carrier.
It's also a good idea to check how big your dog can grow. This will narrow down the size of the dog carrier you're going to buy.
How Accustomed is Your Pet to Dog Carriers for Electric Bikes?
You need to be sure how ready your dog is for riding on electric bikes. If they haven't ridden in your car, or on public transport, or on any other transport before, ease them into it.
Start by placing them into your dog carrier and just pushing the bike a little while walking along with it.
They might get nervous at first, but if you ease them into it, they may grow used to it. Pay attention to their behavior during your trips though.
If they're shaking, and it's a perfectly warm day, they may be scared. If they're looking around constantly even if you're going slow, they may be afraid too.
A good rule of thumb is to see how your dog behaves in your car. If it's calm and quiet, it'll be the same on your electric bike. If it's anxious and active in the car, it'll be much more so in the dog carrier.
Best Practices to Keep Your Dog Safe on Electric Bike Rides
The best course of action is to ease your dog into the experience of riding with you through short trips. Make sure you take it out onto a clear path the first time. If it's not used to traffic or loud noises, it will get disoriented very easily.
You can slowly introduce your dog to the hustle and bustle of the city while riding your bike. Also, ensure to increase the time of your trips incrementally until the dog is accustomed to long periods on the bike. Try incrementing 5-10 minutes after every two to three trips.
It's very important to rest during trips too. If your dog doesn't get a break from the zipping and zooming around, it can even vomit all over your bike. It won't hesitate either, nor should it.
Also, take lots of water and a dog bowl with you to quench its thirst if required. This can be particularly useful on a hot, sunny day. Also, take along a blanket for those chilly days or nights. Your dog can get very cold too.
Taking along treats can also help make your dog accustomed to the trips. It will begin to associate tasty treats with your trips and be more enthusiastic about them each time.
You may like:
This will make your investment into electric bikes with a dog carrier all the more worthwhile.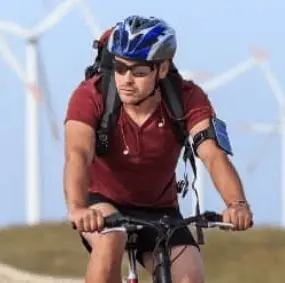 I am Michael, an avid rider and bike expert. I am here to provide, biking tips and expert advice on in-depth bike reviews covering features, capabilities, price range, and much more. Specially on electric bikes, mountain bikes, road bikes, etc. I will provide honest product reviews, along with expert advice on purchasing, training, and maintenance. Check out my complete profile.