Taking a mountain bike out on a ride could be a great experience. It allows you to get out in nature and sneak some physical activity into your day while also having a lot of fun. In addition to that, there are a variety of health benefits you can reap while cycling regularly.
However, some of the heavier, more professional mountain bikes can be a little tough to handle – especially if you are a relative novice when it comes to cycling. But that doesn't mean that you cannot start working on this amazing hobby.
There are a number of beginner's mountain bikes that you can opt for if you are just beginning to ride a bike in the mountains. These are relatively more affordable as compared to professional mountain bikes and allow you to get the hang of the sport while being safe enough for practice.
Best Beginner's Mountain Bikes
Following are some of the best beginner's mountain bikes that you can get your hands on in 2022.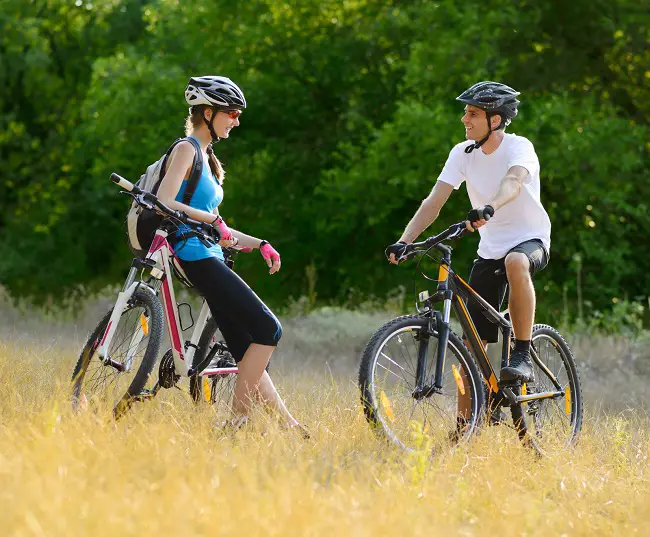 1. Batch The Mountain 29" and 27.5"
The Batch Mountain 29" and Batch The Mountain 27.5" are almost the same bike but with different wheel sizes. However, the different wheel sizes do provide a slight difference when it comes to the experience of the bike ride.
Thanks to the slightly larger wheel, the Mountain 29" is better at maintaining speed and provides better comfort and traction. On the other hand, the smaller wheel size of the Mountain 27.5 accelerates better and is more agile.
Besides this minor difference, both the bikes have the same features and come at the same cost. And most importantly, both are great mountain bikes for beginners.
They are well-built and sturdy, allowing you to take full advantage of the mountains and rocky terrains. At the same time, they can be very fun to ride.
No matter what bike you choose from these two options, you'll get a great experience at a very good price range.
Check out, Can Mountain Bikes Get Wet?
2. Co-op Cycles DRT 1.1 Bike
The unique tube profile of the Co-op Cycles DRT 1.1 Bike makes it perfectly suitable for both men and women. While most bikes on this list are unisex, the build of this bike makes it the best in this department.
The disc brakes are extremely well-made and provide efficient stopping power in all types of weather. Therefore, making a great bike for most types of terrains. It comes with 27.5" wheels and 2.1" tires that provide adequate traction, allowing the bike to perform great even on muddy tracks.
It is a bit on the expensive side as compared to other bikes on this list, but it is definitely worth every penny. It comes with hydraulic brakes, which is a great advantage for a beginner.
Overall, if you want a great mountain bike and are willing to spend a little extra while still remaining in the affordable range, this one is perfect for you.
Check out, How to Clean A Mountain Bike Chain
3. Trek 820
The Trek 820 is another great mountain bike if you are just trying to dip your feet in this sport for now.
In addition to rocky trails and other mountain terrains, this bike is suitable for city streets, forests, roads, single tracks, and almost any terrain you may want to or even need to ride on.
With only 33.68 ln (15.28 kg), this is one of the lightest bikes you can get your hands on. This makes handling the bike even more convenient. But don't be mistaken; the lightweight doesn't make it any fragile.
The steel frame makes the bike extremely resilient to anything that may come your way, giving the bike a long-lasting life.
The bike features knobby tires that provide you with enough grip to ride on dirt roads, gravel, and other types of terrain. While you can also ride the bike on a paved road, it may require a little extra effort and energy on your part.
It comes with mounts for a rear rack that can be used to attach bike bags or panniers, allowing you additional space to store additional clothes, food, or anything else that you may need for a long trip.
The bike has two versions – one for men and one for women. However, aside from minor differences that make them more suitable for the specific gender, the bikes have no differences.
Check out, How to Convert a Mountain Bike to a Road Bike
4. Mongoose Status 2.2
This is one of the only full-suspension beginner's mountain bikes on this list. However, considering the reasonable price tag of the Mongoose Status 2.2, don't expect any miracle from the full-suspension bike.
However, this feature does provide some additional benefits as compared to other bikes that do not have this feature.
This bike is better at absorbing bumps and vibrations and is more comfortable as compared to other front suspension-only mountain bikes that you can find in this price range.
It can handle quite a lot for a beginner's mountain bike. However, make sure not to push it too far, as it cannot handle what a $3,000 bike may be able to.
In addition to the full-suspension, Status 2.2. also offers a 21-speed drivetrain. This allows you to choose the best gear option for flat sections, steep uphills, or descents.
The classic rim brake may affect its efficiency to stop during the rain, but not drastically. So unless you will be riding a lot in the rain, this shouldn't be a concern for you
Overall, this bike may have a few drawbacks, but those are hardly noticeable for novice riders. At the same time, it comes with some advantages that no other bike in this price range can offer.
Similar to the Trek 820, this one also comes in two different versions for men and women.
Check out, How to Make A Mountain Bike Faster
5. Marin Bolinas Ridge 1 29"
This bike is specifically designed for recreational mountain bikers. If you're looking to explore everywhere from bridleways to local singletracks, the Marin Bolinas Ridge 1 is perfect for you. It is made of lightweight aluminum that is a lot more durable than you may think.
The bike is paired with a reliable Shimano drivetrain and 100mm travel suspension forks, allowing you to push your boundaries with every twist and turning and go wherever your heart takes you. It will truly make you feel at home on any type of terrain.
The 29" wheels and 2.25" mountain bike tires provide you with the perfect balance of comfort, traction, and control through any terrain. It gives you confidence while hitting the trails and cornering at speed without thinking about other factors.
The brakes by the CX7 mechanical discs provide excellent stopping power that is effective in condition, even while you're riding at full speed.
While the Shimano Tourney drivetrain, along with the gearing, allows you to explore everything from steep hills to long fire roads without leaving you feeling tired or spent.
Check out, Best Mountain Bikes Under $500
6. Giant Talon 2
The Giant Talon 2 is arguably the best beginner's mountain bike when it comes to value for money. Depending on the version you choose, it is equipped with light 27.5" or 29".
This is one of the very few bikes that is designed for beginners as well as professionals who need a spare bike. So if you're just starting out but are determined to make mountain biking a long-term habit, this is a great option for you.
While it may not be suitable for the toughest and roughest terrains like the higher-end mountain bikes, it can handle fairly rough dirt roads, gravel, trails, etc.
It has up to 100mm travel forks, which absorb major bumps and vibrations of uneven terrains' giving you a comfortable and enjoyable ride.
The Hydraulic disc brakes provide enough stopping power in any weather conditions, so you don't have to worry about suddenly stopping.
Perhaps, the only downside of the Talon 2 is that it is equipped with 1X shifting, which gives you a fairly limited fear range (9spd).
However, the bike is a lot simpler, less complex, and easy to maintain as compared to most other mountain bikes of this level.
Read Best Cheap Mountain Bikes Under 300$
7. Schwinn High Timber
Schwinn is one of the most iconic and bestselling bicycle brands in the US, and for good reason. Every bike created by this brand has been a masterpiece in its own right, and the High Timber is certainly no different.
The bike is equipped with a 21-speed GripShift, which allows you to easily shift with just a twist of your hand.
In addition to that, the all-terrain knobby tires with the light and durable alloy wheels provide good traction, even on the rocky and more difficult trails.
The quick-release seat post is another highlight of the High Timber, as it allows you to quickly adjust the saddle height without any hassle.
The only minor issue with this bike is that you may need to do a few tweaks and adjustments after purchasing it.
However, if you're willing to put in a little maintenance effort, the High Timber is one of the best entry-level mountain bikes available for purchase.
Check out, Why are Mountain Bikes So Expensive?
8. Trek Marlin 5
If you're willing to spend a little extra on your mountain bike, looking into the Marlin 5 by Trek is a great idea. This MTC comes in 3 brilliant colors – black, orange, and blue – all of which are available in frames for men and women.
While it is on the higher-end of beginner's mountain bikes, it does provide a great price to value ratio. Not only is it versatile and well-equipped, but it is also designed for long-term reliability.
The bike features mid-range drivetrain by Shimano, which lasts much longer than the low-end drivetrains found in most entry-level mountain bikes. This makes shifting quick and precise.
The bike is great for trail riding, cross country, and even bike packing and long overnight trips during a camo. Since the bike is compatible with a rear rack, it allows you to equip it with panniers to increase the cargo capacity.
This bike has a mid-range drivetrain by Shimano that lasts longer than the low-end drivetrains, making its shifting is quick and precise. The 720 mm handlebars give the feel of riding a proper mountain bike.
Another advantage of the Trek Marlin 5 is that it includes VP-536 nylon platform pedals, which save you from having to buy them yourself.
Read How To Clean a Mountain Bike
9. Cannondale – Trail 5
For people who are looking to break out beyond the singletracks and explore a wider variety of terrains, the Cannondale Trail 5 is a decent entry-level bike. The lightweight aluminum frame paired with an SR Suntour fork with 100mm of travel makes it great for small drops and rough trails.
While there is no rear suspension in the Trail 5, it benefits from SAVE micro-suspension, which provides a smoother ride and absorbs most small bumps and vibrations. It is equipped with Shimano hydraulic disc brakes and WTB rims and tires, which further enhance the experience of the ride.
To ensure that it stays within a decent budget, the bike features a simple 10-speed microSHIFT, which can add certain limitations to the bike. However, if you are a beginner, you won't really be affected by this small compromise.
Overall, the Cannondale Trail 5 is a fairly decent intermediate-level mountain bike that is great for beginners. It compromises on a few things to keep the bike with a reasonable price tag but delivers in more ways than that.
Read Tubeless Tires Advantages And Disadvantages
10. Tommaso Gran Sasso
This is another great beginner's mountain bike for those who are on a budget. It features 100mm of front travel on the SR Suntour fork, making it ideal for mild trail riding or singletrack racing.
It has a basic alloy frame and entry-level 29" Mingda Wheels to keep the bike affordable. However, similar to the Cannondale Trail 5, the compromises won't really affect a beginner cyclist.
On the other hand, the Grand Sasso features a combination of Shimano Altus and Acera components on the 24-speed drivetrain. This gives you quite a high-quality gearing for a bargain.
In addition to that, you also get hydraulic disc brakes – a feature that you'd seldom see in bikes that cost under $1,000.
These features enable the bike to function well on rough and muddy terrain, providing you with a great adventure.
The hydraulic disc brakes make it easier to stop in any time of weather, even when you're going downhill at high speed. Overall, this is a great beginner's mountain bike to purchase
Check out, Mountain Bikes vs. Hybrid Bikes
11. Specialized Chisel Comp
Thanks to its high-quality brakes, Specialized remains a fan-favorite brand among mountain biking enthusiasts. The Specialized Chisel Comp comes from the Chisel range of bikes and has everything you could need as you start your journey as a mountain biker.
It features a light alloy frame, which – according to the company – is the lightest bike they have. However, that doesn't compromise the sturdiness of the bike. So if you're willing to swap a carbon fiber frame for a light alloy frame, the Chisel Comp is a great option to consider.
The bike features 100mm RockShx forks and Shimano Deore components, which makes it ideal if you plan on hitting average trails. With a little push and practice, it is also great for cross-country tracks and a great bike for commuting within the city, making it pretty versatile when it comes to functions.
Related Posts:
Final Thoughts
Mountain biking is a great activity that helps you make good use of your free time. If you have been putting it off because the regular mountain bikes seemed too big of an investment, you now have a list of affordable mountain bikes you get your hands on. So stop procrastinating, and start working on it. Not only will the activity boost your endorphins and make you happier, but it will also lead to a healthier lifestyle if you stick to it.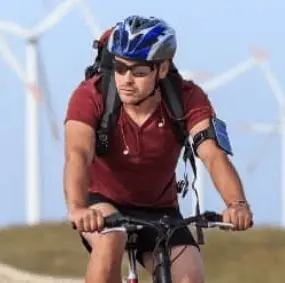 I am Michael, an avid rider and bike expert. I am here to provide, biking tips and expert advice on in-depth bike reviews covering features, capabilities, price range, and much more. Specially on electric bikes, mountain bikes, road bikes, etc. I will provide honest product reviews, along with expert advice on purchasing, training, and maintenance. Check out my complete profile.