The right mountain bike size goes a long way! Just like all of us require different-sized clothes, not one mountain bike frame size fits all. Therefore, when investing in a mountain bike, it is essential to buy the one that suits you to ensure better control and comfort.
Although traditional methods like seat tube length and standover height still work, for a more accurate result, look at the Reach and measure the top tube lengths when comparing different mountain bike sizes. Here's everything you need to know about finding the right mountain bike size.
How Are Mountain Bikes Sized?
Most manufacturers use the standard small, medium, and large system to size their mountain bikes.
For the most part, the frame of your mountain bike size is the only thing that changes as you move between dimensions. This means that other components such as the suspension, wheel size, and the relative geometry number of the mountain bike remain the same.
However, this isn't the standard practice as mountain bike manufacturers in the market change the suspension and wheel size as you travel across the size run of a specific model.
Although seat tube length is the traditional method when sizing a mountain bike, with the different types of shapes and mountain bike sizes in the market, the search has become easier.
Most modern mountain bikes have an extremely low standover height. Hence, the typical method of standing over the bike flat-footed doesn't work either.
Therefore, it is advised to ask the recommendations of a mountain bike dealer or manufacturer as they will best know which mountain bike size- Small, medium, or large- fits your personality and height.
Read How to Install A Rear Derailleur on A Mountain Bike?
How to Know My Mountain Bike Size?
Using a professional fit system is the ideal way to know your mountain bike size, as it takes your body measurements and adjusts the mountain bike accordingly, ensuring that you get a perfect fit.
However, if you are ordering your mountain bike online or purchasing it from a dealer who has less knowledge or simply wants to know which mountain bike size will be best for you, you have come to the right place.
We have put together a step-by-step guide to help you find the mountain bike that fits your unique sizing needs. Read on to find out!
Step 01: Measuring Your Inseam Length in Inches
First things first, to measure your inseam length, all you have to do is stand up and spread your legs 20 to 25 cm (8 to 10 inches) apart, act as if you were riding a mountain bike.
Once done, take a measuring tool and make sure that it's in inches. Now measure the length between your crotch (the point where your legs meet the waist) to the inside of your foot.
The next step is essential to know the distance between the mountain bike's seat and your foot.
For this, you have to place a book vertically between your legs; the purpose of a book here is to stimulate a mountain bike's seat.
Now ask a friend to measure the distance between the top of the book till the floor and record these measurements.
Ideally, the book should have a thick spine, and it should be held between your thighs just like a seat when you sit on a mountain bike.
To know the exact inseam length, repeat the step several times and take the average of the recorded readings.
Read How Much Does a Mountain Bike Weigh?
Step 02: Using the Inseam Length to Calculate the Seat Tube or Top Tube Length
When looking for the right mountain bike size, there's a high chance that the dealer might ask for your top tube or seat tube length.
Therefore, to know your seat tube length, all you have to do is multiply the inseam length by 185. The answer is the recommended distance for you between the middle of the crankshaft and the seat.
However, in order to find out your required top tube length, multiple your inseam (in inches) by 0.67 and subtract 4 from the answer.
However, the measurements can be tricky when it comes to finding the ideal seat tube length (the distance from the seat to the pedal) as it can vary from one mountain bike manufacturer to another.
So, if your inseam length is 33-inches, your required seat tube length would be 17.75-inches. Here's how:
0.67*33 = 21.75 inches
21.75 – 4 = 17.75 inches
Note that specialized mountain bike manufacturers like Neil Pryde and Lapierre have their own geometry. Therefore, if you are finding your mountain bike size for any of these brands, multiply the in-seam by 0.62 rather than 0.67.
Step 03: Performing a Stand-Over Test
Performing a stand-over test is one of the most traditional yet accurate methods of finding the right mountain bike size. To do this, straddle the seat tube of your mountain bike with both of your feet shoulder-width apart.
Now use one of your hands to grab the stem that connects to the seat while the other holds the stalk that attaches to the handlebars. Once in position, pull the mountain bike's frame-up against your pelvic bone.
Now ask a friend to measure the distance between the wheels and the ground. Ideally, a mountain bike should have a 3 to 4-inch gap beneath its tires. In case your reading is less or more, change your mountain bike's frame size.
Read Best mountain biking backpacks in the market now
Step 04: Adjusting the Handle Bar
In an ideal case, the saddle and handlebars of your mountain bike should be even. However, if you are a racer or a professional biker, the handlebars should be one to two inches lower.
Doing so allows your elbows to bend only slightly while putting lesser weight on the handlebars, resulting in a better grip. The position of your mountain bike's handlebars is determined by the following factors:
Seat Tube or Top Tube Length
As stated earlier, the seat tube length refers to the distance between your seat post and the handlebar stem. Both of these are typically adjusted according to your requirements to a fit frame.
However, if you have a disproportionate body, opting for a custom-sized frame will give you the right size seat tube.
Stem Length
It is the difference between the handlebars and the top tube. In simpler words, the shorter the stem, the closer the handlebars will be from your seat, and vice versa.
If you are unable to find a mountain bike frame that fits your stem length requirement, you can get it adjusted from any dealer. However, it might cost you somewhere between $15 and $150.
Shorter stem length ensures a calmer and upright riding style. Whereas longer stem lengths are ideal if you wish to ride your mountain bike in an aerodynamic position.
Handlebar Height
When it comes to adjusting the handlebar according to your mountain bike size, know that there's only little room for adjustment. In order to adjust the height of the handlebars, you have to remove or add the metal spacers between the stem and the frame.
Now to do that, you have to loosen up the bolt present at the top of your mountain bike's stem. This allows you to remove the handlebar and remove or add spacers to adjust the handlebar height according to your needs.
However, if you have an old mountain bike that has a threaded or quill stem, you can easily adjust the handlebar height by lowering or raising the stem.
Handlebar Angle
In order to set the angle of the handlebar according to your height, start by loosening the bolts that connect the handlebar to the stem. Once they are loose, move the handlebar up or down to set the angle you prefer.
Note that a slightly elevated handlebar angle can have a direct impact on your mountain bike's comfort.
Read How to Climb Faster on a Mountain Bike?
Step 05: Leveling Your Seat Angle
Last but not least, to find the right seat angle of your mountain bike, look for a bolt under the seat and loosen it up. This gives you the flexibility to move the seat a few centimeters backward or forwards.
Ideally, the seat of your mountain bike should be close enough such that it allows you to reach the handlebars comfortably. A carpenter's level can help you make sure that the seat is flat.
This step is critical as it ensures that your body's weight is distributed evenly when riding the mountain bike. However, the right seat angle depends on your personal preference as well.
Male bikers prefer an upwards tilted seat, whereas female bikers usually tilt their seat down for comfort.
Read How to Clean An Electric Mountain Bike?
How Do I Know My Mountain Bike is the Right Size?
If you are still confused, pay attention to the posture of your hip bone, neck, shoulders, and arms while riding your mountain bike. If you have long arms, you will need to move the saddle backward.
Comparatively, if you have short arms, you will have to inline the seat post with the saddle set forwards.
In either case, you will know that your mountain bike is the right size when the handlebars are at the right reach, the saddle will be at the center of the rails, and the seat tube will be nice and steep.
In short, you will have a stronger grasp over the controls of your mountain bike. You will also feel more comfortable.
Read Are Mountain Bike Tires Tubeless?
I Got My Mountain Bike Size Wrong – What Should I Do?
In case you have gotten the wrong mountain bike, the first thing that you should do is contact the dealer or the merchant and request for an exchange.
However, if you don't have that option, the next thing that you can do is move your mountain bike's saddle backward or forward, invest in a longer or shorter stem (whichever suits your height) or buy a longer seat post.
In all cases, you will have to give yourself and the mountain bike time to adjust.
Read How to Put a Motor on a Mountain Bike
Wrapping It Up!
In a world where one mountain bike frame size is designed to fit different people when investing in a mountain bike, keep in mind that it should be the mountain bike size that should fit you and not the other way around.
Doing so will ensure a-hundred-percent comfort level and have a direct impact on your mountain bike's ride quality. Therefore, before you invest in a mountain bike, it is essential to take it for a ride to ensure that everything fits your body perfectly!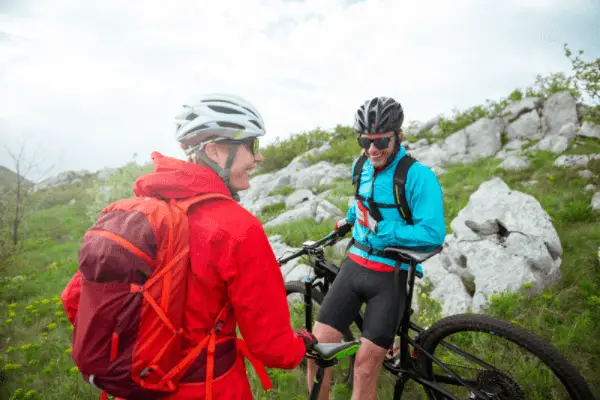 What Mountain Bike Size Am I | Frequently Asked Questions (FAQS)
Q: How is a mountain bike-sized?
Ans: A mountain bike is usually sized in inches or using the small/medium/large measurement system. The frame size of a mountain bike is traditionally calculated by measuring the seat tube's length, from the top of the tube to the front of the chairing.
The mountain bike frame size can vary across styles, designs, and models. Therefore, manufacturers sometimes use virtual seat tube measurements to keep the sizing consistent.
Q: Which mountain bike wheel size is best for me?
Ans: Available in a range of models, each mountain bike wheel size has distinctive characteristics and advantages, depending on the type of mountain bike you are investing in. For example, a small-sized mountain bike will have smaller wheels that are lighter in weight, nimbler, and stronger. Conversely, a large-size mountain bike's wheel will be heavier, robust and will ride better over uneven and rugged terrains. However, some mountain bike manufacturers such as Trek, Scott, and Cube have opted for a split-size strategy for the wheels. This means that small bikes comprise 27.5-inches wheels, large bikes comprise 29-inches wheels whereas, medium-sized bikes offer a range of wheel sizes for you to choose from; 27.5-inches, 26-inches, and 29-inches.
Q: I am between mountain bike sizes; which one should I choose?
Ans: If you are trapped between two mountain bike sizes, the only way out is your personal preference. However, most riders will choose a larger size. This is primarily because a mountain bike with a larger frame is easier to handle compared to the one that feels congested. In case the large mountain bike is too big, fit a shorter stem to reduce the reach of the handlebars.
Related mountain bike articles: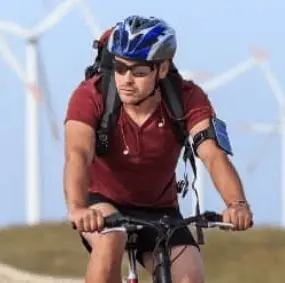 I am Michael, an avid rider and bike expert. I am here to provide, biking tips and expert advice on in-depth bike reviews covering features, capabilities, price range, and much more. Specially on electric bikes, mountain bikes, road bikes, etc. I will provide honest product reviews, along with expert advice on purchasing, training, and maintenance. Check out my complete profile.