People are constantly looking for the next-best alternative for their commute. People need to move from one place to the other for everything they do, be it work or play. Bikes have been around for a very long time. They look vastly different now than they did a hundred years ago.
Like many other products, bikes have transformed due to technology. As the years passed, people's expectations of their bikes increased. Manufacturers recognized this demand and adapted their production cycles to include electric bikes.
Nowadays, electric bikes are more common than ever. Many people prefer them because they have many advantages over other methods of transport. However, these bikes are not accessible to everyone.
Manufacturers like Wave electric bikes are now embarking on the journey of making electric bikes more accessible to the general populace. These bikes can't just be accessible though; they have to be held to the standards of all other electric bikes in the market.
Read on as we tell you all about Wave electric bikes and whether or not you should invest in one.
What Is an Electric Bike?
An electric bike is very similar to a regular bike in the sense that it has a handlebar, two wheels, and a frame. However, electric bikes have extra electric components that make it easier for riders to travel on their bikes.
The electrical aspects include components like motors, batteries, and controllers. These components help in carrying the rider's weight and even distributing it for a smoother journey.
Manufacturers generally fit electric bikes with different motors and controllers so that a customer has an array of options to choose from.
The electrical components in an electric bike mean that people can customize their journey according to their preferences. It gives riders more modes when it comes to riding their bikes. These modes are as follows:
Pedal Mode
This mode means that the rider can ride the electric bike without the assistance of the motors in an electric bike. The mode is suited for customers who want to their bikes switch between being a regular bike and an electric bike.
Pedal-Assist
This mode allows riders to still use their pedals. However, they would get assistance from the battery and motor installed in the electric bike hence making it easier for the rider to overcome particularly difficult ascents.
The riders have much choice when it comes to this mode as they can toggle between the percentage of motor assistance they want.
Electric mode
This mode is great if you want to glide down a river walk without having to exert yourself too much, you can simply choose the electric mode without pedaling. This is when the bike gathers all of its energy from the battery so you can just lay back and enjoy the view.
Some electric bikes don't have all these modes and only work using the pedal-assist mode. These bikes are called pedelecs and have an entirely different range altogether. Pedelecs don't provide the great degree of options that other electric bikes may have.
However, they are very easy to ride; so, if you're looking for an electric bike that only provides you this mode, you could just as easily opt for pedelec. There's some diversity in these too, some pedelecs may be made for mountain bikers and others for more off-the-road applications.
Read Best MTB brands
What Is a Wave Electric Bike?
Wave is an electric bike company aiming to make electric bikes more accessible for people. Wave electric bikes are different than most other bikes out there in the sense that there's one for everyone. You can choose from different bikes.
Wave electric bikes were designed by manufacturers to fit into a distinctive image that appealed to the widest audience.
Few companies look into accessibility quire like wave bikes have. The whole point behind companies launching products is that they want to generate a profit. Wave electric bikes subvert this stereotype by being an affordable bike that has the right kind of quality components.
By doing so, the company opens upcycling and physical fitness to a large number of people. So, instead of gatekeeping the cycling circle, they're expanding and welcoming people into using electric bikes.
This is a great feat for any company, and the reason Wave electric bikes have been featured in several publications, like Variety and Forbes.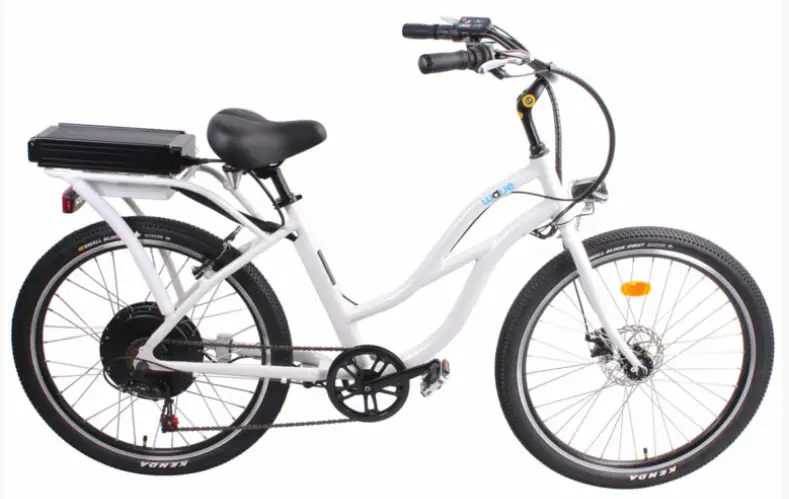 Read What to Look For in a Road Bike?
Can You Ride Around a Wave Electric Bike Legally?
If you know anything about electric bikes, you would also know that there's significant discussion about their legality and the laws surrounding their usage.
Many manufacturers are aware of the laws and yet choose to make electric bikes with 1000w motors that don't comply with the district's laws. Laws vary depending on the location you're in.
People in America would have to adhere to different restrictions than that of the UK even with regards to electric bikes.
The speed limit for electric bikes is different all over the world. In North America, all-electric bikes have to ride at a speed of 20 mph. Otherwise, they would be classified as mopeds, and in European countries, the speed limit is even less at 15.5 mph. If your electric bike goes above these speed limits, it's illegal.
Wave electric bikes claim to be completely street-legal on their website. You can ride them anywhere you want to, and you won't have to worry about getting into any legal trouble. Most wave electric bikes have a top speed of 28 mph; however, your electric bike will rarely ever go that high.
It averages a speed of 20 mph for the most part so it's complying with the laws of most states save that of New York as they have different rules for electric bikes in general.
Additionally, such electric bikes may not seem very appealing to you if you live in a country in the developing world. The developing world generally has more lax laws when it comes to technologies like the electric bike.
So, any customers from here would prefer something that can go just a bit higher. However, that's a generalization and many people from the developing world do also invest in electric bikes of this sort.
Are Wave Electric Bikes the Best Thing in the Market?
Wave electric bikes have been lauded by many different publications for making electric bikes more accessible. However, does that mean they are the best things out there? Firstly, to decide if they are the best bikes out there, you would have to define what "best" means to you. Wave electric bikes are game-changers in the electric bike industry.
They're bringing in more people to cycling, which is a challenging task in itself. By making their product more accessible, they're also opening it up to greater criticism, and for any company, that is a difficult spot to be in.
It makes sense that Wave electric bikes make affordability a focus, given that the entrepreneurs behind this venture used crowdfunding to pursue it.
Many people have tried out the wave electric bikes and found them to be "chill, quiet, comfortable, and impressively peppy going up the hills." They also claim that it's a very simplistic product. Starting at $599, these bikes cost way less than some of its other competitors.
Electric bikes serve a variety of purposes, and different electric bikes can be ideal for different people. Wave electric bikes were made to be affordable so if the price is the most important thing for you, Wave electric bikes are the bikes for you.
However, if you want an electric bike with the best possible make and design or want a more luxurious and heavy bike, you'll have to pay more for it.
Wave electric bikes' target demographic is people who want the more affordable electric bike to get from point A to point B comfortably. So, if features of a certain model appeal to you, that particular Wave electric bike would be best for you.
What's So Special About Wave Electric Bikes?
We've already talked about the novelty of Wave electric bikes in an industry that isn't very affordable to the general public. Keeping that aside, there are still many great things about Wave electric bikes that make people want to buy them. We have listed a few of these features below:
1. They are stylish
Even with being a relatively cost-efficient brand, Wave designs electric bikes in a way that doesn't make them feel cheap. They are available in a bunch of colors which you can choose from and the design itself is something that looks and feels very modern.
The aesthetics are in line with many electric bikes that you would witness on the street. However, wave electric bikes still manage to stand out.
2. They are comfortable
Comfort is very important in electric bikes because you're likely going to use your electric bike to travel for a very long time and distance. For this reason, wave electric bikes have a very comfortable cushioned seat and handle.
The cushions help absorb any shock that your body may feel on impact and in case there are gravelly roads that cause disturbance in your journey. A long journey can tire you out as it is but wave electric bikes ensure that they minimize this as well as they can.
3. They are reliable
You can rely on Wave electric bikes to get you through a journey comfortably. Many of the models come with a 48-volt, 750w hub motor drive train, which means that you'll be able to stay on track with relative ease.
These bikes also have a reliable speed which means you can get to your destinations on time and ensure that you're not having anyone wait on your account.
The batteries used have high capacity cells which means that you'll likely complete your journey without having to constantly recharge your electric bike.
4. They are environmentally friendly
Wave electric bikes don't use any fossil fuels which would release harmful greenhouse gases like Carbon dioxide into the environment. If you shift to a wave electric bike, you're likely reducing your carbon footprint to a great degree and saving the world from the drastic effects of climate change.
Furthermore, most car owners are at a greater risk of carbon monoxide poisoning so this means that you're not only saving other people and the planet, you're also saving yourself a great deal of pain.
Furthermore, wave electric bikes don't have several showrooms that they operate out of, so they only use the website and have a headquarters building. This means that they're also conserving the energy that they would otherwise spend to provide more face-to-face service. This decision of online has also been opted by many businesses in the pandemic.
5. You can travel longer distances more quickly
Wave electric bikes have a range of 40 miles on the pedal–assist and 23 miles on electric mode only. This may not seem that great compared to its competitors, but it's a bargain at its price. Possibly, the best aspect about electric bikes is the speed and how quickly you can get to a place.
Even though the highest speed on Wave electric bike is 28 mph, you will find that traveling at 20 mph is a lot more efficient for an electric bike you would only use 80% of the battery power.  This means you can get to places more quickly while also conserving a decent amount of energy.
Types of Models
The best electric bikes make cycling easier. The electric bike you buy depends on the type of cycling you do and the purpose you're buying your electric bike for. You could be using your bike to commute every day or so that you can get over a particularly steep hill on the trail you take.
Wave electric bikes have tried to make affordable bike models fit the needs of the many customers they have. These models are as follows:
Folding Wave
You can fold and unfold this model easily, this means that if you're someone who likes packing up your bag and driving out to a trail then the folding wave is the bike for you. It is super portable and won't take up much space in your car.
If you have a particularly small apartment then its portability means that you can just stow it away in a closet and it won't become a part of your apartment décor.
This bike may be compact but it gives you a decent amount of range, you can drive up to 18 miles on a single charge with its 36-volt 350 Watt rear brushless motor.
Furthermore, it also has six-speed gears which promise a smoother ride. It has a strong aluminum frame and LED lights so that you can ride your bike in the dark without fearing for your safety.
Tidal Wave
This bike is available in two colors so you can choose something that fits your aesthetic better. It has a step-through frame which means that anyone can mount and dismount easily.
This frame also makes it easier for people with disabilities or any injuries to get back on their electric bikes. This model is a bit more expensive than the folding wave, and that has to do with the fact that it's slightly bigger and uses more battery power.
It is powered by a 48V 12 Ah Samsung battery, which gives it a greater range of about 26 miles in one charge. So, if you're someone who wants to take longer rides, this bike may be exactly what you need.
Wave 2.0
This is the latest and arguably most popular model among Wave electric bikes. It has a 48 volt 750 watts rear brushless motor that helps you travel up to 23 miles on a single charge.
The frame is made of stronger aluminum and hides all the extra wires to create a better look. Other features include hard-wired rear red LED light, welded battery rack, new faux leather handlebar grips, a novel seat saddle,  quick release seat latch, and a handy side kickstand.
Final Thoughts
If you're still questioning if a Wave electric bike is an electric bike that you should invest in, you should make a list of your priorities. If you want something affordable and functional, these electric bikes are a great option to get started on biking sustainably.
However, if you have more specific demands of what you want in a bike that holds a greater priority for you, you may want to reconsider. Wave electric bikes are a great entrepreneurial venture, but they may not be everyone's cup of tea.
Related Posts: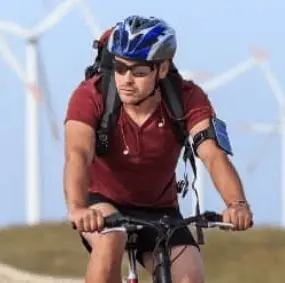 I am Michael, an avid rider and bike expert. I am here to provide, biking tips and expert advice on in-depth bike reviews covering features, capabilities, price range, and much more. Specially on electric bikes, mountain bikes, road bikes, etc. I will provide honest product reviews, along with expert advice on purchasing, training, and maintenance. Check out my complete profile.