Nowadays, electric folding bikes are becoming widespread and are considered an increasingly trendy mode of conveyance around towns. These electric bikes are superfast, useful, global friendly, and extremely enjoyable to ride. Along with these benefits, there are a few downsides to take into consideration as well.
Cyclists – especially those who commute from one place to another daily, understand that there are many great advantages to own a bicycle that can easily be folded. Folding bikes are lightweight, sturdier, and fold up very well and conveniently when not in use.
Our guide lists down all the electric folding bike pros and cons to help you decide whether or not electric folding bikes are for you. Let's get started!
What Is An Electric Folding Bike?
Electric bicycles, also known as e-bikes, are bikes that have been taken to the next level. These are bicycles with combined electric motors and batteries which can be used for momentum.
The motor of this bike is generally close to the crank or in one of the middles. The battery usually stands on the seat tube, downtube, or on the rear rack. There is a wide range of electric bikes that are available these days.
A few e-bikes provide pedal assistance which means you need to pedal while you ride, and the motor helps you alongside. Some models are more like mopeds where you can use the bike to power you along without pedaling if you prefer.
It depends on the battery, motor location, and motor size difference in these models.
Read When to Charge an Electric Bike
Why Should I Buy An Electric Folding Bike?
If you're someone who wishes to enjoy their daily commute, then these are the bikes for you. Thanks to the electric folding bike, you can now arrive at your office sweat-free, odor-free, and on time!
You don't even have to worry about them being stolen. You can just fold them up and carry them around everywhere, even to your workstation. Gone are the stressful days of locking your bikes outside.
It will save you space and give you extra space for your things in the house compared to other automobiles. It can easily be folded and kept within a cupboard.
Read How Long Does a Battery Last on an Electric Bike?
Advantages Of An Electric Folding Bike
Owning an electric folding bike comes with its own set of advantages. Here are the most significant ones:
1. Doing The Environment A Favor
One of the biggest reasons people switch their daily commute to electric folding bikes is to reduce the harm their cars or bus creates.
The thing with electric folding bikes is that it does not produce any harmful emissions into the atmosphere like other automobiles. They are without a doubt the cleanest and fastest modes of transport for a daily commuter. Taking the bike is a great way to reduce the carbon footprint.
2. A Great Inexpensive Conveyance
An electric folding bike is cheaper than all the other modes of transport. A car will cost you a great deal of money in terms of gas, fuel, repairs, and maintenance. In addition to this, taking the bus will cost you money each day.
It might not seem like a lot at first, but over time it will add up to more than what you could have saved and gotten your commute with.
The maintenance and repairs are cheaper for an electric folding bike, and you most certainly don't have to pay for parking.
3. Faster Than Your Average Bike
You have to put in so much power on the conventional bike. It makes you sweat and get tired easily, along with taking a great amount of time.
Most cyclists can't reach their desired destinations on time because of this very issue. However, your average speed will be higher with an electric bike, and you can reach way faster than before. It cuts down your commute time considerably.
4. Cut Down On Noise Pollution
An electric bicycle is smooth and runs almost silently. When you're on the bike, you won't hear a thing except what's going on in your surroundings.
It saves you and everyone around you from noise pollution. Cars and motorcycles tend to make severe noise pollution. You can enjoy a peaceful and stress-free ride without having to bother anyone with the sound of your bike.  
5. Zero To Low Maintenance
There's no science to keeping your electric folding bikes maintained. It pretty much requires the same amount of cleaning and attention as a conventional bike.
You have to do the basics; checking the tire pressure, cleaning, lubing the chain occasionally and changing the brake pads as and when they wear out.
It is not something you need help for, as this is something that you'd do for a non-powered bike as well. You can do this all by yourself without stressing – all you need are the basic tools and a little knowledge.
The deal with the electric motor and battery is to charge the battery and switch it in a few years as it wears out.
6. Say Goodbye To Sweaty Days!
People prefer a powered bike rather than a non-powered one because you don't have to work as hard. After all, now the electric motor works for you.
Not everyone has the option of changing their clothes at the office, and nobody wants to go through the hassle of changing three times a day. Electric bikes eliminate the problem of sweat and allow your heart rate to stay lower.
The pedal assist can help in powering up a hill. There are various electric bikes in the market, and some don't even require you to pedal. Stay sweat-free and travel fresh wherever you like.
Read Tubeless Mountain Bike Tires Maintenance
Disadvantages Of An Electric Folding Bike
While some amazing benefits of riding an e-bike, some drawbacks make it a tough decision for many. Here are the most common ones:
1. Electricity Access Needed
Since an electric bike needs charging, it will need electricity. Each e-bike has a different capacity. The number of miles they travel depends upon the way they're designed and their battery life.
The most e-bikes travel range on the usual are around 20-35 miles, which is on one charge. Once the charge is finished, you need to stop and charge it again for it to work. If you have an e-bike with a wide range, it won't be a problem for you.
However, if your e-bike has a battery-less than half and you're nowhere close to home, you will need to charge it again. And this way you won't be able to charge your bike till you reach home.
Companies don't offer charging facilities, and this is why e-bikes aren't preferred if you have a long route to take.
2. Extended Charging Time
For an e-bike to fully function, it needs to be changed completely. Most e-bikes take up to six hours to fully charge, which is a long time to wait, considering you have not left it to charge overnight, and you need to go somewhere urgent.
You will be able to ride it even if you charge it for an hour or two, but the thing is that it won't last you as long as you'd like – the range will be reduced.
However, many e-bikes allow you to charge your bike in an hour or two, and they provide you with fast chargers that help in doing so. While this is convenient, it can prove to be hard on the battery.
3. High-priced
An electric folding bike is not an option for many as it is on the pricier side. An average bike and a mid-range non-powered bike are still affordable options for many, but the cost that an electric bike makes you incur is a lot.  
An e-bike costs twice or many be than your non-powered bike. The added cost is that of the battery and the motor cost. If you're someone who's on a tight budget, this might not be the best option for you.
However, if you have a passion for e-bikes or are someone who can afford it – your riding experience will change forever.
The cost of an e-bike's battery can go up to hundreds of dollars depending upon the size and model of your bike. Most e-bikes use lithium-ion batteries that give you a great amount of cycle, given that proper maintenance is provided.
Riding an e-bike each day will require you to change the battery in three years. A very important thing to calculate while buying an e-bike is to consider the battery replacement cost.
4. Shorter Range
The range differs from one e-bike to another. Most e-bikes don't offer a large range. If you require short trips such as going to the grocery store or round across your neighborhood, it will work just fine.
The battery of the bike will last you depending upon the speed and the terrain you take. In a full day of riding, you must opt for a bike that offers you a wider range.
5. Exclusive E-Bike Parts
All e-bikes are not the same. Many parts are made for the bike model, and these are only obtainable from the manufacturer. These special parts can be those in the drive system, motor, or battery.
Such parts come with their own set of problems – it is are harder to find their replacements. It is because you have to buy them from the manufacturer or the dealership. These parts are often higher priced since they know you have no other choice but to buy.
Read How to Remove Rust from Bikes
6. More Recurrent Maintenance
People don't follow the ranges and tend to ride their e-bikes further than they can at higher speeds. It will make some parts of the e-bike wear out faster, and for that, you'll need frequent upkeep. The parts that will need to be replaced the most will be the tires, chain, and brake pads.
The e-bike motor and battery add a lot of complexity to the bike. If one of these parts fails, then expert help will be required. Along with that, you'll need to find the right replacement, which is quite a task.
7. Not For Exercising Purposes
When you start to ride an e-bike, you use your legs less, and the motor does most of the work for you. It is not burning your calories the same way a non-powered bike would.
In return, there is no health benefit. Your heart rate has no impact and remains low, and you don't get a good workout with this. If you aim to get the e-bike for exercise purposes and not rely solely on it for transportation purposes, then a non-powered one will suit you best.
Related Posts:
The Bottom Line
We hope our guide on electric folding bike pros and cons has helped you a great deal. It will surely benefit you in making the right decision for yourself. An e-bike is an excellent choice for casual riders and commuters who don't have to go too far away. They help you maintain a healthier and cleaner atmosphere. But they have their set of drawbacks of being expensive, charging frequently, and out of range issues for most models. Whatever you decide, make sure you fully commit to it.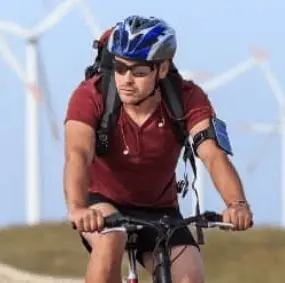 I am Michael, an avid rider and bike expert. I am here to provide, biking tips and expert advice on in-depth bike reviews covering features, capabilities, price range, and much more. Specially on electric bikes, mountain bikes, road bikes, etc. I will provide honest product reviews, along with expert advice on purchasing, training, and maintenance. Check out my complete profile.