At any given point, your electric mountain bike can and will get dirty. However, those cold, wet, and dreary months of the year can be particularly more annoying. During this time of the year, you may look at your electric bike and wonder it's time to clean it thoroughly, but this is when an obvious question comes to mind: how to clean an electric mountain bike?
More importantly, since they're built differently and have electricity running through them, shouldn't the cleaning process be different?
Read on as we answer these questions and several others in the guide below.
How Often Should You Clean Your Electric Mountain Bike?
The frequency depends on a clean depends on your usage. Do you use your electric mountain bike every day? Then you may have to clean it every week.
If you ride it casually on the weekends, you'll only have to clean it once a month. That said, the cleaning frequency also depends on the conditions in which you ride the bike.
For instance, if you've spent an afternoon on rough terrain perforated with ditches and puddles, you may clean your bike as soon as you're home.
This would mean you'll be able to ride your bike on the same trail the following week, with your bike performing at optimal levels.
That said, regardless of the conditions, make it a standard practice to wipe your bike after every ride. This will stop the dirt from building up, and it will prolong the life of your electric mountain bike and its components.
Moreover, a regular clean also makes it easier to clean your bike when you schedule a day for a deep clean.
What are the Basics of Electric Mountain Bike Cleaning?
Like any other bike, taking care of your electric mountain bike will help you enjoy the ride the most, and you'll also increase the lifespan of the components.
By staying on top of the basics of electric mountain bike cleaning, you, along with your bike, will keep grinning ear to ear.
Here are some things you should remember:
The drivetrain should be well lubricated
The tires should be properly inflated
Partially charge the battery and store your bike in a dry and cool place
Only charge your bike the correct charger
If there's a fault in your bike, visit the dealership. Don't try to disassemble the bike if you don't know how to do it.
Keep checking for software updates
Can the Components Get Damaged?
Of course!
Several electric mountain bikes nowadays use components that are specifically built for assisted riding. This means you'll likely see stronger parts that can withstand the various forces a bike has to experience because of the overall speed, weight, and power output of the bike.
An electric bike's drivetrain has different gear ranges and is beefier when compared to non-assisted bikes.
The wheels of an electric mountain bike are also sturdier, brakes more powerful, forks stronger, and so on. Nonetheless, despite the added reinforcement, people often demand a lot from their electric mountain bikes.
Whether they're pedaling, climbing, turning, descending, or braking, keep an eye on your bike's components to check for loose bolts or damaged parts.
Moreover, perform a safety check regularly to ensure all axles and bolts are on the manufacturer's recommended torque settings.
Keep checking your bike's tires for anything that may cause a puncture and test for loose spokes, too. It's also worth remembering that if your bike's chain wears out, it can have a domino effect on other components.
To ensure problems like these don't happen, you'll have to keep your electric mountain bike clean at all times. That said, there's a definite method to the procedure.
Here's what we mean.
The Supplies and the Setup
So, how to clean an electric mountain bike?
First and foremost, you need to have the right supplies.
A side note before you get your hands dirty: try not to clean your bike right after use, particularly if your trip was a muddy or wet one.
Even though you'd want to wash off the dirt from your electric bike ASAP, it's worth waiting for the dirt to dry. When you let it dry, the dirty water and dirt dry get easier to remove.
While it may sound contradictory to cleanliness advice you've received in the past, it's true!
First things first, leave your battery plugged into the socket when you start cleaning your electric mountain bike.
Most electric mountain bikes are designed to withstand a splash of water, and even if you go with a bit of soap, you won't damage your bike.
If your bike has a stand, use it! Just make sure you have ample space to move it around when you're cleaning your bike.
However, if you don't have a stand, lean your bike against a fence or a wall where you'll have enough space.
Moreover, you should be doing this outside so you can make a mess if needed. Soap isn't a necessary part of the process, but you can use a small amount of dish soap after mixing it with water if you want to use it. Just make sure it isn't a heavy degreasing soap like car wash soap.
To clean your bike, you're going to need a rag or a sponge (to wipe the frame), a bristled brush (to clean the tires), and a dry rag to clean the bike once you're done washing it.
If you're confused between using a rag or a sponge, consider using a rag because it's more nimble than a sponge.
When it comes to water, you have two clear options. You can either use a pair of buckets, one with water for rinsing and one with soapy water, or you can use a garden hose.
However, if you decide to use a hose, remember to use it on the sprinkle or shower setting to light the water pressure.
Finally, you're also going to need some lube so you can lubricate the bike's chain to prevent it from rusting.
The Supplies You Shouldn't Be Using
Pressure washers should not be used to clean electric mountain bikes. Electric mountain bikes aren't built to withstand high-pressure water.
If you use a pressure washer, you'll water debris and dirt into places you wouldn't want them to be in. You should also avoid using car soaps since they have a wax that doesn't suit electric mountain bikes' surfaces.
How You Should Wash An Electric Mountain Bike
Electric mountain bike motors are sealed, which is why they shouldn't let any water in. Make sure all connections on your bike remain sealed, and remember to turn off the bike before you start (it shouldn't be charging, too).
The charging port of your electric mountain bike can collect impurities, so remember to look into it and brush out the mud with a brush or a dry cloth. Once you've cleaned it, keep the port closed when you're cleaning other parts of the bike.
After you've washed the bike, dry it off with a clean rag, and remember to avoid the disc brakes. If you accidentally contaminate them with oil or any other substance, they may not work as they do.
Now and then, you'll have to clean your bike's battery. You can do this with a dry brush or a piece of cloth.
If your electric mountain bike has an additional life-extender battery (connected for longer rides), you should disconnect it before you clean the bike.
Your electric bike may also have a speed sensor connected to its wheels. Clean this part with a soft piece of cloth to ensure it doesn't get damaged.
Storing and Charging an Electric Mountain Bike
Charge the battery of your electric mountain bike in a dry location and at room temperature. To increase the battery's lifespan, avoid leaving the battery fully discharged or fully charged for extended periods.
If the bike has been out of use for a long time, you can disconnect it. It will gradually lose juice, and you can charge it when you want to use the bike.
Maintaining a battery percentage between 30 to 60 percent is ideal for your bike's long-term health.
Extreme temperatures are enemies of electric mountain bikes. So store your bike in a cool and dry place out of the reach of direct sunlight.
During cold weather (particularly when temperatures can drop to 0°C and below disconnect the battery once you're done riding the bike.
Parts and Components You Shouldn't Clean
Like every bike you can buy, electric mountain bikes have a few sensitive parts, too. Try your best that any water and soap doesn't reach this part. However, you can clean these parts with a dry piece of cloth:
Gears and chains
The hub bearing (the wheel's center)
The brake pad, discs, or rotors
The bike's bottom bracket (the part where pedals connect to the frame)
Seat post (the part where the bike connects to the saddle)
The bike's headset (where handlebars connect to the bike's frame)
Avoid these areas at all costs when you're cleaning your bike. Most importantly, please do your best to stay away from the brake pad since messing up its functionality could have detrimental effects.
Staying away from the components we mentioned above will ensure that your electric mountain bike won't squeak in the future.
The Do's and Don'ts of Electric Mountain Bike Cleaning
The Do's
Only use shine products that are approved for electric mountain bikes. They'll help give your bike a new look
If you don't have much time, use a garden hose to rinse your bike faster
Instead of using liquid lubricants, get ones that come in a spray bottle. These are a lot easier to apply and can help you avoid a sticky surface
Protect every electronic display. You can never use too much poly-film!
At the end of every week, check whether your bike is clean enough for the upcoming week. Moreover, frequently lubricate your bike chain. Never wait for it to dry out.
The Don'ts
Going past six months without checking your bike's chain. This is your responsibility as a rider! Even if you're not using your bike that often, ensure no mud or dirt is interfering with the bike's functionality. Ensuring you're safe while you're riding your bike is essential.
Using a pressure washer. This will move dirt into the sensitive areas of the bike.
Applying a degreaser on a brake pad or caliper. This will contaminate the brake pad, and they won't be able to function properly.
Parting Words
We hope the information mentioned above answered the question, "how to clean an electric mountain bike?"
By all means, use your best judgment to decide when it's time to clean your electric mountain bike. When you do, you shouldn't have to work too hard to ensure your bike is spotless, but if you have to, you should perhaps clean your bike more often. This will make the process quicker and a lot easier.
As with anything, the more you do it, the better you'll become, and the faster you'll do it, the more you'll enjoy it. Remember: if you take care of your electric mountain bike, your electric mountain bike will take care of you.
F.A.Qs
Can you use motorcycle oil on an electric bike's chain?
No!
Never use anything on your electric mountain that isn't designed for it, and this is even more vital for electric mountain bikes. A motorcycle's lubricant is thicker than an electric bike's lubricant, so it is not recommended. This lubricant will accumulate dirt in the long term, and your bike's chain won't work the way it should.
Should I lubricate the chain every time I wash my electric mountain bike?
Not really. Before you wash the bike, you can check to see if your bike needs to be lubricated. If there's no need, don't wash the chain. A few recent electric bike models have a belt rather than a chain. A belt doesn't require any oil.
Related electric bike articles: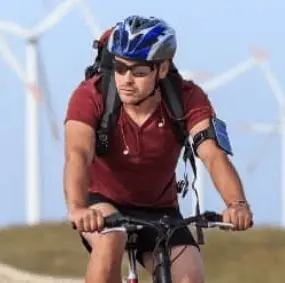 I am Michael, an avid rider and bike expert. I am here to provide, biking tips and expert advice on in-depth bike reviews covering features, capabilities, price range, and much more. Specially on electric bikes, mountain bikes, road bikes, etc. I will provide honest product reviews, along with expert advice on purchasing, training, and maintenance. Check out my complete profile.