If you are not able to decide whether to buy an electric bike or a petrol bike, then here is the article where you will get all the information regarding Electric Bike vs Petrol Bike.
The two-wheeler vehicle industry has come a long way. With each passing day, the world sees something new and innovative. But when electric bikes were first introduced in the market, they instantly became a hot cake.
Even still, their popularity is on the rise. In a projected estimate, the growth of the electric motorbike industry saw a dramatic increase of 4.9% in the annual growth rate.
It was projected that this figure would go up, and in the year 2030, the industry would be worth $30.5 billion.
But the fact remains that people are still using conventional petrol bikes. Many people are still hesitant to invest in an electric bike.
Mostly because they don't know much about electric bikes, so, if you're considering buying an electric bike, you should weigh the pros and cons of both electric and petrol bikes to make a decision.
Here's everything you need to know about the electric bike vs. petrol bike competition.
What Are Petrol Bikes?
A petrol bike is a conventional bike used for transportation. It runs on petrol, which produces carbon gas emissions.
A petrol bike consists of an internal combustion engine or the ICE. This engine combusts petrol which drives the bike. It is one of the most popular means of transportation and is easily available.
What are Electric Bikes?
Electric bikes are different from petrol bikes. They run solely on electricity. They consist of an electric motor which uses electricity to run. They do not produce any carbon-gas emissions, making them safer for the environment.
Read 10 Ways to Make Electric Bike Go Faster
Electric Bike vs Petrol Bike
Overall, there are many benefits of electric bikes over petrol bikes. But, at the end of the day, it is entirely your choice whether you choose an electric bike or a petrol bike based on your requirements.
Here is a detailed comparison of electric bike vs. petrol bike:
1. Power and Torque
You want to experience the best possible performance when riding a bike, right? So, if you compare an electric bike vs. petrol bike, an electric bike has a greater advantage when it comes to power and torque.
Since petrol bikes run on ICE engines, they need the engine to reach a certain RPM (revolutions per minute) before providing the maximum power and torque.
On the contrary, electric bikes can instantly provide maximum power and torque starting from 0 RPM.
Even a higher cc engine of a petrol bike can't match the power output of an electric bike which gives an electric bike a greater advantage. If you want optimum power and torque at all times, an electric bike is the correct choice.
Read Are Folding Bikes Harder to Ride?
2. Maintenance
With so many parts of caring for petrol, bikes require high maintenance. Those who have ridden petrol bikes know how time-consuming and repetitive petrol bike maintenance is, which can get annoying after some time.
Fortunately, electric bikes are a lot easy to maintain. Since they don't have any valves, pistons, carburetors, or oil, unlike petrol bikes, you don't have to spend a lot on monthly repairs or maintenance.
You simply need to ensure that your electric bike is charged and its tires have enough air. Besides that, your electric bike is good to ride.
But if you love to open your toolbox and work on your bike in the garage, you won't get many opportunities to do that. But then again, you'll be saving money on maintenance. Simply put, it comes down to your preferences.
3. Purchase Cost
Another main aspect of electric bike vs. petrol bike is the cost. Ultimately, the cost of any product is the defining factor that leads to the purchase.
The same is the case for bikes. Whether you purchase an electric bike or a petrol bike, in the end, it will all depend on the cost.
Petrol bikes are generally less expensive than electric bikes. But in the long run, petrol bikes are more expensive given the need for recurring maintenance and repairs.
Plus, with incentives given by the government, such as a federal tax credit on electric bikes, you can save money on the purchase.
Moreover, many electric bike manufacturers have made it easy to purchase them by setting up installment programs. But if you look at the overall cost, petrol bikes are the more affordable option.
4. Running Cost
The running cost largely depends on the fuel, which in case of petrol bikes is, well petrol and for electric bikes, it's electricity.
Surprisingly, the running cost of electric bikes is lower than petrol bikes. But it depends on the petrol and electricity costs in your area. But with electric bikes, you have the advantage of using solar energy.
If you install a solar panel in your house, you can reduce your electricity bills and the running cost of electric bikes.
While solar panel installation is costly, it can save you money in the long run. You can easily recoup the installation cost by cutting back on electric bills.
So, it's a tie in the contest between electric bike vs. petrol bike for running cost. But if you think about the broader prospect, choosing an electric bike would be the wiser decision.
5. Comfort
Riding a bike is full of thrill and adventure, but your comfort is often compromised with a petrol bike. Although with the latest models, the comfort of petrol bikes has been improved greatly, some issues can't be entirely eradicated.
The major problem with electric bikes is that they vibrate when stationary. Imagine you're waiting at the traffic signal and have to wait with a vibrating seat.
This can cause discomfort for many. But with electric bikes, there aren't any vibrations, and your bike will remain still and offer more comfort.
Moreover, the latest models of electric bikes have more ergonomic features that allow drivers to adjust the handlebars and footpegs as needed. This way, you can easily drive your electric bike in the position that's most comfortable for you.
If you've never ridden a petrol bike before, you might not be able to tell the difference in comfort levels of electric bikes.
But for those who've experienced both, they can easily tell that an electric bike is a clear choice when it comes to comfort.
6. Environmental Pollution
All vehicles cause environmental pollution of two sorts; noise pollution and air pollution. This also applies to bikes. Let's look at which bike is better in terms of the environment in an electric bike vs. petrol bike.
Noise Pollution
Studies have shown that bike riders love the noise it makes. Some petrol bikes are noisier than others, and not everyone loves the sound of a roaring engine.
While not entirely, but electric bikes limit the noise it makes. But one thing's for certain; they don't make any loud roaring noises. You won't have to worry about making the whole neighborhood with excessive noise in electric bikes.
In a way, it is a pro and con at the same time. If you love the thrill of bike rides with the noise, you can't enjoy that with an electric bike. But if you want to play a part in reducing noise pollution, an electric bike is the correct choice.
In the end, it all comes down to your preferences.
Air Pollution
Air pollution is a growing concern given the current climate change. People are turning towards eco-friendly alternatives in everything to protect the earth from harm. Carbon gas emission is one of the biggest causes of environmental pollution.
A petrol bike emits toxic emissions that are harmful to the environment, but electric bikes are completely safe. There aren't any emissions, and they do not contribute to environmental pollution.
Moreover, if you use solar energy, you can contribute to environmental safety even more.
If you're an environmental enthusiast, choosing an electric bike is the clear choice for you.
7. Convenience
Availability of fuel is a major factor in deciding whether a bike is convenient or not. Generally, you'll find a petrol station at every stop. Unfortunately, the same cannot be said about electric bikes.
Even though electric bikes are increasing day by day, there aren't many charging stations. If you run out of petrol, you can easily refill it from a nearby station.
On the contrary, finding a charging station for electric bikes is a bit more difficult. With no fuel, you'll be sitting in the middle of nowhere and will have to call for help.
Of course, this will improve in the near future, and many charging stations have been installed, but given the current usage, it's still not enough.
But with the ever-increasing popularity of electric vehicles, there are sure to be many charging stations installed at some point.
But in current conditions, petrol bikes are more convenient in terms of fuel availability. However, charging electric bikes is easier with the at-home charging option.
By simply plugging in the charger to a suitable power source, you can charge your electric bike in the comfort of your home.
Although it is important to consider the charging time for electric bikes, it will take several hours for your electric bike to charge fully once you run out of power.
On the other hand, filling your petrol bike up with fuel takes several minutes. If you're planning to travel long distances, a petrol bike is a better option.
But if there are charging stations along the way or if your bike's range is enough to cover your required distance.
The Winner
Overall, the competition winner of electric bike vs. petrol bikes would be an electric bike. Electric bikes have many combined benefits to offer. But it all comes down to your preferences and budget.
Let's summarize the overall pros and cons of electric bikes over petrol bikes.
In electric bikes, you can save money in the long run by reducing running and maintenance costs. With fewer parts to worry about, your maintenance cost is reduced automatically.
Plus, if you invest in solar, you can run your electric bike practically for free. The initial cost of electric cars is higher, but you can save a huge amount on the purchase with federal tax credits.
In terms of comfort, electric cars are better. You can ride in any position that is comfortable for you. This is a feature that's not available in conventional petrol bikes.
Besides, the overall performance of electric bikes is a lot better than petrol bikes as they give instant power output.
The charging stations aren't available as commonly as petrol stations are. This is the only major drawback of electric bikes, but this is bound to change soon with a promising future in the two-wheeler industry.
Besides, home charging has made electric bikes a lot more convenient. Besides that, electric bikes reduce overall environmental pollution, be it air pollution or noise pollution.
Given the current environmental conditions, electric bikes are safer for the environment. Zero carbon gas emission combined with noiseless operation makes them perfect for the environment.
However, the no-noise feature may be a con for some. But overall, electric bikes are a lot more fun and better than petrol bikes.
Related electric bike articles: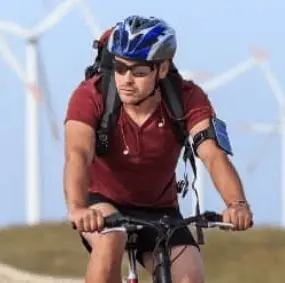 I am Michael, an avid rider and bike expert. I am here to provide, biking tips and expert advice on in-depth bike reviews covering features, capabilities, price range, and much more. Specially on electric bikes, mountain bikes, road bikes, etc. I will provide honest product reviews, along with expert advice on purchasing, training, and maintenance. Check out my complete profile.