Mountain bike backpacks have been enhanced and optimized to carry all your snacks, water, and gear as simply and comfortably as possible. Since smaller and newer hip packs took over the mountain biking market, backpack manufacturers have been innovating and improving to get backpacks back into the mountain biking world again.
It doesn't matter what kind of rider you are. Maybe you are a mountain biker who hits the parks every few weeks for a simple and casual bike ride. Or maybe you love going down extreme trails at the highest speeds possible.
Everyone needs a good backpack to carry some supplies on their rides. Some things to keep in mind when choosing the right backpack for you include:
Things to Consider before buying your backpack
Hydration
Most mountain bikes have attached brackets or cages to carry a water bottle with you on bike rides, but sometimes carrying a single bottle of water may not be enough.
Mountain bike backpacks come with hydration reservoirs or bladders to fulfill your hydration needs.
Think about how much water you drink on your usual rides or how much water you would need to make it to the next place you could refill your water? Your backpack should hold enough water to fit your requirements.
Some backpacks have pockets to hold your water bottle, but it would be better to purchase a backpack with a hydration system for quick and simple drinking whenever you need it.
Backpacks come with a bladder and hose system that can be magnetic or with a clip to keep it secure and close to your mouth while you ride.
Make sure the backpack you purchase comes with the hydration bladder, as some don't and require it to be purchased separately. You could also fit a hydration bladder you may already own with a new backpack if it is compatible.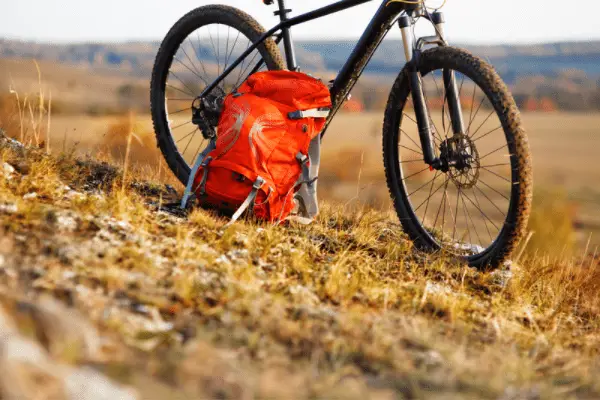 Read How to Clean An Electric Mountain Bike?
Storage Capacity
How much storage capacity you need depends on how much you may need to carry or how you may ride. Think if you need to carry extra gear like armor and protective pads?
Most casual riders who take short rides only need to carry a few things with them, but if you are someone who likes to ride different trails on different days or go on long rides often, you may need a backpack with a higher storage capacity.
Protection
Backpacks nowadays come with protection to protect the user and protect whatever is inside the backpack as well.
Things can get dangerous very easily and unexpectedly while mountain biking, and having a backpack that will protect you and everything you are carrying is essential.
Lots of backpacks come with spine protection to protect your back if you ever fall. These different kinds of protections could be the difference between a minor fall and a serious injury.
Some backpacks require the protectors to be purchased separately, so make sure to check before making your purchase.
Things you will keep inside the pack also need protection as you don't want to be stuck in a situation where all your important things might get damaged.
Backpacks offer rain protection, thick fabrics, and extra padding to keep your items as safe as possible.
These protections are important to keep yourself and your items safe on all your rides.
You might not need high levels of protection if you are sure you won't be riding anything too tricky or dangerous, but for riders who like getting crazy downhill, keep protection in mind before making your purchase.
Comfort
Mountain biking is dangerous and tough and can get even worse if you aren't comfortable. It would be best if you bought a backpack that fits you securely and is stable on your body.
A backpack that bounces around or jiggles from side to side will only make your ride harder and more dangerous.
Purchase a backpack that will fit correctly and snuggly with your body to make yourself as comfortable as possible.
Proper ventilation is essential, too, as you can get really hot and sweaty on mountain trails. Backpacks with vents, channels for airflow, or materials like mesh are great to stay cool and dry on your rides.
These were the main few factors you need to figure out before you make your purchase. Backpacks have lots of more different features you could want, like helmet holders or tool rolls to keep your tools organized in your backpack.
Now that we know about all the things you need to keep in mind, let's look at some of the best mountain biking backpacks available in the market today.
Read Hardtail mountain bikes you should buy
Best Mountain Bike Backpacks
Dakine Session 8L
Weight: 1.2 Lbs
Storage Capacity: 8 liters
Water Capacity: 2 liters
Price: $89
This Dakine backpack is made for bikers who love small and minimalistic backpacks. It's small in size, just bigger than a large hip pack, and will sit very comfortably on your back.
The Session 8L has a storage capacity of 8 liters and a water capacity of 2 liters. 2 Liters of water is enough for most casual mountain bikers.
The Session 8L also has plenty of additional compression straps to carry extra items that might not fit inside the bag, like your helmet, extra pads, or extra clothes. This backpack is also available in a women's version with different prints and colors.
For people who don't need too much on their rides, just the essentials, and some water, the Dakine Session 8L is a great choice.
Read Best electric mountain bikes for women
CamelBak HydroBak Light
Weight: 170g
Storage Capacity: 1 Liter
Water Capacity: 1.5 Liters
Price: $55
CamelBak is a company that is well known for its biking backpacks. The HydroBak Light is another great backpack for riders who don't want to carry a lot on their mountain rides.
It has a 1.5-liter water storage capacity and an additional 1 liter of space for other items you might need on your rides.
This backpack is incredibly lightweight and comfortable for those hot and extreme trail rides you might want to take. It is very well ventilated and breathable to keep you cool as you ride.
The HydroBak Light also has additional zipped pockets for small items and straps to hold your helmet. It is also available in a bunch of different colors at a very friendly price point for any mountain bike rider.
Read Best Electric Mountain Bike with Removable Battery
Jack Wolfskin TRT 22 Liter Pack
Weight: 2.25 Lbs
Storage Capacity: 22 Liter
Water Capacity: N/A
Price: $65
The Jack Wolfskin TRT 22 Liter pack, is very good quality, durable, and versatile backpack.
With a carrying capacity of 22 liters, this backpack is great for riders who need to carry a lot and ride for long distances and times. This backpack is rich in different features and can do a lot.
You have different compartments for different things, including a compartment for your laptop or tablet. One of these compartments is lined with fleece so you can store valuable or fragile objects without worrying too much.
The Wolfskin TRT is perfect for you if you plan to go on long rides often, or maybe you like camping at the end of your mountain biking trail.
This backpack will easily carry everything you might need comfortably and safely on all your rides.
Also read, 6 Best Electric Mountain Bikes Under $4000
USWE Airborne 3
Weight: 0.91 Lbs
Storage Capacity: 3 Liters
Water Capacity: 2 Liters
Price: $119
USWe is a Swedish brand mostly known for its motorbiking backpacks but is now growing in popularity amongst mountain bikers too. It has a storage capacity of 3 liters and a water storage capacity of 2 liters.
This backpack is gaining in popularity due to its no-bounce design. They use a special suspension harness system to prevent the bag from bouncing around and swaying as you ride.
The Airborne 3 is also highly ventilated to keep the rider cool and has well-fitting ergonomic shoulder straps.
This USWE backpack has different features like a reversible hydration bladder for easy cleaning and drying, a tool pocket to carry small tools and items, and also a secure attachment to clip a mountain bike LED light.
Pack capacity: 3 liters
Hydration bladder capacity: 2 liters (included)
MSRP: $119.99
Read Best Mountain Bikes for Women
Osprey Syncro 12
Weight: 1.72 Lbs
Storage Capacity: 12 Liters
Water Capacity: 2.5 Liters
Price: $130
The Osprey Syncro 12 is a versatile and high-quality backpack for all your mountain biking needs. It has a 12 Liter storage capacity and a hydration compartment that can hold 2.5 Liters of water.
The Syncro 12 is one of the heaviest backpacks on our list due to the use of quality materials and the different features it has.
This Osprey backpack has great ventilation for riding under the sun due to its 'AirSpeed' back panel design. It is incredibly comfortable due to its mesh back panel and padded hip wings.
The additional features on this backpack include a front mesh pocket, a lid lock helmet carry, and a zippered organizational pocket.
The Syncro 12 also has an integrated rain cover to keep you and your gear dry and protected during your rides.
The Osprey Syncro 12 is a great all-around mountain biking backpack that will cover all your biking needs and requirements.
Related mountain bike articles:
Conclusion
We hope going through our article has helped you understand what to look out for when purchasing the right backpack for yourself. Also, we hope our list of mountain biking backpacks has something perfect for you.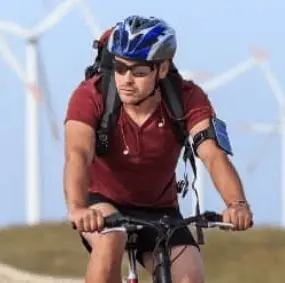 I am Michael, an avid rider and bike expert. I am here to provide, biking tips and expert advice on in-depth bike reviews covering features, capabilities, price range, and much more. Specially on electric bikes, mountain bikes, road bikes, etc. I will provide honest product reviews, along with expert advice on purchasing, training, and maintenance. Check out my complete profile.