At first, choosing the right tire for your mountain bike might seem like a simple and easy choice. But there are lots of things to consider before you make your purchase! There are numerous aspects to consider when selecting the best mountain bike tires for you.
Factors to consider before making your purchase
The most critical aspects to consider before purchasing tires for your mountain bike are knowing where you will be riding, what kind of rider you are, and the kind of bike you are using.
All these factors should impact your purchase, so you are satisfied and happy with your tires.
When selecting tires, you first need to ask yourself where and what kind of terrain you will be riding on? The terrain on which you are traveling will influence the tread pattern you should use.
Is your trail made of hard-packed gravel or dirt, or is it covered in deep dust, mud, pebbles, and slick roots? It is important to consider the type of dirt and the surrounding conditions while deciding on the best tire to use.
For softer, deeper dirt roads, you will want your tread pattern to be more open and your knobs taller. The knob's ability to "dig" into the soil increases with its height.
It is easier for mud to get out of your tires in muddy or sticky situations if the tread pattern is more open.
And if the trail you are riding on is more hard-packed, the option to go for is a tire with a lot of little knobs arranged in close proximity.
Having a large number of knobs in contact with the earth provides the most traction since the ground is too hard for them to penetrate.
On hardpack trails, running tall knobs might cause the tire to feel weird due to the knobs squirming when loaded. The slower the tire rolls, the wider apart the knobs are.
The second thing you'll need to consider is your riding style. If you're just a recreational rider looking to have a good and safe time, your tire choice may be different from an extreme downhill racer riding the same trails as you.
Read Mountain Bike Tire Pressure
Different biking styles call for different types of tires
You need tires that are light and fast-rolling for cross-country riding. Climbing efficient tires are more critical than traction or extra durability for cross country rides.
Trail riding requires an all-around tire. You want to look for moderate amounts of traction, durability, and speed for these kinds of rides.
Mountain biking, even though you have to ride to the top, is all about going downhill.
When you are driving at high speeds downhill, you need tires that can endure moderate impacts and still have enough traction to give you control at high speeds.
For just downhill riding, assuming you are getting a lift to the peak, you need a set of tires that can handle the demands of gravity. The tires must take some punishment, stick landings and still claw their way through corners.
Other than your own needs and requirements, the tires you purchase must be the right fit for your bike too!
Read How To Change A Mountain Bike Tire?
Tire Diameter
Tire diameter is the height of the tire and is also simply referred to as wheel size. Most mountain bikes come with three wheel size options, 26 inches, 27.5 inches, and 29 inches.
You might prefer one size over the other, but keep in mind that your mountain bike was engineered with a tire diameter in mind.
So while the tires might be easily changeable, a different tire diameter might not be the best choice.
Maintain a proper relationship between rim and tire width
Tires and rims that do not match might cause concerns such as a loss of stability and safety. You may be able to just buy a new set of tires and put them on your bike, but it is not always that simple.
It is important to examine the rim width in relation to the tire width to keep your bike performing at its highest level.
Now that you know about most of the factors you need to consider for your mountain bike tires let's look at some of the best mountain bike tires in the market right now.
Read Tubeless Tires Advantages And Disadvantages
Best Mountain Bike Tires
Maxxis Minion DHF Wide Trail 3C TR EXO
The Minion DHF is considered the benchmark for mountain bike tires. It is a favorite of extreme downhill riders and of riders who trail all day too. It is one of the most highly copied tires in mountain biking.
Its tread patterns offer a good predictable grip and braking on all kinds of terrain, and its large center block makes it a good rolling tire too.
It is almost impossible to find any faults in the Maxxis Minion DHF Wide Trail tire.
Specialized Butcher GRID Trail T9
This recently updated Specialized Butcher tire is made from a completely new T9 rubber compound.
It is not super soft but is made to rebound slowly to improve grip and reduce deviations. This results in a ride that is tightly gripped to the surface of your trail.
The tall center lugs with open spaces provide great braking, while the rows of shoulder knobs give it great control in corners.
Read How much air pressure in bike tires
Maxxis Minion DHR II
This tire is made for aggressive riders and provides amazing grip in corners and great braking traction too. Riders who like to regularly blow away chunky and loose terrains are the best suitors for this Maxxis tire.
The Minion DHR II trades away some of the rolling speed for insane braking and cornering ability.
It is designed as a rear tire to be used with a Minion DHF on the front for the supreme combination for extreme mountain biking.
Continental Der Baron
The Der Baron offers incredible traction over damp rocks and roots. Its knobs are boosted up to roll very fast while also giving you good cornering ability.
This Continental tire is a little more flexible than other tires of the same weight, which makes them great for light or small riders. They allow the rider to have precise control over the bike and give you a good feel too.
These tires are great for anything, from riding down muddy tracks to extreme downhill rides; the Der Baron will grip onto any terrain and let you have your fun!
Read How Do Tubeless Bike Tires Work and Should You Switch to Them?
Continental Der Kaiser Projekt
Another Continental tire on our list, the Der Kaiser Project, has tons of grip and rolling speed while still remaining soft. Its tread is uniform, with wedge-shaped shoulder blocks.
This tire's new shell has improved its flexibility, so it conforms very well to any kind of terrain.
Its tread also gives it predictable braking, good cornering prowess, and it irons out most of the vibrations on your ride.
Vittoria Syerra
The Syerra is Vittoria's new entry into the downhill mountain biking market. It is a fast-rolling tire on flat parts of your ride and is great for the tough climbs as well.
The wider profile also helps with grip and cornering ability. The only thing that worries us about this tire is its grip in moist and wet conditions, so if you regularly mountain bike in damp terrain, maybe go for a different mountain bike tire.
Schwalbe Hans Dampf SuperGravity ADDIX Soft
The Hans Dampf SuperGravity is best for rocky, hard-packed trails. The tire has an amazing straight-line grip and a great rolling speed. Its sizeable sidewalls and knobs give it great and predictable cornering ability too.
Read When to Change Road Bike Tires?
Michelin DH22
The Michelin DH22 has spongy rubber, which lets it grip any and all types of terrain. While it might not give you the best grip in wet or muddy trails, this tire will get you straight through slick rocks and roots easily.
These tires are best suited for speedy and fast downhill riders.
45NRTH Wrathchild Studded Tire
45NRTH, a Minnesota company, has made the best tire for really extreme conditions.
Its tread pattern is large and open-spaced, which is great for thick muddy, and snowy terrains. Also, with its studded attributes, it can handle all kinds of icy conditions too.
Even though the tire is called an all-terrain tire, it is not that great for pavements and roads as the tires' studs get easily damaged and worn out.
It is the perfect tire for those who live in harsh winter climates but still want to remain active during those times.
Read Tubeless Road Bike Tires – Pros and Cons
Vittoria Mazza
This tire places its expertise on delivering you performance in the corners. The Vittoria Mazza has sturdy side knobs and substantial sidewalls, making this a very consistent tire. It rarely loses any grip or causes slippages.
The Mazza is a good all-around tire that can work on many different terrains, but it might be a little heavy for the average mountain biker.
Final thoughts
It can be a little overwhelming trying to find the perfect tire for your mountain bike. Not all mountain bike tires are made equal, and there are various elements that influence how they perform.
The tires greatly influence the character and ride of your bike. The quantity of information available on tires based on skill, terrain, and riding style is enormous, and we hope reading our article helps you choose the right tire for you!
Related mountain bike articles: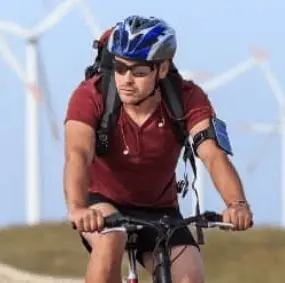 I am Michael, an avid rider and bike expert. I am here to provide, biking tips and expert advice on in-depth bike reviews covering features, capabilities, price range, and much more. Specially on electric bikes, mountain bikes, road bikes, etc. I will provide honest product reviews, along with expert advice on purchasing, training, and maintenance. Check out my complete profile.