Pandemic has forced many people to rethink how they travel. As a result, millions of Americans are now using electric mountain bikes for mobility.
You can enjoy much flexibility riding an electric bike with a removable battery. If you keep the battery, you will be able to ride it at high speed without exerting yourself too much.
But if you want a good workout and burn the calories, you can ride it without its battery so that it feels like a conventional bike.
There was a time when electric bikes were cumbersome, weighty, and expensive. To top it all, they also used to have short battery life. That has now all changed.
Ebikes are now evolving and have thus become lighter, stronger, and better looking. Batteries are now much better and can last for a longer time.
The key advantage of e-bikes is that you don't have to be fit to ride them. What's more, they are a fun way to reduce your carbon footprint and save the environment.
You can do your bit to save the earth from greenhouse gases while having a lot of fun courtesy of e-bikes. These are now the future of how we will travel, and they are quickly growing in popularity.
If you want versatility, you can always choose to ride an ebike that comes with a removable battery. 
The Montague M-E1
If you are searching for the perfect ebike with a removable battery, you should look at the Montague M-E1.
This sleek ebike can also be folded so that it takes up less space. You can stow it easily when it is not in use.
Here are the pros and cons of this ebike.
Montague M-E1 Pros
Comfortable ride
Removable battery
Looks good
Full-size Class 1 ebike
Long-range
Robust mid-drive motor
Simple to fold
Easy to read screen
Montague M-E1 Cons
Pricey
50+ pounds and thus heavy
Few electric bikes come as close to perfection as the Montague M-E1. This is one of the best ebike models that have a removable battery.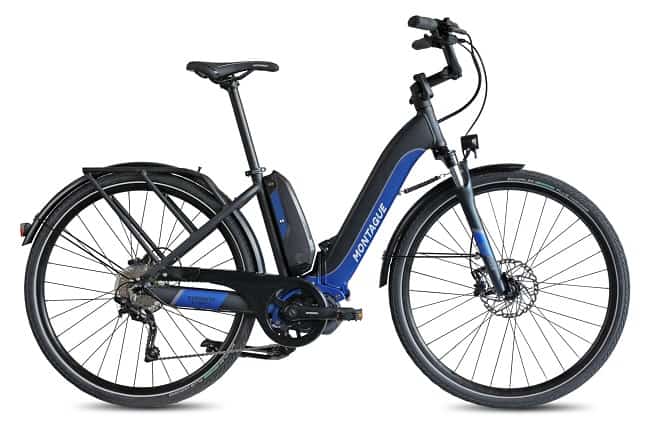 This is one of the most comfortable bikes that you can ride. Although the bike has a foldable frame, it is still sturdy and solidly built.
Hence, it feels strong and rigid. Even if you are tall, you can ride the ergonomically designed bike with a high degree of comfort.
The wheels are a full 28 inches in diameter. It is hard to find such large wheels in the folding ebike category.
The motor is not the most powerful. But the good thing about it is that it is fairly quiet and cranks out just enough power for a comfortable ride. You will also get some exercise as you pedal the wheels.
The electric bike is equipped with good quality parts like Schalbe tires and Shimano brakes.
The folding mechanism is very easy to understand; hence folding the bike up is a simple task. Once folded up, it takes up little space. Hence, you can keep it in your apartment when it is not in use.
Impressive Build Quality
You can't ride the bike without feeling impressed by the build quality. No component of the ebike feels clunky when you are riding it. This is a problem in other ebikes that feel loose and rickety.
The durable aluminum frame feels very rigid and sturdy. It is also aesthetically appealing and stylish. The matte black and blue color combination is somewhat similar to what you see for urban bike-sharing programs.
The rear rack is integrated. The bike has built-in rear and front lights. There are reflective stripes on the sides of the tires. Wide mudguards cover the wheels. You can remove the Shimano battery with ease, and it is mounted towards the bottom of the ebike frame.
However, since the power button is located on the bike's battery, you will have to reach down to power the bike on. The position is thus a bit awkward. It would be better to position the power button somewhere on the handlebar.
A small screen on the handlebar shows information like battery power, bike speed, and the distance traveled. The screen is small, which is a good thing because certain ebikes have too big screens that seem to get in the way.
There is a small button that you can tap to toggle between different screens. You can use this button to see different kinds of bike data. However, since the button is small, using it while riding the ebike can feel tricky.
On the left handlebar, you will find buttons that allow you to change between pedal assistance modes. You can choose from the available High, Normal, and Eco modes to provide you with pedal assistance. You don't need a phone to change the mode.
But you do have the option of installing the Shimano app that will allow you to download firmware, modify your settings and give you more data. However, this app is optional and not necessary.
Besides the left handlebar, the only thing that you will need to take care of is using the 10-speed Shimano shifter. Using it is very simple. On the top gear, you get a decent amount of resistance.
Folding
You can fold the bike in seconds. You will first have to take down the kickstand that has 2 legs. The kickstand will raise the bike from the ground to make it very easy for you to fold it up. Unlike other heavy e-bikes, this one is easy to fold.
There is a clamp located on the seat tube and the down tube. You have to open it up and give it a little push. You can now fold the ebike to half of its size.
You can pack it even smaller if you like. To do that, you must open up the clamp located under the handlebars so that they may fold for even more space. However, you will also need to lower the level of the seat post.
Here is something unique about this ebike. By not folding its handlebars, you can take hold of the handles at the front and then roll the ebike just like you do to a shopping cart.
There is a hook to keep the wheels together so that you don't have to worry about the bike opening up while you roll it forward. This is a brilliant idea to transport your bike while you are dismounted.
However, at 54 pounds, the bike is not exactly light. However, even then, it is better than other heavy ebikes to carry. But since it is so heavy, carrying it upstairs is not an easy task. You should take note of this if you are climbing stairs.
There used to be a minor problem in the folding mechanism. The wire that holds the two halves of the ebike from it you fold it does slide into position on its own.
It washes then necessary to guide the wire using your hands to unfold this ebike. The company has now resolved this issue by fitting a lubricated wrap to ensure that the wire moves the right way.
How it Rides
What does it feel like when you are riding this ebike? At its top speed of 20 miles per hour, it won't feel as though you are peddling through the air.
Even when riding the bike on High pedal assist mode, you still have to put in some effort to ride the bike.
Of course, the effort required will not be much due to the pedal assist. So if you had trouble going up a hill on a conventional bike, you could now do it very easily with the Montague E1.
If you take longer trips, you will work up some sweat. However, it is not so much that you feel grubby. So you do get some exercise while peddling on this ebike. Exercise is something that you won't get on heavier ebikes, especially those that are throttle-equipped.
Although this is a folding bike, it still has large 28-inch wheels. As a result of these bigger dimensions, the bike rolls over bumps more easily for a more comfortable journey. You will feel quite comfortable during your rides.
The front suspension is also good at reducing the impact of bumps. The large wheel size is a big advantage and is not commonly seen in foldable e-bikes.
The ebike looks very much like other conventional bikes. It does not sport an unusual look like so many other e-bikes on the market.
Thanks to the full-size frame, you will look great while riding it. With other foldable e-bikes, you may have to ride closer to the ground, but not with this ebike. Hence, the bike feels upright and comfortable when you are cruising on it.
The bike is suitable for folks whose height is from 5 foot 4 inches to 6 foot 4 inches. However, since the bike is available in just one size, it could feel too big for shorter people.
The Shimano disc brakes are hydraulically operated and reliable. They help you to halt the bike when necessary quickly.
The range of this bike is also very good. You can ride it to almost 30 miles before you need to recharge it. You get good range even on the maximum pedal assist. The ebike can travel a longer range if you activate the Eco mode that places less demand on the motor.
The dealer network of the company is quite extensive. Hence, there is a good possibility that you can order the model from your local bike shop. You can try it out before buying it.
Thanks to the large dealer network, you will also be able to get this bike repaired quite easily. The frame has a 5-year warranty while the motor has a 2-year warranty from the brand Shimano.
Related electric bike articles:
Bottom Line
If you are searching for an electric mountain bike with a removable battery, then you can consider the Montague E1. This ebike feels very comfortable while you are riding and is near perfect in just about all ways. The only thing extra you might want is for it to be lighter. However, it is good overall in all respects. The option to fold it up is very useful, especially if you have limited space available for your e-bike.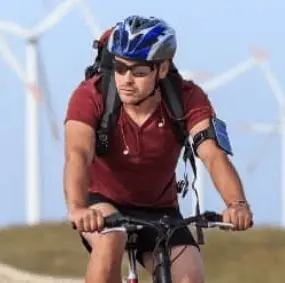 I am Michael, an avid rider and bike expert. I am here to provide, biking tips and expert advice on in-depth bike reviews covering features, capabilities, price range, and much more. Specially on electric bikes, mountain bikes, road bikes, etc. I will provide honest product reviews, along with expert advice on purchasing, training, and maintenance. Check out my complete profile.