Cleaning your bike is never as much fun as actually riding it. After a tiring but excitingly long trip when you return home, the last thing you want to do is clean your bike and take all the dirt and grime off.
If you want to have a smoother ride next time, you must clean your bike regularly. Clean bikes work better and don't wear out faster. Cleaning your bike takes a few minutes, and doing so can save you the maintenance cost later down the line.
Here are a few steps to keep your road bike in tip-top condition and keep it running smoothly for years to come.
What Is A Road Bike?
These tips are specifically for road bikes. Before you start cleaning your bike, identify the type of bike you have as a road bike is a lightweight and efficient bike with drop handlebars and narrow tires. 
These bikes are used for recreational riding, mostly on pavement. Styles include aero, ultralight, endurance, touring, and all-road.
Read What to Look For in a Road Bike?
How to Clean your Bike in 8 Steps
To make your bike rides more enjoyable, wash your road bike after riding to remove grime and keep it running smoothly using these simple steps.
Your bike won't only last longer; it will look better when it is clean. No one wants to ride a bike covered with dirt and mud from your last trip.
Instead of popping your bike back in the shed after your ride, spend a few minutes to wipe and wash it clean to take all that gunk off.
Cleaning that mud when it's fresh is easier; constant build-up of dirt will wear out the parts of the bike and be a hassle to take off. 
If you've now decided to clean your road bike regularly, here's how to clean your bike in seven simple steps.
Read How to Convert a Mountain Bike to a Road Bike
Bike Wash Essentials You Need To Get You Started
Bike wash fluid – Choose an environmentally friendly washing product. Traditional or commonly used wash fluids are made from petroleum-based ingredients like heptane. Even though they are effective cleaners, they are not biodegradable and highly toxic for the person using them and the environment. 
Brushes – Use various sizes of brushes to reach every corner of the bike and scrub it clean. Several bike wash brush kits are available online and in the market with brushes for various applications. However, it is not essential to invest in them. You can create your DIY hack and use a couple of toothbrushes or an old dustpan brush for cleaning your road bike.
Chain cleaning device or use a stiff-bristled toothbrush if you don't have the device.
Chain lubricant
Chamois leather
Degreaser
Paper towel or an old rag – Make sure it is old because you will end up getting grease and dirt on it.
Water source – Keep a bucket full of water close or use a garden hose. 
Work-stand – This is optional but would be very helpful.
Read Mountain Bike vs. Road Bike vs. Hybrid Bike
Step 1: Hose It Down
Very similar to washing your car, you want to hose down the bike and apply soapy water with a brush to remove all the grime from the frame, drivetrain, and wheels. Wash all the bike parts clean and remove surface-level dirt.
Go over the handlebars, saddle, chain, and gears with a brush to get any lingering grime off. This step will prep the bike for the next few steps and remove the majority of the dirt. 
Step 2: Cleaning the Drivetrain
After dousing your road bike with the hose to remove any large build-ups of dirt or mud on the frame and tires, it is now time to focus on the drivetrain. The drivetrain includes the chain, chainset, cassette, and derailleurs. 
The step is quite messy, and it may splatter the solvent and degreaser onto other parts; that is why it is done first so you can clean the rest of the parts afterward. If the drivetrain parts are muddy, you can clean them thoroughly by removing the chain, chainset, cassette, and derailleurs from the bike using tools. 
Cleaning a bike chain is one of the most essential and tricky parts of bike wash. To clean the chain without using a chain-cleaning tool, apply a degreaser or chain cleaning solution generously to the chain. Once applied, use a stiff brush to remove as much grime as possible.
You can also use an old rag around the chain; spinning the pedals would allow the chain to pass through the rag and deposit dirt onto it. Repeat this process until you are satisfied with the result.
To clean the chainset and cassette, use a degreaser and thin head brush. Focus on the ring teeth and the area between the rings to remove any mud that has build-up. Then, give your derailleurs, including the two jockey wheels, a brush with a degreaser. It is where the dirt to sticks on the most.
Don't use the same brushes and rags for all parts, because this way, you will be contaminating and transferring dirt from one part of the bike to another.
For example, if you contaminate the brakes accidentally, it will ruin their performance, and you end up having to replace your brake pads.
Read Mountain Bike Or Road Bike: Which Is Better For Weight Loss?
Step 3: Wipe the Discs or Braking Surface Down
It is impossible not to get mud onto your rotors or rim brake track. Dirt can find its way onto your rotors. It can also cause issues with rim brakes.
Spray some degreaser onto a clean paper towel or rag and wipe around the rotors, discs, or rime brakes to prevent these issues. 
Step 4: Rinse and Apply Detergent
Rinse your bike once more after cleaning the parts separately. You can use a garden hose or a bucket of water and a sponge to wet the bike and remove most of the mud and grime built up. 
If you're using a jet wash, take precautions because it can damage parts of your bike. Spray water from a distance and lower the pressure down.
Instead of rinsing your bike with just water, use an environmentally friendly detergent to make your bike look extra clean.
Step 5: Brush Clean
When you're applying detergent, using brushes of different sizes to clean the parts properly will give a better result. Specific brushes for bikes are available; however, you can even have an old dustpan brush if you don't own any. Use clean smaller brushes to get into narrower spaces.
Step 6: Rinse Again
Rinse it all over again to take the detergent off. Use fresh, clean water to rinse the bike. Spin the wheels to get all the detergent off completely. Check the bike for dirt or any places missed.
Read Can You Pedal an Electric Bike With a Dead Battery?
Step 7: Dry
Move your bike to a work stand if you have one. Use an old dishcloth or chamois leather if you have one to dry the bike. Once it's dry and all the moisture is off, wax the bike's frame or polish the surfaces using a silicone spray.
Rub it all over with a paper towel or soft clothes. Drying will not only make your bike shine and look good but also reduce the amount of dirt that will stick onto the bike on the next outing. 
Step 8: Lube
Use a lubricant on your bike's chain. Read the instructions on the lube to know how to go about it and not overdo it. Start by applying lube while turning the pedals so it coats the chain evenly.
Ensure you take precautions and extra care when applying lube because you don't want it to get into the bike's braking surfaces.
Read How to Determine E-Bike Battery Amp Hours
Why Is Cleaning Bike Important?
You must be wondering why bother putting so much effort to clean something that would eventually get muddy and dirty again? To keep your bike looking good, you need to wash it as often as possible.
Without proper and regular cleaning, the bike parts will become dirty and begin to corrode and rust. You'll soon find yourself struggling with seized components, un-cooperative gears, and squeaky brakes.
To prevent rust and corrosion, cleaning and lubing your bike makes it smoother and easier to ride the bike. You save your pedaling energy with a clean drivetrain, especially a clean chain, allowing you to go faster.
While cleaning, you can often spot some wear and tear in the tires or other parts of the bike. This step helps you identify them early on before the damage gets too severe and costly.
Read Best bike tire pumps
Mistakes When Cleaning Bike
You want to take care of your bike the right way. To beginners, cleaning their road bike can seem like a complicated task. There are plenty of ways bike cleaning can go wrong, no matter how simple it may seem at first glance. 
Doing one thing wrong could diminish the bike's performance and, in worst cases, also damage the bike itself. The last thing you want is your bike to get damaged due to simple mistakes.
Hence, this article talks about a few mistakes you should avoid so your bike lasts longer.
Skipping the First Rinse
Skipping the first rinse can worsen the cleaning of the bike procedure. Don't skip this step, as it is important to rinse your bike before really getting into the nitty-gritty of cleaning.
Going directly into deep cleaning can damage the bike frame's exterior and cause the spread into areas where you don't want it to, such as the brakes. 
Grab a hose or a bucket of water and give your bike a good rinse from top to bottom to get rid of large chunks of mud stuck to wheels and chains. 
Read How much air pressure in bike tires
Using the Wrong Cleanser
Choose the right cleaner for your bike to avoid it damaging your bike seriously. Some cleaners can be damaging to some metals and rubber materials on the bike.
For example, alkaline cleaning products can cause rubber seals to dry out and crack and cause damage to the bike frame.
Some Detergent-based soaps can adversely react with metals, such as titanium and aluminum, causing them to rust over time. So, choose a cleaner that's safe for all the metals, rubber, and plastics on your bikes.
Drivetrain Detail
Don't forget to clean your drivetrain properly. Not cleaning the drivetrain can impact your bike's functionality. Make sure you clean the chain, derailleurs, and cassette and remove all that build-up of dirt.
Use an appropriate cleaner and a brush to work into smaller areas and clean all grime, dirt, and grease. Then, thoroughly rinse the drivetrain. 
Re-Lubing Chain
Cleaning and lubricating the chain is an essential step of bike washing. Never lubricate the chain if you haven't cleaned it. Applying new lubrication on top of dirty lube will shorten your bike chain's lifespan.
Clean and wipe off all the existing lubrication and dirt. Lube the chain, and let it set in before you wipe the excess using a dry cloth. 
Read How Do Tubeless Bike Tires Work and Should You Switch to Them?
Pressure Washing
Using a jet wash or pressure washer to deep clean your bike can impact your bike adversely. Forcing water into bearings and compromising the grease can be problematic.
So, if you're using high pressure, stand at a distance, around 2 to 3 feet away, when rinsing your bike. This distance is to avoid breaking the bearing seals and putting them at risk of drying out.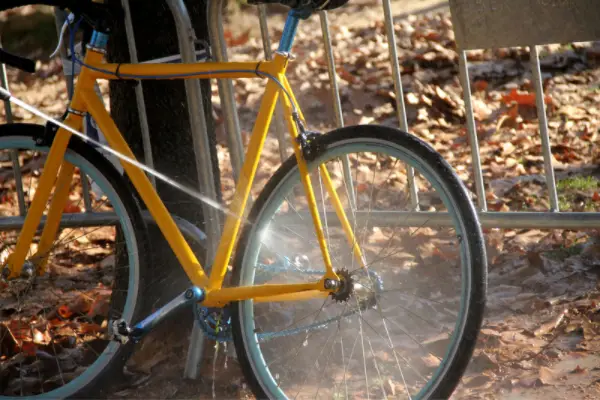 You may also like:
The Bottom Line
If you love bike rides, you should start loving bike washing too. After the bike ride, keep some time to clean your bike. It needs a lot of care and maintenance to keep your bike running smoothly. Bike washing is more important than you think; no matter how much you dread the process, you have to clean it.
Keep these steps of how to clean a road bike and essential tips in mind to avoid messing up when washing your bike; you could end up ruining the functionality.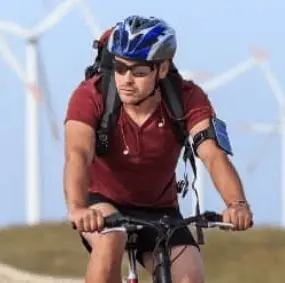 I am Michael, an avid rider and bike expert. I am here to provide, biking tips and expert advice on in-depth bike reviews covering features, capabilities, price range, and much more. Specially on electric bikes, mountain bikes, road bikes, etc. I will provide honest product reviews, along with expert advice on purchasing, training, and maintenance. Check out my complete profile.