If you commute on your bike regularly or are a bike enthusiast, you might be anxious about where to leave your bike. Unlike a bigger vehicle, bikes can get stolen easily whenever you have to go inside and leave your bike outside on the street or next to a bench. The chances of theft increase when there is no rack available in the area to which you can lock your bike.
So, what should be done if there is no bike rack available? No rider would leave their bike unlocked in a public space. Worry no more; with just a bike lock, you can secure your bike safely and properly without a rack.
Before explaining how to lock without a rack, let us tell you how a bike rack works.
What Is a Bike Parking Rack and How Does It Work?
A bicycle parking rack is a bike stand; it is a device to which bicycles can be safely attached for parking purposes. This rack can either be free-standing or attached to an object, such as a building or the ground.
You might come across racks that are indoor for private bicycle parking, and this is much safer; however, there are also outdoor ones for commercial use and can be used by anyone. Hence, the chances of theft here are more if your bike is not attached securely. 
Generally, bike racks come in many styles, such as Inverted U, Serpentine, Bollard, Grid, and Decorative. The safest racks can secure both the bicycle's wheels and frame using a bicycle lock. They are sturdy structures usually made of steel that cyclists use to secure their bikes. 
Tips on Locking a Bike without a Rack
If you want to stop at a nearby café while you're on your morning bicycle ride and there's no place to park your bike, what do you do? Here are a few ways you can securely park and lock your bike without a rack.
Get A Bike Lock
Look for a sturdy, high-quality lock to secure your bike. The D and U locks are the most effective and reliable locks that thieves cannot break easily. The next step is to find something in your area that looks like a bike rack but isn't one.
It should be strong, sturdy, and attached to the ground, like poles, railings, fences, trees, road signs, etc.
One of the best ways to lock your bike securely to the pole is to use a U lock around the rear wheel rim and turn it around the frame. Secure the lock around the pole to glue the bike.
Alternatively, you can secure the front wheel using a second U lock. Using more than one lock secures the bicycle's back and front.
Always go for D and U locks as they are more reliable than cable locks. Cable locks can be cut easily using garden shears by thieves, allowing them to steal your bike.
Check out, 11 Best Beginner's Mountain Bikes
Take Out the Front Wheel
If you own a bike with quick-release wheels, the other option for safely securing your bike is to remove the front wheel and tie it to the frame with a cable lock.
This is an excellent option if you have a bike that allows this and you have the time to remove and readjust wheels.
No thief would go through the hassle of reattaching wheels so your bike would remain safe from theft.
Invest in a Heavy Chain
If you don't own a U or D lock, invest in a heavy chain that is sturdy and reliable. You can securely park your bike using a chain if you don't have a bike rack close by. Secure your bike using two chains on each wheel to decrease the chance of being stolen when you leave your bike unattended.
Thieves steal accessories such as the seat or the wheels of the bike. To secure them all, tie down the accessories with a heavy chain and loop through the saddle rails to protect your bike.
Check out, Where to Put Bike Lock While Riding
How to Lock Your Bike in the Street?
Here are a few tips to lock your bike in the street if you the lock you use and have found a secure place that resembles a bike rack but isn't one.
You need to first start by locking the frame. Bring the frame of your bike close to an immovable object, such as a pole, and using your lock secure the wheels and frame to it to avoid giving the thief loopholes to steal.
When you're securing your bike, make sure to keep the lock from the ground. A thief has a way to break locks when it's secured that way. They can smash the lock easily if it's too close to the ground and release the bicycle easily.
Similarly, they can use a bolt cutter to break your bike easily when it's closer to the ground.
The next tip is to avoid locking your bike near the tube top. Thieves are professionals when it comes to breaking locks. They can break the lock by twisting and lifting the bike if it's too close to the tube top. Place the keyhole facing downwards to ensure the lock is difficult to access.
Even though U locks are difficult to cut, thieves can still find a loophole for breaking them. They break a U lock by using a bottle jack in the empty space inside the U. You should fill this space up when you lock your bike to make breaking it challenging. 
Check out, Hardtail vs. Full Suspension
Additional Tips to Help Secure Your Bike
If you're still worried that your favorite bike might get stolen, here are some important additional tips for parking your bike safely without a rack.
Get a GPS Tracker
You might be using your bike for your daily commute to work. Some days, you might have no choice but to park it near a crowded street for the whole day because there is no rack close by.
In this case, invest in a GPS tracker. Bikes get stolen a lot in public places and streets. Find hidden GPS trackers for your bike, and hide the trackers in top caps, seat posts, and LED lights.
If you're planning to buy a new bike anyway, you can now find bikes with inbuilt GPS. However, these bikes are expensive compared to ordinary ones.
Buying the GPS tracker is a worthy investment, one that allows you to park your bike worry-free and track it anytime.
Avoid Parking in Crowded or Isolated Places
Surprisingly, isolated spaces can be as dangerous as crowded places. Only park in crowded and isolated places when you have no other choice.
An empty street or alley is perfect for thieves who want to steal a bike and go unnoticed. It provides them with the perfect opportunity to break the lock easily and run away with your bike. 
On the other hand, spotting someone stealing your bike in crowded places is difficult. The best area to park your bike in is where people can notice any theft attempts easily. A place with a security camera is an excellent spot.
Check out, How to Remove Pedals from Bike
Lock Your Bike Everywhere
It would help if you locked your bike every time you were not riding it. Even in the garage, it can get easily stolen as thieves can penetrate through a locked door. Make sure you use the toughest locks that cannot be broken or cut.
Register Your Bike
Registered bikes are easier to find once stolen. Register your bike with a registry, and if a thief tries to steal it, the police will get notified and may get a head start when your bike gets stolen.
Check out, What To Look For When Buying A Used Bike
Avoid Parking in the Same Place Daily
Thieves plan their robbery. It might be convenient for you to park your bike in the same spot every day. However, this could be your undoing as you're making work easier for criminals.
Thieves are on the lookout and note a bike's position for days to know which time you park so they can make their moves. Parking at the same place can attract unwanted attention.
It is a hassle, but the best way to keep your bike safe is to find many places you can lock your bike in and switch it up every day to avoid criminal's attention.
Check out, How Far Can You Bike in A Day
Always Have the Serial Number for Your Bike
Note down the serial number and take a lot of pictures of your bike. This information will help you track your bike if it gets stolen off the street. You can ask people around if they saw someone stealing it and if they can help you in looking for it.
Avoid Bad Ways to Lock Your Bike
The best way to securely lock your bike is to lock the wheels and frame of the bike. Merely placing the lock the wrong way would only allow the criminals to steal your bike. Use high-quality U and D locks to secure your bike to a pole safely.
A bike rack is the safest option, but if no one is around, the next best option is steel railings or poles. Going for wooden fences and trees is risky as they can easily break them to remove the bicycle. 
Know What to Look For When Parking
Again, look for racks that are in paces that aren't too crowded or isolated. Find areas that have excellent, bright lighting and where people can easily see your bike parked.
Also, look for sturdy metal racks, poles, or railings to park your bikes against. Thieves can break locks easily if the rack isn't strong enough.
Check out, How to change bike brake pads and When
What If You Don't Have a Bike Lock?
If you're someone who owns a bike but doesn't own a bike lock, you need to seriously consider getting one as soon as possible. Otherwise, you are risking getting your bike stolen.
Until you get yourself a high-quality lock, focus on keeping that bike safe in every way possible.
One thing you could do to prevent theft is to immobilize the wheels so it is too difficult and time-consuming to steal.
Here are a few tips you can follow to keep your parked bicycle safe from thieves when you don't have a lock:
To immobilize your bike, remove the chain from the back gears of the bike so the thief cannot ride it away and has a hard time stealing it.
Not something that would always keep your bike safe, but you could hide your bike behind large shrubs, cars, etc., to keep it out of sight.
Remove the bike seat, and this may not prevent thieves from stealing it but would make it difficult for them to ride it away.
The next way is to remove the front wheel, which will make it harder for the thief to steal your bike. Even though, in some cases, they may still steel the rest of the bicycle.
If possible, take your bike indoors whenever you park it. Keep it in the basement of your house, as keeping an unlocked bike in the garage is like inviting thieves to steal your bike.
However, as soon as you get a chance, buy a good quality lock for your bike. It works best in preventing thieves from stealing the bike.
Related Posts:
Final Thoughts
The first step after you buy a bike is to invest in a good quality lock for it. You need to learn and know how to lock your bike correctly. What would further help is to understand how bike thieves operate to completely understand where and how to park your bike securely.
The tips above would help you know exactly how to find structures other than the rack to lock your bike against securely; remember to follow these tips at home, and don't forget to lock your bike even though it feels safe to leave it unlocked in the garage.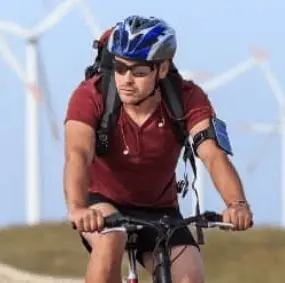 I am Michael, an avid rider and bike expert. I am here to provide, biking tips and expert advice on in-depth bike reviews covering features, capabilities, price range, and much more. Specially on electric bikes, mountain bikes, road bikes, etc. I will provide honest product reviews, along with expert advice on purchasing, training, and maintenance. Check out my complete profile.