If you're someone who uses a bike as their primary means of traveling, then you probably worry when it comes to parking your bike and securing it, especially in a busy or crowded place. Bike theft is a common consequence that cycling enthusiasts have to face. This can be due to their negligence when choosing the correct bike lock, or it could just be that they were in the wrong place at the wrong time.
However, the flip side of this story is that you have secured your bike using the best available locks, but you have lost the keys or can't remember where you put them. You could be in a rush to get somewhere immediately, which is why you need to unlock your bike instantly.
This is where the question, how to pick a bike lock comes in handy. There are many ways and tutorials on how to unlock a bike lock on the internet. This article will outline some of the most ingenious and simple ways.
Along with this, it will also include a list of what to look for when choosing the best locks for your bike.
So, let's get started.
Tip: If you were not aware of this before, then let us tell you there's a difference between picking a bike lock and unlocking a bike lock. The difference stems from the tools and techniques used to do both.
Read How to Clean Dirt Bike Air Filter
How to Pick a Bike Lock
Use a Pen
This lock picking method falls in the category of 'bypassing' a lock. Simply put, it means that the lock remains intact for use, and there's little damage to it. The only part that is 'picked' upon is the lock's mechanism. Because of this, it is considered the easiest way of picking a bike lock.
For this method, you will need a pen, preferably a Bic or another with the same properties such as the required diameter. This works best with U-locks or tubular locks with keyholes. Just remove the tip of the pen and get rid of the ink cartridge.
Once done with this, insert the pen into the lock as far as it can go. Move it around counterclockwise or in the direction opposite of the key while you apply pressure to the lock. Essentially, your pen should be able to bind with the pins present in the lock.
Once you feel the pins at the end of the lock have attached to your pen, your lock will automatically open up.
Tip: You may not get this correct in your first attempt. Therefore, the edge of your pen (the side that you insert the keyhole) might get rough or difficult to use because of the twists, turns, and pressures. Thus, you can cut the rough tip-off and begin again.
Lock Pick
Even though lock picking is considered easy because of the wide variety of lock-picking kits, it has become difficult because of better and safer locks produced by lock companies. Thus, this method may only work on less complex and cheap locks.
For this method, you will need this equipment:
A tension wrench
A lock picking toolkit
Although this may look criminal if you do this in a public space, having this skill is effective, especially when you have misplaced your keys or forgotten your bike combination.
To do this, place the tension wrench into the lock hole as you apply pressure on the mechanism in the cylinder. The next step is inserting the lock-picking tools one by one inside the lock hole or keyhole. There will be enough space for you to do so, even with a tension wrench inserted inside the lock.
Move around the tools to rearrange the key pin (that is essentially the mechanism that secures a lock) until they are in one place. Once they are in place, make sure to click the tension wrench around so the lock can open up.
Some might think that this seems easy, but it is not and requires a lot of practice, dexterity, and patience.
Read How to Convert a Mountain Bike to a Road Bike
Lock Shim
A shim is a metal or plastic component that you can place between the lock and the shackle (the U-shaped handle on the lock). You can make one on your own from a plastic or soda can. If not, there are many options available in supply shops.
However, you should be careful when dealing with a shim as it can give cuts if you're not wearing protective gloves.
To do this, place the shim between the lock and shackle. You will have to locate a slight depression between the lock and its shackle, so the shim's sharp and pointed edge can stay in place.
Next, move the shim around the shackle's edges while it stays intact in the depression. Once you feel the padlock, catch, or bolt is open, either by feeling it or hearing a clicking sound, you will be able to open the lock.
You might not get this right the first time, and thus, you may have to try both sides of the shackle locks.
Get a Locksmith
If the above three techniques do not work, then you will have no choice but to call a locksmith. This is probably ideal when you are not well-versed with the above methods or don't have access to the correct tools.
They may pick a lock using the above methods or break it entirely, as lock picking is a skill that takes years to master.
Read How to Tighten a Bike Chain
How to Unlock a Bike Lock
Guess the Combination
One way of unlocking a bike lock is by guessing its combination. Usually, this skill requires a lot of patience and time to master. But if you have forgotten the combination of your bike lock, you may try to open it using the peck and go method.
Essentially, this method entails resetting the combination on the dial to the same number, such as 1.
The next step is crucial as it takes a keen eye to determine whether you can identify gaps between the columns on the dial. The trick to knowing whether you have reached the correct number is that a gap will form between the columns.
Keep doing this until you can see gaps between the first and second box or slot. Repeat these steps for all slots until you can feel the shackle or cable click and free to open.
Another way to determine whether you have selected the right digit is if you feel a slight tug when changing it to another number.
This method of unlocking a bike lock is difficult and needs years of training. So if it's your first time getting stuck without a key or a combination, then it might not come in as handy as the others below.
Cutting the Lock
This type of unlocking technique requires any one of the following:
It works specifically on thin U-locks or chain locks. Position the U-shaped lock in such a way that you can get a good angle when it comes to applying force and pressure. This may be physically tough and even demanding if you haven't done it previously.
Moreover, the angle grinder may be dangerous for use in a public space because of its sparks.
Tip: Before you use any of these items for cutting a bike lock, ensure you wear protective equipment such as gloves and eye protection equipment, whatever they may be.
Hammer the Lock
Another way to unlock a bike lock easily is by hammering the cylindrical keyhole with force. What you really need for this method is:
Air spray
Heavy-duty hammer
The first step is to spray the U-lock for 30 seconds until you see the metal covered in the chemical from the spray. This step is essential as the air spray as the lock metal becomes cool and weak to be hammered easily. You can buy this online or in stores. However, ensure that it contains the chemical difluoroethane, which acts as a coolant.
Make sure you only spray on the lock and not on any other part of the bike. Therefore try to hold it away from it in a position that you can also hammer it easily.
Keep hammering the lock until the metal starts to become brittle and weak. The more force you apply, the quicker it will break. However, it may tire you out.
Read How to Clean A Mountain Bike Chain – Ultimate Guide
Choosing the Best Bike Locks
The above methods outlined how you can pick or unlock a bike lock if you ever find yourself in this unfortunate situation. However, to avoid all this, you should invest in better and complex locks. Therefore, here is a list of how to choose the best bike locks in the future:
The strength rating, also sometimes known as the 'starch,' corresponds to the lock's ability to toughness. Even though most locks are made of metals and sturdy materials, you still must check their rating. Ideally, it should be in the upper band of the brand's strength scale.
This may be difficult to determine as each brand has different strength criteria. Some scales go up to 15, while others only have digits till 6. For example, Abus locks have a strength rating of 15 whereas, Kryptonite has a rating of 10.
Another way to determine whether a lock is for your use or not is to check its size. You should take note of the length and width of the lock so you can correspond it with your bike size.
Not only this, but sizing includes the physical dimensions too. If you bike alone, then a small lock size is ideal. However, if a group needs their bikes locked together in an area, you might need a bigger lock.
Finally, make sure your locks have a seal on them, so you know they are genuine. Other than that, ensure that they are made out of sturdy products that cannot be easily cut through.
Moreover, when buying a lock, make sure only you can access its duplicate copy from the company you are buying it from.
Ideally, you should look at the above three criteria when selecting any type of bike locks, as detailed in the next section.
Read Mid-Drive Electric Bike Kit
Types of Popular Bike Locks
| | |
| --- | --- |
| TYPE | FEATURES |
| Chain Locks | If you are looking for flexibility and length, then chain locks are an excellent choice. They are made out of hard materials that make them foolproof against cutting. |
| U-Locks | These popular U-shaped locks are made out of steel, which makes them difficult to pick or cut. |
| Foldable Locks | If you want to fold your bike lock into a backpack without it taking too much space, then a foldable lock is the best choice. However, get a longer model so you can tie it easily and at a distance even. |
| Spiral Cable Locks | They are cheap as the cable is made out of plastic. They can withstand wear and tear, but they do not offer security as the cable can be easily cut. |
| Frame Locks | Frame locks do not offer that much protection, but they are a cheap and quick investment. They are best used with a combination lock, thereby doubling security. |
Best Bike Lock Recommendations
The above types can be classified into some recommendations that are becoming popular among biking circles. Here are some top choices:
This bike lock is easy to use and has a security seal from lock testing company Sold Secure in Silver and Gold. Even though it is sturdy, it still rates 2/5 on another such company called ART.
Therefore, it may offer some level of protection but is not complete. However, due to its large size, you can easily secure your bike anywhere.
The shackle on this bike lock is 13 mm, which means that it is thicker than most U-shaped locks. It is made out f sturdy steel, but it is still light to use. It has been rated as Diamond by the Sold Secure company, making it a good choice if you're looking for better security.
This particular bike lock looks like a chain or belt that makes it easier to carry, even around your waist. It has an 85 cm circumference which means you will have ample options to secure your bike against.  It is made out of steel and can be difficult to cut through.
This foldable lock contains steel with a thickness just a little more than other Abus Granit locks. It has a Gold Secure rating from Sold Secure, which means it is a good investment if you're looking for security. However, it may be not easy to carry around as it is heavier than other locks.
You may like the following bike articles:
The Bottom Line
On a concluding note, one can only wish that they're never in a position where they have to resort to other ways of unlocking their bike. However, if you ever find yourself in such a situation, don't panic, and secondly, learn some of these bike lock picking/unlocking techniques that can save your time and even lessen your worry. Ideally, try not to misplace your keys or always have one as a replacement before attempting any of these methods.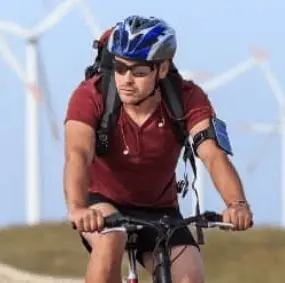 I am Michael, an avid rider and bike expert. I am here to provide, biking tips and expert advice on in-depth bike reviews covering features, capabilities, price range, and much more. Specially on electric bikes, mountain bikes, road bikes, etc. I will provide honest product reviews, along with expert advice on purchasing, training, and maintenance. Check out my complete profile.