Due to the increasing bike theft, it is necessary to carry a bike lock whenever out on the road. But you may ask yourself: "Where do I put the lock while riding?" There are various locks, and some of them are heavy and odd-shaped, making it difficult for you to hang them on your handlebars. So, where to put a bike lock while riding?
Let's find out the answer.
Where to Put Bike Lock While Riding – Overview
When purchasing a bike lock, you will also receive a mount. Mounts are particularly made to be used while traveling. A lock mount is a perfect place to store your bike lock while going for a ride.
However, the same cannot be said for larger, heavier locks such as the chain lock. In these cases, it is best to store them in a backpack or leave the lock at your destination to use it once you are there.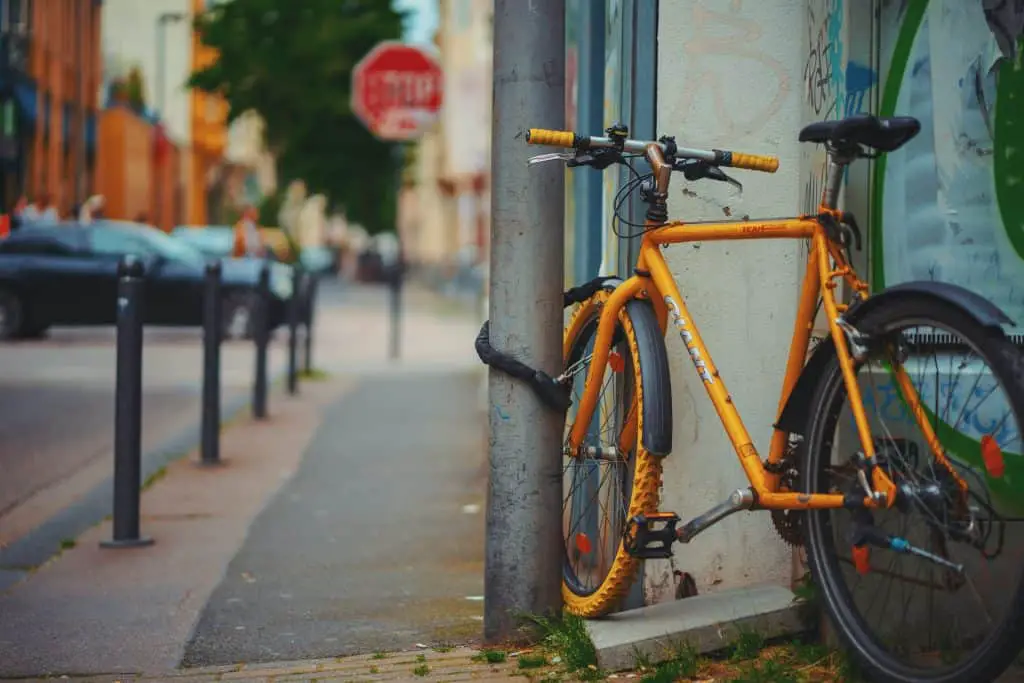 Below we have outlined the most common and effective places to keep your bike lock while riding:
Lock Mount – The lock mount's intended purpose is to keep the lock safe while you are riding, making it the ideal place to store your lock.
Pannier/Basket – A pannier or basket attaches to the back of your bike above the rear wheel. It is a great place to store heavier locks.
Backpack – A backpack can store any lock along with equipment or goods you want to take along.
At Your Destination – Rather than carrying your bike lock with you daily, you can keep it at the place you will use it at, for example, your workplace if you use your bike for commuting.
A suggestion from our side is not to carry your lock wrapped around the bike's chassis, as it can damage the bike over time.
Also, never keep the lock in your hand while riding. This could be dangerous as you might need both hands for steering anytime during the ride.
Check out:
Primary Classes of Bike Locks
D Locks/U Locks
Folding Locks
Chain Locks
These are the main types of locks that you will find on bikes. Some locks might not be on this list, such as the cable lock. However, the reason for not including it is that it can be easily cut through with bolt cutters. We have only included locks that are effective against theft.
Where to Place a D Lock While Riding
D locks are a great choice as they are secure; however, they can be a little heavy than other bike locks, for example, folding locks.
D locks/U locks, on average, weigh 3.3lb or 1.5 kg which is not a lot but can be a hassle while riding if put in the wrong place.
Here are some of the best places to store your D lock while riding a bike: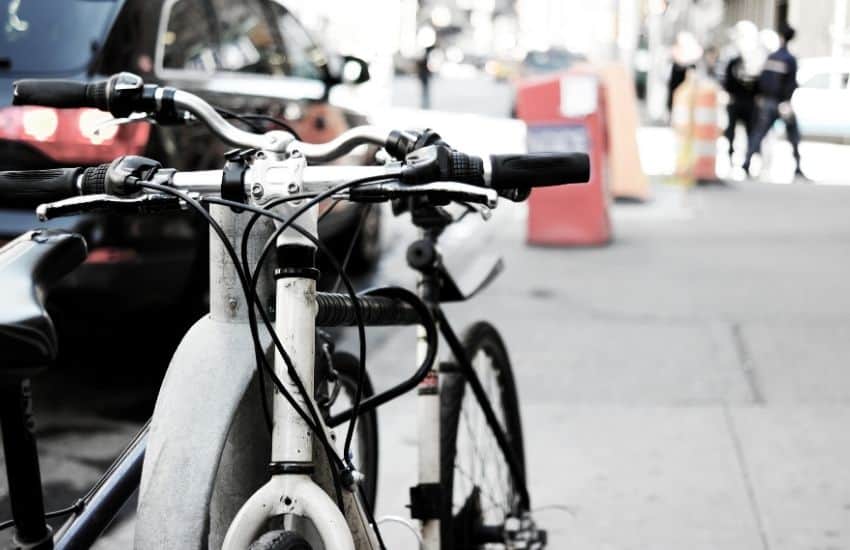 1. Carry Your D Lock Using a Lock Mount
The majority of D locks arrive with a mount, which can be attached to your bike to store the lock. Meanwhile, some D locks don't come with a mount, but you can purchase one easily.
A mount helps keep your D lock away from the action and enables you to quickly lock up your bike once you arrive at your destination.
If you use a D lock and lack a place to store your lock while cycling, our recommendation would be to get a mount.
When purchasing a mount, make sure it is durable. Generally, plastic mounts are more prone to breaking in comparison to better materials such as metal.
2. Store Your D Lock in a Backpack or Rucksack
If you don't want to carry a bag when cycling, this isn't the best option for you!
As long as your D lock is not too heavy, storing it in a rucksack or backpack makes a lot of sense. Most, if not all, D locks will fit easily in your rucksack.
Even somewhat heavy locks such as the Kryptonite Fahgettaboudit Mini weighing in at 4.55lb can be fit easily inside a bag without causing too much trouble.
3. Place the D Lock Over Your Handlebars
Only place the D lock over your handlebars if you are sure it will not bother while cycling. Mounts such as the Kryptonite Transit H-Bar affixes right onto your handlebars, stopping any rattle or damage to the bike from the D lock.
Ensuring that the D lock does not scratch your bike is an important consideration, especially when you use your bike often.
Transporting your D lock on the handlebars without having anything to keep it there could be Ok for a couple of times, but it is not something we would recommend as a permanent option.
4. Place the D Lock Between the Belt Loops or Belt Straps
A few D locks will fit through the belt loops in the pants or the belt's inner side, making it easy to transfer. Just check that the lock doesn't get in the way while you are cycling.
You can also buy a holster attachment that will allow you to keep the D lock on your belt. A holster attachment is a more secure and comfortable solution to store your D lock while biking.
5. Put Your D Lock in a Pannier bag / Bike Basket When You Travel
Some riders use a bike basket or pannier bag with their bikes which could be the most appropriate place for them to store their D locks.
In addition to holding your locks, the pannier or basket gives you an option to store numerous other items such as replacement clothes, water bottles, tents, etc.
Almost every D lock would fit inside a pannier bag or basket, making it one of the best options on this list for those who travel with a pannier or a basket.
6. Store Your D Lock at Your Destination
Another smart solution for storing your D lock is to leave it locked up at your destination. This applies to those commuting to work or young ones biking to school, college, or university daily.
This will save you the time and hassle of securing your lock every time you take a ride and be more comfortable if you do not a dedicated place for keeping your D lock. If you require a bike lock for home, it would be sensible to invest in another lock to not have to carry one with you every day.
To keep your D lock safe, lock it to a bike rack and use it whenever you reach your destination. In our opinion, this is the most convenient option when it comes to storing your D lock.
Where to Place a Folding Bike Lock While Riding
Folding locks are the most sensible option when it comes to picking out a bike lock. They incorporate a big adjustable shackle that can go around various objects to lock your bike. After you are done using the lock, fold the lock and stash it somewhere safe.
Folding bike locks usually weigh around 3lbs or 1.4kgs, making them comparatively easy to transport while on your bike.
Let's look at the options you have for storing a folding bike lock.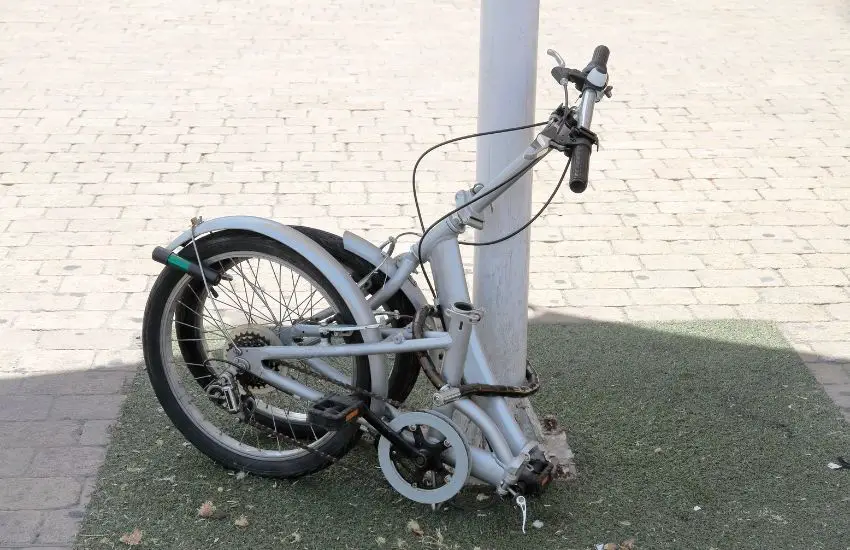 1. Keep Your Folding Lock Inside Its Mount
Generally, folding bike locks come with a mount that attaches to the frame of your bike. This is the safest and most convenient option for storing your folding lock.
Since the Mount is specifically made for the lock, it ensures there is no rattling which could be a concern for third-party mounts.
2. Place Your Folding Lock in Your Rucksack or Backpack
In case your folding bike lock did not come with a mount, your rucksack or backpack can be a great alternative to keep your folding your bike while biking.
The best thing about folding locks is that they become significantly small and easy to store once folded. They won't take a lot of space in your bag, and you won't feel their weight either.
3. Put the Folding Lock in Your Pocket
Many of the folding locks are modest enough to fit inside your pocket if you don't have a mount for storage. Examples of such folding locks are the Foldylock Clipster and the Foldylock Compact.
Make sure to read the reviews while purchasing to know whether you can fit the lock in your pocket.
4. Place the Folding Lock in The Pannier or Basket
Like the backpack/rucksack, the folding lock will easily fit into your pannier or basket. Just ensure that you lock it in place so that it does not rattle when you start cycling.
Moreover, it is more comfortable to store the folding in your pannier than in your backpack as the pannier does not weigh you down.
Read How to Clean an Electric Bike
Where to Place Your Chain Lock While Riding
Among the list of bike locks in the discussion, chain locks are the heaviest, weighing up to 20 kilograms in some cases. This means that there are fewer storage options and only feasible for locks that are smaller and make sense to carry along.
Let's look at the options you have for storing a chain lock.
1. Store the Chain Lock in Your Rucksack (Only If You Feel Tough!)
Any decent quality chain lock is going to be heavy. A Sold Secure Gold chain lock will usually weight 6.6lb+ or 3kg+. If you think you are tough, you might get away with putting your chain lock in a rucksack or backpack while biking.
However, it is important to keep in mind that chain locks take significant space and will not be comfortable in the long run, which is why you should look at something more viable.
2. Wrap the Chain Lock Around Your Waist or Shoulder While Riding
Few of the chain locks cab be wrapped around your waist or shoulder. An example is the Hiplok Gold chain locks.
An advantage of wearing the chain lock around your waist or shoulder is that it is readily available to you once you arrive at your destination, meaning that you can quickly lock-up the bike and leave.
One thing to keep in mind is that it is not very comfortable to wear these locks over your waist or shoulder and can result in severe injuries if you fall off your bike while having them on you because of the metal links.
Our advice would be to store them in your rucksack since it will be safer and more comfortable.
3. Store the Chain Lock in Your Pannier or Basket While Riding
You can keep your chain lock in a pannier or basket. However, you need to realize that it may be dangerous in case the lock is hefty. Sometimes, the chain lock's unequal weight distribution may make it harder for you to control the bike.
Similarly, if you place the heavy chain lock in your handlebar basket, the improper weight distribution may cause issues while steering the bike.
Whenever putting chain locks in your pannier or basket, make sure they are not heavy enough to obstruct you while cycling.
4. Keep the Chain Lock at Your Destination While Riding
Your destination is the best option to store bulkier chain locks as it rids of all the discomfort and safety issues that come with carrying a chain lock around. However, this option may require you to invest in another bike lock if you need one at your home, but the investment is worth it.
Good quality chain locks are usually hefty. It could be troublesome to travel with one and can make your rides less entertaining. Therefore, we recommend you keep the lock at work or any other destination applicable to you.
The reason why most people use these types of locks is the fact that they are the most secure against bike theft.
Poor Places to Put a Bike Lock While Riding
Although it should come naturally, you cannot store your bike lock anywhere you like. From our experience, we have compiled a list of absurd places people use to keep their bike locks which can cause damage to you and your bike.
When deciding where to put a bike lock while riding, please make sure you exclude these places.
1. Don't Put a Bike Lock Over Your Neck
If you are someone who carries your bike lock around your neck, then it is time for you to rethink your decision.
Wrapping anything over your neck while traveling is an invitation to trouble. Just imagine if you get hooked onto an object while cycling, it could cause serious injuries.
Putting the bike lock over your neck is easily avoidable as well. You can put it on the handlebars or keep it in a backpack or pannier until you find a proper storage place.
2. Don't Place Your Bike Lock Too Close to The Wheels
If a bike lock were to get tangled with one of your wheel spokes, the result wouldn't be pretty. You might be facing serious injuries, and in the worst case, your bike might get wrecked.
Lock mounts can be attached anywhere on the bike frame. However, this does not mean that you place it close to the chainstay or seat stay. Putting it in these places can be hazardous as they are close to the rear wheel spokes.
3. Don't Put the Bike Lock Around Your Pedals
As in the previous scenario, putting a bike lock close to the pedals can obstruct you while riding and cause an accident.
When mounting a bike lock on the bike's frame, keep it high on the seat tube, in the center of your middle tube, or below the top tube.
This will ensure that the lock is not hindering you while riding while making the lock easy to access when you want to use it.
4. Don't Cycle with a Bike Lock in Hand
Cycling requires the use of both hands. Signaling, changing gears, and braking is all actions that need both hands. If one of your hands is occupied with the bike lock, all these actions will become harder.
While cycling, keep your hands free! Unless you want to learn this the hard way.
You may like the following electric bike articles:
Final Thoughts – Where to Put a Bike Lock While Riding
Keeping a bike lock handy while biking is crucial. Just in case you need to lock the bike and leave it, so take a lock with you while on the road.
We have outlined several options for you to consider when deciding where to store a bike lock. Choose one which meets your demands. Also, if you don't have a bike lock, it is vital to get one now. Leaving your bike unlocked is an invitation to thieves.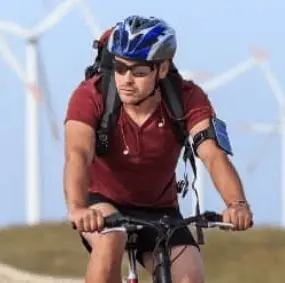 I am Michael, an avid rider and bike expert. I am here to provide, biking tips and expert advice on in-depth bike reviews covering features, capabilities, price range, and much more. Specially on electric bikes, mountain bikes, road bikes, etc. I will provide honest product reviews, along with expert advice on purchasing, training, and maintenance. Check out my complete profile.