One question you'll often hear when you're on a trail or strolling in the park is, "how much does a mountain bike weigh?" While we don't typically discuss a person's weight, a mountain bike's weight is a hot topic in the biking community, and for a good reason!
However, major mountain bike manufacturers don't publish a bike's weight on their website for several reasons.
No need to fret; we've got you covered!
A typical mountain bike you'll find at your local bike shop will weigh somewhere around 28 to 32 pounds. In most cases, lighter is usually better. That said, every rider must find a bike that suits their style of riding.
Weight Differences for Varying Uses (Does Weight Matter?)
Unsurprisingly, cross country bikes are usually the lightest bikes you'll find in the market. The average weight of a cross-country bike is usually 26 pounds.
These bikes are built for efficiency and have several similarities when compared with road bikes. This means you'll waste as little energy as possible, and you'll get to places quicker.
However, while weight isn't the only differentiating factor in a cross country bike, it is certainly one of the most important ones for efficiency.
With the same energy output, a lighter bike is going to travel farther than a heavier one. That's why a lighter bike is a better option if you're climbing a mountain. This is also one of those few situations in which a lighter bike may help you perform better.
That said, there's always a trade-off when you're shedding weight from a bike. Shaving off those extra pounds will come at a cost. If you can spare a few pounds from your own frame, it's going to be healthier and a lot more affordable, too.
Even though these bikes are notorious for not fitting into a single category, trail bikes are still preferred since they're the second lightest. The average weight of a trail bike can be somewhere around 29 to 30 pounds.
Logically, it would make sense to call these the second-lightest bikes since they're supposed to be fully adept at descending and climbing. Even though climbing is a requirement for every downhiller, descending is more important.
Unsurprisingly, downhillers are the heaviest bikes you'll find in the market, simply because they're supposed to be heavy.
These bikes are supposed to handle big drops, steep terrain, high jumps, and they need that extra weight to ensure the bike is robust.
A heavyweight can help the bike accelerate easily for a downhill bike, which is more of an advantage than a disadvantage. That's why an average downhill bike can weigh 34 to 35 pounds.
Read How to ride mountain bike on snow
Why Are There Weight Differences in Mountain Bikes?
If you're comparing weights, it's best to start with the mountain bike components that weigh the most. According to experts, the parts of a mountain bike that weigh the most are:
The back wheel
The front-wheel
The frame's triangle
The fork
These components are 59.8% of a mountain bike's weight. That said, you can also upgrade these components to make your bike significantly lighter.
With added knowledge that tells us which component accounts for the most weight, you'll know which upgrade to make.
Thinking of getting a new saddle?
Sure, you could do that.
But would replacing 2% of the bike's weight make a big difference? Why not replace the front and back wheels instead that account for 33% of your bike's weight? Replacing your wheels will have a huge impact on your performance! 
Read Riding mountain bikes on sand and beaches
Is a 30 Pound Mountain Bike Heavy?
Not necessarily.
A mountain bike that weighs 30 pounds is considered to have an average weight. Just like what they're named for, a mountain bike needs to be versatile while on the trail.
This means that if you're riding a full-suspension mountain bike, you can expect it to be heavier than an average bike (because of the added suspension).
That said, downhill bikes are heavier because of their additional needs. Then again, if you have a 29-inch wheel strapped to these bikes, the bike can weigh 28 to 30 pounds. This is surprising for several rides since they expect 29-inch wheels to add weight.
Read Can Mountain Bikes be Used on Road?
Is a 32 Pound Mountain Bike Heavy?
Thirty-two pounds aren't too much for a mountain bike. A bike with this weight is considered to have an above-average weight.
Depending on what you plan to use the bike for, it might be too heavy, especially if you plan to use it for an extreme sport. However, if you plan to use it for downhill rallies and jumps, this weight may be less.
We'd say this weight is medium, and it still makes your mountain bike fairly usable (a few of you may still struggle with it).
All in all, this more or less depends on the type of biking you're interested in. While the "lightweight" signifies a premium feel, no one wants a light frame under the scorching sun on rocky terrain. 
Read Tubeless Mountain Bike Tires Maintenance
Is a 33 Pound Mountain Bike Heavy?
Just like 32 pounds, 33 isn't that heavy. 30-pound bikes are considered mid-weight across the board for almost every bike.
33-pound bikes are in that same bracket. But just like every other bike, calling a bike light or heavy also depends on what the bike is made for and how you prefer using it.
For a hardtail downhiller, 34 pounds is on the heavier side. But for a beginner, this weight shouldn't be a problem.
If you're going through harsh terrain, a 33-pound bike is heavy enough to weigh the bike down and light enough to go through harsh terrains smoothly.
But if you're looking for more comfort and agility, you may prefer a full suspension bike. These bikes typically weigh somewhere around 30 to 33 pounds.             
In comparison, a carbon-fiber full-suspension bike will weigh somewhere around 28 to 30 pounds. While there isn't much difference between the two options, it's going to make a difference in the smoothness of your ride.
Check out, How to Clean An Electric Mountain Bike?
The Different Kinds of Mountain Bikes
There are several different kinds of mountain bikes available. While bikes can differ structurally, they can also vary based on the type of suspension they have. A bike can either have:
Structurally, you're going to find four different kinds of mountain bikes:
Cross country
Trail
Enduro
Downhill
Cross country bikes are usually built for both downhills and facing upwards on less technical terrain. So if your trail has big drops and jumps, don't get a cross-country bike.
On the other hand, trail bikes are the happy middle ground most people like to walk on (read: ride on). They can do a good job when you're climbing up terrain, and they can also handle downhill races with a few casual jumps and drops.
Enduro bikes are built for downhill races and riding, but you can also ride uphill. The race format they're designed for is one in which you have to ride both down and up, but only the downhill portion is timed. There's a limit for the time you can take in the downhill segments.  
Downhill bikes are the heaviest out of the bunch (as we've previously mentioned). These bikes have ample suspension travel and have strong frames that are built to withstand big jumps.
That said, you can't ride this bike uphill. Since they have a sturdy frame, you're going to have a hard time riding this bike uphill.
Read Best electric mountain bikes for women
How Do Hardtail and Full Suspension Bikes Differ?
For people wondering, "how much does a mountain bike weigh?" This is often an important question.
When comparing two different models from the same manufacturer, there's approximately a  two-pound difference between full suspension and hardtail bikes.
A full-suspension bike will weigh more because of the extra components it has (suspension in both wheels).
A lightweight bike is more appealing for beginners. Hardtail bikes are also considered to be a good option since they help you improve your riding skills.
That said, a hardtail bike may make you work harder. You'll have to get up from the saddle more often, which will help improve the basics of mountain biking. The lighter weight, in this case, is an added advantage.
That said, one obvious question comes to mind.
Read How to Install A Rear Derailleur on A Mountain Bike?
Are Lighter Mountain Bikes Better?
Lightweight bikes are generally considered to be better when you talk about mountain bikes. Every pound you lose on a bike is one less pound you have to carry up a mountain.
After a long bike ride, the calories required to carry the added weight can add up. If you're only going downhill, however, the weight will be less of an issue.
That said, even lightweight components have their limits. If you make a component too light, it will fall apart a lot more easily.
High-end carbon fiber bikes are meant for competitive racing. People serious about racing can replace parts just before a race since less weight gives them an edge over the competition.
However, this also depends on the kind of race you're taking part in. If you're competing in a downhill derby where heavyweight bikes perform well, you may notwant to remove those additional parts.
Read How to Make A Mountain Bike Faster
Is An Expensive Mountain Bike Faster?
One thing we can say is that expensive bikes are lighter.
Since they use high-end components and use a lighter material, they don't weigh as much. A lighter bike can be faster when you're riding it up a hill. Less weight will make it easier to push around corners, over roots, or rocks.
However, there will be a point when the returns start to diminish with the cost and the weight.
Even though a carbon fiber frame and light wheels will shed weight from your bike, they will also add a high cost. Its wheels will cost you somewhere around $3,000 to $2,000 – a pretty high price for 2 to 3 pounds, right?
Moreover, upgrading the components of your bike shouldn't be prioritized over your bike's durability. Even though carbon fiber components are light, they make you more susceptible to crashes.
If you're a competitive racer and you're desperate for those few added seconds that can be the difference between silver and gold, the extra cost may not be a huge deal for you.
However, if you're considering getting a mountain bike for some casual off-roading, the added cost may not be worth it.
Read Why are Mountain Bikes So Expensive?
Why Can Some People Be Slow on Their Mountain Bikes? 
If you aren't fast on your mountain bike, likely, it isn't your fault. If you want to increase your speed, the best thing you can do is ride more often.
Find a group with riders faster than you, and they'll motivate you to keep up with them. From their perspective, you're going to see new ways to overcome the obstacles you currently face.
It isn't hard to find a mountain biking group either! You can easily find one on Facebook or Meetup.
Related mountain bike articles:
Wrapping Up: Weight Comparisons Are Borderline Obsolete
How much does a mountain bike weigh?
It doesn't matter!
A few years ago, it was ridiculously easy to compare different mountain bikes. However, because of different sizes, wheels, and various areas of application, comparing two mountain bikes has become harder.
The weight of a mountain bike may vary by a hundred grams just because the bike owner decided to install a tubeless tire. Therefore, looking at the total weight of a bike has become almost old-fashioned. If you do want to compare bikes, you'll have to do it in a specific way.
So is it possible to assess the riding characteristics of a mountain bike simply by the weight it has?
Absolutely not! If you truly want to know how well a bike performs at climbing or how well it can accelerate while coming downhill, you'll have to take it for a test ride.
Put the scales away and enjoy the experience that a mountain bike has to offer. At the end of the day, you're left talking about the memories you shared when you felt free riding like a daredevil – not how light your bike was!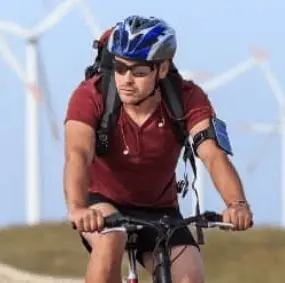 I am Michael, an avid rider and bike expert. I am here to provide, biking tips and expert advice on in-depth bike reviews covering features, capabilities, price range, and much more. Specially on electric bikes, mountain bikes, road bikes, etc. I will provide honest product reviews, along with expert advice on purchasing, training, and maintenance. Check out my complete profile.