Bikes can make your daily commute an exciting tad more adventurous than a car ride – until you add some annoying cargo to the picture. Not only can carrying stuff while you ride a bike takes the fun away from the equation, but it can also be life-threatening.
The best part, however, is that every bike is capable of carrying its weight. With a little know-how and some basic accessories, your two-wheeled friend will be carrying a wide range of weights – be it a bulky bag full of groceries or a basket with a Chihuahua.
Considering a motorcycle because of the excess weight you have to carry? There's no need! If you only have to carry a gym bag, you don't need to buy a fancy motorbike.
Installing a rear bike rack onto your bike can solve all your gym-bag-related problems, and then some. That said – is that the only way you can use a rear bike rack?
If you're wondering "how to use a rear bike rack," you've come to the right place. Read on as we take you through everything you need to know.
Installing a Rear Bike Rack
A rear bike rack can let you carry a backpack, a pannier bag, or even a toddler. You can transport your pets, groceries, or even extra clothes if you're going on a cycling trip.
However, you'll have to ensure the bike rack has been installed correctly so that you and the stuff you're carrying reaches the destination safely.
Most bike racks can be installed directly on your bike, but some may require some extra hardware. That is why, before you get started, make sure you have all the stuff you need.
Start by attaching the sliding arms beneath the rack. Make sure that they aren't fastened too tightly since you'll want to move them when you're attaching a saddle to your bike.
Next, attach the rack to your bike by aligning its mounting points with the eyelets of the dropout. You're going to find these eyelets just above the axle nut bolts.
Once aligned, fix them in one spot with a bolt. You can get these bolts from a local cycle store or a hardware store. The next step of the process is to level the rack.
Pivot the rack along with its eyelets until it's parallel with the bike's frame. Once done, tighten them to the seat so the rack stays secured.
Make sure you do this correctly, or the rack could fall apart in the middle of a ride.
Accessories for a Bike Rack
You can use several different accessories with your bike rack. These can make cargo on your bike a lot easier and safer without impacting your ride too much. Some of these accessories are:
A bungee cord: you can use this to fasten your cargo to rack, or you can fasten a basket in which you can put all of the groceries you buy
A pannier bag: A pannier bag can carry several different items
Taillight or reflectors: these can be useful when you often have to ride in the dark
Another type of bike rack accessory is the object people use to safely transport their bicycle on the rear end of their car. Different bike racks can be used depending on how you want to transport your bike.
Hitch Racks
This is one of the safest ways of transporting a bike to your car's rear. With a hitch rack, carrying your bike around won't be a hassle. However, before you buy, check out the parameters of the hitch rack just to know if it will fit your car.
Spare Tire Bike Rack
With a spare tire bike rack, you'll be able to carry your bike while driving, and you won't have to worry about your rearview getting blocked or the bike getting damaged. With this accessory, your bike will be attached to the car via the spare wheel.
Truck Bed Bike Rack
If you drive a truck, then using this bike rack would make a lot more sense. These can ensure your bike stays safe while you stroll around in your four-wheeler.
Smart Ways of Using a Bike Rack
Are you still wondering how to use a bike rack? Read on to know their most prominent uses.
1. Pannier and Backpack Rack
A pannier is one of the most ways to use a bike rack. It is perfect for carrying camping gear, clothes, water bottles, and several other stuff. They can offer ample storage space, which can accommodate almost all of your daily essentials.
You can attach a pannier to a system of spring-loaded clips, hooks, or bungee cords. This system is ideal whether you're installing a rack in the front or rear of your bike.
Panniers also give your bike the perfect balance while at the same time ensuring that everything you place on them is organized.
Apart from panniers, you can also attach a backpack to your bike's rack. It will give you convenience since you won't have to carry your bag while riding your bike.
2. Baskets
If you often find yourself going to grocery stores or the farmer's market, using a basket with your bike is one of the best options. You can put all of the grocery bags inside the basket, and you'll be all set.
These baskets can be installed on both the front and the back of your bike. So, rather than hanging it on the side of your bike's handlebars, you can mount it on the rear rack.
Once you've installed the basket, you won't ever have to worry about your groceries falling out when you ride the bike.
3. Saddle Pack
If you're trying to find ways to carry mini items on your bike, using a saddle pack can be a great choice. You can carry small items like a bike kit, a spare tube, a multi-tool kit, or tire levers.
These are usually installed under your bike's seat. You can either install them on the bike's saddle or the rails of the bike.
4. Rack Trunk
If you're looking for a medium-sized rack, you should consider installing a rack trunk on your bike. These are smaller than panniers but are a lot bigger than a normal seat bag. You can use these to carry daily essentials, tools, or food.
5. Dog Carrier
If you love taking your furry friend around with you everywhere you go, this bike rack is the ideal way to bring them around with you while using a carrier at the same time.
All you'll have to do is install a rear bike rack, put a basket on top and then put your dog inside whenever adventure calls.
6. Child Seat
Having a baby is one thing, but carrying your baby around while you're on tour is a different thing.
Installing a rear-mounted child seat on your bike rack is an amazing way to give your child a sneak peek into your life.
While using this, they're going to be comfortable and safe. You can also use a 3-point rear rack and protective guard to ensure your child stays safe.
7. Basket and Crates Rack
If you often find yourself inside the shopping mall carrying several items, then putting a basket and crates on your bike may be something that benefits you.
You can use them as a rack to carry the stuff you get after a shopping spree. This can be a lot more comfortable than installing a regular basket on your bike's handlebar.
You won't have to ride while holding one in your hand, and you can use both of your hands to steer your bike. You can use plastic, wood, or metal to attach the basket to your bike rack.
Can You Put Panniers On a Road Bike?
You can.
However, you're going to need a specific kind of pannier rack to accomplish this. Since a road bike doesn't have mounting bolts on its frame to add a rack, you'll first have to buy a rack that can attach to your seat. This will let you attach panniers to your road bike.
The only downside is that these racks can carry less weight because of the alternative position you're placing them in. That said, you still won't have any problems carrying the essentials for your bike with a rack fitted this way.
A road bike doesn't have an option for a stronger pannier because these bikes are designed for speed.
That's why they're supposed to be as streamlined as possible. Adding a pannier and a rack on a road bike isn't generally what it is intended for, but don't let that stop you from racking your road bike!
Can You Put Panniers On a Mountain Bike?
Even though you can fit a pannier on a mountain bike, we wouldn't recommend you to do it. That's because a mountain bike isn't designed to carry a load in this way.
The suspension on the rear wheel may start to malfunction if you install a rack right above the wheel. Not having a rack gives the bike's suspension enough room to compress and decompress, which is essential given the bikes' tracks.
Don't try even though you could easily fit a pannier on a mountain bike by using a rack that can be mounted to your seat.
There are several reasons you shouldn't try off-roading with a rack, and the ones we've listed above are just some of them.
Does a Bike Rack Damage Your Car?
Bike racks mounted on trucks have the highest damage potential. These types of racks sit against the truck's surface and are strapped to the edge of the trunk.
Since this kind of rack is always in contact with the car, it rubs against the car and can cause scratches over time.
How Do I Attach a Messenger Back to a Rack?
Attach the ring on the key to the outside and then loop the bungee back to the inside of the bag. Pull as tightly as you can, and then tie the other end to the inside of the bag. The bungee shouldn't be too tight. The loop has to attach at the end of the bike rack.
Can I Use Any Bike Rack with My Bike?
No.
Depending on the kind of bike you have, you'll have to find the specific rack for your bike.
For instance, if your bike has disc brakes, you'll have to pick a bike rack that can work with disc brakes. Most racks have a braze-on mount or an eyelet near the bottom of the frame.
Don't Forget to Keep Your Hands on the Handlebar
You may have seen several people carrying all sorts of things while they're on a bike.
People are seemingly pretty optimistic, even when they don't have a bike rack, carrying the most random of objects on their bikes – be it a chair, a baby, or a computer.
Even though these people may make you think you can move homes while only using your bike – don't do it.
Please bear in mind that even though something is possible, it doesn't mean it's safe. Simply because you saw it online or someone doing it for the sake of a bet should not motivate you to follow suit.
You never know when you'll have to deal with an unexpected bump or when the guy in front of you suddenly decides to bring his bike to a halt. Your hands should only be on the handlebar, not on any other object in both cases.
Using one to carry stuff while pedaling with your feet and maneuver the bike with the other hand will make it hard to react quickly.
Moreover, while trying to do so, you may drop whatever you're carrying – possibly a bag full of kittens. Not only will you create a dangerous situation yourself, but you'll also cause havoc on the road for every other person behind you. You wouldn't want to do that to them – or the cute unsuspecting kittens.
Related bike articles: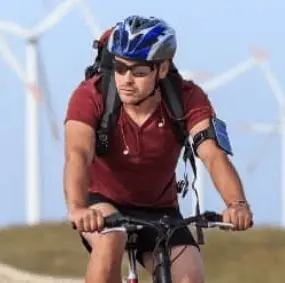 I am Michael, an avid rider and bike expert. I am here to provide, biking tips and expert advice on in-depth bike reviews covering features, capabilities, price range, and much more. Specially on electric bikes, mountain bikes, road bikes, etc. I will provide honest product reviews, along with expert advice on purchasing, training, and maintenance. Check out my complete profile.