An adventure bike is essentially a bike that can handle various settings, including everyday roads and trickier tracks that need more than just your average road bike. Although they all share some common characteristics, there are different types of adventure bikes available. Here are some qualities that help decide whether decipher what is an adventure bike.
Adventure bikes have fatter tires than your average road bike to navigate complex terrains. The extra width provides riders with grip and control. The starting range is 28 mm for tire width, although there are thicker tires available as well.
You will usually find a sturdy rack on adventure bikes as they feature plentiful space for equipment that you need to carry on your off-roading adventures. Your bike should be able to store anything from a water bottle to a camping tent.
If you are riding in harsh conditions and bumpy surfaces, it is crucial to have brakes that let you stop on a dime. Therefore, adventure bikes have disc brakes that help with braking under challenging situations.
Identifying the various classes of adventure bikes is essential to understanding what an adventure bike is. Mainly, there are three different types of bikes. Let's look at each one below.
If you love riding on stony gravel instead of flat pavements, gravel bikes are for you since they have fat tires ranging from 28 mm to 45 mm, giving you more traction and control. It is the perfect companion for steep and/or rocky landscapes such as climbing over the hill.
If you like to make long journeys with your bicycle over flatter surfaces, you should opt for a touring bike called an audax bike. These bikes allow the riders to bring heavy loads, but they are not the best performers off-road when pitted against gravel bikes.
For racing, cyclo-cross bikes are the way to go. They boast tapered tires that make the rider more agile on the tracks. Some people don't even consider cyclo-cross as adventure bikes, although that is a debate for a different time. The reason they make this list is their ability to perform exceptionally well on challenging tracks and conditions.
You may like, Mountain Bike vs Gravel Bike
Now that you know what an adventure bike is, we would examine how you can buy one for yourself.
You can find adventure bikes at sports stores and big box stores. The latter offers discounts as well sometimes. The drawback of buying from such stores is that the workers there lack knowledge regarding adventure bikes in most cases.
The second option is specialist stores for bikes which are run by experts who are passionate about bikes. This means that they have greater knowledge of the product and have more variety in some scenarios.
Lastly, you can also buy a new adventure bike online. Many websites have accurate information and offer a variety of options you can choose from. Just make sure to do proper research by reading website reviews and finding the best deal to save money.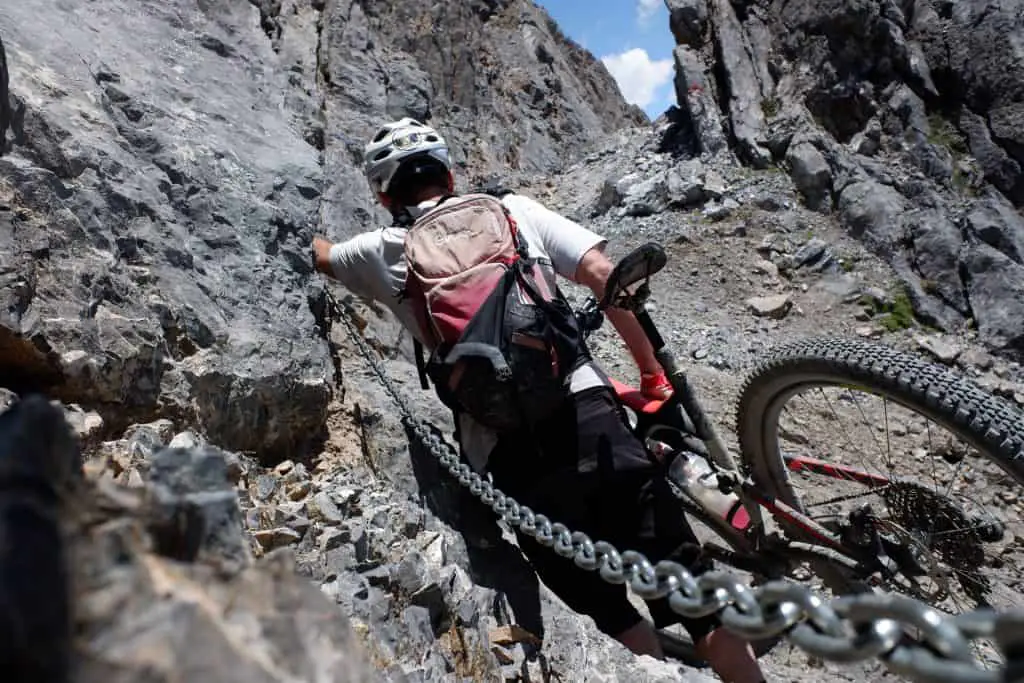 Read How Far Can You Bike in A Day
Adventure Bike Materials
You can have any frame material from the following list and still not have a reliable bike. This is because the engineering behind the bike is just as important as the material used.
Adventure bikes usually come in the following materials:
Carbon fiber
A fantastic material for constructing bikes is carbon fiber. There are two reasons behind this.
First is the fact that carbon fiber is robust and stiff compared to the weight it has. Second, you can handle the material in various ways compared to traditional materials like aluminum and steel.
This flexibility and strength allow bike manufacturers to make the frame tough in areas where the rider may experience the most while offering weight reduction instead of other materials. Although carbon fiber is a little costly, it makes for a great adventure bike.
Even if you buy an adventure bike that is not primarily made from carbon fiber, chances are it will have a carbon seat post and fork. This is to allow the bike to provide a smooth riding experience regardless of the terrain you ride it on.
Aluminum
Aluminum offers higher strength-to-weight in comparison to steel. Bike makers can play around with the shape of the bike more easily than steel and provide bikes that are strong and lightweight. Although it is not as strong as carbon fiber, the cost savings justify its use.
Steel
Steel is durable and has excellent material strength as well. Riders usually find themselves comfy on steel frames, although it is the heaviest among the three materials discussed.
In the modern bike industry most, manufacturers avoid building adventure bikes with steel frames, although you may still find a few models due to the comfort that these frames offer.
Adventure Bike Geometry
To better understand what an adventure bike is, you must consider the subtle differences that set them apart from road bikes. The bikes' geometry is much upright, allowing the rider to sit in a comfortable stance for long rides. Manufactures refer to such design as adventure or endurance frame structure.
These frame designs influence the way a bike rides and the utility it provides to its users. Firstly, the bottom bracket of the bike is lowered to offer an increased instability. The extended frame design allows you to store more stuff using racks and panniers staged on the bike.
The bikes also feature an extended wheelbase alongside a shorter reach which is meant to provide a more upright position for bike riding.
Tires and Wheels
These touring bikes are also constructed with higher fork and frame space, enabling you to house thicker tires with more tread. These specific styles of tires operate at lower air pressures, providing more control, comfort, and traction of the bike over rough surfaces such as mud, gravel, dirt, snow, and rain.
The wheels on such bikes are also stiffer, which aids the bike when traveling over a difficult landscape with increased loads. You can also mount fenders on these bikes due to the extra clearance.
Brake Options
As briefly discussed earlier, adventure or gravel bikes have disc brakes there for some concrete reasons. Above all, these brakes have incredible stopping power, which lets the rider have more confidence and control when finding ways through a complex path and while carrying bulky goods with themselves.
You can control braking in a fashion that enables you to skid the bike before you are ready to make a stop. These brakes are also more durable than other rim brakes since the braking happens much closer to the hub.
Having rim brakes is a problem since mud and dirt can accumulate over the wheel in more demanding conditions such as rainy weather.
Finally, the unlike rim brakes need to go over the tire to come in contact with the wheel to stop the bike, but the disc brakes work in a more efficient manner letting you explore various tire options.
Read: Mountain Bike vs Fat Bike – Detail Guide
Can I Carry More on a Gravel/Adventure Bike?
The most epic reason for buying adventure bikes is their ability to take out long trips in the wilderness. We all know that they have great control over harsh landscapes, but the thing that cements their place as a touring/adventure bike is that they offer a lot of space for mounting bottles, fenders, racks, and other goodies such as change of clothes and so on for the outdoorsy types.
The Top Ten Adventure Bikes on Sale Right Now
Now that we have discussed the various aspects that make adventure bikes a great buy let us discuss a few options that could serve you as great options for your first adventure bike. Here are ten adventure bikes that we consider to be the best in the market right now.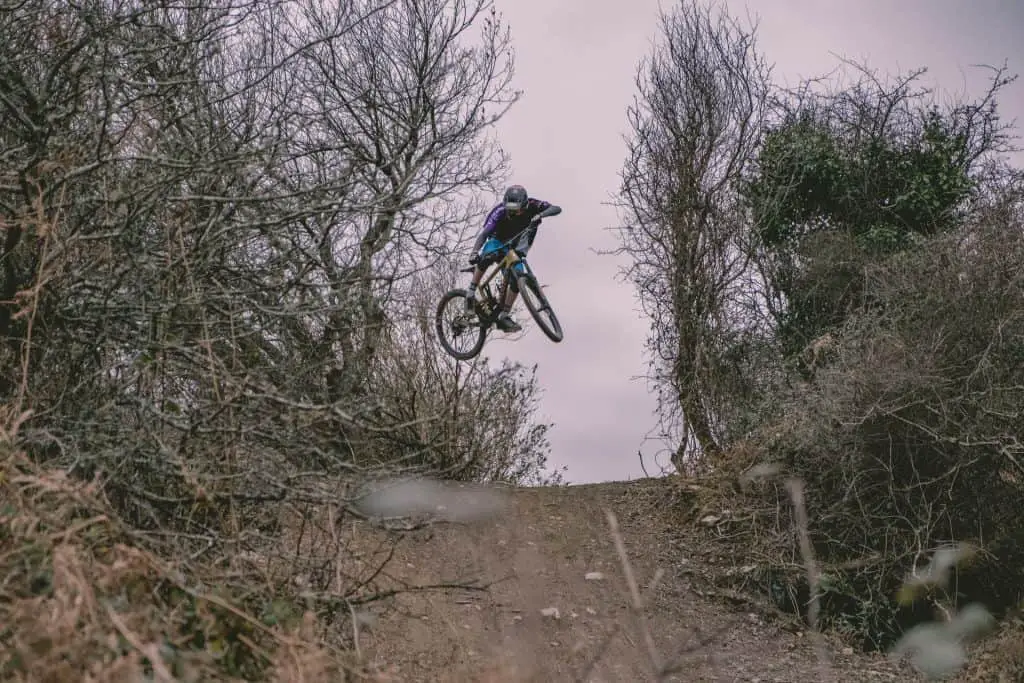 1. Masi Giramondo 27.5
The Giramondo is a hybrid bike that allows you to combine touring with bike-packing. It is made with dirt tours where forest routes and single tracks are to be experienced simultaneously.
The bike's design is conventional, featuring drop bars from WTB, though the shape of the bike is such that it is perfect for touring with the availability of disc brakes and extra space that allow the riders to fit 29-inch tires.
The shifters have been proven to provide outstanding performance, and these bikes also provide a lot of space for all your backpacking needs with racks, fenders, and three bottle slots.
2. Niner RLT9 Steel
If you want a bike that can be customized according to your mood or the terrain you are experiencing, go for the Niner RLT9 Steel, which allows you to alter shifting. These bikes are meant to ridden on pavement, mud, gravel, and whatever else you can think of.
The bottom bracket of the bike, PF30, allows the bike to go from an 11-speed system to a single-speed operation in a matter of moments. The plentiful wheel clearance allows the rider to house tires up to 700x50c. If you plan on riding it on steep areas, the bike even has a feature that enables riders to add a dropper post.
The company Niner added reduced bottom bracket height alongside a loose headtube to provide a comfortable riding experience. The bike also boasts Shimano parts from the GRX800 collection, which can tackle grime and dirt easily.
3. Specialized AWOL Expert
The AWOL is an excellent option for bike enthusiasts, taking care of your touring needs. It does so with a steel fork and frame made to provide a geometry that fares well against rough riding conditions.
The bike has fender and rack mounts on both sides with Shimano Tiagra components, a broad gearing range, 29-inch wheels alongside 45 mm Borough Armadillo tires, which provide a comfortable ride on-road and dirt.
It also boasts hydraulic brakes providing amazing stopping ability, and a custom handlebar meant to improve the bike's balance.
4. Trek 520
The Trek 520 has been featured as one of the best adventure bikes by many bicycle bloggers even after being one of the most senior models sold by Trek.
The bike is great for long tours, commuting, bike-packing, or even steeper inclines due to various gear settings that allow great control over steering. It also features tubeless tires and mechanical disc brakes, bringing a modern flair to this old classic.
5. Salsa Marrakesh Drop Bar Brooks
The Marrakesh from Salsa comes in six different frame sizes letting you choose which fits you perfectly. The frame is made of Chromoly tubes, and the bike comes with an alternator dropout letting you ride it at a single speed.
The bike also has a specific design featuring a lower deck rack which increases stability. The bike also has a mechanical disc braking system, enough holding space for three water bottles and a kickstand plate if you want to use it.
Even the saddle is Brooks B17 to provide riders with a seamless riding experience.
6. Salsa Cutthroat GRX 810 1X
For those who want the full experience by riding their bikes in the toughest conditions, the Salsa Cutthroat is the way to go. It is closely related to hardtail mountain bikes presenting stiff fork and drop bars.
The bike comes with a complete carbon body, Shimano GRX 1x drivetrain, 29×2.2-inch tires, front and rear mounting places, five bottle storages, and much more that will help you conquer your track or trail, whichever you prefer.
The bike is a beast of a performer in terms of the bikes present on this list and certainly recommended by us.
7. Kona Sutra
The Sutra from Kona is a mix of touring, mountain, and a road bike. The bike's styling is like your regular adventure/touring bike, with straight lines running through the steel frame and a saddle sourced from Brooks, namely the B17 full leather.
The bike also comes with mechanical disc brakes, a Shimano Deore gearing system, 700c wheels perfect for 29er tires, and a triple chainring. All these components make the bike a perfect choice for your outdoor adventures.
8. Jamis Renegade Escapade
If you want a killer for gravel and dirt paths, the Jamis' Renegade is a perfect choice that will last a long way. The bike has a tall, extended frame that ensures comfort and stability whether you are commuting or going from one city to another.
It also comes with 20 mounts on its frame and fork, which let you store everything from fenders, panniers, water bottles, and so on. The bike can hold 25 pounds at the front and 25 pounds at the back. The clearance on the frame is enough 700c tires that can be put on MTB tubeless rims.
It also features hydraulic disc brakes, which are capable of any road you pass them through. You can even install a dropper post on this bike without any issues. Lastly, you can choose the type of frame you want from steel, aluminum, and carbon options.
9. Velo Orange Polyvalent
The Velo Orange Polyvalent can be used with 650B or 26-inch disc brakes and tires. The frame features three mounting spots for water bottles, eyelets on the frame and a fork to install racks and fenders alongside a 68mm bottom bracket.
The great thing about the Polyvalent is that it enables you to experience the classic look and experience of riding off an old-school adventure bike, bypassing any compromises that must be made like manufacturer-built bikes.
10. Surly Disc Trucker
Surly's bikes have been a favorite of adventure cyclists for many years now. Their recent offering, the Disc Trucker, was introduced in 2012 and then redesigned in 2020, giving it design benefits over the previous models.
The redone version of the bike comes with a reduced chainstay length that allows the rider to quickly accelerate and put a thru-axle, which offers higher stiffness. The bike also has a more perpendicular geometry owing to reduced, increased stack length and reduced standover length.
The handlebars from Truckstop also provide it with a shape suitable for long usage, and the new design also comes with increased mounts that can help carry most of your weight. The bike is tried and tested over the years, and the 3×9 drivetrain is considered reliable for steep slopes.
You may like the following bike articles:
Conclusion
Picking an adventure bike is a difficult task due to the overwhelming variety available on the market. Therefore, you need to consider several personal factors before buying your first adventure bike. Things such as budget, daily usage, and prior knowledge and experience influence buying an adventure bike.
We hope that this article helped answer the question: what is an adventure bike? We hope that you are satisfied with whatever purchase you make in the future.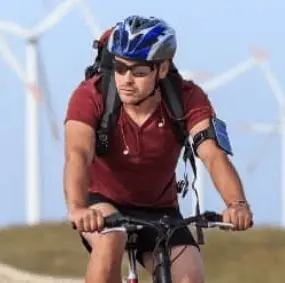 I am Michael, an avid rider and bike expert. I am here to provide, biking tips and expert advice on in-depth bike reviews covering features, capabilities, price range, and much more. Specially on electric bikes, mountain bikes, road bikes, etc. I will provide honest product reviews, along with expert advice on purchasing, training, and maintenance. Check out my complete profile.