Hardtail bikes are bikes that feature a front suspension but no suspension in the rear. This makes these mountain bikes simpler, lighter, more affordable, reliable, and easier to maintain.
Good hardtail mountain bikes can go just as hard as any full suspension mountain bike while forcing you to become a better rider!
In this article, we'll show you the best hardtail mountain bikes available in the market right now.
Back in the day, hardtail bikes were the basis of the whole mountain biking design, and now, with advances in engineering and technology, these bikes can withstand intense stress and terrains.
People around the world still undervalue hardtail mountain bikes, but modern engineering and geometry are bringing them back into the spotlight!
Why choose hardtail mountain bikes?
There are obvious advantages to hardtail bikes. With the crank directly connected to the axle, and no rear energy-inefficient suspension wasting your energy, it is one the best types of bikes to go uphill fast.
Hardtails are also easier and cheaper to maintain as they have fewer moving parts which means fewer parts that require regular upkeep.
Hardtails also force you into becoming a better rider as there is less room to make mistakes. They are great for beginners as they will force you into thinking while you ride.
As they are not as forgiving as full-suspension bikes, you have to make sure you choose the right lines and timings on your trail. Riders say they always have to be on their A-game as there is no back suspension neutralizing their mistakes.
Hardtails are excellent adventure bikes, making them ideal for bikepacking and other long-distance adventures.
Using a longer-travel fork and larger tires, you can create an exciting ripper for riding around on your local trails—and you will save hundreds of dollars over a full-suspension bike.
A hardtail nearly always provides more value for your money. Because of the simpler design, manufacturers may either lower the overall price of the bike or incorporate better components than you would find on a comparable full-suspension bike at a lower price.
A hardtail frame is often lighter than a similar full-suspension frame since it does not include pivots, linkages, or shock.
If you bike a lot of climbs or spend a lot of time in the saddle, the weight savings can make a significant impact on your riding experience.
Carbon fiber frames have the highest power-to-weight ratio of any material available, but they are also the most expensive option.
In terms of pedaling responsiveness, a hardtail can be more reactive than a dual-suspension bike. The absence of rear suspension results in a more efficient-feeling pedal, which results in more instantaneous acceleration.
It is especially beneficial to climbers who appreciate the increased responsiveness, albeit you lose some traction (especially when braking hard) if the rear suspension is not used.
Still, there is nothing quite like a hardtail for a fast, ruthlessly efficient ride.
Read Hardtail vs. Full Suspension
The Best Hardtail Mountain Bikes Available in the Market
Now, let us check out a few Hardtail Mountain Bikes Available in the Market.
1. Specialized Fuse Expert 29
Wheel size: 29-inch
Frame: Specialized M4 Premium Aluminum
Fork: RockShox 35 Gold RL
Brakes: SRAM Level TRL
Specialized continues its great track record with its amazing hardtail mountain bike catalog. The Specialized Fuse is their newest hardtail option that you can shred with as hard as ever! It is built on a well-balanced frame that can run 29-inch or 27.5-inch wheels.
This hardtail rips going downhill and gives you the confidence to go faster than you ever have before. Its uphill abilities are also respectable, with great climbing handling.
The Fuse runs on a budget-friendly RockShox Gold 35 fork which is pretty sturdy and functional but leaves a little more to be desired.
Read Best Electric Mountain Bikes Under $4000
2. Commencal Meta HT AM Origin
Wheel size: 27.5-inch
Frame: Aluminum Alloy 6061
Fork: RockShox 35 Silver R
Brakes: TEKTRO HD-M275
This hardtail is amongst the best affordable cycles available. The Commencal Meta HT is the most adaptable hardtail in the series.
It will shine on any and all kinds of terrains and riding styles; it doesn't matter if you ride it on the pump track, enduro, off-road, or in an urban playground.
The Commencal Meta HT AM Origin handles all these terrains comfortably due to its front travel of 160 mm. The bike is also equipped with Shimano Deore transmission and Tektro brakes.
The forks are a RockShox 35 Silver R, but with a coil spring rather than an air spring. The bike is also unisex, which makes it is comfortable and suitable for both men and women.
The only drawback is that this lightweight aluminum frame does not include a dropper post. You will need to purchase one separately.
Read How to Ride an Electric Mountain Bike
3. Bird Forge
Wheel Size: 29-inch
Frame: 4130 steel
Frame Only
Bird is a company that is known for its modern geometry. The Bird Forge has a modern frame that has been in the works since 2013, designed around its 29-inch wheels. It has many customizable options to make the Forge as suited to your needs as possible.
The frames 64 degrees angled head tube and 77 degrees angled seat tube give this bike a great look while making it capable of burning through all kinds of rough terrains.
The Bird Forge is just a frameset and has to be paired with wheels and forks of your choice.
Pairing it with a Formula Selva Fork would give you an incredibly smooth ride, minimizing all the trail vibrations on your hands to ensure you have the perfect grip while flying downhill.
Read How to Put a Motor on a Mountain Bike
4. Cannondale F-Si Carbon 2
Wheel size: 29-inch
Frame: BallisTec Carbon
Fork: Lefty Ocho Carbon
Brakes: Shimano XT hydraulic disc
The F-Si Carbon 2 hardtail from Cannondale has everything you need to fly past the opposition on your route to the podium.
It is suitable for all kinds of cross-country and endurance racing, thanks to its light, full-carbon frame, built for its 29-inch wheels.
Cannondale has also featured an all-new Lefty Ocho fork on the bike and a Shimano XT 12-speed gear that will get you through all terrains on your path.
This bike is not easily affordable and inexpensive, but you receive a level of components that are generally found on mostly even higher-priced bikes. As a result, this is a great bike for extreme racers looking for the best.
The only thing to keep in mind is that both the wheels are specially designed, and only specific Cannondale wheels can be used on the bike.
Read Buying a Second-Hand Mountain Bike
5. Pipedream Moxie Mx3
Wheel size: 27.5 or 29-inch
Frame: 4130 steel
Frame only
The Pipedream Moxie Mx3 is composed of Chromoly steel tubing, and versatility is prioritized. The bike accepts 140 to 170mm travel forks and has sliding dropouts, accommodating 650b, 650b+, or 29-inch wheels.
The Moxie provides a rough, real riding experience. It makes you feel connected to the trail in ways that only a hardtail can.
It makes you want to push your limits, knowing that their unique Drop Optimized Geometry is meant to give you insane levels of control over the bike.
The Mx3 features sliding dropouts that give you different options of wheel sizes that you can use on the bike, enabling a few alterations to the frame's geometry.
This Pipedream gives you a nice blend of high-speed stability and turning agility. It hooks into the loose dirt and slices through turns with no problems.
But, as Pipedream only sells the Moxie M3 as a frame, we would recommend experimenting with a few stem selections to find the ideal balance for you.
Read Can a Mountain Bike Be as Fast as a Road Bike?
6. Rocky Mountain Growler 50
Wheel size: 29-inch
Frame: 6061 Aluminum Alloy
Fork: RockShox 35 Gold RL
Brakes: Shimano MT4120 4 Piston
The Rocky Mountain Growler lives and yearns for fast speeds and rough terrain. This hardtail boasts aggressive geometry similar to that of enduro race bikes.
The Mountain Growler 50  is extremely stable at incredible speeds and angles to make you feel really comfortable on steep terrains.
It is an excellent bike for riders who appreciate going crazy, wild, and fast. Its frame is designed around 29-inch wheels and can fit wheels up to 2.6 inches wide.
The frame is made of Aluminum and features boost spacing. The head tube is angled at 64 degrees and the seat tube at 75 degrees, making the bike's reach come out to 470mm.
The Growler was specially designed for extreme downhill performance. And when going downhill, this bike can be ridden insanely hard and remains incredibly stable for a hardtail mountain bike.
At lower prices, the Growler 50 is a very good, extreme, and affordable hardtail mountain bike for all your insane needs!
Read Mountain Bike Tire Pressure
Read Best electric mountain bikes for women
7. Canyon Stoic 4
Wheel size: 29-inch
Frame: Aluminum
Rock Shox Pike Select
SRAM Guide T
The Canyon Stoic 4 is made for riding situations, including tough terrain and simple bike park activities.
Even though the tough aluminum frame may feel a little harsh at times, the low and long geometry give even the greatest full suspension mountain bikes a run for their money when it comes to descending downhill.
Its gravity-focused design with the 75-degree seat tube angle evenly distributes your weight, so winding up steep climbs never feels taxing or exhausting.
Canyon has chosen to equip the smaller frames with 27.5-inch wheels, while the larger frames are equipped with 29-inch tires.
This high-end Canyon bike comes equipped with a 140mm RockShox front fork, an SRAM NX Eagle 12-speed gearbox, and an Iridium 170mm dropper. As always, Canyon provides excellent value for your money.
If you are searching for a hardtail mountain bike that combines simplicity with great downhill performance, the Stoic 4 should be at the top of your list.
Related mountain bikes:
Final Thoughts
We hope reading through our article helps you find and purchase the perfect hardtail mountain bike for yourself! There are lots of options for all kinds of riders and biking styles. Know what kind of trails you love, and choose the right bike to let you shred any trail you want!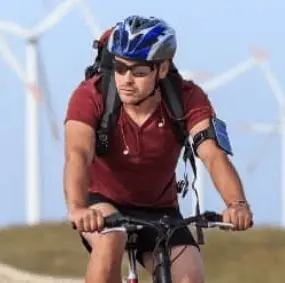 I am Michael, an avid rider and bike expert. I am here to provide, biking tips and expert advice on in-depth bike reviews covering features, capabilities, price range, and much more. Specially on electric bikes, mountain bikes, road bikes, etc. I will provide honest product reviews, along with expert advice on purchasing, training, and maintenance. Check out my complete profile.