Buying a used bike, if done right, is a great option especially when compared to the cost of purchasing a new one. Buying used means you are maximizing your bang for your buck. With the pandemic ongoing, it's understandable if you are nervous about using public transportation due to the fear of catching the virus. Bike travel will not only help you isolate yourself but is also be a source of exercise.
While researching, it is crucial to know what to look for when buying a used bike. As with almost anything else, it is risky to buy a used bike, as, without proper due diligence, you might end up with something that does not satisfy your needs.
Therefore, whether you are buying online on websites like eBay, Craigslist, or in-person from a bike shop, here is a list of advice you must go over before you are ready to make your purchase.
Define Your Search Criteria
Set out a budget for your secondhand bike beforehand. Sometimes you might drift off while searching, which is why setting a maximum budget can be helpful in keeping your efforts focused.
You should also be aware of the type of bike you want. If you aim for performance, you will look for a mountain or a road bike. Whereas, if you wish to travel to work using your bike, you would probably go for a commuter bike.
It might be helpful to specify other things regarding your bike, such as the wheel size, frame material, suspension travel, and so on, as they influence your experience with the bike. However, that depends entirely on how detailed you want your search to be.  
After determining these various aspects, search through cycling forums or websites such as Craigslist, eBay, or the Facebook Marketplace to find models that conform to your needs.
Some other useful websites for buying a used bike are the Pro Tested Gear and The Pro's Closet.
These websites have secondhand used bikes for sale, which have been serviced and spec'd by mechanics before the sale.
You can also explore nearby bike shops to see if they have an offering that suits your needs. Besides, some people are more inclined towards buying in person than online.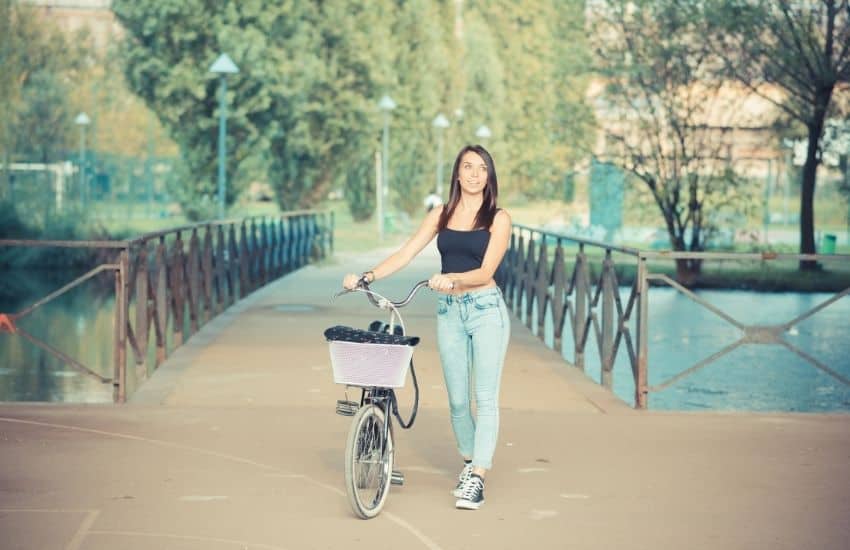 After deciding your bike's various specifications, here is a list of things you should inspect before confirming a purchase.
You may like, How Fast Does a 1000W Electric Bike Go?
1. Frame and Fork
The frame or fork of a bike is irreplaceable, so it's imperative to ensure that it is in proper working order before you buy. It would be pointless to buy a bike with a flawed fork or frame as it would render it useless.
It is best to scrutinize a bike in person to see if there is any damage to the frame or fork. Things to keep an eye on are cracks, rust, bends in the metal tubing alignment, or bubbles below the paint that signify corrosion.
2. Steerer and Headset
It's a good practice to check whether the bike's headset is in good shape. To do this, push both the brake levers and then move the bike back and forth.
If you hear a thumping sound coming from the headset, it might mean that it needs repairs. This could be a result of sub-par maintenance by the owner of the bike.
If you are looking at a bike with a carbon steerer, you might also want to check whether there are any signs of damage or corrosion on it. There are two ways of doing this. One is to remove the fork and inspect the crown for corrosion.
The more straightforward method is to lift the front wheel so that handlebars can swing freely from side to side. If the handlebars stay in their place or move very slightly, it might mean that the bike has a corroded steerer.
Check out, Electric Bike VS Electric Scooter – Which Is Better?
3. Wheels and Tires
Wheels are the second most expensive part to replace on a bike, and it is vital to check their health when buying, especially if you don't have the money to replace them later.
To perform this check, lift each wheel off the ground one by one and watch it have a spin. A little bit of wobble can be easily fixed. However, if the wheels move side to side substantially, it might indicate a more significant problem.
Spoke tension is also a good indicator of the wheel's dependability. Squeeze the spokes by pulling them closer to each other. The lesser the movement, the better they are.
Also, you can check the braking surfaces when examining the wheels. If the brake track is flat, you are good to go, although a concave brake surface signals that the wheel has exceeded its useful duration.
Tires are also something you can look at when purchasing your bike, although they are not too expensive to replace. Things such as cracks, gashes, or bulges are a cue that a replacement might be needed.
Check out:
4. Drivetrain
While inspecting the drivetrain of a bike, it is advisable to check the chain first. Though the chain might not be costly to replace, it may be a precursor to other drivetrain problems.
To inspect the chain, select the biggest chainring and rear cog, respectively, from the bike's gear settings. Then pull the chain away from the chainring. If the space between the chain and the chainring is minimal, there is nothing to worry about.
On the other hand, if the gap is half an inch or something around that, then the drivetrain on the bike may need replacement – the chainring on the front and the cassette at the back.
Next, check the derailleurs for the front and back. Shift the gears up and down on the rear cassette and do the same for the front chainring. If the gears shift smoothly, you are primed. Otherwise, you may need to replace parts or cables.
5. Bottom Bracket and Brakes
The bottom bracket is also a relatively expensive part to replace on a bike, considering you want to keep expenses to the minimum after buying your bike.
To check the bottom bracket condition, grab hold of one crank arm of the cycle and move it side to side. If the movement is excessive or noisy, then the part might need repairs or replacement.
Checking the functioning of the brakes can be a little tricky. Instead of pulling the levers on the handlebars, compress the brake calipers by hand to do it correctly. If the bike brake pads easily attach and detach the brake track, then you are good to go.
The reason to do this manually is that sometimes the brake cables might be worn out, but they are easily replaceable.
You may like, Top 6 Reasons Why Electric Bikes are so Expensive and How to Remove Pedals from Bike.
Things You Must Do
Apart from inspecting body parts, there are some other considerations to keep in mind when looking at used bikes for sale. Here is a list of dos when buying a used bike.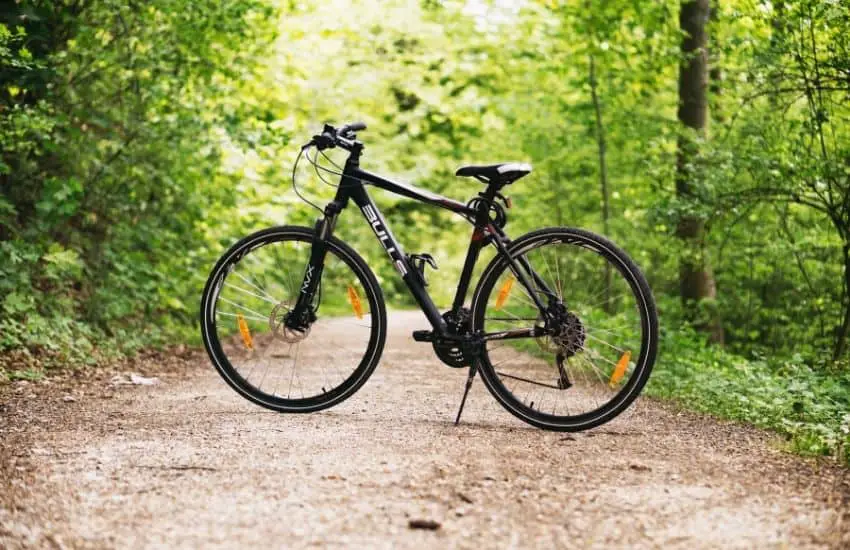 Go For a Test Ride
One of the most important things to do when purchasing a bike is to take it for a whirl yourself. Check the seating position, which is one of the most important things to consider when confirming your purchase.
Although you can adjust the seating post a little bit, it may be best to look for another bike if your overall frame is too big or small.
Use the brakes of the bikes to check how responsive they are. Look out for screeching noises when braking, which may be an indication of a problem. Check the handlebars to see if they turn quickly from side to side. Also, use the gears on the bike to determine whether they shift speedily or not.
All in all, the bike should feel sturdy. Make sure you ride it on a clean road without any potholes or humps.
Check out, Best Dog Carriers for Electric Bikes.
Bring Along a Friend or Family Member for Consultation
Having another pair of eyes can make a world of difference. Usually, people get overwhelmed with emotions when they see something they like, and it is the same when buying a used bike.
Bringing along a friend or family member who will remain objective during the buying process can help you stay within your means.
Besides saving a few bucks, having a second person can help you realize if the whole deal is really worth it or not; otherwise, it is not as easy when going for one-to-one negotiation.
Also, read Which Electric Bike has the Longest Range?
Use A Dedicated Platform
When buying online, websites such as Bikesoup or eBay are the best option for secondhand bikes. This is because they force the sellers to give contact details and have feedback from people who have previously bought from that seller. This creates accountability.
They allow buyers to meet sellers at a safe place before they ready to pay for the bike.
Furthermore, sellers must be cleared by "Paypal Buyer Protection". This essentially means that if your bike comes in damaged or is different from what you paid for, or does not arrive altogether, you can request your money back.
Meet the Seller Face To Face
It might not be possible to find the bike you are looking for locally, which is why you might have to expand your search. Eventually, when you do find the bike you were looking for, it is always recommended to go out and test it in person.
This whole process can be compared to buying a car or a motorbike. You would not buy one unless you have tested it, regardless of the seller's reviews and the pictures you have seen.
Asking for the bike to be shipped to your home is much easier. However, it is not a sure-fire way to make sure the bike conforms to its specifications.
Look At the Competition
Knowing the prices of competing bikes from that brand, year, and so on can be beneficial before you start talking about the purchase.
You can easily get a better price if you know how much the bikes in the same genre are going for. It will also give the seller confidence that you are serious about buying the bike since you were diligent in looking at the competition.
Haggle with the Seller
After conducting your research, it is now time to haggle. Make sure you have examples of similar sales handy to make your case. Also, go in with a number in mind before you begin and try to start as low as possible than that number.
Eventually, you will find yourself working up to the number you thought of, and hopefully make a deal if the haggling is successful.
Check out 5 Best Fat Tire Electric Bikes.
Be Prepared To Say 'NO'
It is not always the case that you will be successful in bringing down the asking price by haggling with the seller.
Sometimes, the seller would be hell-bent on getting the asking price which is why you need to walk away from such deals. Sooner or later, you will find the type of bike you are looking for at the price you are comfortable paying.
Check If the Bike Is Stolen
Sometimes, you might come across a deal that is too good to be true. In such cases, it is critical to determine whether the bike is stolen.
To do this, check the frame number or BikeRegister ID on BikeRegister's database to ensure that the bike is not listed as stolen. Another way is to ask for proof of purchase, although it might not be with the seller if the bike is old.
Buy During the Fall Season
The best time to buy a bike is in Autumn. This is because companies are coming out with newer models, and cyclists are looking to get rid of their old bikes.
Pros, amateur teams, and brand ambassadors are prime examples of people offering massive discounts on their used bikes going into the new season or year. Bike shops also follow the same pattern and offer discounts on old stock at this time of the year.
Also, check out, Best Affordable Electric Cargo Bike.
Things You Must Not Do
When buying a bike, there are some things to be wary of. Make sure to avoid doing these things so that you don't get ripped off when buying a used bike.
Avoid Sending Money Before You Are Satisfied
When buying secondhand bikes, it is vital to be satisfied with what you are buying before sending the money. The best way to do this is to see the cycle in person. Scammers usually use services such as MoneyGram or Western Union to ask for money. This is because these services are not designed for use between buyers and sellers. Their primary use is for families to send money abroad to individuals and vice versa.
Sending money using these services may leave you defenseless if you do not receive the bike or get something other than what was described by the seller.
Haggle at the Correct Time
Haggling is essential to work your way up to a good deal. Although, you cannot jump headfirst into it. The key is building rapport with the seller first through friendly conversation or asking about their experience with the bike. This will allow the seller to be more considerate when you finally start haggling.
Let the seller talk about money first. This will go in your favor when trying to work out a deal you are happy with. Going in low prices early in the conversation can put off the seller and might cost you the deal 
Limit Your Search to Your Country
Buying from abroad can be difficult and will most likely be a waste of your money and resources. Therefore, you should limit your search to your home country.
The further away the seller is, the less accountability you have. Also, charging someone for fraud can be much more difficult in a foreign country than in your own.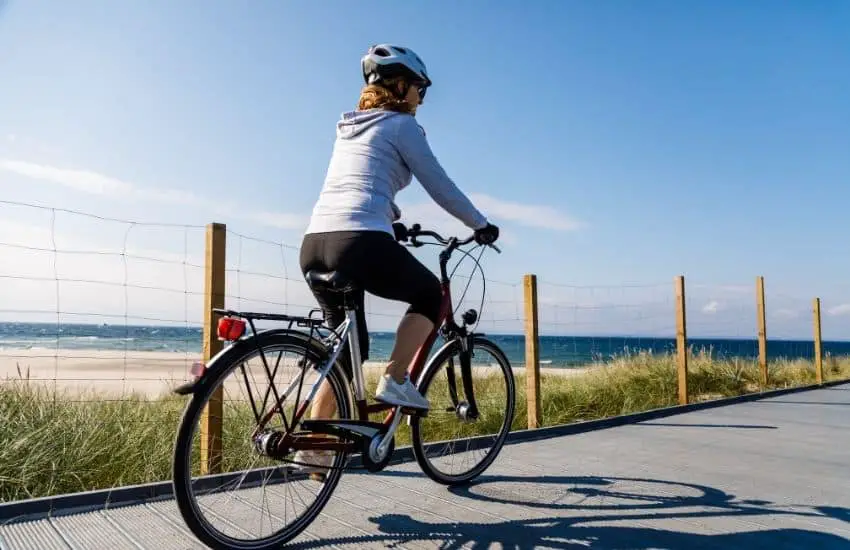 You may also like,
The Key Takeaway
While browsing through used bikes for sale, the most crucial consideration is to ensure that it functions properly. The best way to do this is to go for a test ride to check if the ride is smooth. If the bike has been involved in an accident or undergone massive repairs, you should move on and look for something else.
Even if the bike functions correctly, you also need to incorporate your own needs in the decision making process. A mountain bike might not be best suited for you if you want to commute using your bike.
If you don't know much about a bike and its parts or don't feel comfortable checking the parts listed earlier yourself, you can take a mechanic with you. Sellers who don't allow you to bring a mechanic along are a major red flag.
For online purchases, try not to send checks, cash, wire money, or money orders as they don't offer much buyer protection. Instead, opt for safe payment options such as Paypal in case of refunds.
I hope you got an idea of what to look for when buying a used bike? Belittle careful when Buying a used bike.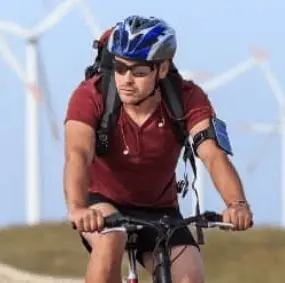 I am Michael, an avid rider and bike expert. I am here to provide, biking tips and expert advice on in-depth bike reviews covering features, capabilities, price range, and much more. Specially on electric bikes, mountain bikes, road bikes, etc. I will provide honest product reviews, along with expert advice on purchasing, training, and maintenance. Check out my complete profile.