Looking for the best electric bike repair stand?
A sturdy work stand is a must-have if you want your electric bike to perform well for years to come. In addition to cleaning it regularly, you need to stay on top of its maintenance and keep an eye out for any repairs required to keep it in top shape. With careful repair and maintenance, you can maximize the longevity of your e-bike.
What are the Best Electric Bike Repair Stand? Here are the Top 8 Best E-Bike Repair Stands:
YAHEETECH Pro Bicycle Repair Workshop Stand
PARKTOOL PRS-25
Feedback Sports Sport Mechanic Bicycle Repair Stand
PARKTOOL PCS 10.2
Feedback Sports Pro-Elite Repair Stand
TOPEAK Tune-Up Stand X
Bikehand Bike Repair Stand
SONGMICS Bike Repair Stand
There are several e-bike repair stands out there that you can use to secure your bike at the right height and angle when taking the DIY route. A good stand not only allows your hands to be free to work with different components of the bike but also helps save a lot of time and money in the long run.
Without further ado, let's dive in to discover some of the best e-bike repair stands.
Top 8 Best E-Bike Repair Stands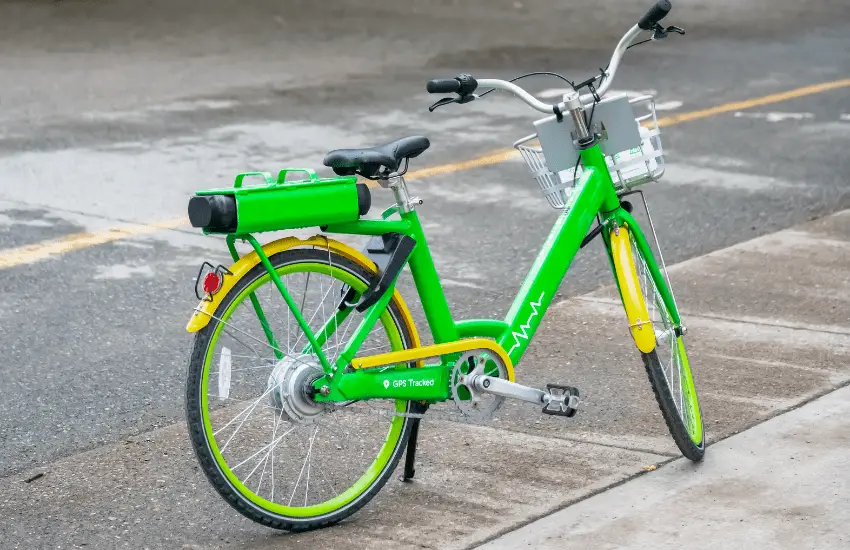 We've rounded up the top eight e-bike repair stands for you.
1. YAHEETECH Pro Bicycle Repair Workshop Stand
The YAHEETECH Pro Bicycle Repair Workshop Stand is considered the best electric bike repair stand among bike shop owners. It also works significantly well for bike owners who prefer to repair their bikes at home. This stand can be used with all types of e-bikes.
The best thing about this repair stand is that it is made of iron and PA, which means that it can easily carry 60 lbs. Swiveling 360 degrees, it eliminates the need for standing up or bending over while accessing different parts of your e-bike.
Moreover, this bike stand is the epitome of flexibility. You can adjust the height and pivots for optimal convenience. This also minimizes the time required to perform repairs.
Pros:
Easy to assemble
Sturdy and durable
The legs of the stand are foldable to save storage space
The adjustable height adds to your convenience
Cons:
You may like How to Turn Your Bike into an Electric Bike: A DIY Guide and What Is a Cyclocross bike and Why You Should Buy One!
2. PARKTOOL PRS-25
This is one of the most popular and widely used folding e-bike repair stands. If your bike requires frequent repairs and work, it may be a worthy long-term investment. E-bike enthusiasts swear by this work stand because it is highly stable, easy to use, and portable.
This stand weighs 13 lbs and can carry up to 100 lbs. It is perfect for holding heavy off-road electric bikes. The micro-adjust clamp makes it easier for you to operate the bike with one hand.
As a result, you require little time and effort for repairs. You can adjust the clamp jaws so they may fit perfectly around the tubes of your bike, regardless of the bike model.
Since PARKTOOL PRS-25 is a bit costly, it offers nice features and functions that you don't get with many e-bike repair stands. You can easily get replacement rubber clamp liners when the old ones start to wear. This will prevent unsightly marks on your electric bike's frame.
Last but not least, the frame stand is made of high-grade aluminum, which makes it lightweight and foldable. The compact size helps you save storage space.
Pros:
Extremely robust, adaptable, and portable
Easy to use for beginners
Strong yet lightweight
Offers a generous weight capacity; perfect for the heaviest of off-road bikes
Ensures maximum stability and balance for heavy bike frames
Cons:
It is one of the most expensive work stands for e-bikes
When used for light, carbon fiber bikes, it may be prone to tipping
You may struggle to find the center of balance if you have a lightweight e-bike
You may like 10 Ways to Make Electric Bike Go Faster and Best budget electric cargo bike (Top 4 Picks).
3. Feedback Sports Sport Mechanic Bicycle Repair Stand
The Feedback Sports Sport Mechanic is the best electric bike repair stand for budget-conscious e-bikers. It weighs approximately 12.6 lbs and is sturdy enough to hold 65 lbs.
This work stand has a wide tripod base, which makes it exceptionally strong. It is an ideal option if you have to do bike repairs on a rough or uneven surface.
That being said, it is cheaper than the models discussed above but still provides considerable stability and convenience. The frame is well-designed and can fold easily for easy storage and transportation.
On the downside, this e-bike repair stand comes with spinner clamps, which require extra adjustment as compared to the quick-release counterparts. You need to be extra careful to ensure that the bike is held securely in place before you start working.
Furthermore, the adjusters in this stand are made of plastic. Hence, they may not last as long as those generally used in some expensive models.
Pros:
A budget-friendly option for e-bikers looking for a quality, functional stand
Offers considerable stability when working on uneven terrains
Folds easily to offer maximum convenience for storage and transportation
Cons:
Not suited for heavy electric bikes
The extra adjustment time isn't ideal for riders with back problems
The max weight capacity is lower than other models
The plastic adjusters aren't very sturdy
You may like How Do You Charge an Electric Bike?
4. PARKTOOL PCS 10.2
If your electric bike warrants a lot of repairs, the PARKTOOL PCS 10.2 may be the best bet for you. Thanks to the solid steel frame, it promises considerable stability for heavy e-bikes. This portable, durable, and easy-to-use work stand is ideal for beginners who want to take good care of their bikes.
This electric bike repair stand is built and designed to offer a maximum weight capacity of 100 lbs. It comes with a quick-release, micro-adjust clamp, which is handy and easy to adjust. You can operate it with just one hand. This means that you won't have to hold your bike up in the air for long periods of time.
Additionally, you get some extra nice features with this work stand that cheaper models don't offer. You can replace the rubber clamp liners when they start wearing off.
Pros:
Compatible with most e-bikes, including the heavier models
One of the most durable e-bike repair stands in the market
Offers a generous weight capacity
The rubber-fitted clamps provide extra stability and can be replaced once they start wearing off
Cons:
The height adjustability feature isn't as effective for tall riders who need to hold the bike in a higher position
A bit heavier and trickier to fold and reassemble
May not be the best choice if you plan to move it around too much
May tip a little for lightweight electric bikes
Slightly expensive
You may like Electric Bike VS. Motorcycle: Which Is Better?
5. Feedback Sports Pro-Elite Repair Stand
The Feedback Sports Pro-Elite Repair Stand is the best electric bike repair stand for e-bike riders that usually work on uneven surfaces and are looking for a cost-effective option.
While this stand may seem too budget-friendly to be true, it promises impressive stability and robustness. It is also easy to fold for transportation and storage purposes.  
The frame of the stand is made of premium-quality aluminum, which makes it lightweight, durable, and corrosion-free. This decent-looking e-bike repair stand features an unusual, 360-degree rotating clamp design.
This ensures easy access to all the components of the e-bike. The rubber-fitted clamp allows precise adjustments to secure the bike and protect expensive components.
The height of the tripod can be adjusted and its design provides maximum stability. Users report that the max weight capacity of this work stand is about 85 lbs. Nevertheless, the overall design is well-suited for non-circular tubes with thin walls.
Thanks to the quick-release fittings, the stand can be set up fast. You can also fold the stand quickly with little effort.
Pros:
Durable and stable yet lightweight
The aluminum construction resists corrosion and keeps the stand looking sleek
The exceptionally stable base of the stand works well for heavy electric bikes
Compatible with a wide range of bikes
Cons:
A bit expensive
The quick-release mechanism may wear out quickly with regular use
You may also like How to Charge an Electric Bike Battery?
6. TOPEAK Tune-Up Stand X
Carrying up to 55 lbs, the TOPEAK Tune-Up Stand X is an ideal option for bikers looking for an inexpensive option for minimal e-bike maintenance. It is easy to set up and offers considerable durability.
It is also highly portable and lightweight, allowing you to carry it around with little to no hassle. Storage is also not a problem; you can leave it in a car or van if need be.
This e-bike repair stand does a phenomenal job when your bike needs quick adjustments. It also ensures easy access for cleaning. Most importantly, you don't have to worry about breaking your back trying to keep your bike in the air at a higher position.
That being said, this work stand only lifts the bike's back wheel off the floor. Thus, you may not be able to do all kinds of repairs with this one. Users usually prefer it for the stability it offers for bike cleaning and working on things like the drivetrain.
Moreover, with a max weight capacity of 55 lbs, it only works well for lightweight e-bikes.
Pros:
A lightweight and inexpensive option
Ideal for basic upkeep, tune-up jobs, and cleaning of e-bikes
Portable and easy to carry around
Cons:
Not suitable for heavy electric bikes and complicated repair work
Only lifts the back tire of the bike
You may like 5 Ways to Charge Your electric Bikes in Remote Areas
7. Bikehand Bike Repair Stand
The Bikehand Bike Repair Stand is an affordable option that offers the best value for money. The ease of operation, durability, and accessibility provided by this work stand is impressive.
For starters, this stand is made of high-quality aluminum. The height and angle can be adjusted as per your requirements and preferences. You can also rotate the clamp to fit the particular model of your e-bike.
Apart from this, the grip you get with this work stand is quite strong. It can easily hold heavy electric bikes without compromising the look and quality of the paint or overall frame.
Overall, the Bikehand Bike Repair Stand is a good budget-friendly option for e-bike owners looking for convenience and durability in one. However, it can do better in terms of stability.      
Pros:
Has a high-quality frame for maximum durability
The compact size makes it perfect for transportation and storage
One of the most budget-friendly options out there
Can be folded to save storage space
Cons:
Doesn't come with mounting bolts
Is less stable than other e-bike repair stands
8. SONGMICS Bike Repair Stand
The SONGMICS Bike Repair Stand is a durable option featuring a sturdy iron frame. It can hold up to 66 lbs and has been tested for safety and health requirements. The premium coating on the stand's frame prevents it from scratches and stains.
The best thing about this e-bike repair stand is that it allows 360-degree rotation. This means you can easily access all the components of the bike with maximum convenience.
Moreover, you can use this stand on four different types of e-bike tubes, accommodating 25-40 mm variations. You can also rotate this telescopic work stand from 42 to 74 inches.       
All these features and functions ensure that you can conveniently work on your bike without having to bend over. Once you're done with all the repairs, you can fold the stand for easy transportation and storage.
Pros:
Super lightweight and portable
The 360-degree rotation adds to your comfort and convenience
Can be folded and stored easily
The base of the stand is super sturdy
Cons:
It may take you some time to get the hang of the stand
The clamp could be firmer and sturdier
Requires extra effort to tighten the stand
You may like How to Change the Tire on an Electric Bike
Buyer's Guide: How to Choose the Best Electric Bike Repair Stand
Every e-bike owner wishes to purchase the best electric bike repair stand that lasts long and offers the best value for money. However, considering the various options available in the market, making the right choice can be tricky.
Ideally, you should consider the following three factors when choosing a work stand for your e-bike.
1. Clamp Design
You should look for a clamp that doesn't only look good but is also adjustable, rotational, and well-padded. Those that can't be rotated easily make things difficult for complicated repairs.
Typically, the more adjustable the clamp is, the easier it will be for you to attach your bike to the stand.
2. Portability and Ease of Setup
Heavy repair stands are difficult to move around. You must look for one that is well-designed yet lightweight and portable. It should be easy to set up and assemble.
While you can use a carry case for support, you must realize that with ease of setup comes less durability. At the end of the day, it comes down to your personal preferences.
3. Height Adjustment
Whether you're in your garage or on the road, the height adjustment feature offered by your stand determines the time needed to finish the task. Some e-bike repair stands don't allow you to adjust the height effortlessly.
As a result, you'll find yourself investing a lot of time and effort in getting the stand to a suitable height than doing the repairs.
You may like the following electric bike articles:
Final Words
You must purchase the best electric bike repair stand if you wish to take care of the repairs and maintenance job on your own. Regular cleaning and tuning of the bike ensure smoother rides and more reliability in the long run. You'll also save plenty of time, energy, and money by eliminating the need to take your e-bike to a repair shop every time you identify a problem.
To make sure an e-bike work stand is the best long-term investment you make, you should keep factors like portability, ease of setup, height adjustment, and clamp design in mind when looking for options.
For us, the best electric bike repair stand has to be the PARKTOOL PRS-25. In addition to an incredible weight capacity, it offers maximum stability, portability, and adaptability.
On the other hand, if you have a light e-bike and want something pocket-friendly, you should consider buying the Feedback Sports Sport Mechanic Bike Repair Stand. Despite being inexpensive, it offers a high-quality frame and superior functionality. It can also be easily folded for convenient transportation and storage. Which of the e-bike repair stands did you like the most?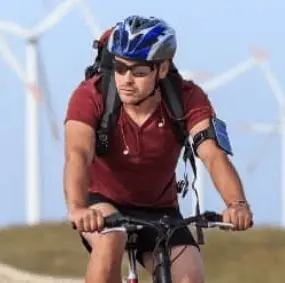 I am Michael, an avid rider and bike expert. I am here to provide, biking tips and expert advice on in-depth bike reviews covering features, capabilities, price range, and much more. Specially on electric bikes, mountain bikes, road bikes, etc. I will provide honest product reviews, along with expert advice on purchasing, training, and maintenance. Check out my complete profile.