Do you want to know which mountain bikes are manufactured in the USA? Being the birthplace of this sport, mountain biking culture has always been very popular in the USA.
Research shows that almost 50 million Americans, age 16 and above, ride mountain bikes in the USA every single year. This means that almost 20% of Americans participate in this culture of mountain bike riding.
This sport only seems to be getting more popular with time. A market research company claimed that in 2020, the sales of mountain bikes in America grew by a whopping 70%.
This read will highlight some of the qualities of USA-made mountain bikes. It will further list down 10 renowned names in the American mountain bike-making market.
Why Buy American Mountain Bikes?
Mountain biking is essentially an American tradition. The first mountain bike was invented in California, in the 1970s. Since then, USA-manufactured mountain bikes have become well known for their experienced design, durability, and quality manufacturing.
American mountain bikes can only be introduced into the market after meeting some set American standards and requirements. These standards ensure that only high-quality, well-balanced, strong, and reliable mountain bikes can be sold to consumers.
The raw material used for making the mountain bikes is sourced from only the best available options. While some material is directly American sourced, another raw material is purchased from well-reputed global sources.
Many American mountain bikes are handmade. This allows mountain bike companies to offer their customers the option of having a custom-built mountain bike.
Customization means a customer can get a mountain bike built in the color, size, and material quality of their personal choice. Furthermore, the seat and bike's frame could also be crafted according to the customer's body type. This way a customer can express their unique taste and style through their mountain bike.
Customers buying American mountain bikes can also feel comfortable knowing that they are not being cheated. They know that only quality raw material could have been used in manufacturing the bike.
Moreover, they have the reassurance of knowing that if needed, claiming the warranty would not be an issue.
Read How Do You Clean Sand Off a Mountain Bike?
What Mountain Bikes Are Made in the USA?
The USA has a wide range of mountain bike manufacturers all over the country. Since millions of Americans love mountain biking, the mountain bike-making business is booming in the country.
Listed below are 10 prominent names in the American mountain bike manufacturing market.
1. Foes Racing
Foes Racing is a mountain bike manufacturing company, founded by Brent Foes in 1991. The mountain bikes are designed, manufactured, and assembled in their factory in California, USA.
Foes Racing creates handmade custom bikes, tailored exactly to meet the customer's requirements. Unlike most mountain bikes that have carbon fiber frames, a Foes Racing mountain bike has an aluminum alloy body. This makes the mountain bike stronger and more durable for harsh mountain biking conditions.
Foes Racing is the first company to design and introduce high suspension bikes for long travels to the mountain biking world. This industry-changing bike offers almost 2.5" of suspension travel, unlike any other mountain bike.
Their mountain bikes currently come in 6 different models.
Read How to Install A Rear Derailleur on A Mountain Bike?
2. Guerrilla Gravity
With a decade of experience, Guerilla Gravity designs and manufactures its mountain bikes in Colorado, USA.
Just like their motto "I like Goin' fast', the GG mountain bikes are known for their speed and power. To make the bike's impact resistance nearly 300% times more effective, GG uses the 'Revved Carbon Technology'.
GG also offers one hardtail mountain bike along with four different full-suspension mountain bikes. This enables it to cater to nearly every kind of mountain bike enthusiast out there,
3. Ellsworth
Tony Ellsworth built his first high suspension mountain bike for his wife in 1993. In doing so, he founded Ellsworth in San Diego, California, USA.
The 'Active Efficient Suspension System' allows an Ellsworth mountain bike to go up and down on a hill with maximum pedal efficiency. These bikes are said to provide higher levels of efficiency, control, and traction. This makes the ride an incredible biking experience.
These carbon fiber bikes are extremely light. This makes them strong, stiff, and extremely fast. Most of their bike frames are manufactured in Taiwan, and all are then assembled in San Diego.
Their only completely American-manufactured mountain bike is called the Epiphany. It is an aluminum frame bike with 120mm travel. It is a trail bike with high compatibility.
Read How Much Does a Mountain Bike Weigh?
4. Trek Bikes
In the year 1976, Richard Burke and Devil Hogg founded Trek Bikes in Waterloo, Wisconsin, USA.
Known for being one of the biggest names in the American mountain bike market, Trek Bikes is popular for producing incredibly strong mountain bikes.
What makes the company a consumer favorite is that it has mountain bikes available for every price range. Its bikes are known for being strong, well designed, modern, and light.
One of its most popular mountain bike models is the Trek Fuel EX. This mountain bike is popular for being such a diverse and versatile mountain bike, that its ride remains stable and smooth no matter what the terrain. This model really lives up to its brand image of being there for anyone, and for anything.
The company has almost always received positive feedback for offering do-it-all, budget-friendly mountain bikes.
Another great feature is that the mountain bikes come with a lifelong warranty on their frames.
Furthermore, the company is greatly appreciated for offering detailed customizations. It really allows its rider to truly get the mountain bike of their dreams.
It offers a service called 'Project One Custom'. Through this, Trek Bikes allow their customers to:
Select the color from a range of beautiful paint color options
Custom choose every part of the bike
Decide which terrain he/she wants it for
Get a seat that fits his/her body type.
Read How to Clean An Electric Mountain Bike?
5. Bilenky
Founded in 1983, Bilenky is a bicycle and mountain bike manufacturing company in Pennsylvania, USA. Their Nor' Easter 'Cross is their mountain bike model.
This mountain bike, despite its elegant and light frame, is known for being amazing for commuting and biking around in harsh conditions. It comes in both a steel as well as a titanium frame.
The company caters to its customers by offering customizations such as offering a wide range of paint color options to choose from. The paint job comes in both a metallic finish as well as a powder coat.
Read 12 Most Expensive Mountain Bike In The World
6. Ibis Cycles
Known for providing the best mountain bikes of 2021, Ibis Cycles was founded in 1981 in Santa Cruz, California, USA.
After going bankrupt once, Ibis Cycles reemerged back into the market in the year 2005. Since then it has developed a well reputed and respected name in the mountain biking community.
After its return, it successfully introduced Mojo to the mountain biking market, which to this date is one of their most popular carbon fiber full-suspension mountain bikes.
One of its other popular mountain bikes, called the Ripmo, caters to a wide range of customers. Even a rider as short as barely 5 feet can ride this bike. Rarely any company designs a mountain bike that allows that.
The company offers a total of 8 models, 7 of which are high suspension mountain bikes and 1 is a gravel grinder mountain bike.
Despite the perks, there is one complaint that riders often make and it's that Ibis Cycles only offers a 7year warranty, which is considered to be very low.
Read How to Climb Faster on a Mountain Bike?
7. Yeti Cycles
In 1985, when the trend of mountain biking was going up, John Parker founded Yeti Cycles. This mountain bike company was founded in Colorado, USA.
This company has made a lot of name in racing and some of its popular winning racers include Jared Graves, Juliana Furtado, Richie Rude, and John Tomac.
This American company's mountain bikes are known for being brilliant at climbing and better-looking than most mountain bikes. The 'Yeti teal', which is the company's most popular and vibrant color, makes the bikes stand out among other mountain bikes.
With an articulate geometrical design and modern technology, its mountain bike models are known for being one of the best in the market.
One downside of the Yeti Cycles mountain bike is that it is much more expensive than another mountain bikes in the market.
While the mountain bike's high-quality frame and rider-safe design are well accepted and appreciated, its high price makes it very hard to be bought by an average mountain biking enthusiast.
Read How to Know My Mountain Bike Size
8. Santa Cruz
The company Santa Cruz was founded in a small tiny working space in Santa Cruz, California, USA.
In the world of mountain biking, Santa Cruz is one of its kind. In a short period of time, the company has managed to develop a big name for itself.
The bike is known for creating highly elegant, intelligent, and rather beautiful bike designs. The small attention to detail that Santa Cruz pays makes their mountain bikes an absolute delight.
Its high-strength frames, which come in both carbon fiber as well aluminum options, are of superior quality.
It has a wide range of mountain bike models to choose from, and its services include helping its customers choose the model most fitting for them.
Santa Cruz is a consumer favorite for doing something that other American brands do not. It does not just offer a lifetime warranty on its frame, which already is incredible, but also offers the same lifetime warranty on all its bearings.
The only big downside of Santa Cruz is that its mountain bikes are extremely expensive.
Read Can I Mountain Bike Every Day?
9. 44 Bikes
The company 44 Bikes was founded by a mountain biking enthusiast, in the town of Lyndeboroughdeci, New Hampshire, USA.
The company offers its mountain biking customer amazing, custom-built mountain bikes. Just like in other custom bikes, the customers are able to choose their color, frame, handlebar saddle, etc.
These mountain bikes are known for their suspension, strong frames, and durability. They are well known for being great for extremely harsh terrains and conditions.
They offer two main categories of mountain bikes; Marauder and the Marauder Ti. Available in both steel and aluminum frames, the company offers to build a bike to meet a customer's exact measurements and riding preferences. The custom design and geometry of the build decide which bike is best for what kind of terrain.
10. Specialized
The Specialized mountain bike company was founded in 1974, in Morgan Hill, California, USA.
Specialized is one of USA'sde earliest mountain bike-making companies.
This mountain bike-making company has its headquarters in California. This is where it creates all the design and works on innovative technology. The company has outsourced the manufacturing to Taiwan, which is a common practice in the mountain bike manufacturing industry.
Two of its most popular mountain bike models are the Stumpjumper and the Turbo Levo. The Stumpjumper was one of the first mountain bike models to be mass-produced in the world and offers nearly 10 amazing versions of this high suspension mountain bike.
The company makes mountain bikes for all kinds of terrains. It has separate versions for roads, gravel, forest, hill, etc.
Specialized is known for being highly innovative and ever-evolving. It has recently stepped into the world of e-bikes as well.
Related mountain bike articles:
Final Thoughts
Mountain biking is an American tradition, and millions of Americans hold this tradition close to their hearts. The USA, being the founder of this incredible invention and sport, has numerous mountain bike-making companies.
These companies are many in number and have been making mountain bikes for several decades. They have all the knowledge, technology, and experience that would help them in building a strong and reliable mountain bike.
If you are looking to buy a great mountain bike, we suggest you opt for one of the brands above and get great value for money! You can also get them customized to suit your style and explore new trails and terrains with your friends (or you could go solo!)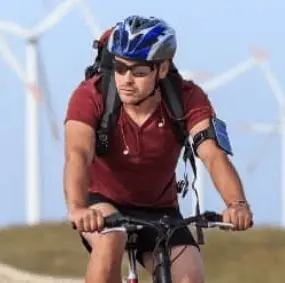 I am Michael, an avid rider and bike expert. I am here to provide, biking tips and expert advice on in-depth bike reviews covering features, capabilities, price range, and much more. Specially on electric bikes, mountain bikes, road bikes, etc. I will provide honest product reviews, along with expert advice on purchasing, training, and maintenance. Check out my complete profile.