Do you remember the times when choosing a cross-country bike used to be simple?
It was a case of rim brakes, flat tires, and holding on for dear life. Then full (rear) suspension and (frontal suspension) hardtail made the rides more fun, but purchasing a bicycle was more confusing. Several people believe in the myth, which says that a hardtail is a thing of the past.
But make no mistake, both hardtail, and full suspension still hold their place in the modern world of mountain biking. If you can't pick a winner between the hardtail vs. full suspension debate, allow us to make it easier for you.
Why Suspension?
Suspension is the reason this debate started. But is it that big of a difference?
Quite simply, the suspension gives you increased control and comfort when you're riding your bike over rough terrain. This holds importance in mountain biking since the sport is diverse, and riders have to ride over different terrain.
While smoother trails may suit hardtails more, full suspension bikes are more useful during bumpier rides.
A full suspension bicycle is an obvious choice if you're going for a gravity-fed mountain biking experience. Their capability and added traction negate all weight penalties that the swingarm or the shock can cause.
Hardtails: Focused Simplicity
Hardtail mountain bikes offer a level of simplicity that full suspension bikes can't. Since hardtail bikes only have frontal suspensions, manufacturers can keep the frames light.
The bike doesn't have moving parts like pivots, bushings, and bearings, making it cheaper and easier to maintain. This can be particularly useful if you live in an area where Mother Nature makes her presence felt.
All of that sand, mud, rain, and salt can make their way into your bike's moving parts that are expensive to replace. Just a few years back, hardtails were harsh, unforgiving but also light.
Nowadays, however, things have changed drastically. Manufacturers now work their magic with carbon frames that add flex and compliance to your bike.
While it doesn't compete with strong rear suspension, it can take the sting from those harsh terrains. Companies like BMC, Focus, and Trek all have hardtail bikes that add compliance and comfort, so they're a great place to start your search.
That said, you must remember that a hardtail bike will have a hard time on the descents when compared to a fully sprung bike. So before you take your hardtail out for a ride, take an honest look at where you're going and the riding you're going to do.
Several people don't have the luxury to go on a gnarly trail ride every day, so a hardtail bike can be relevant for someone who wants to ride on a subdued terrain.
Moreover, if you like bike trails on which the climbing is measured in thousands rather than hundreds, the lightweight of the hardtail will help you fly up the rails.
Since the bike doesn't have a rear suspension, the possibility of making an error on those tricky terrains reduces, too. This makes riders pay more attention to body position and line choice, which can help them ride in the long run.
Check out, Mountain Bike vs Gravel Bike: What's the difference?
Full Suspension: Modern Bike Technology
A glance at a modern full suspension bike can reveal several features that make them lighter and faster than most hardtail bikes from five years ago.
The weight penalty is smaller than previous models since full suspension bikes are only around a kilo heavier than their hardtail counterparts.
Unless you're a professional racer, this won't make much difference if you factor in the comfort of rear suspension and the fun.
Do Full Suspension Bikes Have a Bad Pedalling Experience?
Full suspension bikes of the past used to have poor pedaling, but those days are long gone. Manufacturers now offer front and rear locks available to the rider at the flick of a switch. This turns your full suspension bike into a strong pedaling machine.
Even if you don't use the lockout, the pivots and linkages are highly efficient. When the suspension's fully open, you won't be losing too much energy. On top of that, there's also the fun element of riding a full suspension bicycle since your rides are more comfortable.
That rock garden you were terrified of is no longer a scare since a full suspension bike can make these rides more comfortable.
Cross country riding becomes a lot more fun, too. While the ride may become more technical for hardtail riders, this is particularly where your bike will shine.
Check out, Mountain Bike Or Road Bike: Which Is Better For Weight Loss?
Wheel Size: Hardtail vs. Full Suspension
Wheel size is an integral factor in a mountain bike's configuration. 26-inch wheels used to be the norm, but 27.5-inch and 29-inch wheels have become dominant in more recent times. That's because 29-inch wheels have certain benefits.
Firstly, because of the larger diameter, the wheels can roll on the rough terrain since less momentum is lost if a rider encounters bumps, roots, or rocks on the trail.
This also means that 29-inch wheels need less power when you're pedaling off-road, and maintaining speed on a 29-inch wheel is also easier. This improved rolling capability can also increase seat comfort when you're going on those long rides.
The larger wheel also means that a bigger tire patch comes in contact with the ground. This means increased control and traction whenever you're cornering, accelerating, or braking.
But even though 29-inch and 27.5-inch wheels can improve performance, they aren't better than 26-inch wheels in every case. A larger wheel is heavier, and its heaviness gets compounded since it's a rotating mass.
Consequently, bigger wheels are harder to manoeuver on rugged tracks, and acceleration can be sluggish.
Another factor riders must consider is the relationship between rider height and wheel size. For a rider shorter than 170cm, a 29-inch wheel can create clearance issues when they're moving the bicycle beneath them.
Check out, Mountain Bike vs. Road Bike vs. Hybrid Bike
Matching the Bike to the Terrain and the Rider
General Trail Riding: Hardtails
If you're on a tight budget, we'd advise you to buy a rigid hardtail bike that is top quality. Try to look for something that has around 100mm of fork travel, which will easily let you ride off-road.
These bikes can be found easily and are easy to get used to. They give you a comfortable drive on mixed terrain: reservoir loops, country parks, old railway lines, and easy bridleways.
For general trails, a hardtail can be your best friend; a friend that will accompany you to the park even when you're 93.  
Check out How To Clean a Mountain Bike
Aggressive Trail Riding: Full Suspension
These bikes are considered to be the big guns of trail riding. Even though a beginner can use them, we wouldn't recommend them to a beginner.
You should consider getting this bike only after years of solid experience if you're into the trail riding lifestyle.
The suspension travel of 140 to 180mm makes the harsh terrains feel smooth, and the strong brakes, if in the right hands, can handle any terrain.
Steep descents, jumps, and drops, or any technical singletrack, is where the full-suspension bike truly starts to show its true value.
Even though a longer travel bike can be ridden on a general terrain, but for experienced riders, a full suspension is an optimal choice.
Traction and Comfort
Two of the most prominent advantages of a full suspension bike are the traction and comfort it offers. Since the rear wheel can conform to the trail you're on by rolling over the bumps, you have an even ride. This is more noticeable when you're sitting on the saddle or standing on the pedals on rough ground.
Since the wheel covers the ground better, you get a better grip since the bike tires bite the ground more effectively. However, on a smoother trail, you can get a better grip with a hardtail.
That is because there's sufficient compliance in the tire to give you a good grip on smooth terrain. You're only going to notice the difference when the terrain gets rough.
Check out Tubeless Tires Advantages And Disadvantages
Learning Ability
A hardtail bike gives you a much harsher rough terrain experience compared to a full suspension bike.
As a result, you're going to be a lot more careful and active if you're riding a hardtail bike on rough terrain. You'll use your legs to absorb the shocks, and while it may seem uncomfortable at first, you'll get used to it with time.
As a biker, learning to ride through or hopping over obstacles is essential rather than slowing down and walking over them. Because of this, while a full suspension bike may ease these worries, it's essential to master your basics with a hardtail.
Check out, Best Road Bikes Under $500
Fun and Speed
Hardtail or full suspension mountain bikes give you a fun riding experience no matter which kind of bike you choose. While full suspension bikes are easier to ride on tracks, a hardtail bike can require more effort.
This makes full suspension bikes faster on these trails. That said, riding a tough terrain with a hardtail can be a rewarding experience since only the most skilled can.
On smoother trails, however, hardtails are faster because of their lightweight. They have a firm connection with the ground, so there's no loss of power even if you stand on the pedals.
This makes riding a hardtail for your daily commute a fun experience since they tend to be more responsive on roads.
On the other hand, full suspension bikes can be more fun when the going gets tough since finding your flow on harsh terrain with a hardtail bike can be difficult.
So even though both bikes can be fun, it primarily depends on the surface you're riding them on.
Maintenance
Another advantage of hardtail bikes is that they're easier to maintain when compared to full suspension bikes. You only need to wipe off the mud, and there isn't anything else you need to do to clean the frame.
However, the same can't be said for a full suspension bike that has bearings and bushings. These parts of a bike experience wear and tear, so there will be a constant need to replace them.
That said, you'll still need to ensure the fork, drivetrain, and wheels are in top condition.
Check out, Why are Mountain Bikes So Expensive?
Specification of Components
Since hardtails are more affordable and simpler to produce, you can get better components on a hardtail than a full suspension bike for the same price. The quality of the tires, wheels, and fork changes how a bike behaves on a trail.
So if you're getting a full suspension bike at the same price as a hardtail, there's no guarantee that it's going to outperform the hardtail.
A better quality drivetrain often gives you a wider range of gears, making shifting easy. Tires also make a huge difference to the way a bike rides. Even though they can be changed easily, we'll always you to start riding with a decent set.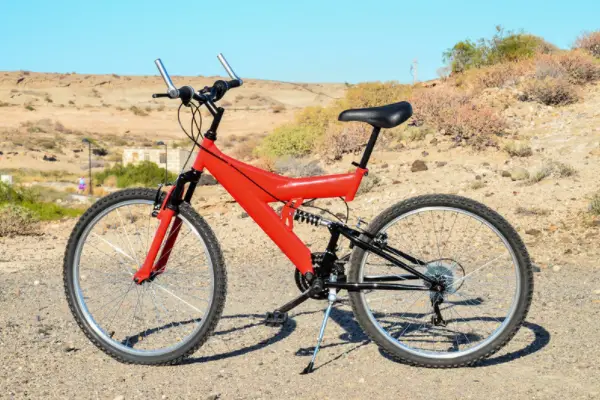 Wrapping Up
Both full suspension bikes and hardtail bikes have advantages and disadvantages. As we've mentioned, maintaining a full suspension bike can be more expensive because of the moving parts, and we're not even factoring in the purchase cost.
Simply put, a full suspension won't be cheap, so if you have a tight budget, you may get more value for your money by getting a hardtail.
Despite what the marketers tell you with the hype they create, there's never going to be a one-size-fits-all bike when you're deciding a winner between hardtail vs. full suspension. While people may think hardtails are old school, they're reliable and have proven themselves with time.
On the other hand, full-suspension bikes are versatile and come with a hefty price tag, should you choose to accept them. So before you get one, remember to slow down and reflect. What kind of riding are you preparing yourself for? Where do you plan to take your bike? Once you answer these questions, your choice (after reading through the information we mentioned) will be easy.
Related Posts: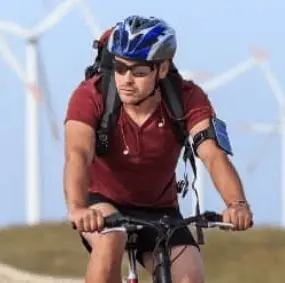 I am Michael, an avid rider and bike expert. I am here to provide, biking tips and expert advice on in-depth bike reviews covering features, capabilities, price range, and much more. Specially on electric bikes, mountain bikes, road bikes, etc. I will provide honest product reviews, along with expert advice on purchasing, training, and maintenance. Check out my complete profile.