Bikes offer a wonderful alternative for getting from one place to another. People don't just use bikes for travel; they use them to boost their health and feel better about themselves.
Many people use bikes as a transportation method because they're cheaper. People are becoming aware of climate change and its adverse effects on the planet, and some are looking for renewable alternatives to cars and motorcycles.
Bikes and electric bikes preserve energy and don't add to global warming, which is why the demand for these bikes has gone up.
Keeping this demand in mind, most manufacturers have created bike categories, such as road bikes, mountain bikes, etc.
Road bikes are good for people who commute, whereas mountain bikes are better for people who wish to explore rocky terrains and climb high mountains using their bikes.
No one bike is ideal for all terrains. Manufacturers make significant alterations to ensure their designs fit the demographic they are trying to target. Mountain bikes are different from the other bikes you may come across.
Mountain bikes are designed for mountainous regions and rough terrains, which is why they have special features that help a biker to travel on them. These special features mean that mountain bikes can be expensive.
Today, we'll talk about why mountain bikes are so expensive so you can have a better idea of whether or not you should invest money in that bike.
What Is a Mountain Bike?
As stated before, a mountain bike or bicycle is a bike designed for off-road cycling. Mountain bikes share similarities with other bikes; however, they're also designed for greater durability and better performance in rough terrain. These bikes are generally heavier than other bikes, making them less portable.
Mountain bikes are different than other bikes as driving them on roads is not easy. When riding a mountain bike on a road, you have to push and apply some effort.
However, in mountainous regions, this difficulty opens up the mountain bike for lower rolling resistance.
Mountain bikes are made for mountains; thus, they need to be more durable. Manufacturers design mountain bikes to absorb shocks so that the rider is protected in every way.
Mountain bikes also require their wheels to be strong and less prone to punctures. Hence, many mountain bikers prefer tubeless tires. You never know what rock or splinter will pinch your tire and puncture it.
Thus, having tubeless technology is more convenient and reliable than a normal clincher with a tube fitted inside. With tubeless tires, you're less likely to stop and have to change your tire.
Read How to Convert a Mountain Bike to a Road Bike
Why are Mountain Bikes So Expensive?
Simply put, mountain bikes are so expensive because they use many expensive parts. Mountain bikes need to be durable; thus, these bikes are designed to be heavier and less prone to breakage.
Most mountain bikes are designed to use reinforced material that is durable, strong, and heavy. Thus, mountain bikes can be expensive.
Mountain bikes can have hardtails that cost upwards of $ 10,000, which is very expensive. However, the high price tag ensures you get a product of the highest quality.
Mountain bikes are expensive because manufacturers use high-quality components and technology. Some mountain bikes can be more expensive than a car.
With high-quality components comes safety that you'll be protected on these rough terrains; so, you don't want to settle for cheap mountain bikes either.
If you are an expert at riding mountain bikes, you know how precarious life can be in mountains. If the bike you're riding loses grip, your entire world can come crashing down.
Something that protects you from those risks can be expected to cost a lot.  Proper mountain bikes parts are durable and can take a beating.
Hence, you need to ensure your bike has a good quality frame, wheels, and handlebars so you feel supported as you drive a dangerous trail.
Read Best Mountain Bikes Under $500
How Much Do Mountain Bikes Components Cost?
Mountain bikes are expensive; however, you don't have to stretch your budget too much to get a good bike. If you can't spend tens of thousands of dollars on your mountain bike, that's completely fine.
There are mountain bikes which you can get for 800 dollars. However, cheaper mountain bikes are less reliable.
Mountain bikes are meant to be used on mountains and mountainous trails with their risky ledges, slopes, and precipices.
With the right bike, you'll be able to cross all these terrain points, and that too with a significant amount of speed. The speed can cause components to degrade quickly, which is also why you need to buy longer-lasting components.
Otherwise, the money you didn't spend on your bikes, you'll be spending on replacing the components of your bike constantly.
We will discuss the components you need to consider when buying a mountain bike and their costs. However, the better is the quality of the components, the more expensive they will be.
Read Best Cheap Mountain Bikes Under 300$
Components of a Mountain Bike and Their Cost
1. A Good Frame
A good frame can be costly, and by itself, if you buy a good frame made of carbon fiber, it can cost you around three thousand dollars easily. Carbon fiber, known for being an aerospace material, is ideal for sparse use on your bike for tubes and frames, etc.
The drawback with carbon fiber is that it's not very good for the environment as it isn't degenerative. However, since it's not degenerative, it's likely to last you for a very long time.
Carbon fiber isn't your only option for frames. Aluminum is much lighter and the preferred choice for many mountain bikers. There are also carbon-fiber composite frames that have some other material mixed with carbon fibers for reinforcement.
These frames are typically not very expensive. Carbon fiber can be very brittle and prone to breakage on its own. However, when mixed with epoxy in the composite, it becomes more flexible and can absorb shocks during the drive.
Carbon fiber can make the bikes heavy, which affects the bike's speed. The bike's lower weight is an essential feature that helps mountain bikers maintain their pace during the ascent and descent in races.
Frames made of lightweight carbon fiber enable riders to climb up the rough terrain with relative ease.
Other metals like steel and aluminum can't compare. If manufacturers use a sophisticated design and geometry, the frames are likely to cost you even more.
Read Tubeless Tires Advantages And Disadvantages
2. Wheels
A mountain bike's wheels are a significant system. You can't ride your bike if your wheel system isn't perfect. A good wheelset must perform and tolerate.
This balance can be difficult to strike; however, with modern technology, everything has been made easier.
You'd be surprised what you can achieve with the correct kind of wheelset. The right wheels can elevate your biking experience. You may not notice it if you're a new biker; however, for a pro, wheels are everything.
Experts even say that if you're thinking of splurging on any singular component, you should splurge on wheels.
If you opt for carbon wheels, they can set you back a couple of thousand dollars. These carbon wheels provide maximum safety. However, they are firm while being a lightweight. These features can make the most regular bikes extraordinarily fast.
However, with speed comes wear and tear. So, depending on the frequency with which you use your bike, you will have to replace your tires regularly. Spending $2,000 every few months doesn't seem like a great investment.
The tires are specific. There is a particular tire that would work for certain trails and specific terrains. Tires contribute to how your bike will handle its swerves and dips. You should pick tires with a good grip to prevent slipping on the terrain.
The grip is measured by thread per inch. The higher this TPI, the less likely is your mountain bike to slip. Higher TPI also means less weight; it handles road stresses much better and reduces the rolling resistance.
Higher TPI tires will cost you anywhere near a hundred dollars due to their specialized nature.
Read How to Climb Faster on a Mountain Bike?
3. Tires
There are two types of tires: tubed and tubeless. Tubeless tires restrict the need for a tire change in the middle of your journey. However, tubeless tires are a lot more expensive.
However, they don't puncture easily. Due to the rough terrain of the mountains, this is an essential aspect to consider.
Read Tubeless Mountain Bike Tires Maintenance
4. Handlebars
Handlebars are the part of your bike that allows you to steer and be in control of your bike. This component comes in different materials, each with its advantages and disadvantages.
People generally don't pay too much heed to handlebars as they don't have moving parts. However, you can always buy a carbon-fiber handlebar.
There are also handlebars made out of titanium. However, these are on the pricey side and heavier. The heaviness means you don't feel the vibrations going through your hands as you travel on rougher terrain.
Carbon fiber handlebars are different still; they provide some safety from the shocks. Aluminum handlebars are the worst by far. Carbon fiber handlebars also last a while, which means you don't have to worry about constantly replacing them.
They are lighter but more expensive; so, to have the best, you need to spend some money.
Read How to ride mountain bike on snow
5. Seatposts
You may not think that seatposts make much of a difference in a bike. On a regular bike, we may agree with you. But, for a mountain bike, your behind must be protected by material like carbon fiber so you can make your journey easier.
This seat post also has to be good at absorbing vibrations; so, you can ride in comfort, and you don't sprain a hip.
Read How to Make A Mountain Bike Faster
6. Brakes
Brakes are important in all bikes, and they're especially important where danger is involved as is in the case of using mountain bikes on difficult terrains. The right brakes can be the difference between life and death.
So, you must make sure you buy the right ones. The different types of brakes are rim brakes, disc brakes, and hydraulic brakes.
Rim Brakes, such as v-brakes, cantilever brakes, etc., are not preferred by bikers anymore because they can't function well during the rainy season or in wet conditions. Coaster brakes, however, are making a comeback as far as mountain bikes are concerned.
Disc brakes were used for other vehicles before manufacturers started using them for bikes. They give an immense amount of control to bikers, which is why people can prefer these over rim brakes. Disc brakes can combine with hydraulics and give a cyclist the best brake possible.
Hydraulic brakes operate on the principle of transmitting forces from one surface to another using hydraulic fluid. These bikes use pistons to bring about a change in force.
A hydraulic brake is preferred because it can adapt to any situation, and the biker has to apply a small force for the bike to stop completely if necessary. These brakes require very little force or maintenance to operate.
Related Posts:
Final Thoughts
Mountain bikes are expensive because they use strong, high-quality components. Using these high-quality components in mountain bikes is necessary since they are ridden on mountains, and there is a greater degree of risk on this terrain.
The bike components have to bear the weight of the rider and also the pushback from the mountainous terrain.
If the components aren't reinforced or strong, they will likely not work properly. If the components don't work properly, something can go wrong, and the rider could lose control and fall to their death.
As a beginner, if you don't plan to take any difficult trails or even any trails at all, there are other cost-efficient options out there for you. However, if you want to mountain bike like the pros, you have to pay the price to be safe.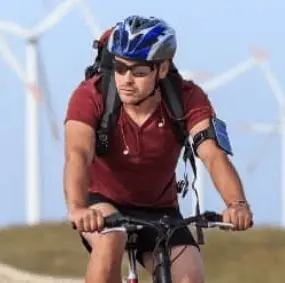 I am Michael, an avid rider and bike expert. I am here to provide, biking tips and expert advice on in-depth bike reviews covering features, capabilities, price range, and much more. Specially on electric bikes, mountain bikes, road bikes, etc. I will provide honest product reviews, along with expert advice on purchasing, training, and maintenance. Check out my complete profile.