In today's world, bicycles are a popular form of recreation and transportation. With their shape, size, and features evolving constantly, the modern bike is still similar to its first prototype back in the 1800s. However, the electric treadmill bike is a futuristic piece of work.
The core idea of using a bicycle is that you use your leg power to pedal and power through with the rear wheel to get to your destination. However, an electric bike can offer you some power assistance to pedal harder or even take over if the rider needs it.
But the new electric treadmill bike that took the internet by storm in the past few years is a cross between a treadmill and an electric scooter. It was originally designed by a Dutch company in 2016 to make a treadmill work outdoors with the help of wheels.
If you come to think of it, some people may find treadmills pretty boring in the gym. So, why not take your treadmill out for a walk?
Does the treadmill move the electric bike wheels?
The machine itself has a sensor that picks up when the rider starts walking or turning the electric motor on. However, the treadmill on the electric treadmill bike is only there to recharge the battery and not directly help move the wheels.
How much does an Electric Treadmill Bike cost?
If you search the internet for an electric treadmill bike or a treadmill walking bike, there aren't many results for you to sift from. Since this concept is still pretty new, every bike manufacturer is not onboard with it.
The electric treadmill bike is available on its original website. You can get it for around $2500 – that is if you're willing to pay the hefty price tag. However, some other popular online marketplaces and Chinese sellers are also selling their versions of electric treadmill bikes which can be bought for as low as $650.
What does an electric treadmill bike experience feel like?
Using an electric treadmill bike is one of the weirdest feelings, somewhat similar to moving walkways that you find in a mall or an airport. In other words, an electric treadmill bike is like a flat escalator that saves you a few steps when you work on it.

However, your brain and body are confused on how to adjust and ask you why your body is moving faster than your feet. With the changes in our modern industries, these moving walkways are a great training experience for electric treadmill bikes which can be our future mode of transportation.
Read How to Remove a Speed Limiter on an Electric Bike
What does an electric treadmill bike look like?
The electric treadmill bike is a transportation device that is not like your typical bicycle or scooter. It is a combination of both with a treadmill attached in between the two wheels.

If you look at the electric treadmill bike design closely, you can see that it is a bike welded with a frame and wheels large enough to fit a treadmill bike in the middle. The electric motor attached to this contraption keeps the treadmill running and gives you a perfect way to enjoy scenic views while you are exercising.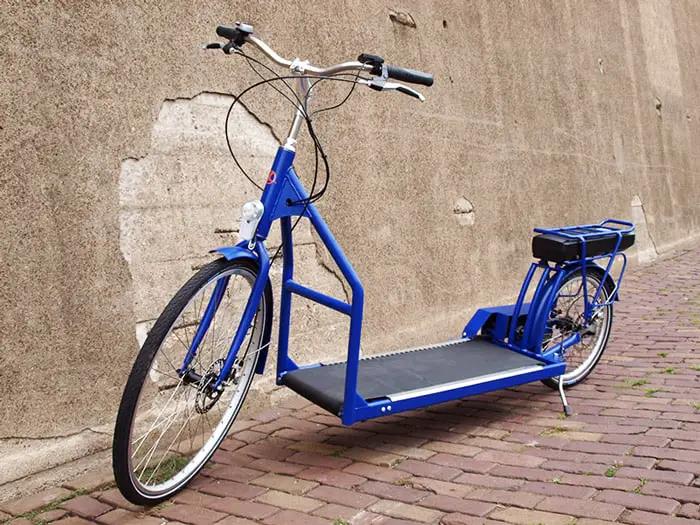 Now, let's take a look at the specifications of an electric treadmill bike.
Read Solar Charger for Electric Bike
Electric Treadmill Bike Specifications
Here are the specifications and features that you can find inside an electric treadmill bike. Some of these specifications may vary from model to model, but this is the basic specification outline of a typical electric treadmill:
Electric Treadmill Bike Material & Power Supply Specifications
Material
Aluminum Alloy
Size Estimate
7.5 x 2.09 x 4.36 ft
Weight
Gross Weight 50-53 Kgs
Power Supply
Lithium Battery
Battery Specs
36V 15.6 AH Lithium Battery
Charging Time
36V 3A for 3-8 hours, AC220V 50~60Hz
LED Light Indicator
Other than the basic specifications, the electric treadmill bike also comes with an LED light indicator to help you ride through traffic. 
Digital Display
The LCD screen display helps you keep track of battery charging and mileage. Other than this, you can also control the treadmill specifications through buttons to suit your particular needs.
Battery & Miles Per Hour
The electric treadmill bike is propelled with a strong lithium battery which helps the treadmill turn while you work. The power from the battery is generated while you exercise and adds to the miles per charge, making the electric treadmill bike a good option for a local commuter.
The display screen shows you the status of the battery as well as the miles that you can get with it. One full battery charge can last you around 4 hours.
The electric treadmill bike also has adjustable multi-speed gears. The rider can easily choose any speed gear they want, ranging from 3 to 20 miles per hour. The frame is robust and high quality because it is made with durability and comfort in mind.
Compared to other bikes, an electric treadmill bike can help you maneuver through heavy traffic and tourist destinations while making traveling and exercising both a fun experience.
Other Specifications
Most electric treadmill bikes may come with a manufacturing warranty as it is an electronic transportation device after all. Moreover, it can carry a maximum weight of 100 kgs, just like a regular treadmill you find at the gym.
Read Best Dog Carriers for Electric Bikes
Electric Treadmill Bike Benefits
Using an electric treadmill bike comes with many benefits to your body, health, and environment. Let's shed light on how you can benefit from using an electric treadmill bike:
Gets Your Cardio Going
A great way to keep your heart healthy is to do low impact and high cardio exercises. High-fat and calorie-burning exercises can help you lose weight and keep a healthy heart. Using an electric treadmill bike can give you all of these benefits in a super fun way.

Not only does it motivate you to do your cardio, but it is also easier on your body and feels less tiring than exercising in a gym. The overall experience on an electric treadmill bike gets your blood pumping without muscle aches or joint pain.
You can simply go out for a little errand and exercise on your way to and back home! The convenience that an electric treadmill bike can provide you is unmatchable.
Easy on the Environment
An electric treadmill bike is eco-friendly because it helps your body as well as the environment around you.
The design does not leave any carbon footprint and eliminates the damaging effect other types of bicycles can cause to your body. Since it does not need any gas or petrol to run, you can't consume these finite resources.
You don't have to put on any harmful gases or smoke into the atmosphere, making this electric treadmill bike a great option. The best part is that jogging or walking on the treadmill can power the battery, which means you are consuming the energy you're producing.
Full Body Usage
The entire act of using an electric treadmill puts your body into motion from your very first step. You have to utilize all your body parts and senses to use an electric pedal bike which gives you an overall body experience.
While staying sharp and focused, you also have to focus on your hand and I coordination while you go down the road and even feel the wind go to your hair. It gives you the benefits of riding a bike and walking in the park without any negative impact on your shoulders, lower back, neck, or knees.
Economical & Practical in the Long Run
Investing in an electric treadmill bike can be economical in the long run because it uses a high-capacity lithium battery. This gives you at least 40 to 50 miles per charge at a significant speed. Not only does this make a good form of local transportation, but it also gives you a great exercise benefit.
You can save on your transport costs and your gym membership because you are getting both users out of an electric treadmill bike. This is perfect, especially if you walk to work or going around for just a few errands.
If people around the world start utilizing this method of transportation, they may save on fossil fuels and become cost-effective households. This collectively can play a huge role in making our environment better and reducing fossil fuel emissions.
Gives You Fewer Body Aches
Not only does it save resources, but it also saves you from body aches. If you have ever ridden a traditional bike before then, you know how painful your bottom can get while sitting on the seat. Since there is no tough seating involved in an electric treadmill bike, you don't really have to worry!
Disability Friendly
Undoubtedly, there is an increase in demand for environmentally friendly, economical, and sustainable transport solutions. Several commuters like to use electronic bikes to go about their day, which is why the demand for them is increasing rapidly around the globe. However, the question here is about riders who, due to a disability, cannot pedal on a bike.
This could be severe joint issues or other ailments that stop them from using a regular bike. However, an electric treadmill bike does not have a seat or pedals. This means that it can be used as an alternative electric bike option by people with disabilities. Hence, this gives them an option to use the road just like any other person.
Read 4 Best Electric Bikes with Child Seat
No Bike Grease or Bike Chain Repairs
Since an electric treadmill bike has no bike chain, it does not have the grease stain problems that traditional bikes have. You can be grease-stain-free and ride your electric treadmill bike in style.
Moreover, you don't even have to worry about oiling the bike chain or any other part of the electric treadmill bike because it is a fully automated system. As long as you are keeping it clean and dirt-free, you don't have to worry too much about its maintenance.
Electric Treadmill Bike Drawbacks
Now, if an electric treadmill bike offers a huge load of benefits, it is only fair to also assess what drawbacks it may come with. Here are some drawbacks of an electric treadmill bike:
Hefty Price Tag
This is perhaps the only major drawback of an electric treadmill bike as it is out of reach for most income groups. Especially when the treadmill bike is a good fit for people with disabilities, the price tag does not seem to fit with the income that disabled workers receive.
Even though some can argue that it is economical in the long run, most people cannot think of spending a large sum of more than $2500 on an electric treadmill bike.
Distance Bound
Even though traveling on an electric treadmill bike is super fun, you cannot ignore the fact that it is distance-bound. The transportation device fully charges in 4 hours which can give you around 20-30 miles per hour depending on the speed that you are going at.
With every other electric-powered vehicle, you have to be careful about planning your trip if you want to steer away from your close by destinations. A great way would be to carry the charger around with you, but it could become an added hassle in some cases.
Single Person Usage
Every treadmill or exercise machine is meant to be used by one person at a time. However, a regular treadmill is stationary and can be used by people one after the other. The electric treadmill bike can also be used by people one after the other but not as smoothly.
If you are investing in an electric treadmill bike as a form of exercise over your gym membership and you choose to travel or go to work on it as well, it can be difficult for another member of the house to access it.
Even if you go out for your daily exercise on the treadmill bike, you won't come back with enough battery juice for the other person to be able to fully use it.
What was the concept behind developing an electric treadmill bike?
The main idea behind designing an electric treadmill bike is to keep the user fit in terms of body physique and help. It also makes exercising more interesting as you are moving around in your favorite locations.
Is using an electric treadmill bike better than going out and taking a walk?
This transportation device is a bicycle which is why it can go much faster. You can get more distance covered with this electric treadmill bike, and of course, it is more interesting than just taking a normal walk.
This particular bike is famous in USA, Europe, as well as South Africa and has become a success pretty quickly because many people find regular cycling incredibly difficult. This electric treadmill bike helps them stay in shape with less effort involved than a traditional bicycle.
Most people do not like cardio exercises, but at the same time, we cannot deny that they are incredibly important for our bodies. With using an electric treadmill bike, you can get cardio exercises into your daily schedule effortlessly to stay fit and have a healthy heart.
So, how do you ride an electric treadmill bike?
Well, the first step is to put your foot on the starting lever. Once you kick off the starting lever, it switches the treadmill belt on.
This leads the treadmill belt to start rolling and activate the motor which helps you maneuver the electric treadmill bike. You may need some practice starting this bike smoothly. However, just with a little practice, you can get into gear pretty quickly.
The great thing about electric treadmill bikes is that you do not need a license to drive them. You can cover a significant number of miles with an electric treadmill bike, but it is always suggested to try it out on empty roads or maybe the countryside.
In short, the electric treadmill by offers fast and comfortable work, giving you all the benefits of staying fit and well and enjoying your time outside.
You may like the following electric bike articles:
The Bottom Line
To put it simply, an electric treadmill bike is a completely new way of moving and staying fit. With electricity and a treadmill combined, moving on me is effortless than taking a stroll in the park. Combined with speed, high-quality gears, and electricity, you can increase your walking speed more than the speed of a conventional bike.
Not only is it I'm just to the environment, but it is also fun and beneficial for your overall health. From high-quality materials and components, an electric treadmill bike is bound to give you a pleasant walk experience!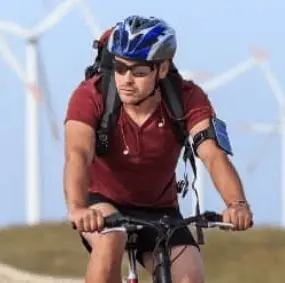 I am Michael, an avid rider and bike expert. I am here to provide, biking tips and expert advice on in-depth bike reviews covering features, capabilities, price range, and much more. Specially on electric bikes, mountain bikes, road bikes, etc. I will provide honest product reviews, along with expert advice on purchasing, training, and maintenance. Check out my complete profile.