Electric bike or electric scooter— wondering which one to buy? Read on to find out which is better? Electric Bike VS Electric Scooter.
Latest technological advancements have disrupted the transportation industry, offering alternatives for fossil fuel-dependent modes of transportation, including cars, motorcycles, buses, etc.
A major shift in the buyer's interest towards relatively inexpensive, personal, and eco-friendly traveling options has been observed in the last decade. Some of the most popular choices include electric bikes and electric scooters.
Both electric bikes and electric scooters are excellent for the daily commute or cruising around town. Both vehicles are charged electrically and powered by batteries, reducing the overall carbon footprint on the environment.
You may like Major Electric Bike Problems and All You Need to Know About Shipping Electric Bikes
Plus, they are fast, fun, convenient, and allow you to skip the traffic. They are available in different makes and models, equipped to cater to the needs and requirements of a vast and wide population.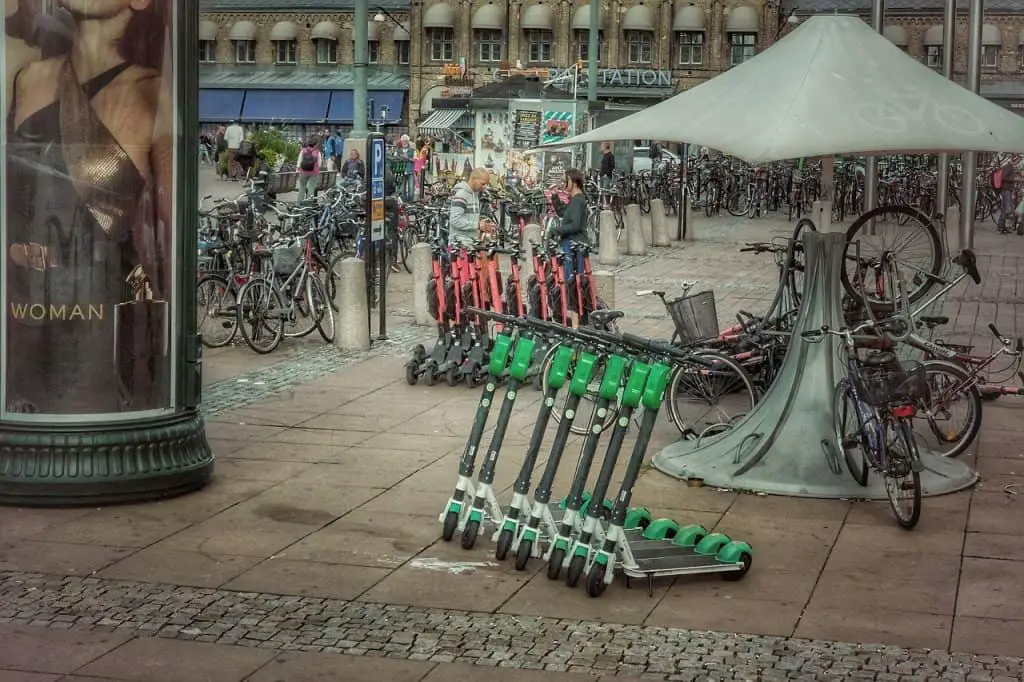 Whether you invest in an electric bike or electric scooter, an enjoyable riding experience is guaranteed. The only question remaining is, which one is better for you? Let's find out!
Electric Bike vs. Electric Scooter: Which Is Better?
Picking a ride is a personal decision. However, a lot of factors go into determining the best choice. Therefore, we have prepared an electric bike vs. electric scooter guide based on different factors that may affect your buying decision.
Scroll down to check out our comprehensive electric bike vs. electric scooter comparative review to decide which of the two options works for you!
Appearance & Customization Options
Many people confuse the terms electric bikes and electric scooters. In reality, these electric vehicles look nothing alike. Both, electric bikes and electric and scooters, have been inspired by their mechanical predecessors.
While e-bikes look like regular bikes with two large wheels, handles, and chains, electric scooters resemble the small-tire, toy kick scooters that we've been riding for years. These new and improved, next-generation electric bikes and scooters are generally chic and stylish. They are available in different colors and models and exhibit varying features.
Whether you buy an electric bike or an electric scooter, you can expect to travel in style with sleek, modern, and elegant electric vehicles as both vehicles are aesthetically appealing.
Now, let's take a look at the customization options. In this case, electric bikes are the clear winner, offering many more customization options as compared to electric scooters.
For example, you can opt for a rear rack and front baskets to customize electric bikes according to your needs. However, such options are generally not available for electric scooters.
The Working Mechanism
Since both electric bikes and electric scooters feature similar electric components, it is easy to think that they will follow a similar working mechanism as well.
However, that's not entirely the case. There is one major difference when it comes to the working mechanisms of these electric vehicles that may change your buying decision.
As discussed, the motor works to propel both vehicles. However, electric scooters are powered solely by the motor. You do not need to pedal or kick to ride an electric scooter. On the other hand, electric bikes are designed to take away only some effort out of the pedaling action.
Most electric bikes are pedal-assisted, which means that the rider still needs to put in some raw pedaling power to get moving.
E-bikes typically come with different pedal-assist levels. You can customize your riding experience by switching between different levels to specify the amount of work you want to do. Many electric bikes feature the following riding modes.
Manual/ Mechanical Riding Mode: The manual or mechanical riding mode allows you to ride your e-bike like a regular bike. In this mode, the motor does not help move the bike forward. 
Pedal-Assist Riding Mode: This is the most common riding mode. Once you start pedaling, the motor kicks in, thanks to the sensors. The motor power is regulated to match your pedaling power and maintain the desired speed. 
Electric Riding Mode: The electric riding mode is all about electric power. It allows you to ride your bike completely on motor power. 
It is important to mention that not all electric bikes have all three modes. So, make sure you take the time to check out different options when buying an electric bike.
Considering everything, it is safe to say that electric bikes are more versatile when it comes to riding modes as compared to electric scooters that typically have only one electric riding mode.     
Basic Components
So, what are the basic components of electric bikes and electric scooters? Well, the electric components are more or less the same except for one major distinction – the presence of sensors. Let's take a look at these basic components and how they work in electric bikes and electric scooters.
The Battery
Different kinds of batteries are available, which means factors like average range, estimated charging time, etc., vary from one model to another. On average, it takes around 5 to 6 hours to charge an electric battery.
Charging is easy. Electric bikes and electric scooters typically come with a charger. All you have to do is plug the batteries and charge your e-bike or scooter, just like you plug in your phone or laptop.
The Motor
When the electric bike or scooter is turned on, the battery produces electricity, which is then transmitted to the motor via a network of wires. The motor helps power the bike or scooter. In electric bikes, the motor provides pedal power.
On the other hand, in electric bikes, the motor works to rotate either the front wheel or both wheels, depending on the make and model of the electric scooter.
Sensors
Electric bikes feature two main types of sensors – torque sensor and speed sensor. Based on the pedaling force you apply, a torque sensor helps regulate the motor power to match your speed and maneuvers.
In other words, it measures how hard you are pedaling to determine how much electric power is required to move the bike.
So, the gentler you are while pedaling your electric bike, the more power the motor will produce to maintain the desired speed. A torque sensor is generally not integrated into electric scooters.  
On the other hand, the speed sensor engages the motor in electric bikes when you start pedaling your e-bike. This kind of sensor may or may not be present in electric scooters. Even when designed into an electric scooter, a speed sensor is used for other purposes, such as determining the speed of the scooter, instead of engaging the motor.
Riding Experience
For the most obvious reason, the riding experience of both electric bikes and electric scooters is nothing alike. The major difference is that electric scooters are designed for people who wish to travel while standing. Electric bikes, on the other hand, come with comfortable saddles that allow you to sit. Both vehicles are designed to offer a unique riding experience.
Regardless, people who prioritize comfort often opt for electric bikes. Riding a bike while sitting keeps you from getting tired excessively, even on long journeys. Moreover, the electric bike's bigger wheels provide a better, smoother ride than electric scooters.
Range
An electric bike vs. electric scooter analysis is incomplete without reviewing the range. Generally, e-bikes provide better range simply because you do half the work, which allows the battery to last longer. It is quite rare to find electric scooters with a range higher than 40miles. On the other hand, electric bikes with even 70+ miles of range are easily available in the market.
Another important factor to consider is that electric bikes remain fully functional even when you run out of battery. However, the same can't be said about electric scooters. It is much harder to use an electric scooter as compared to an electric bike when the battery is depleted.
The silver lining here is the high portability of electric scooters. So, if you run out of battery, you can call a cab and easily pop your electric scooter into the trunk, which means the smaller range is not really an issue for electric bike riders.
However, you can't stick your typical e-bike into the trunk of the car unless you have a foldable electric bike.
So, while you are unlikely to find yourself stranded on the side of the road due to the depleted battery of your electric bike, if you do, it may be a serious cause of concern. On the other hand, tackling depleted batteries in electric scooters shouldn't be a problem at all.
Speed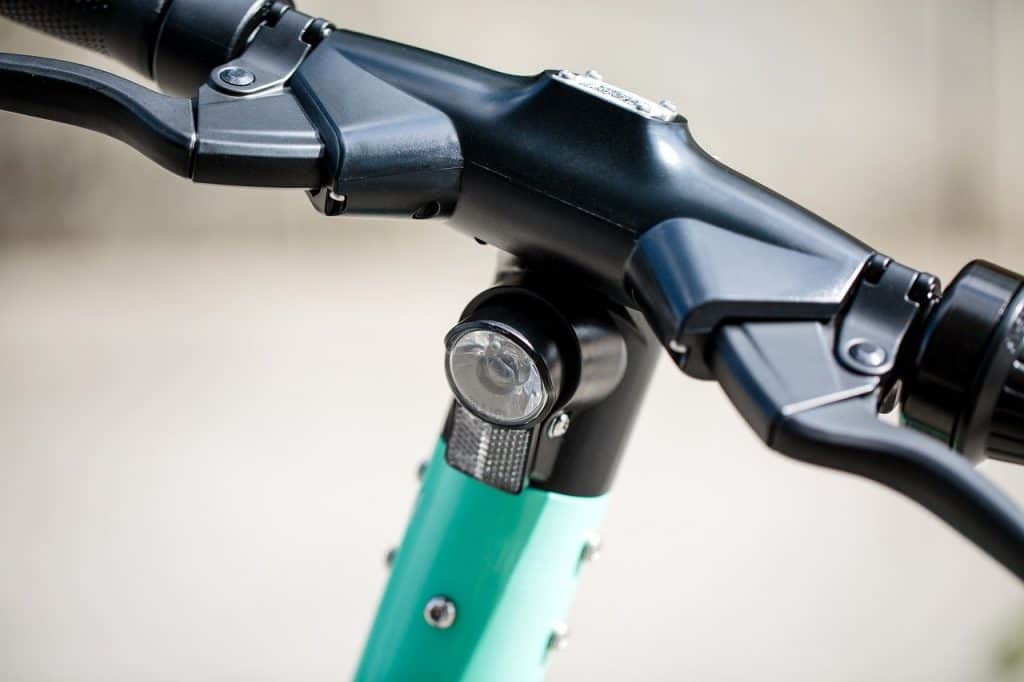 Now, let's talk about speed. Most people believe that since bikes are faster in their analog form as compared to kick scooters, electric bikes would have an easy win in terms of speed. However, that's not the case. Does that mean electric scooters are faster? That's not it either!
The answer to this question is a bit more complicated than you have imagined. The reason is that electric bikes are much more heavily regulated as compared to electric scooters.
In most of Europe, the maximum speed of electric bikes is limited to 15.5mph. Similarly, in the USA, Class 1 and Class 2 electric bikes are generally limited to 20mph, while Class 3 bikes are allowed to travel up to a speed of 28mph.
Plus, some cities have specific speed limitations. For example, in New York, the e-bike speed limit is 25mph. The bottom line is that the speed limit for e-bikes is heavily regulated, and electric bike companies generally follow the set rules and regulations to the tee.
So, as soon as the e-bike reaches the speed limit, the motor stops working, leaving you to power the pedal.
On the other side, electric scooter regulations are ambivalent and unenforced. As a result, it is common to find electric scooters that can go well above 40mph.
It must be noted that the maximum speed of an electric scooter is fixed. Meaning, let's say, if the maximum speed of your electric scooter is 25mph, you can't make it go any faster. However, you can make your electric bike go as fast as you want by pedaling, even after the motor stops working.
Read: Biking for weight loss
Safety Scale
When it comes to safety, electric bikes win with a large margin! While electric scooters may look toy-like, you are more likely to get injured while riding an electric scooter as compared to an electric bike. For one, electric scooter tires are generally only 6 to 8 inches in diameter.
The smaller tires face more difficulty getting over obstacles. Even if you don't lose balance or topple over, you are unlikely to experience a smooth, bump-free ride as even a small obstacle in the road will produce a large jolt.
The type of tire also makes a difference. Two main types of tires are featured in electric scooters – airless and air-filled tires. On the other hand, electric bikes come with airless tires that perform much better, particularly when cornering or on wet and slippery surfaces.
As opposed to airless tires that are made of hard rubber, air-filled tires used in electric bikes are made of supple rubber, which allows for better control and contact with the road.
Moreover, in electric scooters, the rear lights are much smaller and located just over the rear wheel – a few inches above the ground. The rear light position makes it much difficult for automobile drivers to see and spot riders on the road during the night.
However, with proper equipment and planning, it is possible to mitigate this issue and ride an electric bike safely during the night.
Cost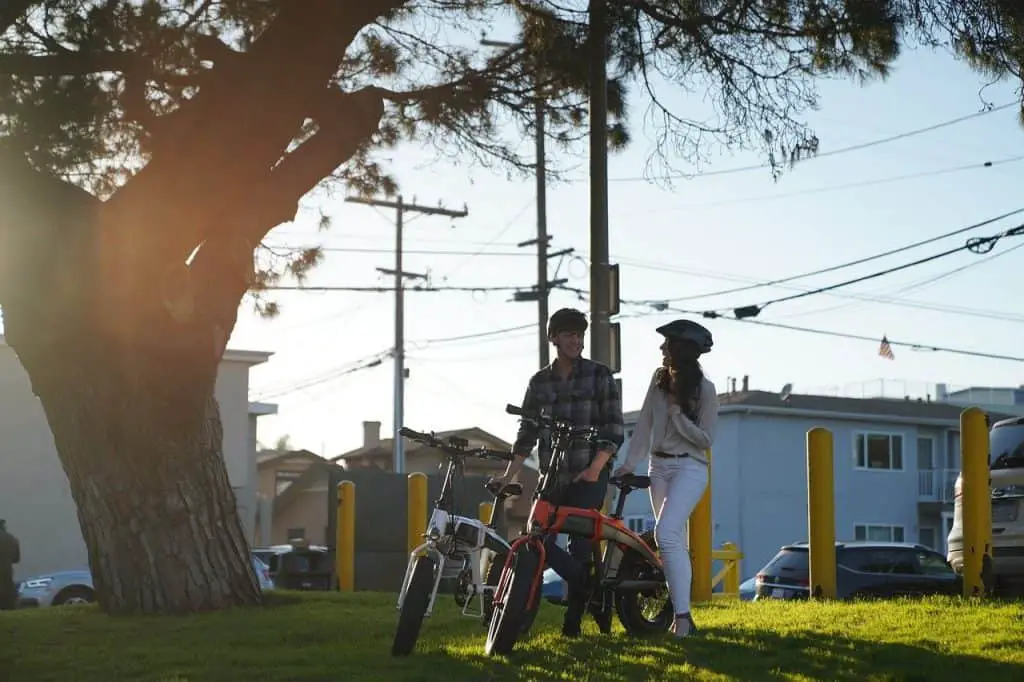 Since the electric bike and electric scooter trends are relatively new in the transportation industry, the pricing models are still vast and dynamic.
The price range for these electric vehicles starts from a couple of hundred dollars and goes up to thousands of dollars. The price generally depends on factors like the brand, features, etc.
Maintenance and repairing costs are similar for both vehicles. However, you can expect to spend a tad bit more on electric bike accessories. Owing to the wide variety and corresponding prices, it is difficult to compare the prices directly. In the end, it all boils down to your budget and the features you are looking for.
Read: How to get Bike Grease out of Clothes
Exercise and Workout
The exercise or workout factor cannot be ignored when it comes to comparing electric bikes vs. electric scooters. A common misconception about electric bikes is that they are considered to be cheat rides. Meaning, people believe that these bikes do not provide a proper workout. This is far from reality.
 While electric bikes are designed to take some of the efforts out of pedaling, they are still a great way to stay in shape and burn those extra pounds. In fact, electric bikes provide better control over your workout by allowing you to switch between different pedal-assist modes.
They also come with a display unit that shows parameters, such as the distance covered, current speed, etc. All these factors work to help you achieve your fitness goals simply by riding your bike.
Electric scooters, on the other hand, provide no active exercise as you simply stand on the scooter. Regardless, it is still better than sitting in a car as it allows you to make the most of the benefits of standing!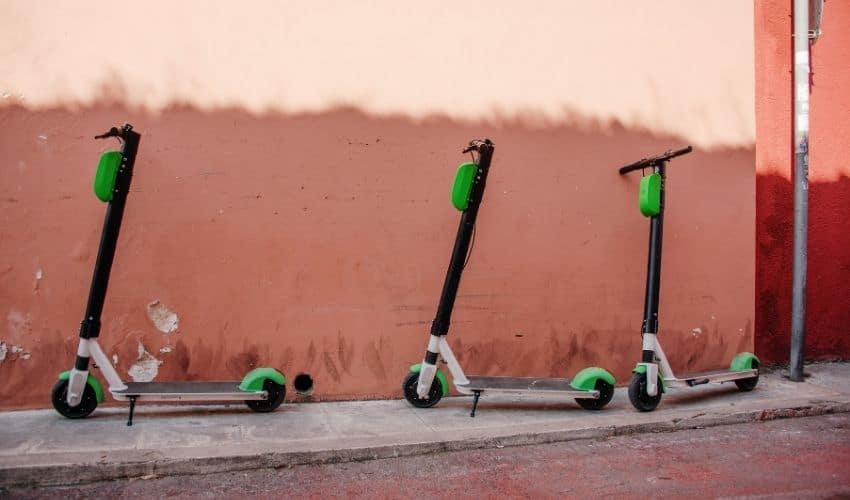 Terrain
Finally, let's talk about the terrain. Electric bikes and electric scooters are designed to traverse different kinds of terrains. Electric bikes are suitable to ride on a wide variety of terrain. Most people ride electric bikes on hard surfaces, such as roads and sideways.
However, you can also use your electric bike for off-road adventures or exploring mountainous or rocky regions. If you are a fan of off-road traveling, consider getting a fat-tire electric bike. With large and fat tires, this kind of e-bike is ideal for all terrains. Whether you want to scale hills and mountains or cruise around on sand or snow – this is the best option for you.
With an electric scooter, your choices are limited. You can think of this mode of transportation as an urban or city ride that is perfect to cruise around town on roads and pavements. However, they won't do much good on other terrains. So, if that's the goal – pick whichever electric vehicle you want!
You may like the following electric bike articles:
The Bottom Line
Choosing your ride is a personal decision that depends on a number of factors, including your budget, the intended purpose of use of the electric vehicle, and the kind of features and utilities you are looking for.
If you want a quick and stylish ride for short travels and daily commute, then an electric scooter may fit the bill. However, if you are looking for something healthier and more comfortable for longer journeys or transporting cargo, then investing in an electric bike is your best bet.
Remember, both electric vehicles work to reduce the carbon footprint. Plus, they are fun to ride and look aesthetically appealing. Ultimately, the choice is yours. Now that you know everything about electric bikes vs. electric scooters, you can make the right decision!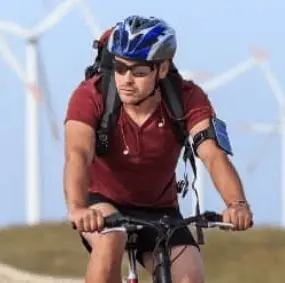 I am Michael, an avid rider and bike expert. I am here to provide, biking tips and expert advice on in-depth bike reviews covering features, capabilities, price range, and much more. Specially on electric bikes, mountain bikes, road bikes, etc. I will provide honest product reviews, along with expert advice on purchasing, training, and maintenance. Check out my complete profile.