Electric bikes have shown themselves to be a more efficient counterpart to conventional vehicles, at least for shorter journeys. They can be modified to accommodate more passengers, carry more cargo, and even transport pets. Cars are more expensive, require ongoing maintenance, and aren't all that good for the environment. This is why more people are opting for electric cargo bikes to travel around town.
If you've decided that a conventional vehicle no longer fits your purposes, an electric cargo bike might be a suitable replacement for you.
The Two Types of Electric Cargo Bike
Cargo electric bikes come in different shapes and sizes and typically weigh anywhere from 30 to 50kg. Cheaper electric bikes are often heavier. Moreover, the more cargo you attach to the electric bike, the heavier things start to get.
This makes it important to buy the right electric cargo bike in Orlando and the right gear for your local terrain.
An electric bike that isn't designed specifically to haul weight may work at max capacity, but you'll notice its limitations when you go uphill and struggle to keep balanced.
You may like, How Much Cargo Can an eBike Carry in 2021?
Longtails vs. Bakfiets
The best electric cargo bikes are divided into two categories, Long Johns and Longtails. Long Johns (also known as bakfiets) feature a basket at the front that holds cargo between the front wheel and the rider. The second category is a longtail with a long rear end to accommodate more people, gear, and/or cargo.
Both types of electric bikes have their pros and cons. If you opt for bakfiets, you will need a dedicated space to store them because they are relatively large. They are not easily maneuverable and often require a lot of practice for riders to fully adjust to them.
Bakfiets often have slower speeds, so your journey will be a bit longer than you've anticipated.
A longtail, on the other hand, functions a lot like a regular electric cargo bike in Orlando, with the exception that it's a bit heavier than a bakfiet.
In the section below, we've rounded up our pick of the best budget electric cargo bikes for the month of March 2021.
Check out the best Electric Bikes with Child Seat.
1. Bergamont E-Cargoville LJ 70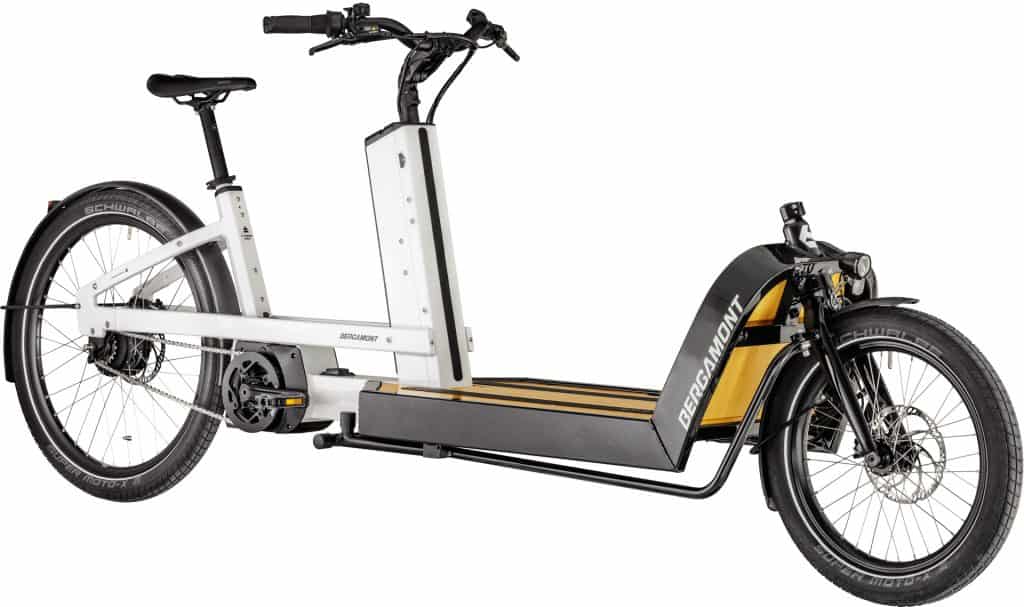 The Bergamont is one of the best electric cargo bikes with a spacious loading area. But it comes with a caveat – it is extremely pricey at over $5,000 (depending on where you live). It should be noted that very few electric bikes rival the transport capacity of the E-Cargoville LJ 70.
The Bergamont is equipped with a top-of-the-line Bosch Cargo Line motor, which is extremely powerful and provides plenty of assistance to riders. Unfortunately, its 380% gear range isn't very suitable for mountainous terrains.
Now for the fun part – the loading area is extremely spacious.
The novel concept of having a loading area with open sides makes the Bergamont work brilliantly for anyone who wants to haul weight. 
It is made out of bamboo that not only looks stylish but is also equipped with rubber strips to hold your items. This ensures that you can carry weight without having to tie your cargo down.
That said, it definitely would have been a better move to add a few hooks or eyelets to lock down heavier cargo.
If you transport children and other small items, we recommend being a bit extra careful when riding the Bergamont. This electric cargo bike has a maximum weight limit of around 220kg, which is higher than the norm for most electric bikes.
However, if you take into account the weight of the bike at 46kg, and the maximum load limit at 90kg, there's only about 84kg left for the rider.
Check out, Best Dog Carriers for Electric Bikes.
It Looks Like a Yacht
A cursory look at the Bergamont will remind you of a yacht. It has the same characteristic straight lines and oversized tubes that make for an eye-stealer. The paint job deserves special attention as it is adorned with incredible details. A square box near the motor and steering column also adds to the overall design.
The charging socket is easy to reach on the down tube and is equipped with a specially designed cover to prevent dirt and dust from getting inside. It lets you store the battery in the bike for easy charging.
If you want to take the battery with you to store elsewhere, that's easy too. All you need to do is simply remove the screws of the plastic cover on the head.
How it Feels
The Bergamont is designed for ease-of-use, thanks to various features such as functionality, shape, and handlebar width. One aspect of the cargo electric bike that most riders will appreciate is the Bosch display – it gives you all the data you could ever need for your journey. It can also connect to your smartphone via Bluetooth and transmit all the information to an app.
Bergamont also lets you connect a heart rate monitor if you want. However, there is one small feature of the Bergamont that most users may complain about: the stand, it's not easy to activate and most users will find it difficult to use.
The E-Cargoville LJ 70 has an upright riding position that you can adjust relatively easily thanks to an adjustable stem – if you have access to the right tools.
Verdict
The E-Cargoville LJ 70 is innovative, stylish, and capable of transporting bulky loads. It features the powerful Bosch Cargo motor that allows for support even when the electric cargo bike is fully loaded. However, it's not capable of traversing hilly areas.
If you plan on riding mostly flat terrain, then this is the definitive solution for all your transportation needs. However, if you can get past the few limitations explained above, it is one of the best budget electric cargo bikes out there.
Click here to check prices and availability.
2. RadWagon 4 by Rad Power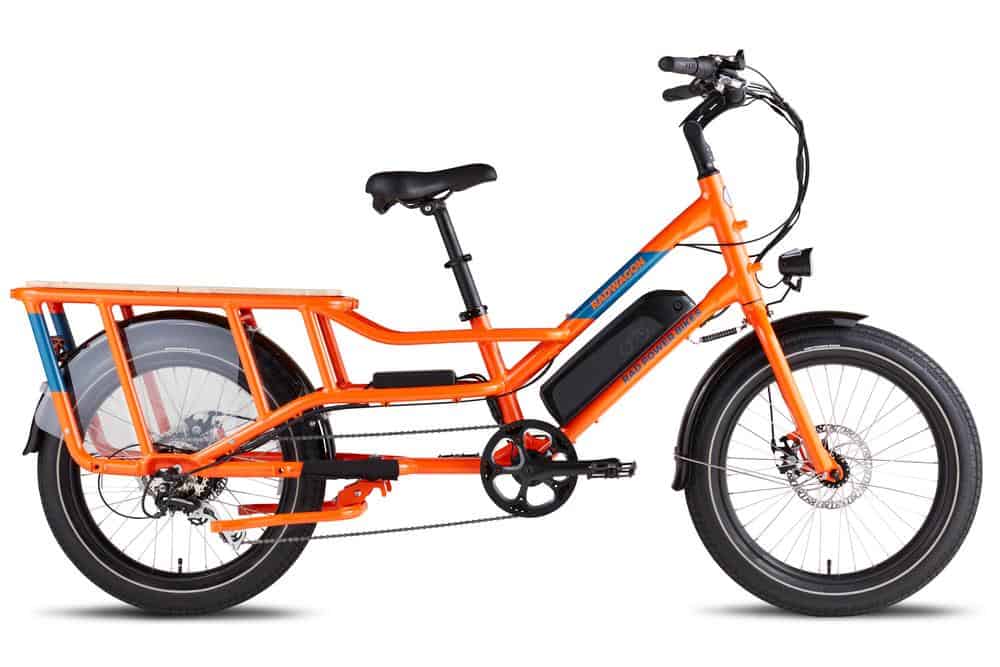 The RadWagon 4 is powered with a 750-watt hub motor that allows for pedal and throttle assist for speeds up to 20 mph. It has twice the torque of the direct-drive motors that powered previous RedWagon models and allows the 4 to haul heavier weights on steeper terrains.
Like most RadWagon models, the 4 comes with a one-size-fits-all frame that accommodates all rider heights from 5 foot 1 all the way to 6 feet 4. Rad Power uses a low standover frame and adjustable bars to make this possible.
The motor draws power from a 48V battery that features Samsung 35E cells, capable of 800 charge cycles and over 45 miles of range. You can check out important stats on an LED display for battery charge, watts used, odometer, as well as pedal assist. Speaking of which, the pedal assist is controlled by a unit next to the left grip.
All this power and weight requires a hefty braking mechanism to bring the bike to a full stop, something that the Tektro Aries disc brakes are more than capable of doing.
They provide reasonably high stopping power on hilly terrains and can carry a heavy load along with the Shimano seven-speed rear derailleur. You can control all of this with the indexed thumb shifter.
Interestingly, Rad Power managed to hide all the intricate wiring and cabling inside the frame of the bike, making for a clean and all-around stylish look.
If you plan on taking this electric bike at night, then you'll love the headlights (capable of 200 lumens) and the rear taillight that also has a brake light indicator. All this ensures that your electric bike is visible on the road and improves your safety.
Since it is a cargo electric bike, the 4 is outfitted with fenders on the front and rear along with plastic guards on the rear rack.
A wooden deck is integrated on the rear rack and can be paired with all kinds of accessories from Rad Power, including retractable foot pegs, baby seats, running boards, as well as bags, baskets, and even more racks. You'll have to buy all this equipment separately though, which only adds to the price of the 4.
The total load capacity of the RadWagon 4 is a generous 350 pounds, so you can easily carry two small children and some cargo, with room for more. This makes the RadWagon 4 a suitable replacement for most cars.
RadWagon 4 Makes for a Comfortable Ride
The RadWagon 4 offers a smooth ride and is compatible with most types of terrains including city streets, rural roads, and hills. It's easy to carry your equipment without overburdening this cargo bike. Thanks to the 3-inch wide tires, low standover height, and a wide saddle, the ride will be comfortable for most riders even on the toughest of terrains.
The 22-inch wheels are big enough to provide enough clearance while also keeping the bike closer to the ground for loading and unloading cargo.
There is no suspension fork for the RadWagon 4, which explains why Rad Power chose to go with thicker tires for this entry. The fat tires absorb shocks and bumps along the road to make up for the lack of suspension forks.
The cargo bike also comes with a kickstand that is relatively easy to use and provides a stable base on uneven terrain.
All these features come in at a relatively affordable $1,600 (depending on your vendor). The RadWagon 4 is designed for power users who also want to haul weight. It can be outfitted with several accessories and is a viable replacement for cars.
Verdict
The RadWagon 4 is a no-brainer for anyone who wants the best budget electric cargo bike without breaking the bank. Its ability to haul weight is nearly unparalleled and it can let you add all manners of aftermarket equipment to make it even easier to use. This is definitely recommended for users who are just starting out.
Click here to check prices and availability.
3. Tern GSD S10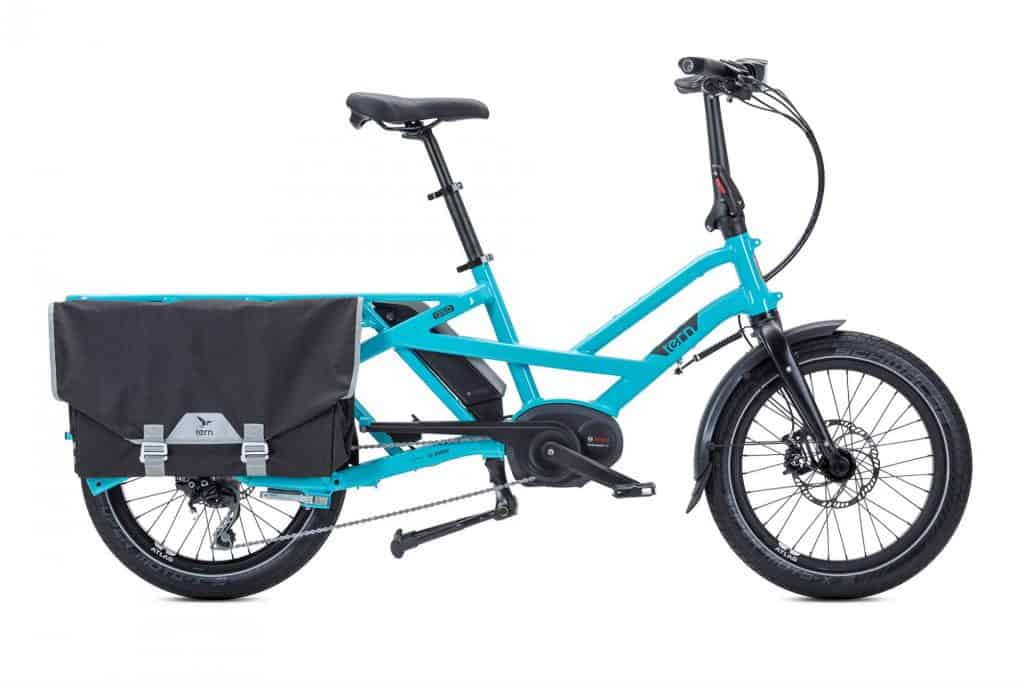 Tern is a well-known ebike manufacturer known for its relatively affordable products that seem to have just about all the basic ingredients of a good cargo ebike. The GSD is one such entry.
It has a distinctive geometry with 20-inch tires. It also comes with a lower rack than most other electric bikes, and the Bosch batteries and motors are hidden under the rack, not the downtube like other ebikes.
This ingenious design allows the S10 to have a lower center of gravity, which makes it more stable. The ebike accommodates a wide range of heights and features an adjustable seat. You can also rotate the handlebars to let you lean forward or sit up. The ergonomic handlebars provide plenty of support for your hand and are extremely comfortable.
The ebike is equipped with a Bosch motor, which has a speed limit of 20 mph to meet the definition of what constitutes as an electric bike. You can easily bring the entire electric bike to a stop with the help of powerful hydraulic disc brakes.
If you want to save money, you can choose the cheaper 400 Watt-hour battery system, which will net you a range of 30 to 70 miles, depending on various factors.
But we recommend adding the 500 Wh battery so that you can travel longer distances.
Now for the downsides. The electric bike comes with a Bosch Purion monitor that gives you very basic, cursory information. You can only see the level of e-assist, speed, and battery level.
Another problem with the S10 is that it weighs nearly 60 pounds (with the single battery in place), so it won't be easy for you to carry around. This can be problematic if it ever runs out of battery.
Since this is a cargo electric bike, the S10 comes with a limit of a super-generous 400 lb. weight limit. Most users will never max out the load capacity. If you ever get stuck on a hill and need to push the ebike, you can always activate the walk assist mode.
At a length of 1.8 meters, this cargo electric bike needs a proper place for storage. That may be inconvenient or impractical for many users. We wouldn't trust the S10 to not fall over in case someone bumps into it accidentally.
Even though the stand does a good enough job to keep it stable, it's all too easy for the ebike to keel over and crash.
Verdict
In all, the GSD S10 is among the best budget electric cargo bikes out there. It can help you go grocery shopping, carry your kids around, and travel uphill with relative ease. Given the many features of the S10, it is a worthy contender for replacing your car for good.
It costs around $4,000 to $4,500, depending on the manufacturer and the battery you chose.
Click here to check prices and availability.
4. Yuba Electric Boda Boda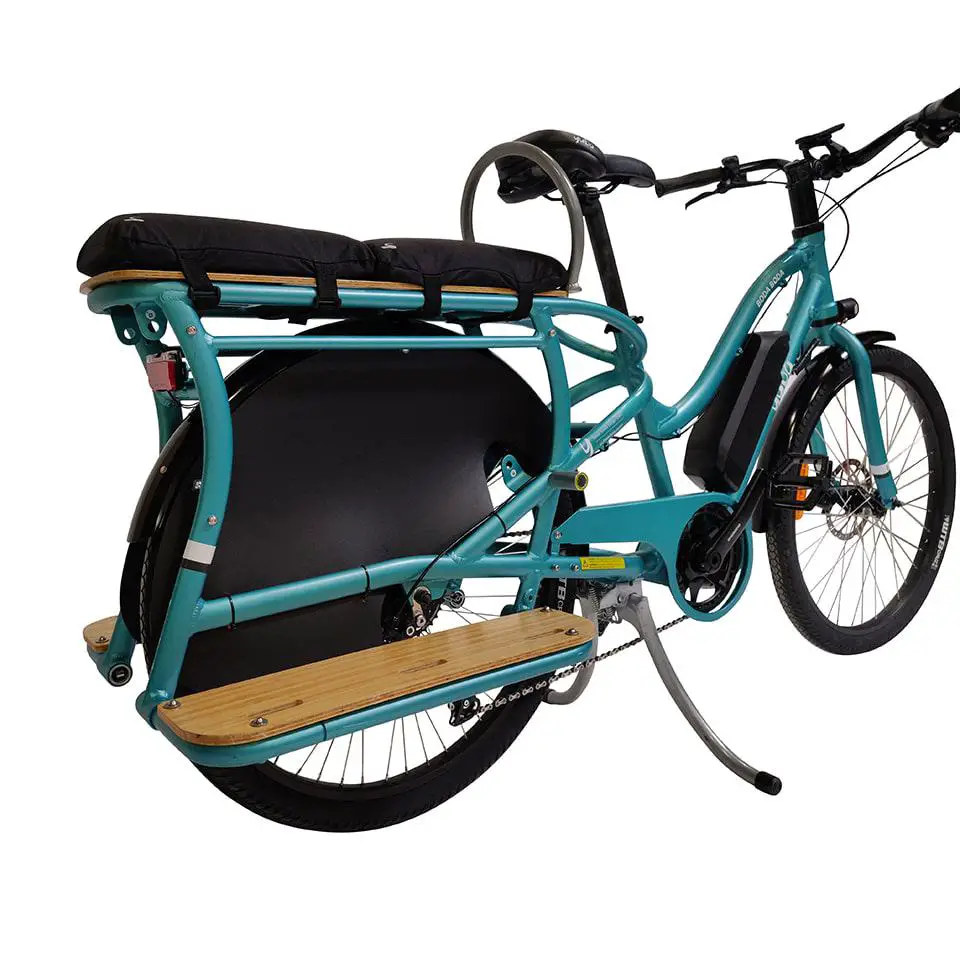 The Yuba Electric Boda Boda is a fast, nimble, and easy to use cargo ebike that serves as your car's replacement. It features a durable aluminum frame that comes with a rear rack. There are two versions available to choose from: a step-over and a step-through option.
It features hydraulic brakes, fat 26-inch tires, and a 1 .5 inch fork. You can easily adjust the handlebars and seat to accommodate any frame.
The motor is an e6000 by Shimano, which is a weatherproof electric system with a smart computer that provides guidance to riders. The motor provides up to 50Nm of torque when pedaling.
It also shifts to a lower gear for easier starting and stopping. Since the motor only provides power when you need it the most, it has up to 93 miles of range or around 6 hours on a single charge.
The display on the handlebars allows you to control your electric bike. You can use it to switch the lights on and check the current speed, gear, range, and battery level. Users can also choose from three levels of assistance (or turn it off entirely). All this from a single, convenient place on the ebike.
As a cargo electric bike in the USA, the Boda Boda weighs up to 60 pounds without accessories and is rated for a maximum load of up to 220 pounds. Most users won't max out the 220-pound weight limit but they may come very close.
It is worth pointing out that when you add a lot of cargo to the electric bike, it may get a little difficult to keep yourself balanced.
Verdict
The Boda Boda is relatively affordable with the base model starting at $3,400. This base model comes with a chain guard, wheel skirt, double stand, LED lights for the front and rear, and fenders. You also get a one-year warranty on the Shimano motor.
This may sound expensive but when you consider the price of cars and how much it costs to maintain them year-round, the nearly $4,000 doesn't seem like much.
Click here to check prices and availability.
You may like the following electric bike articles:
Wrapping Up
Of course, the cargo electric bikes review above are just the tip of the iceberg as manufacturers are pushing out the latest and greatest gear with new improvements. For now, the above options will work perfectly for most users, especially those who are looking to find a convenient replacement for their cars. Let us know if you agree with our list or feel that we missed out on a great cargo electric bike.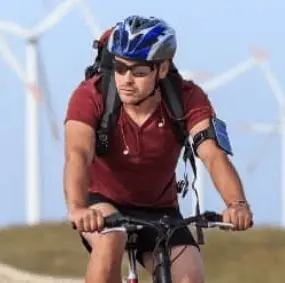 I am Michael, an avid rider and bike expert. I am here to provide, biking tips and expert advice on in-depth bike reviews covering features, capabilities, price range, and much more. Specially on electric bikes, mountain bikes, road bikes, etc. I will provide honest product reviews, along with expert advice on purchasing, training, and maintenance. Check out my complete profile.