Choosing the best bike to fit your needs is easier said than done. Whether you want to get fit, explore the countryside, or just commute, a bike is a perfect tool to do that. But there are a confusingly varied – and growing – number of different types of electric bikes to choose from.
In particular, most people tend to do a head to head comparison using search terms like "electric bike vs. road bike". Namely, because the two are so similar yet have enough differences to warrant a question like that.
Head to Head Comparison of Electric Bike vs. Road bike
Let's deep dive into the main differences between electric bikes and traditional road bikes. This section will cover four key areas:
i) Appearance and Mechanics
Electric bikes and road bikes often share the same appearance. It is a common misconception that electric bikes are scooters, but that's not true. Electric bikes are much like road bikes, with the exception that they have added electric motors.
Electric bikes feature the same handlebars, geometry, and wheels as mechanical ebikes. Their mechanical elements also work the same way, including brakes and pedals.
Electric bikes come with a few accessories such as an electric motor, battery, display screen, controller, and an electrical drive system.
The battery provides power to the motor, which assists you in pedaling and helping the electric bike move forward. Maint
ii) Repairs and Maintenance
The standard parts of an electric bike are nearly the same as road bikes. This means that maintenance work for electric bikes is also the same, including repairs and servicing. If the tires, wheels, and brakes need to be fixed, they can be taken to a regular repair shop. Repairing these will not cost much.
The only difference is when the electric components go wrong. In this case, you will have to take your electric bike to an ebike specialist. With that said, most electric bikes come with a warranty.
iii) Riding Experience
In most cases, the main difference comes down to experience. In this regard, electric bikes are more comfortable than road bikes because the motor provides pedal assist. Some higher-end electric bikes have smooth transitions so you'll never notice when the motor became activated.
Electric bikes don't change the act of cycling; they just make it much easier to do. You will be moving along just effortlessly, easily turning the pedals around. If you encounter a steep hill, simply activate the pedal assistance, so make it easier to ride.
iv) Speed
The use of a motor often translates to higher speeds. However, according to EU regulation, electric bike motors must stay within the limit of 15.5 mph. If you want to travel faster than that, the motor will stop providing power and you will have to pedal on your own.
In general, electric bikes made pedaling very easy so you won't get tired quickly. It is also easier to maintain constant speeds.
You may like Electric Bike Speed Limiter Removal – A Comprehensive Guide
Main Types of eBikes and Road Bikes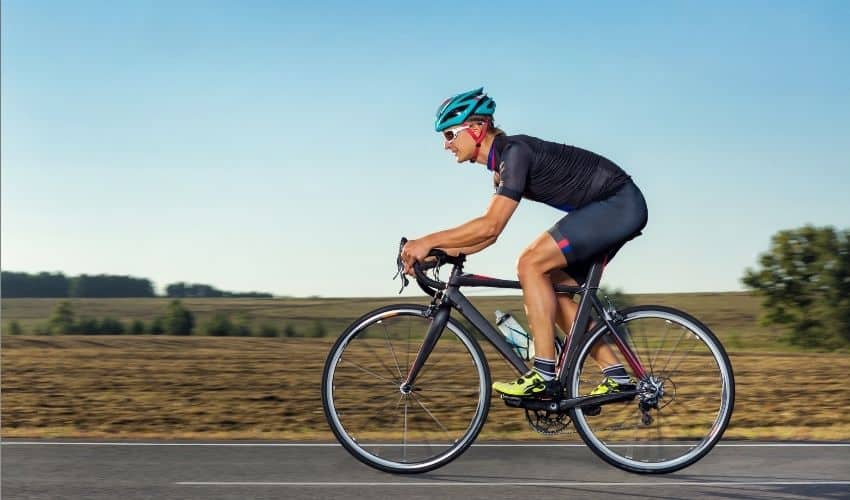 Now that you know the main differences between electric bikes and road bikes, let's go over some of the main types of electric bikes. In this section, we've rounded up the most definitive list of categories of electric bikes.
1. Mountain eBikes
These ebikes are designed to be extra durable for those harsh, rugged terrains. This allows them to ride rough dirt trails. Special attention is paid to the choice of tires used. These bikes have flat and wide handlebars for precision control.
The tires are thick with at least 2" width and knobby treading for extra traction. They have a wide range of drivetrain and hydraulic disc brakes to handle steeper terrains and descent.
The wheels are mostly 27.5" (also known as 650b) and 29" (also known as 29ers). The 26" models are slowly being phased out. Mountain bikes for women feature specific seats designed for women with narrower handlebars, shorter crank arms, and smaller grips.
Among the most popular sub types of mountain bikes are:
Hardtail: These bikes feature suspension forks that mount the wheel to the frame. They are usually very affordable, but there are high-end variants to achieve higher top speeds.
Full Suspension: The mid-travel suspension (between 120 to 150 mm) is designed to balance descending abilities with climbing efficiency. The tires are wider and the brakes have larger rotors for greater braking power. Some versions of these bikes can work with traditional 29-inch wheels.
Gravity Full Suspension: These bikes have rear-wheel travels with widths of at least 160mm or more. The brakes are powerful with aggressive tire treading, this gives the rider complete control on steep and rough terrains.
Read: What is a Tandem Bike?
What are mountain ebikes used for?
Mountain ebikes are used for off-roading and technical trails. In general, the more difficult the terrain, the more robust rear suspensions you want.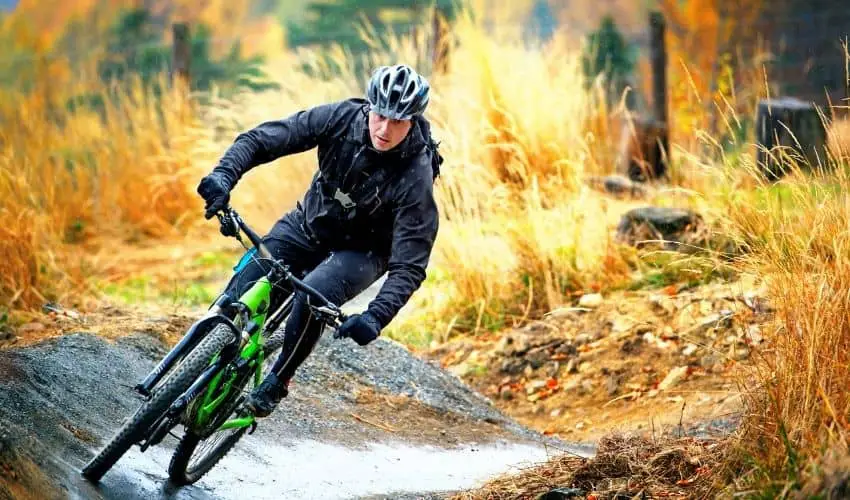 2. eRoad Bikes
Also known as the racing ebike, road ebikes are designed for massive speeds. They come with narrow tires that roll fast on the tarmac.
The latest models feature disc brake versions which allow for greater stopping power even at breakneck speeds. Most brands also come with models specifically designed for women.
There are various types of road bikes including:
Aero ebikes: They are designed to reduced drag as far as possible with wing-shaped frame tubes and wheels. They are intended for racing and time trailing often featuring more aggressive positions. They emphasize speed over comfort.
Ultra-light bikes: These bikes are made with nimble weights to reduce weight as much as is possible. This allows the road bike to travel up those steep hills. It may not be ideal for all-around usage.
Endurance bikes: These electric bikes feature an upright ride designed for comfort. They also come with wider gearing ranges and fatter tires, and often shock-absorbing tech in the frame and fork.
Touring bikes: These bikes are lightweight and can be used for all-around cycling. They also come with a higher load capacity. Touring road bikes have stable steering for confident handling with longer wheelbases. They also have room for accessory mounts so that you can gear up for those long rides without breaking a sweat.
All-Road: A hybrid between gravel and pure road bikes, this is a relatively new type of ebike that marries the traditional road bike geometry with large tires (around 36mm and more). They also feature quick steering and more efficient aerodynamic positions for the rider.
What are road ebikes used for?
Use a road bike if you only plan on riding on a traditional road. You won't find a better alternative than the superfast road bike. They also allow you to be formidable in racing.
The price range for road bikes starts at around $1000 and the really high-end models can easily go above $10,000 with all bells and whistles such as powerful drivetrains, low weights, and hydraulic disc brakes.
3. Utility eBikes
These ebikes are designed for convenience and recreation. They can be purchased in all kinds of styles. Whatever style you pick, you will get stuff done. The most prominent utility ebike models come with a conventional frame and step-through variants.
There are four types of utility ebikes:
Electric fixie: They are supposed to be the trendier version of fixies. Their design is based on track racing ebikes with just one gear, lightweight frames, and stripped down aesthetics. They often come with color-matched accessories to make a fashion statement.
Cargo ebikes: The main styles for cargo ebikes is long tail, front load, and mid-tail. Long-tail ebikes feature a long wheelbase and built-in racks to allow for large loads. Front-loaders come with a cargo bin situated between the wheels and in front of the pilot. They have a lowe center of gravity, which makes it easier to carry heavier items.
Commuter: They are designed for speed and efficiency. This ebike usually has flat handlebars to encourage an upright position for clearer vision in high traffic situations. They feature multi-gear drivetrains, disc brakes to stop safely, while the higher-end models come with accessories such as racks, fenders, and lights.
Folding ebikes: These ebikes are designed for use in tight corners. They come with nimble frames that allow partial disassembly so users can carry them around with ease and store them in smaller living spaces. Folding ebikes often feature high cargo capacity should you ever want to carry heavier loads.
What are utility ebikes used for?
In general, utility ebikes are designed for range and errands, allowing you to take kids to the park or a trip to the grocery store.
4. Adventure eBikes
These ebikes look exactly like traditional road bikes. However, there are many differences that you will notice such as knobby treading for off-road cycling, room for accessories such as frame bags and bottle cages, and a geometry that supports an upright rider position for stable handling and comfort on rougher terrain.
Most of these ebikes have wider gearing for steep climbs and powerful disc brakes. Some incorporate front and rear suspension for added comfort.
There are at least three sub types of adventure ebikes.
Gravel: These ebikes are designed for everyday use, from racing to off-roading.
Cyclocross: A barebones version of the adventure ebike, the Cyclocross has similar tire clearance but more a sharper geometry for aggressive handling. They don't have room for additional accessories.
Bikepacking: Bikepacking ebikes generally have clearance for fatter tires. They have room for lots of mounts and suspension corrected geometry.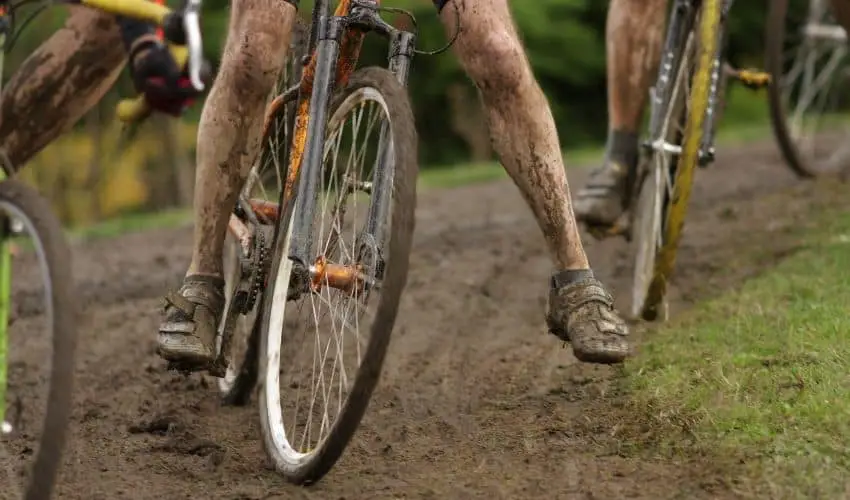 What are adventure ebikes used for?
These ebikes are designed to go anywhere and traverse anything, making them the most versatile ebikes on the market. They combine the fast-rolling efficiency of road ebikes with treaded tires for off-roading.
They can handle just about anything you throw at them with the exception of higher speeds. So if you're looking for top speeds, this is probably not the type of ebike for you.
5. Fat Ebike
These ebikes have fatter tires, generally in the range of 4" to 5", for better traction and flotation. This helps the rider traverse softer soils and even packed snow. Fat ebikes have two main subcategories:
Hardtail mountain: These ebikes share similar characteristics to normal Hardtail mountain ebikes and are very rigid. The only difference is that the suspension comes from the fat tires.
Cruisers: These ebikes have just arrived in the market. They feature extremely wide tires for a smooth ride.
What are fat ebikes used for?
Mountain fat ebikes are ideal for cycling on extremely rough terrain, such as sand, hardpacked snow, and soil. They give cyclists complete control over all kinds of terrain without losing grip on the road.
The cruiser varieties are generally not as robust when it comes to transaction control. They're more inclined towards entertainment.
6. Fitness eBikes
These eBikes are built to entertain. They are not strictly road ebikes or mountain ebikes, but you could argue they take design elements from all categories. Fitness ebikes encompass everything from flat bar fitness bikes to cruisers. There are three types of fitness ebikes:
Hybrid: These ebikes share features with mountain and road ebikes. They often come with a broad range of gears, flat handlebar, and an upright position. Their fast-rolling tires have lighter tread. Some ebikes often come with suspension for a comfortable ride.
Fitness: These ebikes are designed with bike like efficiency in a more relaxed sitting position. Their performance parts are light and their narrow tires are paired to flat handlebars for comfortable riding.
Comfort: As the name suggests, these ebikes feature comfortable components such as lightly treaded tires, upright rider position, and very cushioned seats. Some higher-end models may also feature suspension.
7. Tandem eBikes
These ebikes are designed to carry two riders. Their frames are designed to accommodate the extra weight and longer wheelbase.
Most frames are built using oversized tubing for extra stability. Important parts of the tandem ebike, such as tires and wheels, are specially designed for durability and strength. The brakes for these ebikes have to be extra powerful, so the best bet is to use disc braking.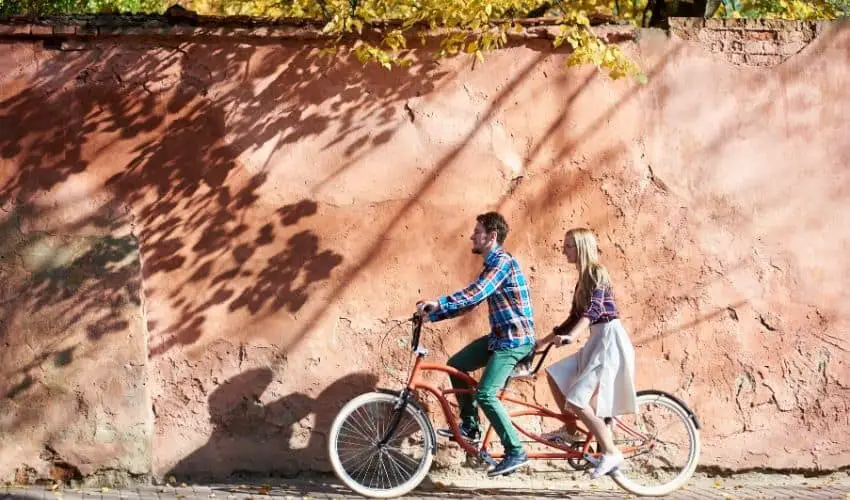 Here are the most common sub-types:
Road: This is the most common type of ebike you will see. Tandem ebikes are ideal on the road because the design places both in close proximity than they would have been on singles, this improves aerodynamic performance. It is worth pointing out that these ebikes are not very efficient on steep hills.
Cruisers: These ebikes take on the look of the beach cruiser and allow for two riders. Cruisers often come with multi-range gearing, but you may find single speed ebikes as well. The brakes on some of these models aren't strong enough to fully bring both cyclists to a stop. Instead, look for models that come with front and rear rims, discs, and hub roller brakes.
Mountain: Certain ride tandems are designed for off-roading. You will find a few Hardtails as well as full suspension tandems.
What are tandem electric bikes used for?
Tandems are ideal for groups of two riders who want to enjoy a ride together. They're especially popular with small children and anyone with disabilities such as poor vision. For tandems to work properly, they require good communication between both riders.
The pilot has to anticipate the type of terrain and let their partner know when they should pedal or shift their weight during a turn.
8. Triathlon eBikes
These ebikes are built to facilitate aerodynamic efficiency to help triathletes maximize performance on the tarmac. The main goal of the triathlon ebike is to use special handlebars and frame geometry that allows the rider to maintain aerodynamic efficiency while maintaining stable handling.
The component design and aerodynamic frame reduce drag.
The wheels and frames are especially good with wing style airfoil shapes for maximum aerodynamic efficiency. Higher-end models are designed with custom units, which means that the parts are not easily swapped. Triathlon ebikes feature disc brakes.
What are triathlon ebikes used for?
In most legal triathlons, drafting behind cyclists is not allowed. This is why triathlon ebikes are optimized to reduce wind drag and go fast over flat terrain found on most courses.
They don't have the same features as road ebikes, and the rider handling isn't suited for longer climbs or technical descents.
Electric Bike vs. Road Bike: Which is Better?
The debate between electric bike vs. road bike often comes down to convenience and preferences. If you plan on using a bike to travel long distances, you will want to use an electric bike to make commuting easier.
Similarly, if you plan on taking the bike to the countryside, you'll need an electric motor to help you overcome obstacles and climb up steep hills. Electric bikes are perfect for anyone who wants an adventurous ride without sweating bullets.
However, if you just want a regular bike without all the bells and whistles, and don't need assistance in getting back home, a regular road bike will be beneficial for you. There' also the costs of each category.
Electric bikes, for obvious reasons, are more expensive to buy than regular road bikes. To wrap things up, the decision comes down to your preferences. Our recommendation is to try both so you can make a more informed decision.
You may like the following biking articles: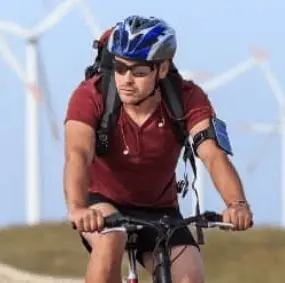 I am Michael, an avid rider and bike expert. I am here to provide, biking tips and expert advice on in-depth bike reviews covering features, capabilities, price range, and much more. Specially on electric bikes, mountain bikes, road bikes, etc. I will provide honest product reviews, along with expert advice on purchasing, training, and maintenance. Check out my complete profile.