Bikes are great for transporting yourself from one place to another. They may not be the fastest way to get to places; however, they're one of the very few where you don't have to wait in traffic and frustrate yourself before getting where you want to go. If you want to go biking in the city, road bikes are the way to go about out. These bikes are designed specifically for you to ride on paved roads.
However, other more resilient road bikes allow you to ride even on uneven terrain. If you want to get around easily, such bikes are ideal.
Additionally, bikes are also environmentally friendly. So, by investing in one not only are you getting a super cool way to ride around town, but you're also riding around town while saving the world.
Furthermore, owning a road bike means you can get exercise that will strengthen your muscles and make you feel fitter. However, it's not always easy deciding which road bike to pick.
Read on as we inform you about what a road bike is and what you should look for in one.
What Is a Road Bike?
A road bike is a bicycle designed to take you as far and as fast as you can go. Road bikes give you a lot of control, and you will likely feel good about yourself when you're on them. It is, however, most beneficial for a road or paved terrain.
It doesn't seem like road bikes have changed all that in the past 50 years other than the addition of electric components. The silhouette for road bikes is pretty similar now to what it was 50 years ago. Certain aspects have changed; however, those are just technologies added on all bikes.
Road bikes are lightweight, efficient bikes with drop handlebars and narrow tires for recreational riding, mostly on the pavement. Styles of a road bike include aero, ultralight, endurance, touring, and all-road.
You need to have a road bike if you want to travel on city roads, and these bikes are also good for marina walks and rides on cobbled roads.  Road bikes make it easy for you to get from one place to the other as they have tires and strength that make them perfect for comfortable travel.
They use derailleur gears and disc brakes to improve their performance. We will learn about other features later.
What Is a Road Bike Good for?
Firstly, a road bike is good for fitness riding. If you want to ride bikes to grow muscles and become a stronger biker, a road bike is ideal for you. You need to ride a road bike every day to understand how effective it can be in making you fit. Consistency is important for fitness and growth in this area.
Secondly, a road bike is good for commuting. If you're traveling to and from work in a city, riding a road bike is the easiest way to commute. You can get to work and back in your own time without having to wait for transport, adding to your satisfaction.
These bikes are also good for event rides. So, let's suppose you are traveling to a massive comic convention or a YouTubers' meet-up. You can get around from one stall or hall to the other using these bikes. These bikes are also exceptional if you want to go on a tour of an area.
Furthermore, many events call for racing on road bikes. So, if you build up enough muscle, you'll be able to challenge yourself to competition and race with other road bikers.
Read Mountain Bike Or Road Bike: Which Is Better For Weight Loss?
What Should You Look For in a Road Bike?
There are many ways you can assess what you require in a road bike and if you want a road bike at all. However, there are some things that you should evaluate when choosing a bike.
1. Frame Geometry
Road bikes may be similar, but different manufacturers add their flair into their designs. This is true for the frame geometry of most bikes. Some bikes enjoy sports geometry, which is also called recreational geometry sometimes.
These bikes are great if you're looking to ride your bike two or three times a week and a distance of 20 to 150 miles a week. They're durable and make for a great choice for people who intend to take full advantage of their road bikes.
You can use this type of geometry, even if you have events spread out throughout the year that would require you to ride a bike in them. This frame geometry gives them a more upright position, and the steering is more relaxed than maybe on a performance bike.
If road bikes have performance geometry, then these are better suited for competitive riders. These bikes require the rider to be more stretched out and flexible so that the aerodynamics can be better and more responsive to steering input, giving the rider a better angle for control.
Performance bikes generally have stiffer frames; they have higher-end components and lighter wheels that cost a little more money than other frames.
There are also flat bar road bikes that have sport geometry but a much more upright riding position. These are a great design if you want to commute using your road bike, as they let you uphold a better posture. Flat bar road bikes generally have entry-to-mid level components.
Read Mountain Bike vs. Road Bike vs. Hybrid Bike
2. Frame Materials
You also have to go check what frame materials would be the best for your bike. The two main frame materials available in the market are Aluminum and carbon fiber.
Aluminum
Most frames made of this material ensure a smooth and good ride for the rider. They are also more cost-efficient than carbon-fiber frames. Bikes for this material come with a composite (carbon fiber) front fork so that they can absorb any shock or vibration from the road to help with a better quality ride.
Carbon-Fiber
These carbon-fiber bark frames are more comfortable and expensive than frames made for Aluminium. However, carbon-fiber frames are made using a very labor-intensive procedure which is why they're more expensive than aluminum frames.
However, the ride quality can vary widely depending on the frame's design. Still, this aspect can't be the only one you consider. You have to consider things holistically.
3. Crankset and Gearing
Cranksets are what make the pedal turn and then turn the rear wheel via the chain. A road bike can either have a triple, double, or compact crankset. The number is due to the size of chainrings.
For example, the triple crankset has 3 chainrings and is combined with a 9-speed cassette on the rear wheel so the bike can have a total of 27 gears. However, the double and compact crankset has two chainrings in combination with a 10-speed cassette in the rear, giving the bike a total of 20 gears.
A compact crankset is often used with a bike that has sport geometry. The crankset gives a similar range of gears as a triple but applies less weight, making it very efficient for people who want to ride their bikes recreationally.
4. Chainring Teeth
The range of the teeth on the cassettes also changes the gearing range of a bike. The highest cog can have a range of 11 or 12, while the lowest cog can range from 23 to 28. There's an SRAM Apex model where the lowest cog goes up to 32.
The Sram Apex drivetrain is a new installation and offers a gearing range that is much greater than a triple but in the shape of a compact crankset. The SRAM apex drive train achieves this by increasing the teeth on the rear cassette, which wasn't initially possible in road bikes.
Thus, if you want something with great gearing, you should check that the bike you ride has an SRAM Apex drive train.
Read How to Convert a Mountain Bike to a Road Bike
5. Wheels
Wheels are one of the most important aspects of a bike, and thus you should be very careful when checking the wheels on a bike you wish to purchase.
They have a major impact on the following in a bike:
The weight of the bike
How well a bike accelerates and carries momentum
Bike aerodynamics and handling in wind
You can't have custom wheels in a bike. However, you can always ensure that the wheels are best suited for your purpose. You can also upgrade your wheelset once you have ridden the bike for a while.
However, in cycles, more advanced models tend to get lighter and faster wheels. If you're not someone who wants to ride a bicycle professionally, you might not need to look too deeply into the bike's wheels.
6. Pedals
Basic models for road bikes may come with platform pedals that also have toe cages for better grips. However, all the more expensive road bikes are sold without any pedals.
It's a little crazy, but the general perception states that these bikes are bought by people who know what specific pedals will be well-suited to them and then attach them additionally.
Bike makers assume the bike riders have a pedal system that they prefer. Thus, they don't have to waste time and material installing these.
Experienced bikers recommend you use a combination of cycling shoes and clip-in pedals so you can pedal efficiently. You can choose to not follow this suggestion. However, you might not get to the maximum potential of your biking capacity.
Pedals are available in several brands and models. If they're a little more expensive, they will likely have better bearings, lower friction, and less weight.
Read Best Road Bike Helmet Under $100
7. Brake Levers and Gear Shifters
Brake levers and gear shifters were used separately for a very long time, but now, they're used in combination. The performance of these combination levers-shifters depends on who is manufacturing them.
You can't decide which one is the best for you without trying several bikes and seeing which one is the best for you. There are models where the brake lever doubles as one of the gear shifters.
There are also models where the gear shifter is a smaller lever placed behind the brake lever and is independent of the brake mechanism.
You should ensure you can have a good grip on the handlebars so you can change gears and brake easily. For a better understanding of how brake levers and gear shifters work, you should try shifting and braking with your hands on top of the bars as well as when you're in the drop position.
8. Purpose
With road bikes, the most important thing you need to know when buying one is what purpose you wish to derive from the road bike. If your purpose is to commute, you might need a different bike from the one used for recreation.
Knowing the purpose behind you getting a bike will help you narrow down your options and identify the ideal bike for you.
You may also like:
Final Thoughts
It can be extremely hard to know what kind of road bike you should buy if you have no experience buying bikes. However, there are some basic aspects of a road bike you must look into to know whether the bike's components can meet your needs.
Aspects, like wheels, frame materials, and the frame itself, dictate whether the bike you choose for yourself will meet your expectations. Thus, you should look into these aspects before you buy yourself a road bike.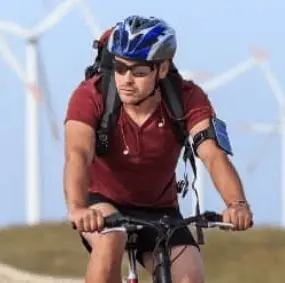 I am Michael, an avid rider and bike expert. I am here to provide, biking tips and expert advice on in-depth bike reviews covering features, capabilities, price range, and much more. Specially on electric bikes, mountain bikes, road bikes, etc. I will provide honest product reviews, along with expert advice on purchasing, training, and maintenance. Check out my complete profile.