Even if you have heard about hybrid bikes before, you might not know about the benefits and features that come with a top-quality hybrid bike. This bike type is incredibly popular because it has the potential to outperform an ordinary mountain bike or road bike due to its crossover capabilities.
So, let's dive right in and shed light on the potential that hybrid bikes hold so that you can make the right decision.
Let's Determine What Is A Hybrid Bike?
Breaking down the name, it's a combination of the best specifications of a mountain and a road bike. So basically, if a road bike and a mountain bike had a baby, you will have this particular hybrid bike as a result.
What makes them great is that they have a rugged body that makes them a great option for gravel riding and off-roading, but at the same time, their thin all-terrain type tires offer a wide range of gearing and make them pretty easy to use on simple roads especially if you want the extra speed.
Not only are they incredibly popular among people who like to ride the bike around the city, but they are also loved by athletes who like to off-road. Several hybrid bikes come with their pannier racks and mudguards which provide weather protection, while the disc brakes offer serious stopping potential.
These hybrid bikes are comfortable to use and can provide you with high mileage as well. Several riders prefer hybrid bikes because they offer a more relaxed riding position compared to a road bike.
To put it simply, a hybrid bike can turn into whatever you want it to be. You can be a commuter for work, or a touring guide by the end of the week!
Now that we have highlighted the main definition of a hybrid bike, let's discuss the benefits it potentially comes with.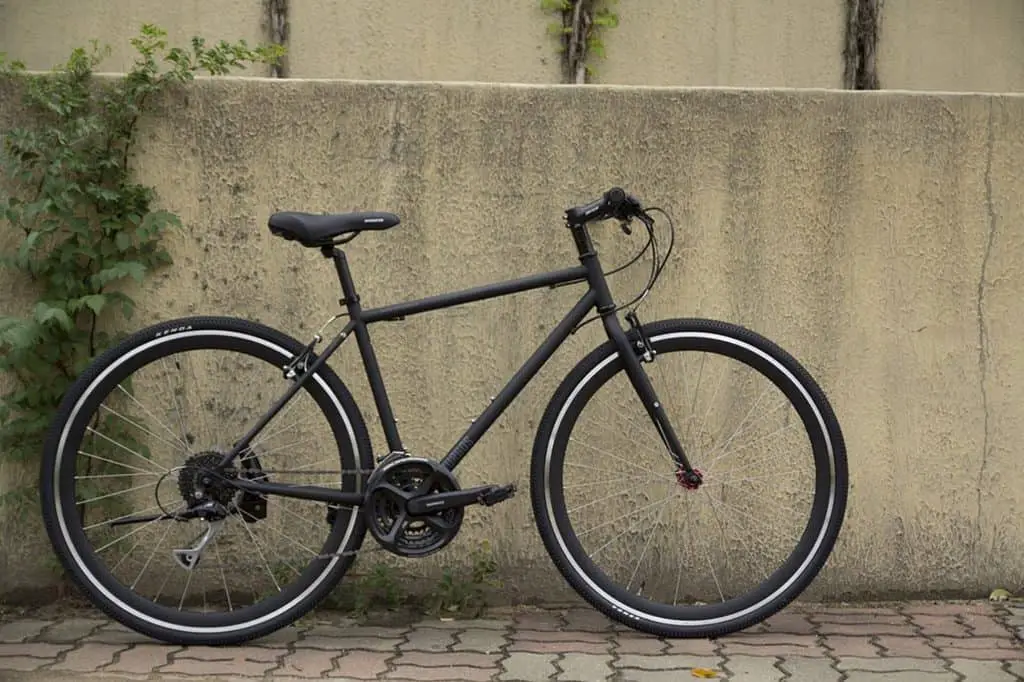 Benefits Of A Hybrid Bike
The biggest advantage of investing in a hybrid bike is that it takes the best features of a road bike and a mountain bike and mixes them. They are practically built for wear and tear which makes them perfect for those who often like to off-road. The metal frames, mudguards, and weather protection make the experience even better.
Hybrid bikes are incredibly comfortable to use because of their upright riding position, which many riders prefer over a mountain bike or a road bike especially when they want to use their hybrid bike for general day-to-day commuting.
Unlike road bikes and mountain bikes who perform well only in their own territory, hybrid bikes perform well both off and on the road. Their all-terrain tires are perfect for giving a comfortable ride on different kinds of terrains which makes this bike a great choice for commuting as well as touring.
On the other hand, hybrid bikes come with pannier racks that help you add luggage easily if you ever want to head out for an adventure. Investing in a hybrid bike also means you won't need to purchase a road bike or a mountain bike separately.
Since this bike gives you advantages of both, it literally gives you the best of both worlds no matter what you want to do. Running errands, commuting from one place to another, or having a trip with your friends, a hybrid bike has your back in it all.
Now, let's discuss the specific features that are important on a hybrid bike.
Read Mountain Bike vs. Road Bike vs. Hybrid Bike
Hybrid Bike Features And Specifications
In this section, we will discuss different specifications and features in detail to understand what makes a hybrid bike stand out from a road bike or a mountain bike:
Bike Frame
The bike frame is a key feature for hybrid bikes because it borrows features from both mountain and road bikes.
A typical hybrid bike frame is slender and reinforced in certain places to give it a more robust and sturdy nature. You can find hybrid bikes made from steel rather than carbon fiber or aluminum like typical road bikes.
On the other hand, you will also need to consider the difference in weight, because you will be because using your hybrid bike for commuting as well as adventure. These three materials weigh differently because aluminum and carbon are lighter but can make your bike more expensive.
Apart from this, a great thing about a hybrid bike is that its frame is incredibly comfortable. Since the hybrid bike is also used for general day-to-day commuting, the geometry is designed in a way to provide the rider with a more relaxed experience.
The handlebar posts and seating can always be tweaked to increase the performance of an adventure or off-roading ride. In short, you can use your hybrid bike for anything with adjustable features and maximum comfort.
Bike Handlebars
Common handlebars found on a road bike are designed for gear changing, body positioning as well as controlling this speed. Mountain bikes on the other hand have flat handlebars that make it more comfortable for sitting upright on an adventure trail and off-roading.
While on the other hand, a hybrid bike features comfortable flat style handlebars which can be easily switched to curved style handlebars when you're riding on the road more than off-road commuting. To put it simply, with a hybrid bike you can switch out flat or curved style handlebars for whatever adventure you are about to begin.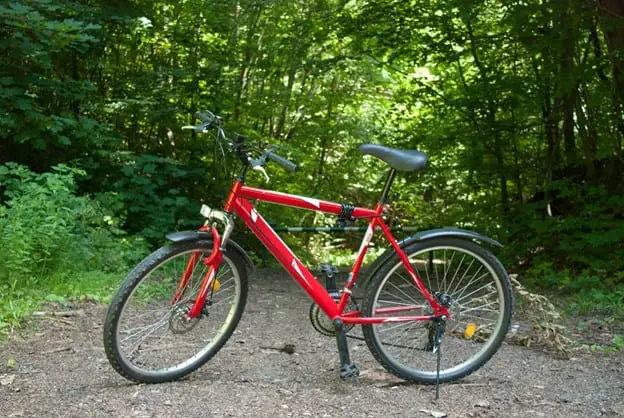 Read Solar Charger for Electric Bike
Bike Tires & Wheels
Tires on a hybrid bike aren't necessarily thin like the ones on a road bike or thick like the ones you would see on a mountain bike. Instead, a hybrid bike has all-terrain tires that can help you ride on trails, grass, as well as a muddy countryside.
If you are looking for a bike to only commute on a city-style road, it is wise to choose a good quality road bike rather than a hybrid one.
A hybrid bike provides you with wheels that can work efficiently on regular roads as well as adventurous trails. However, a road bike will give you a more slick performance for general day-to-day commuting only.
Forks & Suspension
As someone who wants to purchase a hybrid bike, there are a few choices that you have to make when it comes to forks and suspension systems. A fork holds the front wheels in place, while the suspension absorbs the blows from some uneven terrain and bumps.
If you are planning to use your hybrid bike for more adventurous style rides, then it is best if you opt for additional suspension features rather than a singular rigid front fork. This will give you a smoother performance when you want to take your hybrid bike for an adventurous ride.
Front suspension is commonly found on mountain bikes while hybrid bikes come with more rigid forks. Even though hybrid bikes can efficiently work on different kinds of terrains, they are not a great option for hardcore off-road adventures. This is one of the reasons why money hybrid bikes do not come with front suspensions.
However, their metal or carbon forks offer a reliable and simple solution for most terrains and normal roads.
Brakes
A general road bike has V-brakes that nest themselves on the wheel frames. On the other hand, mountain bikes offer disc brakes that perform better for tight turns and hilly areas.
A hybrid bike can feature either of the two breaks mentioned above or even more complex ones like fluid-based SRAM systems that give you superior stopping power on different kinds of rides regardless of the terrain that you are on.
A standard V-brake is more than sufficient for country riding on the weekend, so you can imagine the kind of potential fluid-based SRAM systems can give you.
Panniers & Accessories
Panniers and accessories are an integral part of a hybrid bike especially if you are going to use it for adventure trips. If you are planning a trip for the weekend, you will definitely have to consider how many add-ons you can put on your bike frame.
This is where panniers come in handy because they can hold your luggage as well as essential things such as clothes, laptops, and chargers.
Another thing to consider is how you will store these things and save them from the weather at the same time. Weatherproofing panniers and racks on hybrid bikes help you solve this problem. Accessories for hybrid bikes also include water bottle cages and holders which help you carry water and stay hydrated during your ride.
If you are someone who would be adding several accessories to your bike frame, make sure you always check how many eyelets your bike frame has available to add things like baskets and racks.
Read What Is a Single Speed bike
How Much Should You Spend On A Hybrid Bike?
Considering all the features and specifications that we just discussed, ideally how much should you be spending on a hybrid bike?
Well, the simple answer comes down to assessing how much you want to invest in your hybrid bike's additional features and materials. If you want to go for a carbon frame, high-performance disc brakes, and smooth gears that will make your ride comfortable, then of course it is going to be a pretty expensive deal.
However, if you want a bike that can get you to work and be a great activity on the weekends, a cheaper price point will still do you wonders. Considering the information highlighted above, you can decide about what kind of hybrid bike will suit you best.
Our Top Four Hybrid Bike Picks
Here is our hand-picked selection of the best hybrid bikes you can find in the market:
Bike Name
Specifications
Description
Voodoo Marasa
Lightweight
Alloy frame
Shimano gears
Hydraulic disc brakes
This particular bike is the closest you can get to a mountain bike because it has the perfect muddy thrashers for a countryside. This Voodoo hybrid bike is something you cannot go wrong with. This brand is known for creating high end mountain bikes that can help you off-road like a pro. Their hybrid ranges offer several superior features that any bike rider would enjoy.
      Boardman HYB 8.6
Lightweight
Carbon forks
Shimano gears
Hydraulic brakes
One of the best in the market, the Boardman hybrid bike is much closer to a superior quality road bike in terms of features. It is definitely worth a try because of its high performance and exceptionally lightweight bike frames. The Boardman hybrid bikes are also famous for comfortable handlebars and robust hardware such as gear and brakes.
      Pendleton Somerby
Alloy frame
Shimano gears
Alloy V-brakes
The Pendleton Somerby is a great option for women who are looking for hybrid bikes. Not only does it offer the best features from mountain and road bikes combined, but it also adds to your overall style. High-performance brakes gears, suspension seats, along with plenty of space for baskets and panniers elevate its standard for the 21st century.
Carrera Crossfire 2
Lightweight
Aluminum frame
Shimano gears
Mechanical disc brakes
if you are looking for a new bike to commute to work but also need something to explore countryside trails, then the Carrera hybrid bike is a great starting point. The lightweight bike frame and efficient performance makes this hybrid bike a great value for your money. Not only do you get this bike easy on the pocket, but its solid performance is also absolutely worth it.
Which Bike Size Should You Go For?
It is crucial for you to get the right size bike in order to cycle safely and stay comfortable during your trip. If the size does not match your body, your ride will not be efficient and can result in bodily pain.
Before you think of purchasing a bike, it is essential to check out an online sizing guide to guide you about your height and equivalent frame size that will be perfect for you.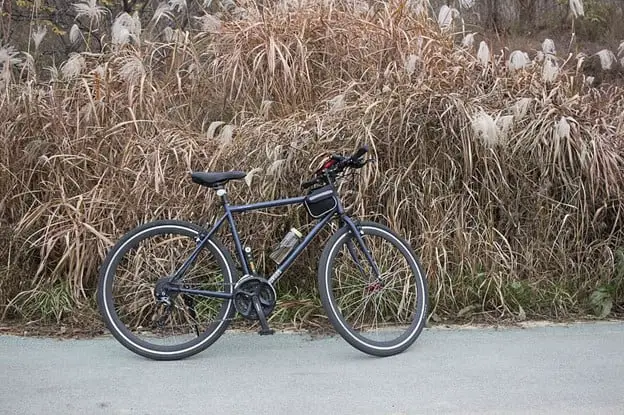 Why Is Bike Sizing Important?
While trying to find your size on bike sizing charts or bike sizing calculators can often lead you to inconclusive results. In some cases, you might be offered two different frame sizes which can be a confusing state to be in. There are situations where both a small and a large bike frame may be suitable for your body type.
Well, how can you narrow this down? One of the most essential things that you need to understand while getting the best frame size for you is your reach. This is basically how long you will have to reach in order to maintain your riding position on a bike. This includes your upper body length and how your arms grasp onto the handles.
If your body trunk is longer than average size, then it is a wise choice to go for a larger bike frame. However, if you have a shorter trunk length than average, then a smaller bike size will be a good fit.
But, if you are still unsure about the bike sizing, and which frame would be right for you, then it is best to go and actually try out a bike in person. You can go to your nearest store and try out which bike suits your body type best.
Do Hybrid Bikes Have An Electric Variant?
A hybrid bike can also be an electric hybrid variant which is more commonly known as an E-bike. Electric hybrids can offer additional battery time and superior motor power which helps you take on more strain on the pedals. This is especially helpful when you are cycling uphill or trying to increase your speed in a higher gear.
Even though it won't propel you, but it will give you a boost of power to make things incredibly easy. You won't have to pedal as hard, and you can reach your destination with less effort which otherwise can be pretty tiresome.
What Is The Major Difference Between Electric Bikes And Hybrid Bikes?
A hybrid bike is a specific bike type with a mixture of the best features that a mountain and road bike has. On the other hand, an electric bike comes with batteries that a rider can turn on when they need some extra power while peddling. These batteries can also completely take over the pedals if needed by the rider.
You may also like the below bike articles:
Wrapping Up
Hybrid bikes give you the best of both worlds when you do not want to settle for one. From commuting to countryside adventures, the hybrid bike is a great investment when you want it all!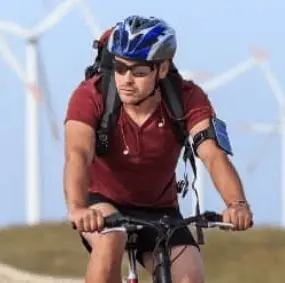 I am Michael, an avid rider and bike expert. I am here to provide, biking tips and expert advice on in-depth bike reviews covering features, capabilities, price range, and much more. Specially on electric bikes, mountain bikes, road bikes, etc. I will provide honest product reviews, along with expert advice on purchasing, training, and maintenance. Check out my complete profile.