4 Wheel electric bikes are still uncommon among most commercial electric bike lovers. Some of the best were created as a result of enthusiast projects or crowdfunding efforts. Most of them don't even look like bikes. They often come in the shape of cars. However, does that mean they're not up to the task? Not at all.
4 Wheel electric bikes are more than up to the challenge and offer even more comfort than normal 2-wheelers. They are known for their weather protection and rugged design. They can transport their passengers at maximum comfort, as well as several software improvements.
One of the reasons these electric bikes are also becoming more popular is the environmental factor.
To cut down on pollution, these car-like bikes are a great alternative to cars. While they may not provide use for every single commuter, they are a reasonably-priced alternative.
You may like How Much Cargo Can an eBike Carry in 2021? and Best 1000 Watt Electric Bikes.
Let's take a look at some of the best offerings that this niche has to offer. So here are the best 4 wheel electric bike.
Best 4 wheel electric bike
Here are the Top 4 best 4 wheel electric bikes.
1. The PodRide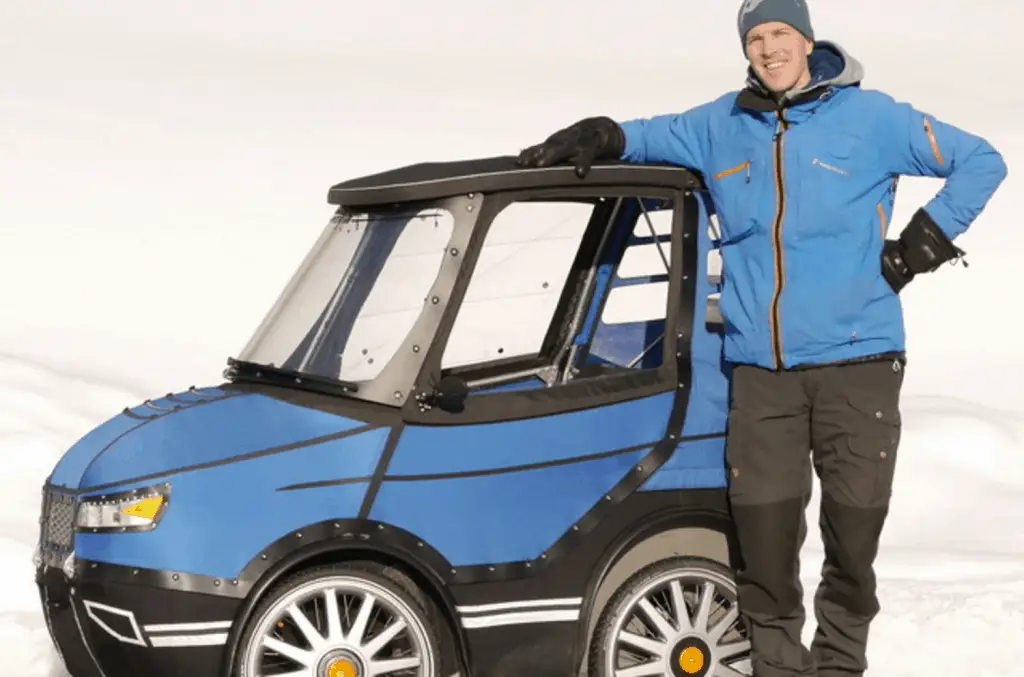 The PodRide first emerged a few years ago as a result of the persistence and skills of Swedish engineer Mikael Kjellman.
It appeared on Indiegogo for funding and it reached its goal of $30,000 required funding goal. Right now, the total crowdfunding stands at $108,238 via 1,211 backers.
The bike's exterior looks like a small car and in every sense of the word resembles a toy car. However, the PodRide is no toy.
The entire top of the shell can flip forward, which makes climbing in and out quite easy. When you need to close the shell to protect yourself from the weather, you can do so.
That's why the bike is so convenient during rain or in the snow. You can remain dry and warm if you opt for this design.
As for the front and rear suspensions, the entire bike system remains smooth with a few bumps.
Kjellman has claimed that the PodRide can go as far as 37 miles on a single charge. A maximum speed of over 25 kilometers per hour can be achieved with the PodRide.
Specifications
The PodRide has gone through several cycles of improvements ever since it was first developed in 2016.
However, its specifications have remained largely the same. Its price tag, between $2000 and $4000, hasn't really changed all that much.
The engine is fitted with a 250-watt mid-drive motor. This is for European customers.
However, for American customers, there is currently a 500-watt version under development. The prototype is 70 kg, so it's much heavier than a bike, yet much lighter than a car.
The final design of the American version is aimed to be at least 10 and at most 20 kg lighter. The bike also has an LED headlamp with indicators and brake lights.
It also has heated windshield wipers and a soft seat with back support. Air suspension and studded tires are also included for winter.
The entire functionality depends on a pedal assist mechanism. When the bike reaches about 25 km/h f speed, the motor will stop assisting. The rider may continue to pedal faster if they so wish.
The PodRide also allows for the changing of gears while you're stationary. With smooth gear progression, the PodRide is one of the best 4 wheel electric bike offerings in the world. 
The Trunk
Yes, there is a trunk in this bike. Since it has the same height as a small car, and a waterproof body, it has a trunk too.  You can use it for a few shopping bags or you duffle bag.
What can the PodRide Handle?
At present, the PodRide can handle both paved and dirt roads for both adventures and regular commute. The front and rear of the bike have disc brakes. Both the front and rear both have internal hub gears as well.
At present, there is also a 3-wheel version in development. Orders for the new PodRide will be announced in mid-2021.
2. The CityQ 4-Wheel Electric Bicycle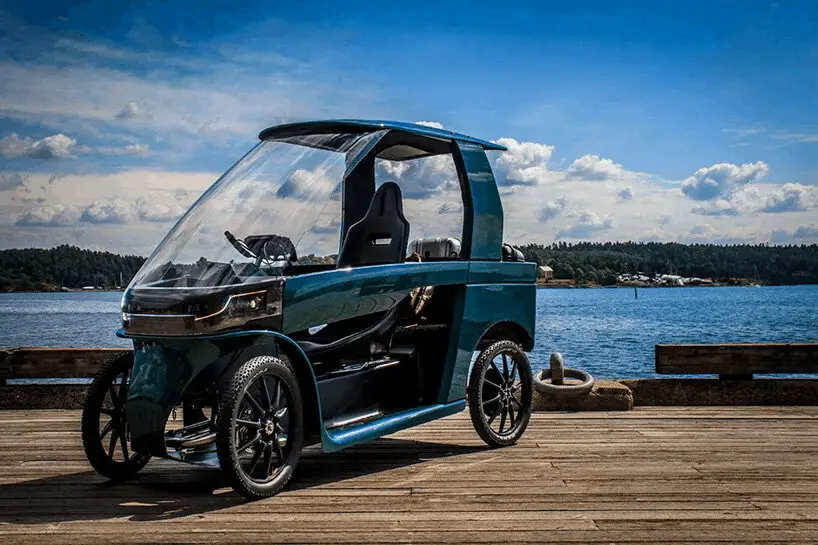 The CityQ has been developed to make the bicycling experience more comfortable for everyone. In the winter season and bad weather, this vehicle is designed to keep you dry and safe. It measures just 87 centimeters in length and weighs about 70 kilograms.
Features
The CityQ features a 250 W motor with a maximum speed of 25 km/h. It has two batteries, each with a range of 70-100 km depending on the use. The bike has enough space to fit in an adult and two children or two adults.
It also has space to fit in some luggage. You don't have to worry about gears and chains with this one either. It has a software-managed drivetrain like the one found in electric cars.
That's the reason that the CityQ is called a car e-bike instead of a great 4-wheel electric bike.
The software driven drivetrain enables the CityQ to have several software enabled modes. For example, it can be programmed to go in reverse, shift into cruise control, etc. It has regenerating brakes and a heavy cargo mode. It even has automatic gearing to boot.
Miscellaneous
You can charge the CityQ e-bike anywhere in your home with a normal power outlet. You can also make a full turn on a road one-lane wide with a single maneuver. That's because the turning circle of the CityQ is just 5 m in radius.
The App
There is even an app included in the CityQ package which you can use to not just open and lock the e-bike. You can even use the app to rent it out and track its movements.
You can use the app to also shift into different modes. Just this feature makes it one of the best 4 wheel electric bike offerings.
Price
The price of the CityQ is currently at 7450€. That is a big price tag and that too without VAT and freight included. Discounts opportunities however, will be available to Ambassadors that buy the coupons.
At the moment, the CityQ e-bike is only available for pre-order. You can however, purchase a 250€ coupon for just 49€. This will give you the benefit of renting, leasing, or buying the CityQ when it becomes available.
By the end of 2021, you could also be invited to rent, test, or buy a car e-bike in a city close to you. 
3. Podbike Velomobile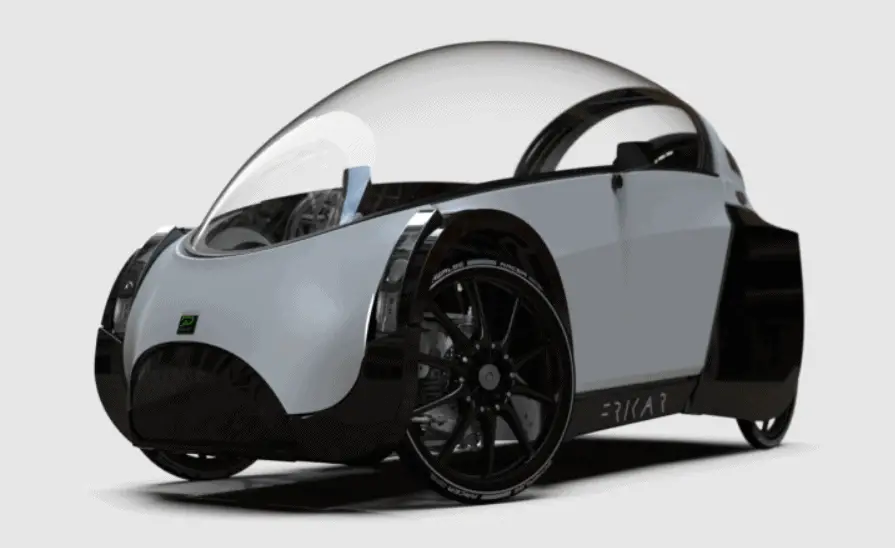 The Podbike is another variation on the car/ebike design. However, the main difference between this one and the others is that it has a very futuristic design. It looks like something out of a videogame. It's been built for the average commute in Europe.
Trips under 15 kilometers count for 80% of all car rides in Norway for example. Hence, the Podbike is built to handle these trips without pollution. Such short trips can all be filled with these kinds of vehicles and reduce the pollution significantly.
The Podbike has a cover like the CityQ and the PodRide. It can handle the elements like snow and rain and under the cover it fits an adult and a child. It can also work as a bicycle trailer tower for two additional children.
Features
As with EU regulations, the E-bike has a 250 W battery and can travel at a maximum of 25 km/h. It can be driven anywhere normal bikes can. Like the other 4-wheel electric bikes, you can only pre-order it right now.
The range of the bike is much higher than the others listed here. You can drive it for 60-180 kilometers on a single charge. At the moment, this is the longest range electric bike promised to customers.
As with other electric bikes, it operates on a pedal-assist engine which takes over after you reach 25 km/h. Even if you run out of juice, you can still pedal home with the bike. The Podbike can also charge through any outlet and doesn't require any charging stations.
Benefits
The Podbike is a very low-cost alternative to small passenger cars. Due to its zero emissions, it's also great for its customers because of tax breaks. You don't need to fill any road taxes every year and there's no registration required.
There is also no requirement for a driver's license. It also offers access to bike lanes and roads as well. Its small size also means that you can park it easily.
Production is said to begin in late and the bike is available for pre-order right now.
4. EV-4 Quad E-Bike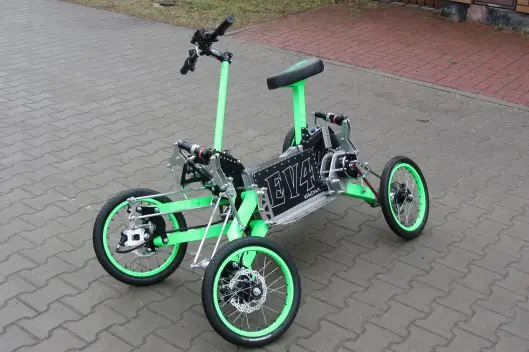 The EV-4 is the most bike-like E-bike on this list. It doesn't have the look of a small car like the rest on this list. It also has a very mechanical design to it that doesn't appeal to the aesthetic sense. However, that' doesn't mean that it can't hold its own.
The EV-4 Quadbike was invented by Polish inventor and CEO of Aero-Service, Jacek Skopinski. He designed it for the purpose of getting out of traffic jams in his city. He developed this mode of fast transport which was also clean.
Since it has a four-wheel, the EV-4 Quadbike is extremely stable. It can comfortably stay on the road and still fit in bike lanes.
It's also very cheap to run and maintain. It is made with durable aeronautical aluminum alloy. That makes it very low in weight.
The suspension system is designed to keep the center of gravity low. It is equipped with shock absorbers and adjustable aluminum wishbones. These can change shape according to the requirements of the terrain as well.
Features
The bike is powered by a 500 W electric motor with a 36 V Li-ion battery pack. There are two battery pack types, 20 Ah, and 40 Ah. The former has a range of 30-50 km while the latter can go double that distance.
At the moment, the top speed for this bike is at 40 km/h. Hence, this is the fastest E-bike that is on this list.
The size of the EV-4 Quadbike is the most attractive thin about it. It is 150 cm long and 60 cm wide. It weighs only 41 kg without the battery pack. Put together, the total weighs about 47-53 kg.
A few other cool features elevate this bike above similar offerings of the same type. For example, there is an LCD display. It shows you the remaining charge and the speed.
The capabilities of this bike go beyond the normal car-like models. It doesn't just give you stability, but it can lean into corners like two-wheelers.
However, the kicker is that this bike costs $7000. That is a steep price tag. You can get any of the others on this list for the same price. Hence, there is a choice to make. What do you prefer more? Speed, or comfort.
How to Choose Your Next Ebike?
There are a few things you need to consider when buying an E-bike. Looking at these requirements will help you make the right decision.
What are Your Needs?
You should have a goal when you're buying an E-bike. When someone buys a car, they want something that can get them where they want to go.
However, E-bikes are different. They're supposed to save you money and be environmentally friendly. So go for the option that has all the things you need.
Who is Your Retailer?
Choose your brand carefully. Your retailer should be a trusted name in e-bikes. No other brands without any certifications or reviews can cut it. Make sure it's a brand that you've heard of, or you've seen recommended or lauded online.
Have You Tested the Bikes?
Don't make the mistake of not testing the bike first. Go for a drive or a ride. Make sure that you're comfortable and that you're Ok with paying as much as you are. Make sure that you trust the purchase you're making. If something doesn't feel right, then reject the offer.
Do You Have High Expectations?
You should. An e-bike is a great form of transportation. It's a joy to use and should be fun and comforting. Plus, you'll be shelling out thousands of dollars for it. It shouldn't be cheap and shouldn't appear cheap either.
Go for the best design and the highest quality features. If there is something that's a deal breaker, don't consider the bike at all. 
Is there a Warranty?
Always get an e-bike with a warranty. Regardless of whether the bike costs $2000 or $20000, it should have a warranty.
A two-year warranty on parts, the motor, and the battery is extremely useful. It's reasonable to expect that elective bike manufacturers have a warranty if their product sells for $2000 or more.
Trust Your Intuition
Make sure you don't believe everything you read online. If a product is too good to be true, it usually is. If a bike is from a brand you've never heard of before, don't trust it.
If it has no reviews and no one has ever bought one as far as you know, stay away. Trust your gut on this one.
How Efficient is Your Purchase?
You should do your research on how efficient the bike you're buying is. Even if it's not one of the best 4 wheel electric bike offerings, it should be enough to last you years. You shouldn't be going crazy trying to charge it every few hours.
Also being environmentally sustainable is about making the product last for as long as possible. The efficiency of the model will make sure that you don't have to plug it in as much.
That way you will be able to save on power and make it go through as many cycles as possible.
Quality and Service Both Count
Remember that quality and service are both equally important. If the bike you're buying has gotten great reviews, check out the company's services too.
If you experience a product failure or a software bug, their service team should accommodate you. Find out from a fellow purchaser or customer what their experience has been.
Better yet, look up reviews, or test the customer service by calling them before you get the bike. At least this way, you'll be sure what kind of company you're dealing with.
Buy from a Local Brand
You should buy from a local brand if possible. Even the best foreign brands will leave you without options if something goes wrong. In the worst-case scenario, if you need a part replacement or a quick fix, you should be able to take the bike in for repairs.
Never underestimate the value of having the headquarters of the company at your doorstep.
You Get What You Pay For
At the moment, E-bikes are new. Hence, if you don't splurge a little on the brand, you will get a bad deal. It pays to choose a branded E-bike because you won't get a clunker. Right now they're not as ubiquitous as they need to be to get the price down.
Don't make the mistake of cheapening out. With this guide, you should be able to get the right best 4 wheel electric bike for yourself.
You may like the following e-bike articles: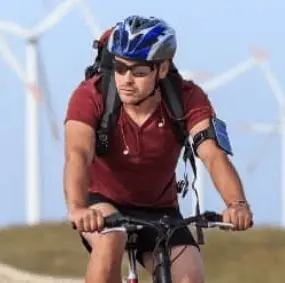 I am Michael, an avid rider and bike expert. I am here to provide, biking tips and expert advice on in-depth bike reviews covering features, capabilities, price range, and much more. Specially on electric bikes, mountain bikes, road bikes, etc. I will provide honest product reviews, along with expert advice on purchasing, training, and maintenance. Check out my complete profile.