Want to know how to turn your bike into an electric bike?
This DIY guide is just what you need to upgrade your regular bike!
There are several benefits of electric biking. You must have seen thrill-seekers riding it along a dirt trail or tourists getting around town on it. They are super convenient, stylish, and adventurous.
Above all, they are good for the environment as well as your health. Providing a big power boost, these bikes encourage you to take on the hills that you would've never imagined climbing with a regular bike.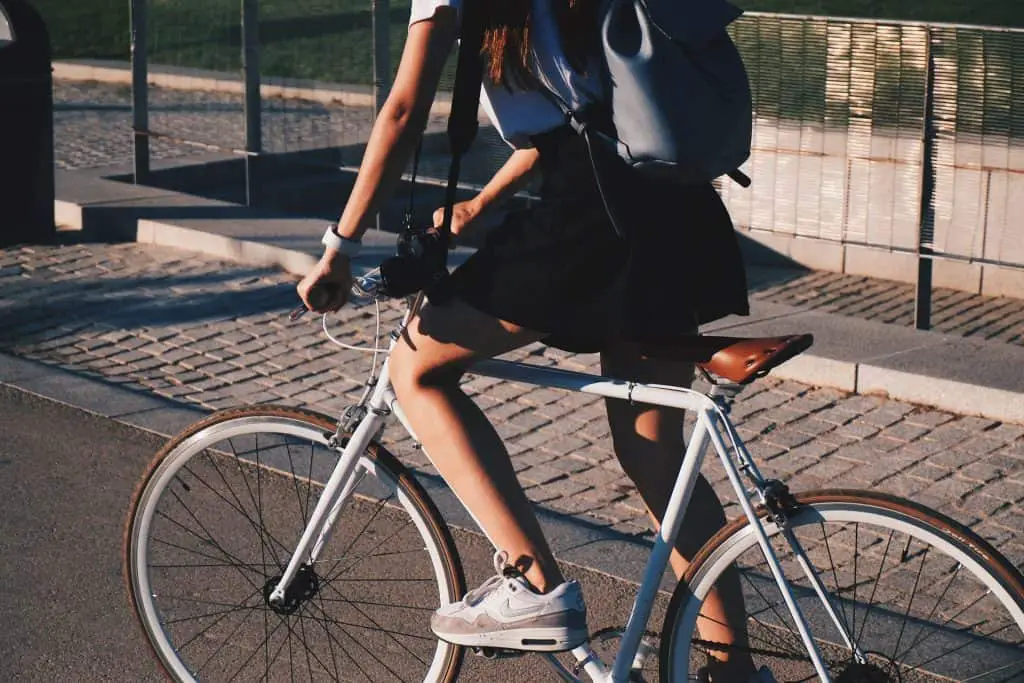 More and more people across the U.S. are inclining towards using electric bikes as a reliable alternative for commuting. With these electric bikes, you can cut down your fuel costs to a significant extent.   
All these benefits aside, electric bikes can be quite expensive. You get what you pay for, right? Moreover, they can be too heavy for manual use when you are not in the mood for an electric-powered ride.
But what if we tell you that you can combine the benefits of an electric bike with the comfort of a regular ride, that too without spending thousands of dollars?
Yes, you heard that right!
You can turn your bike into an electric bike to enjoy your regular rides with the added power boost. You can then roam around, do errands, and commute to work in style.
A regular bike-turned e-bike may be the ideal transportation for you, especially if you live in a hilly area or have to travel long distances every day.
You may like Electric Bike Vs. Hybrid Bike – Which One Should You Choose?
How to Turn Your Bike into an Electric Bike
Essentially, the major differences between a traditional bike and an electric bike are in the battery, motor, and control panel. You can easily upgrade your bike into an electric bike with an e-bike conversion kit.
Generally, all you need to give your bike an upgrade is a motor, throttle, battery, speed controller, and electric brake handles. All these components must be compatible with each other.
To make things easier and more convenient for you, electric bike conversion kits provide the whole set of components in one place, eliminating the need for you to mix and match different parts.
Even with the most basic setup, you can make your regular bike reach up to 25 km/h with an e-bike conversion kit.
But first, let's discuss different kinds of electric bikes.
Which Type of e-Bike is the Best for You?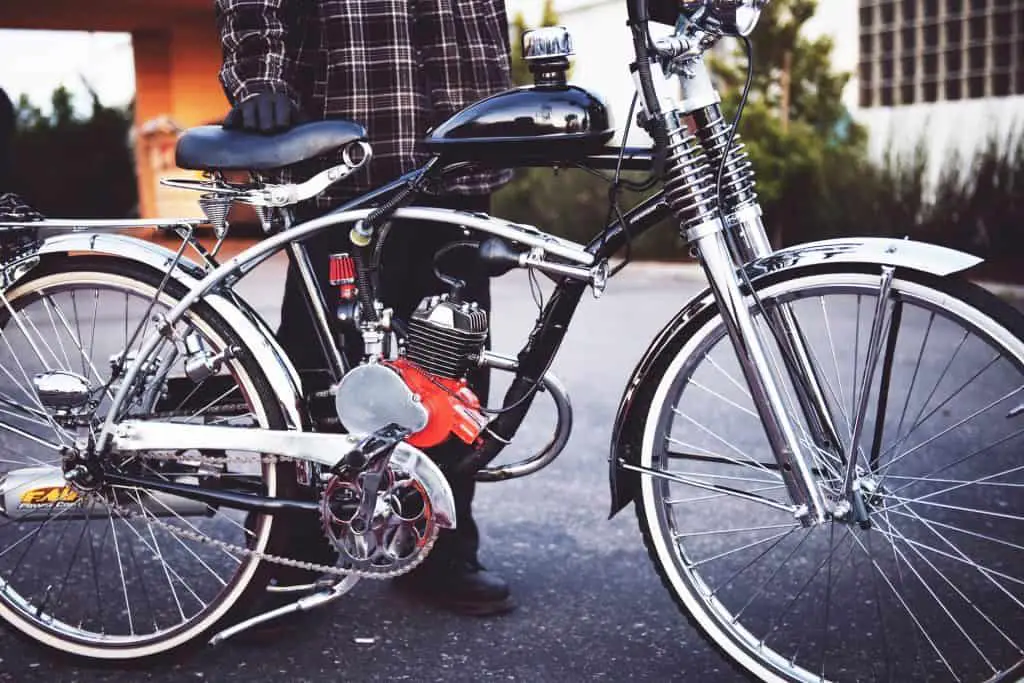 There are three types of electric bikes out there.
1. Pedal-Assist
With a pedal-assist electric bike, you're supposed to activate the motor by pedaling. The power from the motor makes pedaling easier and faster. This type of electric bike is ideal for beginners who are used to riding traditional bikes and have never tried an e-bike before.    
2. Throttle-Assist
Throttle-assist electric bikes are also super easy to ride. There's no need to pedal since a throttle is connected to the motor to power the wheels. These bikes are ideal for the elderly.
3. Speed Pedelec
This type of e-bike is almost the same as a pedal-assist bike. The only difference is the speed.
While you are busy pedaling the speed pedelec, the power of a strong motor allows you to accelerate to higher speeds. That being said, many U.S. cities require you to have a license for riding a speed pedelec.
You may not even be allowed to ride it on the regular bike paths. You will also need a permit if you reside in Europe.
Read How to Make a Bike Seat More Comfortable
Choosing an e-Bike Conversion Kit for Your Bike
An e-bike conversion kit can cost anything from $200 to $2000. With some kits, you get a wheel and a set of other components that can easily be attached to your bike. The installation process may be as simple as changing a car's tire.
There are different types of e-bike conversation kits. You'll have to check the kit's construction along with the value, warranty, replacement parts, and degree of customer support it offers before making a purchase.
The main types of conversion kits are discussed below.       
1. Front Wheel Conversion Kit
If you are looking for the easiest way to convert your regular bike into an electric bike, you should consider getting a front wheel conversion kit. Once you have your hands on this kit, all you have to do is replace the front wheel of your bike with a mechanical one.
That's it. You don't have to make any other changes to your bike.
That being said, it is important to take a few things into consideration before investing in a front wheel hub motor. You need to make sure that the weight is evenly distributed from the bike's front to the rear.
A front hub motor will work well with a battery mounted in the middle or back of the frame. With this placement, the weight will be spread evenly.
Please note that the center of your bike's front wheel is where the motor may be installed. This might make it a bit uncomfortable or challenging for you to steer the bike.
Also, if you are thinking of installing a powerful motor, you will have to be very careful, as it may spin out of the tire because of the lack of traction. This issue can be solved with a torque arm, though.
Pros:
Quick and easy installation
Beginner-friendly
The motor is not connected with the rest of the bike
Offers health and fitness benefits by allowing you to pedal
Even distribution of weight
Excellent compatibility with hub gear bikes
Cons:
Difficulty steering the bike because of the placement of the motor on the front wheel
Less traction may result in the spinning out of the front wheel
Extra pressure on the front fork
Some riders complain that they don't feel much in control because of the pulling feeling they get while riding the bike
Who Should Get This Type of e-Bike Conversion Kit?
Front-wheel conversion kits are suitable for daily use for people who need to commute to school or work. Ideally, you should ride your bike on smooth paved roads.
2. Rear Wheel Conversion Kits
Contrary to front-wheel conversion kits, a rear hub motor gives a pulling feeling. Hence, it allows you to enjoy more grip and control over your bike.
If you explore different models of electric bikes in the market, you will notice that most of them come with a rear hub motor. This is why many people prefer getting a rear wheel conversion kit for their regular bike.
Essentially, if you like to have fun riding at higher speeds, you must look for a powerful motor. A rear-wheel conversion kit is ideal for a 500-watt motor.
On the downside, weight distribution may not be even with rear-wheel conversion kits. This might make it difficult for you to carry the bike around.
Pros:
Better control
Increased acceleration
Little to no chances of the wheel spinning out
Improved traction regardless of the condition
Allows choice of powerful motors
Cons:
The installation may be a little complicated, as it involves putting a bike gear system on the rear wheel
The weight problem may make the bike harder to carry around
Not suitable for use with internal hub gears
7-speed freewheel limitation
Read Electric Bike vs Petrol Bike
Who Should Get a Rear Wheel Conversion Kit?
If you are a fan of mountain bikes or like to off-road for the thrill, this conversion kit is for you!
3. Mid-Drive Conversion Kit
In this type of e-bike conversion kit, a motor is fitted at the center of the bike using cranks and a bottom bracket. When it comes to even distribution of the weight, the mid-drive conversion kit is the best option.
However, you will have to pay more for this conversion kit. An added benefit is that you can fit a torque sensor, thanks to the position of the motor on the bike. If you want to exploit the optimal potential of your drivetrain, you should consider investing in a mid-drive conversion kit.
Pros:
The motor is lightweight, which makes it easier for you to carry the bike around
Does not affect the wheels
Low and centered distribution of weight
Allows maximum use of the bike's gear system
Works well with gear hub systems 
Cons:
The price is a little higher
Installation can be tricky
Wear and tear is likely in drivetrain components
Who Should Get a Mid-Drive Conversion Kit?
Only experienced bike riders and people who love extreme mountainous conditions should consider getting a mid-drive conversion kit.  
Why Should You Consider Converting Your Regular Bike into an Electric Bike?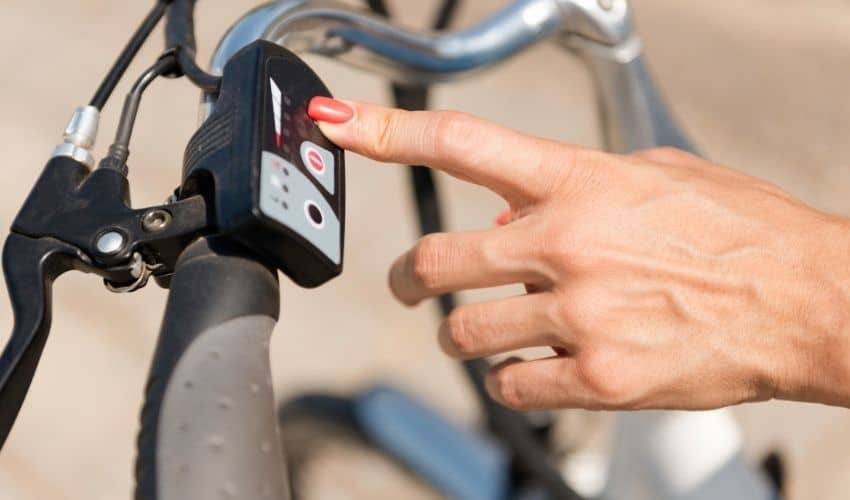 When people have a regular bike as well as enough money to buy an e-bike, they often get confused if they should upgrade their current bike or simply purchase an electric model of their choice.
If you are caught in a similar situation, we'd recommend you upgrade your bike. Why would you want to splurge on an e-bike when you can get one at a fraction of the cost?
Apart from the price, we have two convincing reasons for you to convert your existing bike into an electric bike. First of all, you must have a sentimental value attached to the traditional bike you own. By upgrading, you can enjoy the ride of an e-bike without letting go of your beloved bike.
Secondly, you get to customize your bike by picking the components of your choice. You will enjoy the whole process even more if you already know your way around bike systems.
A Step-By-Step Guide to Upgrading Your Regular Bike
Without further ado, let's answer the burning question, "How to turn your bike into an electric bike?"
What You Need
You will need the following tools to convert your bike into an electric bike if you decide not to purchase an e-bike conversion kit.
Motor
Battery
Throttle
Electric brakes
Control panel
6 Steps You Need to Follow
Whether you purchase an e-bike conversion kit or hand-pick each component, you will have to follow the steps below very carefully.
Please note that you will be required to follow these general steps regardless of the type of conversion kit you choose. The only difference will be in the installation of the motor.
Typically, the installation method varies for different brands and models. However, the guidebook that comes with the kit should make things easy for you.
Please see the steps below.   
Step 1: Gather Your Resources
The first step is to make sure you have all the necessary tools with you. You may pick a conversion kit, depending on your unique needs and preferences or cherry-pick all the items before moving to the next step.
Step 2: Work on Your Regular Bike
Before installing any of the components, you need to make sure that your regular bike is sturdy enough to support them. In other words, your bike should be able to carry the weight of the motor and battery.
The best way to go about this is by fixing the old frame and giving it a fresh coat of paint. Now, your bike will be durable and stylish!
Step 3: Install the Motor
Next, go through the instructions on motor installation in the guide provided with the conversion kit. Make sure you understand everything accurately. It is super important that you stick to the guidelines while installing the motor.
In general, if you have a front-wheel conversion kit, you are required to replace the front tire and connect the motor. With a rear-wheel kit, things may get a bit tricky with the rear gears coming off. For a mid-drive conversion kit, you will have to install the motor using a bracket.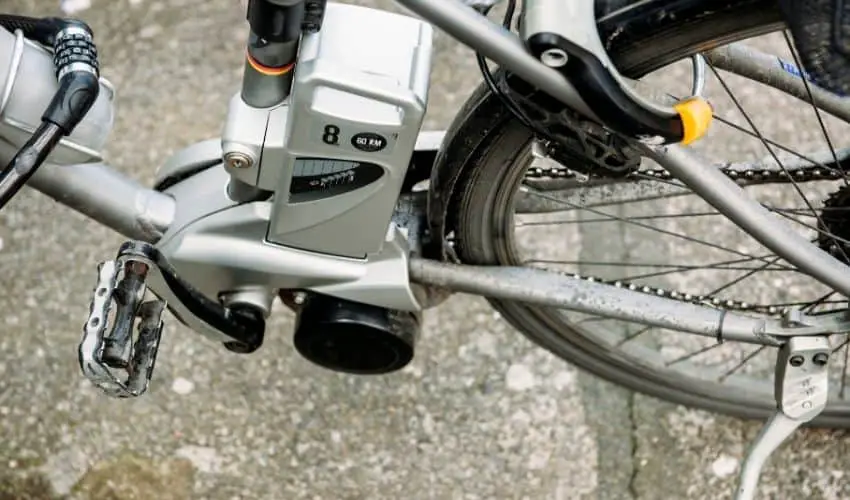 Step 4: Connect the Throttle
Once you have successfully installed the motor on your bike, it is time to connect the throttle close to the level of the bike's gear. In case there are handlebar grips on your bike, they will have to be removed. Please be careful while doing this, as it may get a little tricky.
You can try using soapy water to get things going. Simply, pry open the handlebar grips using a screwdriver and quickly pour some soapy water into the opening. Do a little wiggling until the handlebars are loose and can easily be taken out by sliding.
Now, install the throttle as per the instructions given in the manual. It should be close to the gear lever and the switch must be on the other side. You must then connect the wires to the motor before tying them up with zip-ties. Make sure there are no wires dangling around.
Step 5: Install the Battery
In order to ensure optimal safety and convenience, consider placing the battery in a box made of wood, metal, or plastic. You can make the box yourself, depending on the battery size. Don't forget to make a hole in the box for the wires to pass through.
Once everything is done, place the box on your bike in a way that it doesn't restrict your movements and come in the way of an enjoyable ride. Then, connect the wires to the battery.
Voila! Your e-bike is ready for a ride!
Step 6: Go for a Test Ride
It's time to take your bike out for a test ride. Everything should go smoothly, given that you followed all the steps carefully. Get ready to show your upgraded bike off to your friends and neighbors!
Now that you know how to turn your bike into an electric bike, you don't have to worry about spending thousands of dollars on an electric bike. But before you take on this DIY route, remember that choosing the right e-bike conversion kit is the key.
You may like the following ebike articles:
Summing It Up
If you have always wanted to jump on the bandwagon with the e-bike trend but can't afford to buy one, you can simply convert your existing bike into an electric version. Not only will you be able to keep your bike but also upgrade it.
Using this DIY guide, pick the kind of e-bike you want and choose the ideal e-bike conversion kit for your needs. By following six easy steps, you can make an e-bike at home.
You've reached the end of our guide on how to turn your bike into an electric bike. Now, you can simply upgrade your current traditional bike and forget about splurging on an electric bike.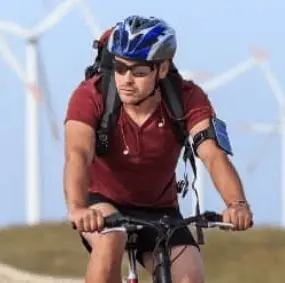 I am Michael, an avid rider and bike expert. I am here to provide, biking tips and expert advice on in-depth bike reviews covering features, capabilities, price range, and much more. Specially on electric bikes, mountain bikes, road bikes, etc. I will provide honest product reviews, along with expert advice on purchasing, training, and maintenance. Check out my complete profile.