Electric bikes are all about comfort and convenience, but folding electric bikes take things a step further. It is hard to beat the convenience of a bike that is not only sturdy and powerful enough to take you long distances but also folds up and fits under your desk or in the trunk of your car!
Unlike regular electric bikes, you can take folding bikes along with you on out of town trips and tours. Plus, you can haul them around in trains, buses, cars, or any other mode of transportation.
You may like All You Need to Know About Folding Electric Bikes
Considering everything, it won't be a stretch to say that folding electric bikes are the ultimate commuter machine and travel buddy.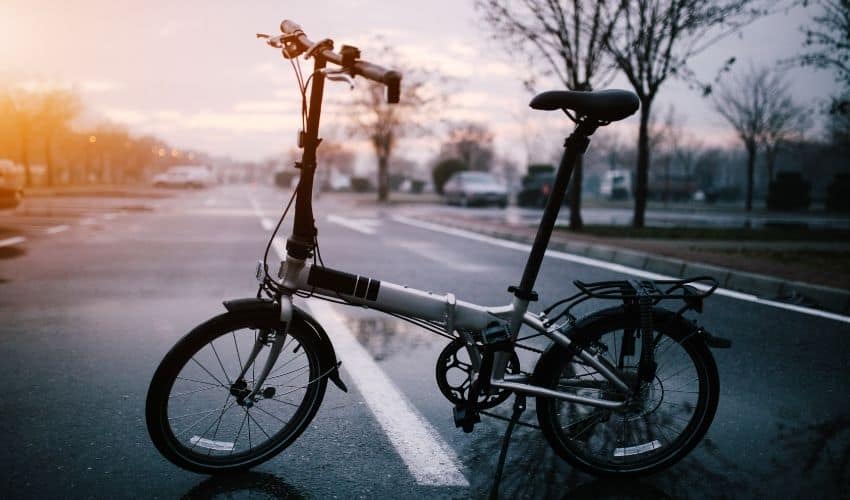 However, keep in mind that not all electric bikes are built the same. So, before we look at some of the best folding electric bikes in the market, let's take a minute to understand what makes a folding electric bike the best choice for you and the factors you should consider while purchasing a folding electric bike.
How to Choose the Best Folding Electric Bike
From features and capabilities to your budget and personal preferences, there's a lot to consider when you are investing in an electric bike.
One of the most important factors that many people overlook while shopping for the best folding electric bikes is the wheel size, which determines how well the bike can fold down.
Most folding electric bikes come with 20-inch wheels and fold down to a sufficiently compact size that is small enough to fit into the trunk of your car.
However, if you want an electric bike that folds down to an even smaller size, you can always consider getting a 16-inch wheel bike.
Another important component to consider is the motor. Most electric bikes, particularly folding e-bikes, feature a hub motor. Most riders prefer folding bikes with hub motors as compared to mid-drive motors.
One of the biggest advantages of hub motors is that they are smaller in size as compared to other options. Plus, they are lighter. However, they deliver the same thrust and power to propel the electric bike.
You should also consider other key features such as the type of tire, display screen, brake lights, bike components, and bike geometry. Finally, budget is also an important factor when picking the perfect electric bike for yourself.
Best Folding Electric Bikes – Top 4 Picks
We have compiled a list of some of the best folding electric bikes currently available in the market. Scroll down to check out what these bikes have to offer to decide which one is the best choice for you.
1. RAD MINI 4 – Best Electric Folding Bike with Fat Tires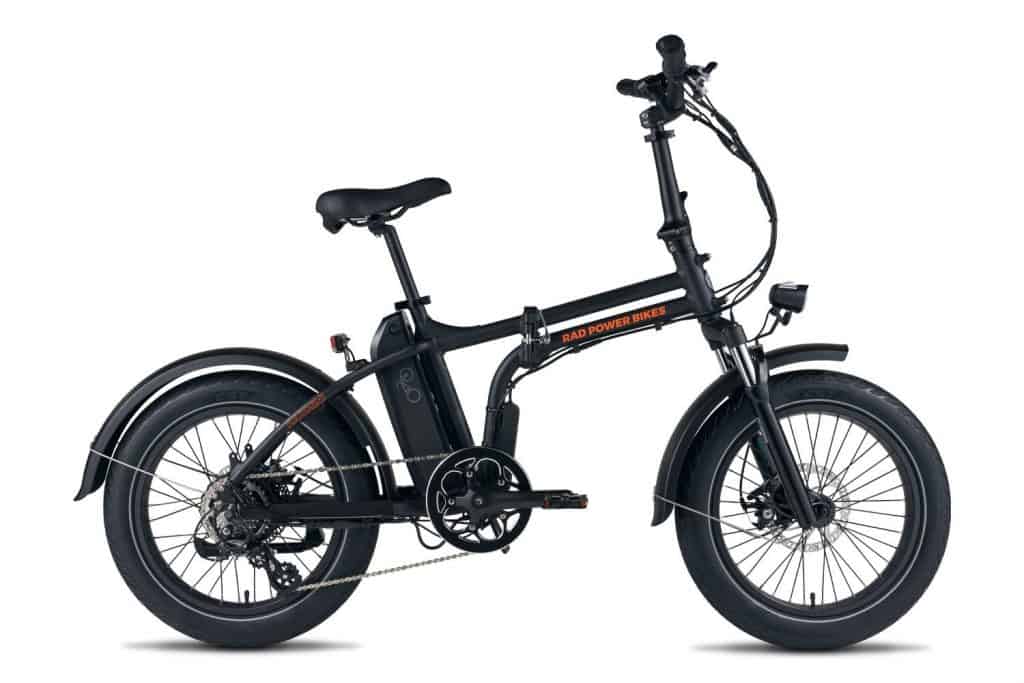 Specifications:
Battery: 48V, 14Ah Lithium-ion NMC Samsung battery (35E cells)
Motor: 750W Brushless Bafang Hub Motor 
Wheel diameter: 20 inches 
Load capacity: 275lbs 
Display: Yes
Charging time: 5 to 6 hours
Lights: Front LED and integrated rear brake lights
Folded dimensions (L x W x H): 41″ x 22″ x 28″
If you enjoy outdoor adventures, then a fat tire folding bike is the ideal choice for you. The 20″ x 3″ fat tires give you the perfect opportunity to traverse through a range of terrains. Whether you want to cruise around town, ride on the beach, go up or downhill, ride your bike on gravel, or want to embark on an off-road adventure – RadMini 4 has got you covered!   
To make things even better, the fat tires are puncture-resistant to give you complete peace of mind as you ride your bike in off-road areas.
The integrated tire liner provides exceptional protection against punctures from broken glass, thorns, and other small objects that will otherwise pierce through rubber and damage the tire.
Thanks to the high-quality lithium-ion battery and geared hub motor, RadMini 4 delivers an impressive range, going approximately 45+ miles in a single charge. It takes on average 5 to 6 hours to charge the battery completely. The motor is also compact, maintenance-free, and discreet.
The e-bike also features a twist-grip throttle that provides 750W of power on demand. With integrated brake lights and front and end fenders, the e-bike is a pretty sweet deal.
Let's not forget the advanced display mounted in the front. It shows a number of parameters, including the battery life, pedal-assist level, speedometer, and wattmeter. An odometer is also included to keep track of miles you covered, and the amount of money riding your bike saved you on gas.
The display also features a 5V, 1Amp USB charging port that you can use to charge your phone or other devices as you travel around town.
However, perhaps, the biggest advantage of RadMini 4 that makes it one of the best folding electric bikes is the foldable telescoping handlebar stem. What's so great about that, you ask?
Well, first of all, you can raise or lower the handlebar to reach the desired comfort level. In addition to that, the folding hinge makes the e-bike super compact and perfect for storing. The primary folding mechanism is also secure with multiple safety features to avoid accidental unlatching. Once locked properly, the e-bike feels solid and secure.
Considering the high-quality battery, motors, and all the other incredible features of RadMini 4, the e-bike offers the best value for money.
2. Brompton Electric – The Best 16-Inch Wheel Folding E-Bike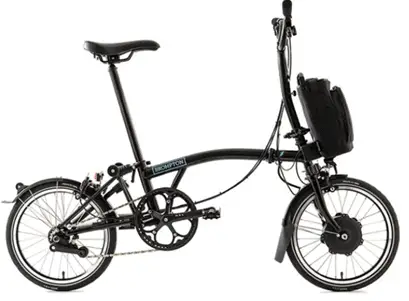 Specifications:
Battery: 36V, 8.55Ah 
Motor: 250W Hub Motor 
Wheel diameter: 16 inches 
Display: LED 
Charging time: 4 hours approx
Lights: Front LED lamp 
Folded dimensions (L x W x H): 22.2″ x 23″ x 10.6″
Brompton is one of the leading names in the folding bike industry. They make regular as well as electric folding bikes. All Brompton folding bikes are handmade in the London factory and delivered worldwide. With years of experience in producing premium quality bikes, it's no surprise that Brompton Electric is one of our top picks.
With 16-inch tires, the e-bike folds to a very compact package that is smaller than the folded size of most other folding electric bikes. Despite the small size, the Schwalbe Marathon Racer tires are sturdy and deliver exceptional performance on a range of terrains.
Weighing only 30.2lbs, the electric bike is lightweight, which means most people have no problem carrying it while using public transport or going up or down the stairs.
The 6.4lbs battery is also removable, making Brompton Electric the ultimate portable e-bike. The 25 – 40 miles range is also commendable. When charged using the standard 2A charger included in the pack, the battery takes around 4 hours to charge fully.
However, you can also opt for a faster 4A charger (optional accessory) if you want to cut down on the charging time and recharge the battery fully in as little as 2 hours!
The build of the bike is also impressive. Designed with Williams Advanced Engineering and Formula E expertise, the bike meets Brompton's high standards. Smart sensor technology is used to allow for different pedal-assist modes that give the rider complete control over the riding experience.
The bike folds in three places and can be reduced to 3 cubic feet in less than a minute. It is designed for comfortable riding with three seatpost positions – Standard, Extended, and Telescopic. You can choose the most comfortable position based on the inside leg measurements.
The bike is available in two models, featuring two-speed and 6-speed frame gears. Both models are available in different colors, including Gloss black, Gloss white, and Bolt lacquer.
One of Brompton Electric's greatest advantages is that you can take it out on a test drive before you make a decision. You can visit any of the selected Brompton dealers or find a Brompton store in New York, Seattle, or any other area in the USA to check out the bike before buying it.
It must be stated that Brompton Electric is an expensive electric bike. However, the super compact size, unmatched durability, next-gen technology, and high comfort level offered by the bike are worth it.
But keep in mind that the e-bike is not for speed lovers as the maximum pedal assist is only 15.5mph. After that, you'll have to push the electric bike with manual pedal power. 
3. Swagtron EB5 Pro City – Compact & Best Value Folding Electric Bike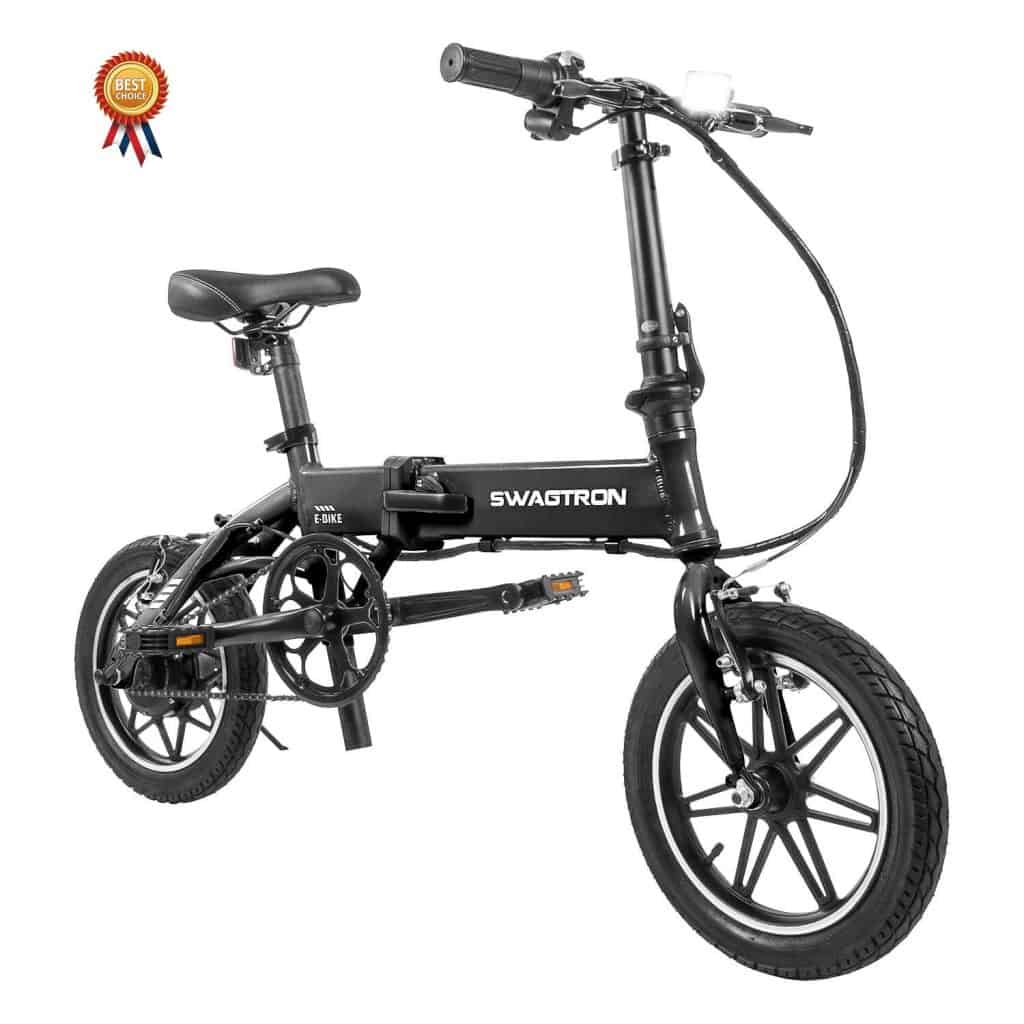 Specifications:
Battery: 36V Lithium ion 
Brake type: V-brakes 
Wheel diameter: 14 inches 
Load capacity: 264.5lbs 
Display: No
Charging time: 4 to 5 hours
Lights: Front LED and integrated rear brake lights
Folded dimensions: 26 x 15.6 x 23.6 in
Swagtron EB5 is a pro city cruiser – perfect for strolling around town on flat terrain. Thanks to the amazingly low price and high-quality features, this e-bike is extremely popular among college students and youngsters looking for easy, convenient, stylish, and economical commute options.
Moreover, Swagtron EB5 is very compact. In fact, it beats the 16-inch wheel Brompton Electric in this regard. It comes with foldable handlebars, a foldable frame, and foldable pedals.
It fits inside even the most compact cars, under desks at work or school, in the closet at home, on the subway, or any other small space. Weighing around 37lbs, it is also lightweight, which means you will have no problem carrying it from one place to another.
It features 14-inch air-filled tires that will take you a long way on flat terrain. The maximum assist-speed of the bike is limited to 15.5mph. However, you can always pedal the bike harder to go as fast as you want.
The lithium-ion battery is installed to ensure an adequate range. While the bike cannot match the long-range offered by models discussed above, it can still deliver approximately 15.5 miles per charge. The range is generally enough to ride around town or for a daily commute.
The charging time is 4 to 5 hours when charged using the standard charger provided in the pack. The charging port is also water-resistant to protect it against the elements as you ride or store your e-bike.
Keep in mind that the power-assist e-bike comes with basic yet solid features. It is designed to provide a cost-effective option to riders looking for a compact and durable folding electric bike. As a result, it is missing some high-end features.
For example, the folding bike does not feature cruise control. However, powerful V-brakes provide a quick and efficient braking system to ensure safety and complete control while riding on the road. You can further enhance the riding experience by adjusting the handle for your wrists.
Using the latch on the handlebar, you can easily turn the handle in any direction, ensuring a secure and super comfortable grip. Like most high-end bikes, Swagtron EB5 does not come with a display.
However, a battery indicator is mounted on the handlebar to make sure you are never caught off guard.
The bike is designed for today's on-the-go lifestyle. If you are looking for an affordable option, this is the best folding electric bike for you. It is available in two basic colors – white and black. It comes completely pre-assembled, so you don't have to waste any time putting the pieces together or worry about complicated assembly. Simply hop on and enjoy your ride!
4. Gocycle GS – The Best Folding Electric Bike with Removable Wheels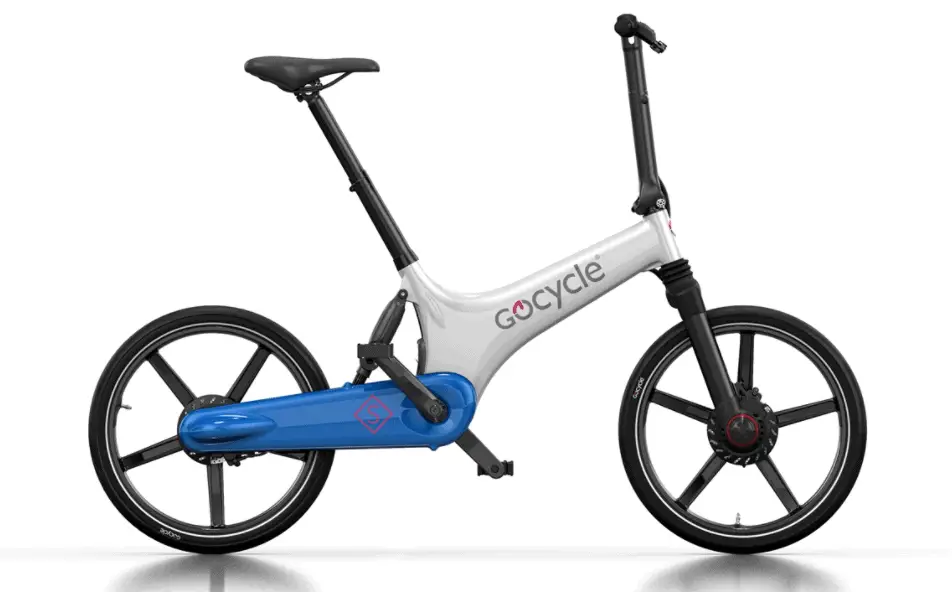 Specifications:
Battery: 22V, 13.5Ah Lithium-ion battery
Motor: Front Hub Motor (Gocycle proprietary)
Wheel diameter: 20 inches 
Brake: Hydraulic disc brakes 
Load capacity: 220lbs 
Display: Yes
Charging time: 5 to 6 hours
Lights: Front and rear lights
Folded dimensions (L x W x H): 30.7 x 14.6 x 22.8 in
Gocycle GS features a wide range of features and specs that make the bike one of the best folding bikes on our list.
Moreover, the design utilizes a unique folding mechanism that allows the rider to remove both wheels. The separable wheels and seat assembly ensure a compact folded package that can be stored easily in small spaces.
The handlebar is also foldable. A portable docking station is included in the box to make sure you can easily stow your electric bike on the go.
The e-bike employs a high-grade in-frame lithium-ion battery and a high-performing Gocycle proprietary motor. The regular charging time is about 7 hours. However, you can choose to include the optional fast charger in the package to charge your electric bike in about 3.5 hours. 
One of the unique features that is not present in any of the other top picks is the Smart Device Connectivity option. You can connect your electric bike with GocycleConnect™ App via Bluetooth to enjoy next-level convenience.
The app also allows you to switch between different riding modes with a single tap. There are multiple programming modes that you can select, including the Eco mode, On-demand mode, City mode, Custom mode, etc.
The app is available for Android and Apple devices. It supports Android version 4.1 and above. For Apple devices, it supports iOS version 8.0 and above.
The bike features a handlebar display, which can also be controlled via the GocycleConnect™ App. The maximum electric drive speed is 20mph. However, it may vary depending on where you travel to, as some places have a higher speed limit as compared to others.
GoCycle advises its customers to check in with their local authorities to make sure their folding electric bikes conform to the rules and regulations regarding speed.
Keep in mind that despite a rather high price range, this electric bike is not designed for climbing mountains or going on off-road trips. So, if you plan on riding your e-bike on a range of terrains, you may want to skip Gocycle GS.
On flat terrain, this bike will offer a smooth and comfortable ride. The classy ride experience is fit for the high price!
You may like the following electric bike articles:
The Bottom Line
This brings us to the end of our guide on buying the best folding electric bikes. Our top choices are based on folded size, comfort level, durability, and the many features offered by folding electric bikes. If you plan on going on off-road adventures, then RAD MINI 4 maybe your best option.
On the other hand, if you want to cruise the town and need a bike for your daily commute, you can consider Gocycle GS. Riders looking for high-quality electric bikes at an affordable rate can check out Swagtron EB5. You can choose the perfect electric bike for you depending on your budget, personal preferences, and how you plan on using the bike.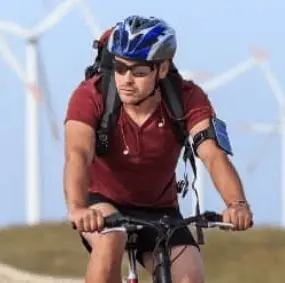 I am Michael, an avid rider and bike expert. I am here to provide, biking tips and expert advice on in-depth bike reviews covering features, capabilities, price range, and much more. Specially on electric bikes, mountain bikes, road bikes, etc. I will provide honest product reviews, along with expert advice on purchasing, training, and maintenance. Check out my complete profile.