Electric bicycles have exploded in popularity thanks to abundant features, convenience, low cost, and so many options. We have various brands to thank for this including, Cytronex, Ancheer, and now, Big Cat.
With the sheer variety of electric bikes out there, it will take you some time to find the best Big Cat electric bike that fits your needs.
In the guide, we'll explore everything you need to know about Big Cat electric bikes.
Best Big Cat Electric Bikes
Most people don't know this – but Big Cat electric bikes started out with the purpose of guiding cyclist enthusiasts.
Over the years, it has grown into one of the most reputable electric bike companies out there. But when they first started out – this wasn't their trajectory.
The company's founder, Vincent Gebbia, was inspired by electric bikes in Asia. He was also driven by a need to help his mother overcome her knee problems, workout with ease, and increase her mobility.
For obvious reasons, a regular bike didn't fit the bill. However, an electric bike with pedal assistance could be immensely helpful.
But it's not just Vincent Gebbia's mother who was struck by mobility issues, there was an entire market that needed premium quality electric bikes that could aid people like her. Vincent had identified a gap in the market and realized that Big Cat USA could help with that.
After several years of hard work and perseverance, the best Big Cat electric bikes have become extremely popular on account of their features.
Let's take a detour of what you can expect from Big Cat Electric Bike and why they should be your number one pick for 2020.
1. Fat Cat XL 750 eBike
Fat Cat XL 500 eBike is arguably among the best Big Cat electric bikes out there – mostly due to the slew of advanced features.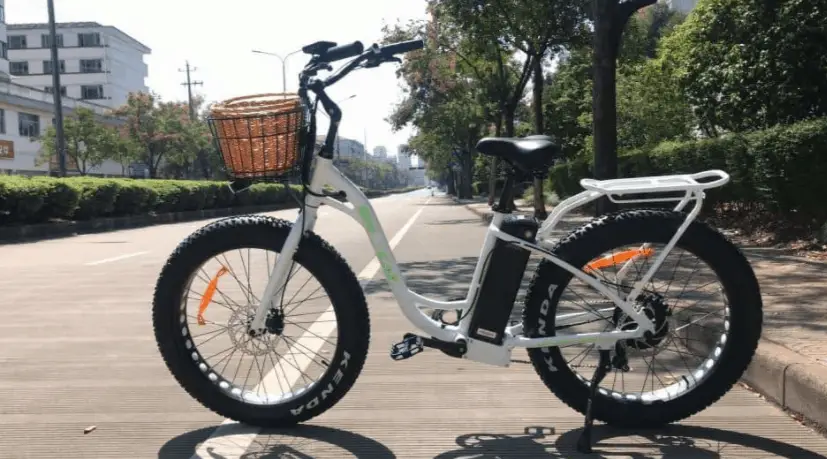 Big Cat didn't outline the exact purpose of Fat Cat XXL 750, but a cursory look at its rugged features, durable construction, and design shows that it can be used in the snow, mud, and sand without problems.
We also believe that the Fat Cat XXL 750 is ideal for off-roading and hunting.
If the design alone doesn't convince you of this ebike's superior quality, you'll want to take a closer look into its specs.
Fat Cat XXL 750 comes with a 48V 13Ah lithium-ion battery powering a 750W rear hub motor. This gives you more than enough juice needed to push things to the max most of the time. At full throttle, you'll feel the power of the Fat Cat XXL 750 unleashing itself from the rear.
What makes this one of the best big fat cat electric bikes is its nimble design, weighing in at only 63 lbs., the Fat Cat XXL 750 is engineering done right and lets you go over miles on a single charge before you'll have to recharge it.
It is worth pointing out that the total range depends on various other factors, including (but not limited to), type of terrain, the rider's weight, and weather.
Riders will be happy to note that the Fat Cat XXL 750 comes with a rear rack to help them carry things around. But you'll be even more surprised to know that it can carry a whopping 295 lbs. comfortably.
Moreover, you can even add an additional trailer to expand the capacity. This allows the Fat Cat XXL 750 to help you transport heavier objects without issue, making it a great choice for anyone who wants to go out camping.
The default battery can be recharged in less than 6 hours – 4 hours if the temperature is right.
This means you will never have to leave the eBike to charge overnight.
Something that all cyclists will appreciate is the location of the battery. It's placed in the middle of the bike's frame so it doesn't get in the way. The frame itself is designed to accommodate all genders, making it perfect for everyone.
The quality fat tires measure 26" by 4", giving you a strong grip on the road. These tires play an important role in absorbing the bumps along the road because there is no suspension in the bike.
Make sure that the tires have a high pressure for the street to keep rolling along well. The only caveat is that sometimes the road will feel a bit bouncy over the bumps. 
It appears as if Big Cat has gone above and beyond with the Fat Cat XXL 750, making it among their best offering yet.
Click here to check prices.
2. Long Beach Cruiser XL 500
If you want the features of the Fat XL and add more speed to it, then the Long Beach Cruiser XL 500 comes to mind. It is the exact same ebike with a few differences in terms of design and frame.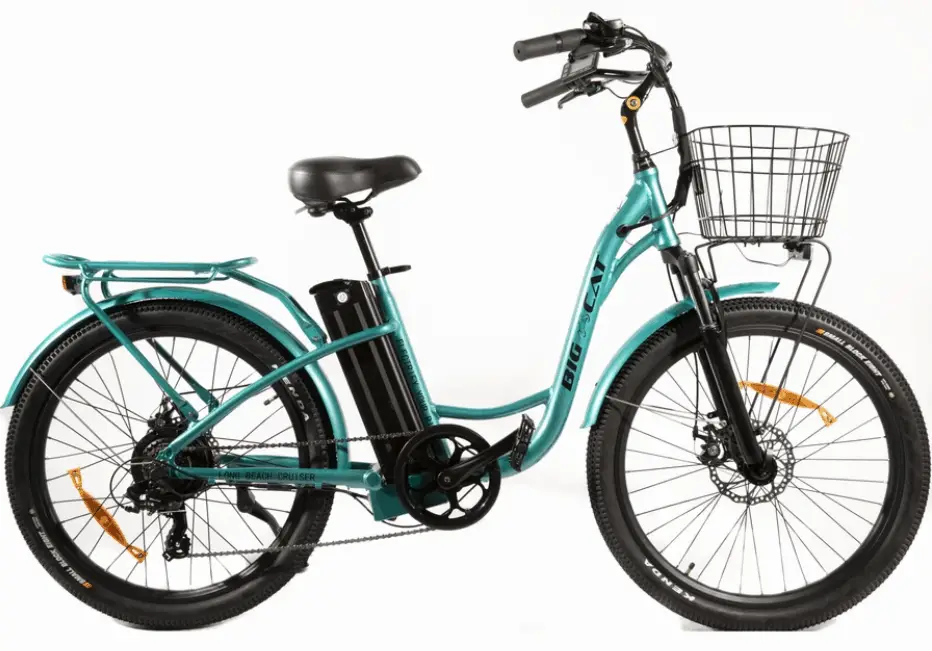 Ever wanted to ride your electric bike on a sandy beach, but without the worry of damaging your electric bike and its components? The Long Beach Cruiser XL 500 is the answer to your beach cruising woes.
It is perfect for beach riding because the components, battery, motor, and other parts are protected against the salty seawater. You will also be able to cruise on the sand smoothly without feeling the bumps.
The Long Beach Cruiser has a 48V 13Ah lithium-ion battery and a 500 W rear gear drive motor, the same as the Fat XL 500.
The difference between the two electric bikes comes down to the frame. It features a prominent cruiser frame that is extremely durable and versatile.
Like the Fat XL 500, the Beach Cruiser comes with a rear rack to help you transport things. Big Cat USA also decided to add a front basket to the electric bike, in case you ever needed to store anything.
The 4" balloon tires are specially designed for usage on sand. Nothing will slow these bad boys down, not even sand because the tires are engineered for overcoming rolling resistance on sandy terrain.
Big Cat is popular for high tech electric bikes that go the extra mile in terms of gear. The King Meter KM 529 LCD deserves special mention here because it meticulously displays every bit of information you could ever need. You can check out your speed, battery range left, the distance traveled, and the remaining battery.
Fans of electric cycles will appreciate Shimano Acera 7-gear derailleur for smooth-shifting, which is extremely important when cycling on the sand. The highest gears let you travel at a high speed on the sandy terrain.
If you want to travel at top speeds, you can easily squeeze every bit of power from the 500 W motor on the tarmac. Like the Fat XL, the Beach Cruiser's battery is situated in the middle of the frame. This ensures that it doesn't get in the way – no matter how fast you're traveling.
Finally, if you plan on using this electric bike for your daily commute, then you'll appreciate the disc brakes because they can easily stop you in just about any terrain.  
For those of you who need an all-purpose electric bike that does it all, the Cruiser Beach XL 500 is exactly what the doctor ordered. Depending on who you ask, it may well be the best big cat electric bike on this list.
3. Long Beach Cruiser 500 eBike
This electric bike in Detroit may look like the previous entry on this list, but there are several differences you should be cognizant of.
Simply put, the Cruiser 500 is the lighter version of Cruiser XL 500 (without the XL). If you don't need all the features of the Cruiser XL 500, then this electric bike will do you just fine. It offers the same build quality, but with fewer features, at a more manageable price point.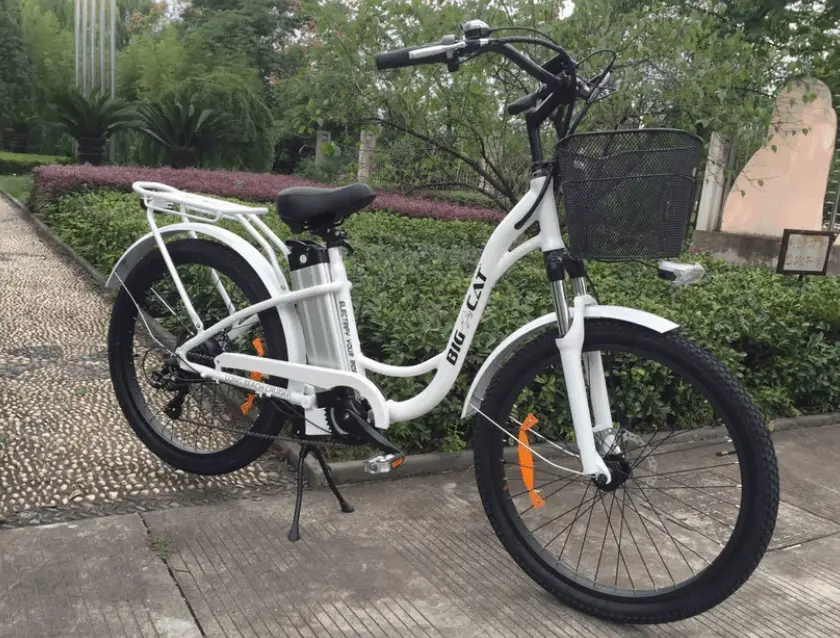 One noticeable difference between the two is the tires. This electric bike comes with thinner tires and a lighter frame, although it still retains the step-through frame.
In terms of specs, this electric bike makes use of the same 48V 13Ah Lithium ion battery and a 500 W rear gear powered motor.
You'll notice that the rear rack is much lighter and doesn't offer nearly as much capacity, however, it's still very sturdy. The front basket is basically a wooden frame inside a lighter frame.
The Long Beach Cruiser 500 is made of lighter components and thinner tires, but offers the same level of speed and power. Another change worth discussing is the quick lift seat that you can adjust in a matter of seconds. This accommodates all sizes of riders.
The thinner tires are extremely good and can handle just about any terrain you throw at them, including sand. 
The battery is located in the middle of the bike's frame, which means it's out of sight and out of mind.
The maximum speed you can hit on this electric bike is around 24 mph. At such top speeds, even the tiniest bumps on the road can feel sharp and uncomfortable. But the front suspension forks are equipped to absorb much of the bumps, ensuring that you don't feel much.
Big Cat managed to create a new standard for electric bikes that is suitable for riders from all walks of life.
If you're looking for the best big cat electric bike, this is a great choice for you to have.
Click here to check prices.
4. The Baja 500 X
The Big Cat Baja 500 X is designed to make the daily commute to work easier. This powerful electric bike is lightweight and can fold in half, making it easier to carry around. The smaller size is ideal for anyone with limited space to store their eBikes. It can also fit in the trunk of your car with relative ease.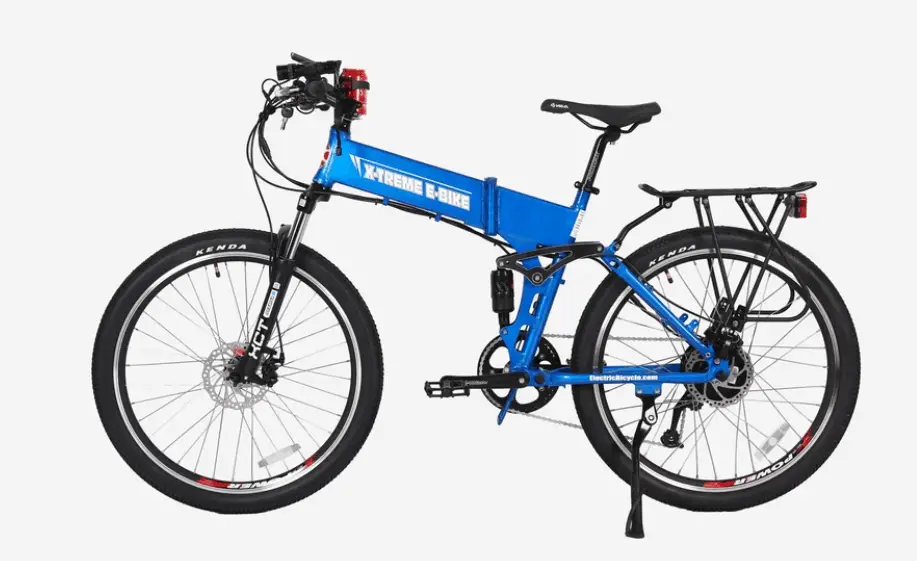 Big Cat knows that batteries should be protected from outside elements, which is why they've tucked it safely inside the bike's frame. This also means that thieves will have a much harder time stealing the battery.
The 48-volt battery is used to power the 500W Bafang High Torque Zero motor. To ensure the bike is nimble and fast, Big Cat chose to go with a 100% hand welded lightweight aluminum frame that has Atlus Shimano 9 speed gears and KS Rear Shock Suspension. This ensures that even at breakneck speeds, your ride feels smooth.
By far the most valuable feature of the Big Cat Baja X is that it can completely fold in half for easy transportation. Hence why it is marketed for 'on-the-go' traveling.
Charging this electric bike is super easy thanks to the UB phone charging port. The electronics of the electric bike in Detroit can be controlled through an LCD screen that is conveniently installed on to the handlebars.
The bike comes with Smart PAS to improve its efficiency by up to two times compared to non-smart electric bikes. This is because you can control the power consumption on the LCD during your ride.
When you take the bike on its first spin, you'll notice that it's very quick thanks to the powerful motor. But this is to be expected because the Baja 500 X is not nearly as big as the Fat Cat XL 500. 
The bars are swept back with ergonomic grips for prolonged usage. The sweep of the bars does require a little effort to counter-steer when the tires offer some resistance, but it also makes the rider much smoother. You can use the throttle to manually control power or simply propel the bike forward.
All in all, the Baja 500 X is a convenient solution for anyone who wants to commute on a budget.
Click here to check out prices.
Benefits of Buying From Big Cat Electric
Big Cat is a pretty well-known name when it comes to electric bikes. They build their bikes to perfection and pay special attention to detail, which you wouldn't find easily elsewhere.
The quality of their items is unparalleled – this means that they're designed to last longer and won't buckle under pressure.
You can also benefit from their wide selection of eBikes. If you want something with more oomph than the standard 500W offerings, Big Cat also offers 750W variants, but they will cost you.
These electric bikes are designed to be used on most terrain types. They're very versatile and can be used by anyone, from newbies who are just learning about electric bikes to experienced enthusiasts who have been there and done that.
Big Cat provides expedited free shipping and various extras with each purchase. You can also get the electric bikes for as low as $100 per month – which is perfect for anyone who's running on a budget and needs a quick solution.
Cool Aftermarket for Big Cat Electric Bikes
The Best Big Cat electric bikes are great for everyday use, but depending on your intended use and environment, the standard ebike on its own not be enough to serve your needs. This is where ebike accessories come in.
The good news is that Big Cat has a well-stocked aftermarkets shop that lets you pick various accessories. Here is a rundown of must-have items for your Big Cat electric bike.
Helmets
This is an extremely important safety tool, regardless of the speed and riding conditions. Modern helmets often come with integrated lights for added safety.
Water holder
It's important to stay hydrated at all times and the last thing anyone wants is a heat stroke. If you're off-roading and end up with a flat tire far away from civilization, the water could potentially save your life.
Unfortunately, many electric bikes have tight frames so squeezing a bottle can be tricky. But Big Fat electric bikes often feature rear racks and front baskets to store your bottle.
Battery
Big Cat offers several battery packs that you can use to improve the range of your electric bike. It is going to cost you though, with most items starting at $429 and above.
The advantage of buying the battery from the official store is that the item will be compatible with their 350-500W 48V setups. Make sure to reach out to customer service to confirm this, however.
Baby Seats
For families with younger children, Big Cat offers baby bike seats that can be attached at the front or rear of the electric bike in Rochester Hills.  Do keep in mind that the extra weight will make cycling with a child a bit difficult.
You will want to keep the battery fully charged to give you a little bit of boost, whether you're cycling uphill or keeping up speed on the flat tarmac. Click here to buy the Baby Seat II.
You may like the following ebike articles:
Wrapping Up
So what advantages do you hope of getting out of your Big Cat electric bike?
In most cases, you'll find a Big Cat to fit all your needs. Although we've just reviewed 4 models, there are many others that are yet to be reviewed. We believe the list features the Best Big Cat electric bikes. Do you disagree with the above list or feel that we missed an important bike? Let us know in the comments and we'll try to make amends.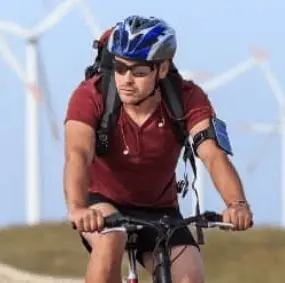 I am Michael, an avid rider and bike expert. I am here to provide, biking tips and expert advice on in-depth bike reviews covering features, capabilities, price range, and much more. Specially on electric bikes, mountain bikes, road bikes, etc. I will provide honest product reviews, along with expert advice on purchasing, training, and maintenance. Check out my complete profile.