Whether you're an eCommerce retailer or just someone who likes traveling a lot, putting together an effective shipping strategy is one of the most impactful steps you can take to grow your international reach. Let us discuss everything you should know about shipping electric bikes, how to ship an electric bike.
If you're a retailer, you're probably interested in finding convenient and affordable ways of sending products to your customers. If you're an individual, you're probably sending it as a gift to your loved ones or might be participating in a bike race competition.
Given the unusual dimensions of electric bikes and their weight, you may run into a few problems regarding shipment. We're going to be completely honest here, packaging your ebike for shipment is a difficult process that requires careful, meticulous planning, especially if this is your first rodeo.
You may also like Best Folding Electric Bikes and Best Fat Tire Electric Bikes with 1000W Power
But, learning the process is worth your time, especially when you consider all the damage you're protecting your bike from, including bent frames, twisted dropouts, damaged seat tubers, and other vulnerabilities.
In other words, you have to be in the know about ebike shipment if you want your package to arrive in tip-top condition.
In this blog, we'll give you the lowdown on how to ship an electric bike, the things you might require to prepare your ebike for shipping, learning disassembly of individual components, the cost of shipping an electric bike, and how to track the entire process from start to end.
Let's get down to brass tacks.
Packing Supplies to Help You with Electric Bike Shipping
We've compiled a list of supplies you'll need to gather to prepare your ebike for shipment.
A shipping box for your ebike
Bicycle pedal wrench
Foam cushion
Bubble wrap
PVC (vinyl) tube to protect the frame
Packaging tape for storing
Utility knife (scissors will do just fine)
Disc brake spacer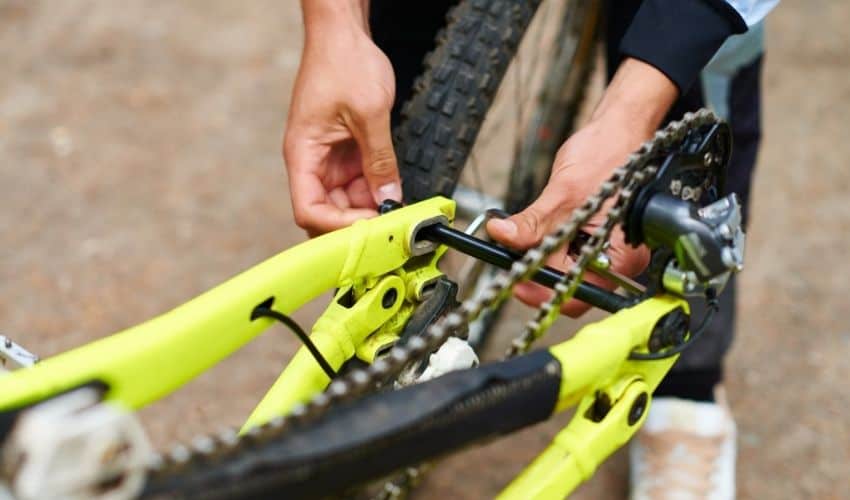 How to Disassemble Your Electric Bike for Shipments (optional)
Disassembly means you'll have to get your hands dirty, but it's worth doing because it will save you money in the long run.
Your goal is to reduce the size and height of your electric bike and at the same time, protecting the most fragile components. Here are the steps you need to disassemble your electric bike for shipment:
Apply foam pipe insulation: The ebike frame is vulnerable to getting damaged and scratched during the disassembling process and during transit. You can prevent this by adding an extra layer of cushioning with the help of foam insulation.
Disassemble the seat, seatpost, and pedals: Use the bike pedal wrench to unscrew the seat, seatpost, and pedals. Cover them with bubble wrap and arrange the package aside. This exercise aims to make your bike appear as small as possible and reduce its dimensions to prevent accidental spillage.
Disassemble the handlebars: It is relatively easy to loosen handlebars and spin them until they're aligned with the bike's frame. Or you could remove it altogether and arrange it parallel to the top tube. It is very important to position the brake levers inwards to prevent contact with the sides of the electric bike shopping box. Now cushion your handlebars and zip-tie them electric bike's top tube.
Disassemble the Wheels: In most cases, taking the front wheel out should be enough because some shipments accept ebike packages with just the rear wheel. Make sure to sufficiently pad the wheel with bubble wrap or foam. Protect the cassette on the back wheel with foam and install end caps around the axle ends. Do this for both the wheels.
Derailleur and Hanger: After removing the derailleur, wrap them insufficient padding, be generous with the padding here because the derailleur is a very important component. To secure them in place, zip tie the derailleur and hanger.
Disc Brakes: Make sure to keep the brake pads separate from the wheels. You can use a disc brake pad spreader to achieve this. Notice the calipers extending beyond the backdrop out of the bike? You need to prevent them from getting damaged by removing, padding, and securing them to the inside of the frame.
Dropouts: It is easy to damage fork dropouts during the shipment process. You can prevent this by placing the PVC pipe between them.
Deflate the tires: Do not deflate your tires completely because doing so could expose the rims to wear and tear. Instead, deflate your tires only partially because it will safeguard the rims. As a side note, you should keep the chain on the ring to prevent the teeth from getting bent during shipment.
Instructions for Packing an Electric Bike for Shipment
When deciding how to ship your electric bike, you have to weigh the pros and cons of assembly vs. disassembly. While disassembly is harder to do, it reduces your bike's vulnerability to damage as well as its overall area occupied, hence keeping the shipping costs low.
You may also need to enquire from your shipping courier if they ship assembled ebikes and the total expenses involved. Most carriers won't ship your ebike assembled and may not find an ebike shipping box large enough to accommodate its default dimensions.
Here's how to pack electric bike?
Look for a shipping box that is compatible with your ebike's dimensions. In most cases, you may be able to get one free of charge from your local bike store or purchase one at an affordable price from a courier's website.
Make sure to cover the bottom of the shipping box with several inches of bubble wrap (it could be cardboard and even packaging peanuts) to minimize the shock and vibration during shipment.
Make sure to protect the bike's frame with lots of insulation. You can also pad the other parts of the frame with bubble wrap and foam.
Start by placing the frame and rear wheel into the bike shipping box.
Next, place the other parts into your shipping box, carefully arranging them as close to the frame as possible.  
Fill any empty spaces in the box with cardboard or packing peanuts to ensure that all parts are safe from vibrations and shocks.
Close the bike shipping box and secure it by applying several layers of tape.
Find an appropriate printing label from the courier's website and attach it to the side of the bike shipping box.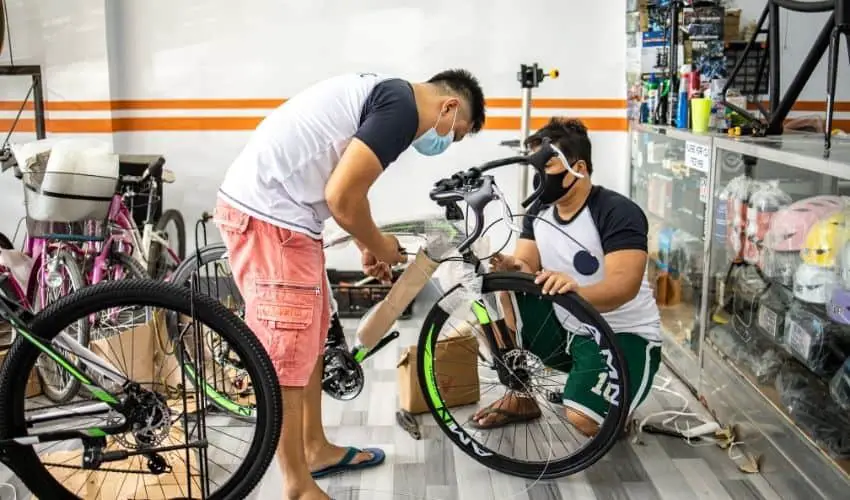 Shipping eBike with Lithium
Lithium batteries in Flint are subject to regulatory changes – which are often changing both internationally and domestically in the United States.
The battery size will determine the courier services you can use and how you will ship your electric bike.
For example, if your package contains less than 5kg of lithium batteries and is packed with the electric bike itself, then UPS may allow you to ship it by air without requiring a Dangerous Goods label.
However, if the lithium batteries' weight is greater than 5kg, you will need a Dangerous Goods contract.
Most couriers are wary about transporting these items. You'll have to take a few extra steps to ensure the safety of your shipment, this includes:
Working out what type of battery you have (lithium-ion, lithium metal, or even lead-acid) is important because couriers handle them differently.
You will have to get prior approval from the courier, airline, and, if needed, the authorities.
You will have to put a dangerous goods label on the bike shipment.
If possible, ask someone with a Hazmat certification to pack your ebike, this will cost you though.
You will have to appropriate documentation and certifications, including a Material Safety Data Sheet (which contains information about the hazardous material); UN38.3 certificate (which proves your battery has been tested based on UN guidelines); Certificate of origin (which shows where your ebike was manufactured); Certificate for Safe Transport of Goods (this verifies the safety of your ebike).
As you can imagine, this kind of paperwork may be too much of a hassle for most riders. But online businesses exist that can help you out in generating the required shipping and customs documentation. 
Removing Lithium Batteries from eBikes
It is better to remove the lithium ion battery from your ebike in Flint before shipping it. This will make the process of shipping your ebike easier because couriers will be able to treat it like any other non-hazardous shipment – but you'll still have to deal with oversized package problems.
You can send the battery separately with couriers that have experience in handling these types of goods. You'll still have to deal with the same paperwork outlined above and take steps such as displaying a Dangerous Goods label on your shipment.
You will also need a P1965 certification, which states that your battery has been tested and deemed safe for transport. 
It is important to pack the battery very carefully, this includes:
Protecting the battery terminals with non-conductive, insulating materials
Covering the battery with a non-conductive, sealed packaging
Using padded material to avoid shifting during transport
It is worth pointing out that if you decide to ship the electric bike battery separately, you'll have to incur the cost of two shipments.
If you're shipping by sea, you'll have to be able to book a full container, and that is going to be prohibitively expensive even if you don't intend to use up all of the space.
What is the Cost of Shipping an Electric Bike in Detroit
Prices vary, and we can't really put an exact number here. In general, total prices depend on your courier, weight of the package, delivery speed, dimensions of the package, and the target destination.
In general, an average ebike will from Brooklyn to Miami will cost nearly $160 for seven days. This excludes the cost of packaging, insurance, or other freight and handling surcharges that may apply to the shipment.
FedEx will cost nearly $150 for 5 days and $600+ for expedited delivery in 2 days
UPS will cost $100 for 3 days and $7000 for 1 day
DHL will cost nearly $370 for express worldwide delivery
Lowering Your Transportation Cost
This mostly works if you're a retailer. You can always bring down the cost of shipping your electric bikes in Detroit by trying to negotiate directly with courier reps. They will offer you discounts based on your shipping spend and volume.
With that said, these companies specialize in these types of rate negotiations and it's not unheard of for couriers to offer 50% discounts for electric bikes.
If need be, you may also get international and expedited discounts in the range of 50% or more in some cases.
Using ERP Business Software (for eCommerce retailers)
This is an effective way of reducing your overall cost per ebike. All you have to do is connect your shipping fees to your eCommerce platform.
FedEx, USPS, and UPS have APIs that connect their rates with shipment procedures to eCommerce businesses.
Freight companies that have integrated themselves with technology also have API automation and can do the same for shipping larger freight equipment to your clients from your ERP business software.
Shipment of Class 1 and Class 3 Pedal Assist Electric Bikes
Most courier companies ship Class 1 and Class 3 pedal-assist electric bikes with batteries installed. The only problem is, they only do so within the continental US and do not ship ebike with batteries installed to or from Hawaii or Alaska, or internationally.
They also do not transport throttle electric bikes.
For reference, here are the most popular electric bike classifications you should know:
Class 1: this is under 750 watts, capped at 20mph, with pedal assist
Class 2: this is under 750 watts, capped at 20mph, with throttle and/or pedal assist
Class 3: this is under 750 watts, capped at 28mph, with pedal assist
Class 4: this is over 750 watts, over 28mph, and comes with throttle and/over pedal assist
Courier companies will try to adhere to all rules and regulations as per the International Air Transit Association and the US Department of Transportation (if transporting within the United States).
Use Shipping Management Software
Most shipping management software makes the overall ebike shipping process easier by allowing you to shop for multiple carrier rates in all shipping lanes. They also give you real-time access to performance data by freight carriers as well as insurance coverage.
These freight software systems also simplify the booking and scheduling process for average business owners.
Many Freight Transportation software systems provide easier access to use emails and other tracking tools that keep your clients in the loop.
Protecting and Tracking Your Electric Bike Shipment
Insurance: Since this is an expensive package, we recommend insuring your bike on transit to cover any damages or even loss of shipment. Insurance is particularly useful when you're shipping your ebike worldwide.
Shipment Tracking: Tracking your ebike shipment lets you get timely updates about your ebike's exact position. Just make sure to track your bike shipment to avoid any delivery inconveniences.
Customs Information: It is important to fill all customs forms and documents correctly for international shipments. This will make sure customs at every stage of the transportation will handle your shipment without any delays.
Things to do if the ebike is damaged or lost: If you got your shipment insured, it will cover you for the loss. Otherwise, you may have to file a claim with your courier and this could go in either direction.
Other Things You Should Know About When Shipping Your Electric Bike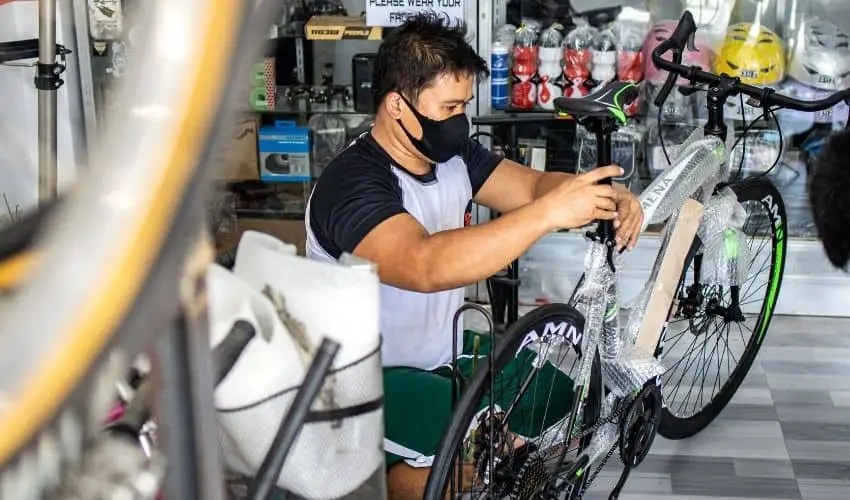 Even if you're ready to jump through all the hoops and prepare the required customs forms and required paperwork, you should be prepared to take into account a few things into consideration that could complicate this process:
When importing your electric bike to countries in the European Union, you will have to pay significant import duties. Some places, such as the EU, have various anti-dumping duties to prevent the market from being flooded by low-cost electric bikes that could hurt local small businesses.
Depending on the country and its local laws, your electrical bike may be considered a 'motor vehicle' and will be subject to a lot of complicated regulations.
If you're a manufacturer, you will need to obtain prior regulatory and government approvals to export your electric bike.
The large size of your electric bike will be certainly challenging in the shipping process. Most couriers are unable to commit to such large goods, and those that can transport them will cost a fortune.
No one said that shipping your electric bike was going to be easy, but if you do your research and calculate the required costs beforehand, you'll be able to avoid nasty surprises.
You may like the following electric bike articles:
Are you planning to ship or have shipped electric bikes internationally? If so, what legal hoops did you have to go through and how was your experience like? Please do share your experiences with us in the comments below and we'll try to include your tips in the blog.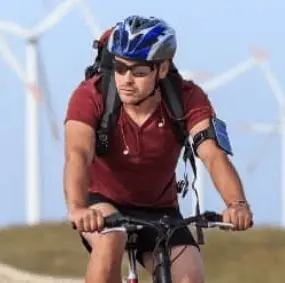 I am Michael, an avid rider and bike expert. I am here to provide, biking tips and expert advice on in-depth bike reviews covering features, capabilities, price range, and much more. Specially on electric bikes, mountain bikes, road bikes, etc. I will provide honest product reviews, along with expert advice on purchasing, training, and maintenance. Check out my complete profile.