Mountain bike riding on sand can be really scary and challenging simultaneously; if you pick up and learn the right tricks, you can be safe and enjoy riding on sandy patches and beaches anywhere.
The unfriendly sand will make you struggle and curse as you try to make your way through the soft sand in which it seems that your bike is sinking in, wiping you out at each turning corner.
Before you venture out into the sand and beaches on your mountain bike, there are lots of things you should consider and change on your bike and your biking style.
The most important thing to consider is which bike to use for the sand. The most suitable bike for riding through sand is fat bikes with 4 inches (10 cm) wide tires on 26 inches(66 cm) of rims. Investing in a Fat bike would be a wise decision if you are biking on beaches and sand.
Before you start mountain biking in the sand, here's what you should know:
Make sure you are fully relaxed. Lots of riders get really nervous before biking on a sandy trail, but it can actually be a lot of fun and quite a thrill blasting through sandy terrain as fast as you can and getting to the end of the line.
When the sand is trying to wobble you off your bike and bury you in it, but you conquer that feeling of anxiety and uncertainty, the satisfaction of achievement is worth all the hard work you have put into your biking skills.
Check out, Can Mountain Bikes be Used on Road?
Safety First
Be sure you can know your way across the entire terrain. Even if you have ridden a route before, it can look different on any given day. Take a GPS device, a compass, and a map. In case of emergencies, your mobile phone and GPS device should be fully charged.
Plan out your routes and exit routes in case you have to make a quick retreat
Know the numbers to call during an emergency, including the nearby hospital, the local police department, the rescue service, or a friend who will come and get you.
Let your friends and family know where you are riding and when you will be back.
Look at the weather forecast before you get out there. Make sure it isn't too hot to avoid the risks of sun and heat stroke.
Take enough food and water for the entire time you contemplate being out there.
Suppose you are not confident of riding over a particular section of sand. In that case, it is always better to get off the saddle and walk with the bike instead of risking injury or humiliation by falling.
Check out, How to ride mountain bike on snow
Things to change on your mountain bike before leaving
Choosing the best tire for sand: If you're planning on riding in a particularly sandy area, the most widely known strategy is to choose a wide tire, 2 inches or more, so that you glide across the top of the sand.
Tyre pressure: Lowering the pressure of your tires increases the surface area helping you avoid sinking deep into the sand.
Tips to help you ride your mountain bike on sand
Avoid being tense as you pedal, as it will be counterproductive. A relaxed approach, confidence, and the right technique will make your ride on the sand safer, less scary, and more enjoyable.
Another key is constant momentum; avoid abrupt heavy braking and shifting gears while on the sand, as it will bury the front wheel deep and leave you without momentum. If your momentum is too low, it becomes quite hard to steer your bike, and you can end up crashing and falling.
Choosing the right gear to ride smoothly through sand is critical. You need a high gear with high cadence, which will give you enough speed but not to a point where traction is lost. You want gear that makes you float on the sand. 85 to 95 rpm could be the sweet spot for you.
 Remember, you need easier gear when climbing up, but the harder gear is required as you go downhill. You need a lot of practice on changing to the right gears at the right time as it is not a simple task.
Focus on keeping those wheels spinning as you glide through the sand. When you have found the right gear, it becomes easier to keep your balance, and it will not strain your muscles, allowing you to bike effortlessly.
Never take your eyes off the trail; with your head up, look where you are going. Choose the most straightforward and even course possible and allow yourself a small margin of error. Avoid panicking if you come across a difficult patch.
Breath calmly; do not overreact, your upper body and your arm should be relaxed, and your grip on the handlebars should be firm but not rigid. Keep your grip and body as flexible as possible.
The way you sit on the bike is important as it ensures stability and control over the bike. When you are out on the trail, and before you pedal, you are in the 'Ready Position', meaning that you are positioned well enough to tackle any obstacles, descends, and upward climbs on your trail.
Read How to Lock a Bike Without a Rack
If you are not already aware of the 'Ready Position', here are the main elements of the position:
The weight on both your feet should be equal.
Your knees should be bent and pointing outwards.
Your bottom should be off the seat of the bike.
Keep eyes forward and look straight ahead.
Keep your finger ready to use the brakes.
You need to be more mindful when changing from biking on hard sand to a more loose section. Shifting your weight slightly towards the back will help you a smooth transition and won't fall on your face.
Having your weight behind the center of gravity of your bike will allow your front wheel to roll over the sand instead of going deeper into it.
Maintaining speed should be your primary focus. Sand does not enable you to accelerate very fast, so be sure to maintain your momentum.
Cornering is one of the most difficult parts of sand biking. You can learn to maneuver the corners from Formula1 drivers.
As you reach a corner, your turn should be from as wide an angle as possible (if it's a right turn, you need to approach it from as far left as possible).
Use your brake before entering the corner and try to do it with as much momentum as possible. You should only use the back brake in corners because using the front brake could make your front tire get stuck in the sand, resulting in a fall.
Instead of using the handlebars, you can also steer with the weight of your body by turning your hips and shoulders to either the left or the right side. These mild shifts of your weight will permit you to take the bike where you want it to
Though the soft sandy trails may look inviting, they can be deceptive. But just as everything needs time and practice, so does mountain biking in the sand.
If you are patient and have set yourself the goal of a particular sandy bike trail in mind, don't let small obstacles or negative thoughts get in the way of this goal. Hard work, a positive attitude, and the urge to learn the riding skills required will ultimately help you succeed. You won't know your potential unless you give it a go!
Related Posts: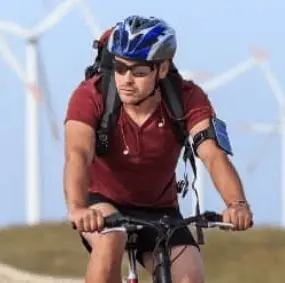 I am Michael, an avid rider and bike expert. I am here to provide, biking tips and expert advice on in-depth bike reviews covering features, capabilities, price range, and much more. Specially on electric bikes, mountain bikes, road bikes, etc. I will provide honest product reviews, along with expert advice on purchasing, training, and maintenance. Check out my complete profile.