Cycling is one of the fastest-growing sports in the United States, and for a good reason. It provides a full-body workout by engaging multiple muscle groups, and it's excellent for your heart and lungs, torches calories, gets you out in nature, and so much more.
One of the other great things about it is that you don't need an expensive gym membership to do it.
That being said, you do need to invest in a good road bike. With prices in the thousands of dollars, it can be off-putting and daunting.
In this article, we'll provide several criteria to evaluate road bikes that you might consider purchasing. Since every person's needs are different and everyone's bodies are unique, we'll provide a few recommendations, but ultimately, the choice depends on you.
What is a Road Bike?
A road bike is just as it sounds: it's a bike meant to be ridden on the road or paved surfaces. They tend to be very lightweight and are designed to carry the rider faster and further than other types of bikes.
Most road bikes have a drop or curled handlebar, no front or rear suspension, and narrow wheels and tires. They aren't designed for towing or carrying heavy loads.
Is it the Same as a Mountain Bike? What about a Commuter or Cruiser?
A road bike is distinctly different from a mountain bike or cruiser in a few ways.
The frame and design of the bike are distinct to make it faster on paved surfaces. But this also means that it isn't recommended for rough terrain, unlike mountain bikes, which have broader and more durable tires.
Unlike mountain bikes and road bikes, cruisers and commuters are meant for recreational purposes or day-to-day transportation, such as biking to work or running errands. They may contain some elements of both mountain and road bikes.
The construction of all three types of bikes makes them ideal for their intended purposes.
Your Level and Cycling Goals
Another factor to consider when choosing a road bike is your fitness or cycling level currently and where you want that to go. It takes years of hard work, time, and dedication to reach an elite or advanced level as with any sport.
Beginners and intermediate riders don't necessarily need top-of-the-line road bikes, especially if they don't plan to enter long-distance races.
On the other hand, if a bike is designed to last for thousands of miles, you'll get years of use out of it. And, if your goal is to eventually complete distance races, you might want a better bike now.
The Bike Frame
Now that we know what road bikes are, we can look at different criteria to evaluate them. The first and most basic is the bike frame.
The bike frame is like the skeleton of the bike; while you can change the tires, seat, and other features, the structure remains.
Geometry
Road bikes typically have one of two basic geometric shapes.
The first is sporty, with the riding position more upright and the steering more relaxed. Most are ideal for logging around 150 miles per week with a longer race a few times a year.
The second is for performance. Its design asks the rider to stretch out further for better aerodynamics and speed and more responsive steering. They're meant for advanced, competitive riders and are typically more expensive.
Materials
Road bikes have to balance durability with low weight when it comes to materials, which makes the frame materials so crucial. Most road bikes are made from one of two materials: aluminum and carbon fiber.
Aluminum bikes tend to be a bit heavier than carbon-fiber, but have better shock absorbers and tend to be less expensive.
On the other hand, carbon-fiber frames tend to be more comfortable and absorb vibrations better, making for a smoother ride, particularly through long races.
Carbon-fiber is more expensive, but is lighter-weight and better for long rides, making it ideal for professionals.
Check out, How to Clean Disk Brakes on a Road Bike
The Bike Components
In addition to the frame, there are several components of the bike to take into consideration.
Wheel Components
Your bike will come with a wheelset and tires. If you eventually find that they don't meet your needs, they can be replaced. Generally speaking, the wheels that come with the bike reflect the bike's main uses.
Drivetrain Components
Drivetrains are often sold as groupsets, which are made by a single manufacturer specifically designed for the bike in question.
The benefit of buying a groupset is that you know all parts will be compatible with each other. The downside is less customization.
In general, drivetrain components include:
Cranksets, either double, triple, or compact. Cranksets refer to the number and size of chainrings (near the pedals). Most new cyclists or those traveling up steep terrain prefer triple or compact cranksets; double cranksets require more strength.
Chainring teeth: these are also common as triple, double and compact. Triple is most popular with beginners, compact is best for recreational riders, and double is best on performance bikes.
Brakes and Gear Shifters
The best way to determine the brake and gear shifter apparatus is by testing the bike itself and talking to the salesperson about what can be adjusted and what can't. You'll want to be sure that you can easily and comfortably access these controls while in motion.
Different models–SRAM, Shimano, and others–tend to integrate these systems together, but they work differently depending on the bike itself and your needs.
Sometimes, if you like the system on one bike and want it installed on another, they can make that happen, but it may cost additional money to customize.
Pedals
Perhaps surprisingly, road bikes don't typically come with amazing pedals. That's because most manufacturers figure that their riders already have pedal preferences and will change theirs out anyway.
If you haven't picked out pedals that work for you yet, you might be stuck with the standard pedals your bike came with.
Once you find your perfect biking shoe, then you can get the pedal that best suits your needs. They're easy to attach at home using simple tools.
Check out, Can Road Bikes Go on Grass
Sizing Your Bike
Regardless of which bike you choose, size matters. In order to ride comfortably and safely, it has to fit your body type. This is one of the reasons why it's important to test ride your bike in person whenever possible.
Most road bikes are sold in 6 men's sizes and 6 women's sizes. Bear in mind that a men's size Medium bike is not the same as a women's; their actual sizes and the sizes of some components are different.
Professionals at bike shops or outdoor retailers like REI are well-trained in helping you fit the perfect bike. They can even make minor in-store adjustments to the seat height, handlebars, pedals, and other parts to suit your body perfectly.
Read How to Clean and Lube Your Road Bike Chain
Factor in Your Budget
Road bikes can be extremely expensive, from several hundred dollars to $10,000 or more.
Carefully evaluate how much you're willing to spend, and stick to that as you shop. You don't want to not enjoy your bike because it costs too much money.
In addition to the cost of the bike, you may have several other expenses right around the time of purchase, including essential accessories for the bike and yourself.
Bike Accessories
Proper maintenance is vital in making sure that your bike lasts a long time and that you ride safely.
Bike computer
Bike multi-tool
Seat bag
Spare tubes
Tire mini-pump
Water bottle cage and bottle
Essential Biking Gear
There's no point in keeping your bike in tip-top condition if you're not being safe yourself. That's why you need to outfit yourself with some essential biking gear.
Read How to Cut a Bike Lock – 8 Ways
Road Bike Shopping Tips
Finally, we'll leave you with a few of our top tips from cycling experts and enthusiasts on choosing the perfect road bike:
Take your time and shop around: this is a big decision, and shouldn't be made hastily. Do online research and try to visit several bike shops.
Be flexible: unless you have your bike custom-made (which is extremely costly), it won't be perfect. Think about where you're willing to compromise and what your must-haves are.
Take your bike for a test drive. Even if it's just around a parking lot a couple times, you should get a sense for how it handles and fits your body.
Stick to your budget. It might be tempting when shopping to splurge, especially if you get a particularly pushy salesperson. If you go in equipped knowing what you need, you don't have to worry about this happening to you.
Related Posts:
Enjoy Your Rides
Now that you've found your perfect bike and have purchased all the necessary biking accessories that you need, it's time to get out and enjoy your rides.
Before you do, familiarize yourself with the rules of the road for bikers.
In addition, wear the proper protective gear (especially your helmet) and keep your bike in tip-top condition to enjoy long rides for years to come.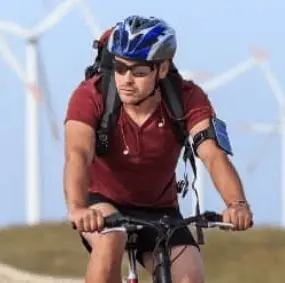 I am Michael, an avid rider and bike expert. I am here to provide, biking tips and expert advice on in-depth bike reviews covering features, capabilities, price range, and much more. Specially on electric bikes, mountain bikes, road bikes, etc. I will provide honest product reviews, along with expert advice on purchasing, training, and maintenance. Check out my complete profile.