People who own dirt bikes are extremely adventurous. You'll find them wanting to take their bike on a ride even as it rains heavily around them. These people have a penchant for danger and anarchy, and they make amazing friends.
If you own a dirt bike, you know exactly how to get your adrenaline pumping. Dirt bikes are fun and adventurous, but they may not be for everyone.
Dirt bikes let you get around easily enough, but people rarely use them as their main means of transportation.
These bikes have also been around for a long time, so people have created an entire culture around them. Dirt bikes are also advertised as bikes that are super masculine.
Contrary to this notion, many women spend hours and hours perfecting their drifts.
Still, manufacturers tend to consider the dimension of the average male when they're designing dirt bikes. If you're shorter, you may want to lower your dirt bike.
In the article below, we will talk about all the ways you can lower a dirt bike and why you may want to.
What is a Dirt Bike?
A dirt bike is a motorcycle that you drive in rough terrain. A dirt bike is built for mobility and jumping. If you enjoy having fun, even if it's a little dangerous, dirt bikes are the perfect choice for you.
There are various types of off-road motorcycles, which are often termed dirt bikes. They're called dirt bikes because you can ride them in the dirt.
Manufacturers use special suspensions and tire designs to ensure that these bikes can handle rough and uneven terrain. They have special shock-absorbers, which allow them to take the bumps in the road as they come.
People who use dirt bikes have a flair for dramatics. Furthermore, the engine of a dirt bike is also herculean. It has to be so that dirt bikes can get out of some of the sticky situations they may be in.
In modern times, dirt bikes are being specialized depending on the motorcycle sports they're used for. So there are many varieties of dirt bikes which are now available in the market.
Read How to Clean Dirt Bike Air Filter
When Should You Lower a Dirt Bike?
We have stated before that most manufacturers make dirt bikes based on the dimensions of the average male.
However, not everyone is an average male. Does this mean that men of average height can only enjoy dirt bikes? No.
Many women are interested in owning and riding dirt bikes. However, the average height of women is generally shorter than men due to biology. Thus, female riders may find it strenuous to find a dirt bike of their size.
Dirt bike riders who are shorter than the average male -in general- would find it annoying to ride a higher bike. We know that people generally ride a dirt bike on harsher terrain.
Thus, we must be in complete control when riding it. If the dirt bike is too tall for you, you may not be able to break your ride whenever you want to. This inability can end up in disastrous results.
If you take your dirt bike out on a test ride and feel like it's taking you significant effort to stop or you can't stop it all, you may want to think about lowering your bike or asking someone to lower it for you.
Riders who are shorter may also find it difficult to dismount. They may cause injury to themselves if the bike accidentally tips over during the dismount.
The solution to all these problems is lowering the dirt bike.
Read How to clean and put a bike chain
Why Would You Lower a Dirt Bike?
One of the reasons you may want to lower your dirt bike is that it's dangerous for you to continue riding it in its current state.
However, lowering a dirt bike can have better benefits for people who are of average height too.
If you're someone who's looking to find better balance when riding a bike, you can try lowering the bike as it helps lower the center of gravity.
Lowering the bike also affects the overall suspension, which allows the rider to have better control even through all the hard bumps they may encounter in the trail.
The suspensions impact the handling and tracking through corners or ruts. This fact, along with the stiffening on the initial stroke of the rear suspension, allows for better control.
If your dirt bike is lowered, your entire experience will dramatically change. If you feel like you're not entirely in control of your ride or feel like the wrong move or turn will have you on your back, you may want to seriously consider lowering your bike.
Read When to Change Road Bike Tires?
How Do You Lower a Dirt Bike?
You can lower your dirt bike in several ways. Firstly, you could lower the seat of your bike. This seems like the easier option, and there are many ways to do so.
However, this isn't completely efficient. So, another way is to lower your actual dirt bike.
To lower your dirt bike without adjusting the seat, you have to make changes in the front and rear suspension.
Sometimes, only an adjustment to the rear suspension is needed. Experts suggest you may not want to fiddle with the front suspension because you might have to get into an awkward position to mount it.
Furthermore, fiddling with the front also means that you have more trouble managing the rear.
Most people still prefer changing the front suspension because it's easier to lower it. All you have to do is lower the forks by loosening the clamps they are attached to. Then, select your desired height.
Even if you do change the front, we suggest that you lower the rear first. You can do so by adjusting the rear suspension linkage.
The stock suspension linkage may not be adjustable, in which case you have to buy an adjustable suspension linkage, install it, and then adjust it to height.
These aftermarket suspension linkages allow you to make height adjustments, but you should remember to be careful with these.
If you still find it tricky to lower the height of your bike, you may opt for one of the many kits available in the market to lower your dirt bike.
Read How to Ride an Electric Mountain Bike
Other Ways of Lowering Your Bike
We have talked about the way you can lower your dirt bike using suspensions. However, you can also lower your bike by lowering the dirt bike seat.
So here are some more ways you can lower your dirt bike:
1. Shaving the Seat Foam
The most common and cost-effective way of lowering your bike is by trimming the seat foam. If your bike is new, you don't want to do this.
If you've had your bike for a while, you may want to remove the seat cover and shave off some of the foam. It instantly reduced the height without using any extra money.
You may want to invest in another seat cover, though. If you plan to take this route, you should make sure that you do it as systematically as you can.
You should measure the amount of foam you want to shave off and try to stick to the middle of the seat.
This method is popular because you don't have to spend any extra money and you don't have to go through a lot of extreme training to do right.
The drawback is that you have less foam to sit on, which can get uncomfortable in long or bumpy rides.
Another tip when shaving the seat foam is to round out the corners. If the corners aren't around, you're going to be uncomfortable while sitting.
You can get a rim with a smaller diameter. You can also choose the amount of rubber you're putting around it.
Swapping for a smaller wheel will reduce the overall height of the bike, which means you can reach the ground with much ease.
2. Lowering the Sub Frame
The subframe is the metal rod attached to the seat. It may seem slightly insane, but you can cut a sizeable chunk of the subframe and later weld it back to the correct height.
We don't recommend it, but it's relatively cheap to accomplish. Experts question its safety, and many don't think it should be an option at all.
There's no measurable way to do this. You have to use estimates, and your estimates may be entirely wrong.
If you lower the seat too much, you might end up making your dirt bike completely unusable, and this isn't what you want.
3. Install smaller tires
The diameter for tires on a dirt bike is generally 19 inches, s you may find yourself opting for an 18-inch one.
Read How Much Does a Bike Weigh
Tips to Remember When Lowering Your Dirt Bike
You may lower your dirt bike by yourself or take it to a professional. However, here are some tips to understand what may be the best course to follow for you.
1. Consider Consulting a Professional
If you start playing with the suspensions on a dirt bike, it's difficult for you to bring it bike. Thus, before you conduct any irreparable damage, you should consult a professional.
The linkage and ratio pressure are set up intricately. If you don't know how these things work, you may want to hand over the bike to a professional to lower for you.
Furthermore, shortening the front forks and rear shocks requires a list of specialized tools, which you're unlikely to own.
It would cost you less to take your car to a certified technician who can complete the work for you to perfection.
2. Be careful with a lowering link
If you're replacing your stock link with an aftermarket lowering link, you may be in some trouble. A lowering link completely overthrows the balance of the car.
Your manufacturers have gone through hours and hours of design to perfect your dirt bike, and you throw it all to the cages by applying a lowering link.
The linking system is imperative to the functioning of rear suspension.  Both the front and rear shocks must act together.
If you add a link with more length, you're changing the amount of leverage the bike can handle, and this can cause significant effects on your riding ability.
3. Consider the Purpose of Your Bike
Before you lower your dirt bike, you should question what purpose you want your bike to serve. Are you lowering the bike suspension because it is unsafe otherwise? Or are you doing it so you can compete with more ease.
If you're lowering the bike to have better control, you should decide what kind of riding you plan on doing.
Do you want to hit trails? Or do you want to do something more advanced? Knowing this will lead you to know what kind of suspension to install.
If you're mostly riding smooth trails and deserts, you probably don't need to decrease the height so much.
4. Consider the Weight
Height isn't the only factor you must consider when you're looking into lowering your bike.
You have to look at the weight too. You should wear your gear and then get on the bike so professionals can note that sag.
Sag is the term to define suspension travel which is used up when the biker mounts the bike. Once you know this, you can adjust the height accordingly.
5. Do not lower your bike too much
You don't want to lower your bike too much. Doing so may lead to bottoming out. This effect doesn't fare well with the bike's durability.
Related Bike articles:
Final Thoughts
Lowering your dirt bike is a good idea as standard bikes aren't a great fit for everyone. If you're shorter than average and having a tall bike makes you lose control, you should lower it.
However, people like to reduce the height of their bikes sometimes because they want better control of their vehicles. When you're doing this, you should consider what type of biking you want to do.
Knowing this will help you decide how much you want to lower your bike, so the action is efficient.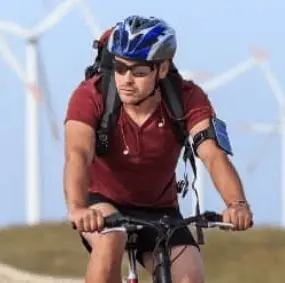 I am Michael, an avid rider and bike expert. I am here to provide, biking tips and expert advice on in-depth bike reviews covering features, capabilities, price range, and much more. Specially on electric bikes, mountain bikes, road bikes, etc. I will provide honest product reviews, along with expert advice on purchasing, training, and maintenance. Check out my complete profile.