A good helmet while mountain biking could be the difference between having the time of your life at a trail or a terrible one. You might be having a hard time finding the best mountain bike helmets under $100, but don't fret; we are here to help!
You need a good helmet for mountain biking that, first and foremost, will protect your head completely, be comfortable, and still give you good visibility.
Before buying the first helmet you see, consider a few things about your biking style and head.
Falls are a part of mountain biking
Accidents and falls are a part of mountain biking. You can never perfect the skills of mountain biking without having a few close calls and dangerous falls. When you are trying to push your limits and taking risks, always wear a helmet!
Most falls are usually not a big deal, but sometimes you hit the ground hard and fast, and for those times, you will need a helmet protecting your head against any damage that can be caused.
Read How to Put a Motor on a Mountain Bike
Things to consider before buying your helmet
What is your Riding Style?
There are different types of helmets for different riding styles. Think about whether you are going to be riding cross country trails or are riding aggressive trails downhill?
Cross-country or XC riding would require a lighter and more ventilated helmet, while if you are racing downhill, you would need a helmet that has better coverage on all sides of your head or maybe a full-face helmet.
The Climate you will be riding in?
Think about the kinds of weather you usually ride in. If you are cycling in hot or humid conditions, ventilation is a significant factor. If you are riding in the cold, maybe you would want a helmet with an insulated liner.
Riding in the cold would also not require as much ventilation in your helmet. Visors are also crucial if you want to protect your eyes from dirt, water, and even the sun.
Comfort and fit
You want a helmet that fits! Consider the size of your head and its shape before buying a helmet.
A poorly fitting helmet will not only be uncomfortable, but it will also be less safe than a properly fitting one.
Safety
Safety should be your number one priority. Make sure whatever helmet you buy is of good quality and is certified to maintain standards in your country.
The Consumer Product Safety Commission for the United States of America or the General Product Safety Regulations in Europe are some of the certifications you should look for.
Also, there are lots of additional safety features in most helmets on the market like MIPS, WaveCel, or Koroyd that provide different kinds of protection against straight or rotational forces that might happen in accidents on your mountain biking adventures.
Read Can a Mountain Bike Be as Fast as a Road Bike?
Types of helmets
Cross-Country or XC helmets
XC helmets are close to regular road biking helmets. They are made to be lightweight and well ventilated for long and winding rides.
If you want to cover lots of ground and aren't riding on too technical or dangerous trails, these helmets are a good choice.
Trail Helmets
Trail helmets are for cyclists riding down more technical and sketchy trails than your typical cross country rides.
These helmets have a lot more protection on the sides and back of your head but are still very well ventilated, so you don't get too hot and sweaty in your longer rides.
Downhill Helmets
These helmets are for those who are going downhill aggressively and fast. These helmets offer your head complete protection from all sides and angles, but at the cost of ventilation.
There are even full-face helmets for your downhill mountain biking needs. These helmets aren't recommended for rides that require lots of pedalling over long periods as they will turn your head into a hot and sweaty mess.
Read Tubeless Mountain Bike Tires Maintenance
The Best Mountain Bike Helmets Under $100
Giro Fixture MIPS
Price: $54.99
Weight: 320G
Vents: 18 vents
Integrated MIPS
This Giro helmet is usually comfortable on all head sizes and shapes. Its in-mold construction and the use of the RocLoc make this a very lightweight and stable helmet to use. RocLoc Sport fit system increases the stability of the helmet while you ride over rough rocky terrain.
The Giro Fixture MIPS helmet also, of course, features MIPS, which protects you from all directional and rotational impacts. It is also a very well-ventilated helmet with 18 vents! You can buy this helmet in many different colors too.
Read How to Choose an Electric Mountain Bike?
Bontrager Solstice MIPS Helmet
Price: $69.99
Weight: 335g
Vents: 17
MIPS protection
The Bontrager Solstice MIPS helmet is a great value helmet at just $65. It features MIPS protection and excellent ventilation for long-distance biking needs.
The Solstice MIPS helmet has 17 vents for airflow and a slip-plane liner on the inside. It also has a quick and efficient adjuster and a magnetic buckle to make the helmet fit easily.
This helmet is great for beginners or riders who aren't planning on riding down too risky or tricky trails as it doesn't offer as much protection as the other helmets on this list.
Also, it is available in only two sizes, so finding the right fitting helmet for your head might be a little more complicated.
With all that said, the Bontrager Solstice MIPS is an excellent helmet for its low price.
Read Can Mountain Bikes be Used on Road?
Smith Convoy MIPS Helmet
Price: $75
Weight: 300g
Vents: 20
MIPS protection
The Smith Convoy MIPS is one of the best helmets that are of great quality but are still budget-friendly. At just $75, you can get a good helmet from a big name like Smith.
The Convoy is highly adjustable and has 20 large vents for incredible ventilation. You might miss out on fancy designs or premium absorbent padding, but the Convoy is great for beginners or riders who aren't thinking of venturing down the roughest of terrains.
Its non-adjustable visor has AirEvac ventilation systems for fog-free lenses while you ride.
It also features MIPS protection systems and is CPSC and CE EN 1078 certified.
Read How To Change A Mountain Bike Tire?
Leatt DBX 2.0 Helmet
Price: $99.99
Weight: 300g
Vents: 20
360° Turbine Technology protection
This South African Company knows the importance of good ventilation for your mountain biking needs.
The DBX 2.0 is very light at just 300 grams and has an impressive 20 vent ports to keep air flowing through to keep you cool even on very hot and sweaty days.
Leatt also uses a moisture-wicking liner on the inside of these helmets to keep you dry and perspiration-free during your rides.
Another excellent feature of the DBX 2.0 is Leatt's 360-degree Turbine Technology, which reduces the impact of angled brain acceleration during accidents.
Read What Mountain Bike Brands are the Best?
Demon Podium Full Face Helmet
Price: $99.99
Weight: 2 lb
Vents: 13
MIPS protection
The Demon Podium Helmet is a full-face helmet that will protect every inch of your face. This Demon helmet is very ventilated with 13 well-placed vents for airflow and, at just 2 lbs, is very lightweight for a full-face helmet.
The Demon Podium is CPSC certified and also features MIPS protection systems. The helmet offers great protection at a very affordable price. It is a very comfortable fitting helmet with removable and washable lining on the inside.
Read How to Make A Mountain Bike Faster
Lazer Chiru MIPS Helmet
Price: 69.99
Weight: 300g
Vents: 15
MIPS protection
The Lazer Chiru MIPS helmet is a great affordable helmet with MIPS protection, and it features excellent ventilation with 15 large vents with a non-adjustable visor.
It is a very comfortable, airy, and protective helmet for all your cross country riding needs.
The Chiru also has Lazer's Turnfit Plus fit system, a special fitting system that prevents putting stress on particular hotspots and pressure points on your head. This Turnfit Plus system keeps this helmet very comfortable at all times on your head.
This helmet is also CPSC certified to provide you with the highest standards of safety you can find.
Read How to Convert a Mountain Bike to a Road Bike
Specialized Tactic III MIPS Helmet
Price: $79.99
Weight: 373g
Vents: 19
MIPS protection
Specialized is a company that has been in the mountain biking industry for decades now, so you know they know what they are doing with their bikes and helmets.
The Specialized Tactic III MIPS has been designed to be their lightest Tactic Helmet yet while still giving you excellent protection for your head.
It also features MIPS protection and has great ventilation to keep your head cool while biking down trails.
The Tactic III also has a Versatile HairPort SL II fit system that lets you adjust the helmet to perfectly fit your head, with its six height positions and micro-adjustable dials.
Related Mountain Bike articles:
Conclusion
We hope reading through our article helped you understand the different types of helmets in the market and how you can choose the right one for you. Go through all the considerations we stated at the start of our article and choose which one of these helmets suits you best. Ride safe!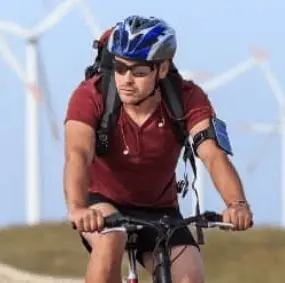 I am Michael, an avid rider and bike expert. I am here to provide, biking tips and expert advice on in-depth bike reviews covering features, capabilities, price range, and much more. Specially on electric bikes, mountain bikes, road bikes, etc. I will provide honest product reviews, along with expert advice on purchasing, training, and maintenance. Check out my complete profile.